| Recipes |
Endive Salad Platter with Tahini Drizzle | August 28, 2019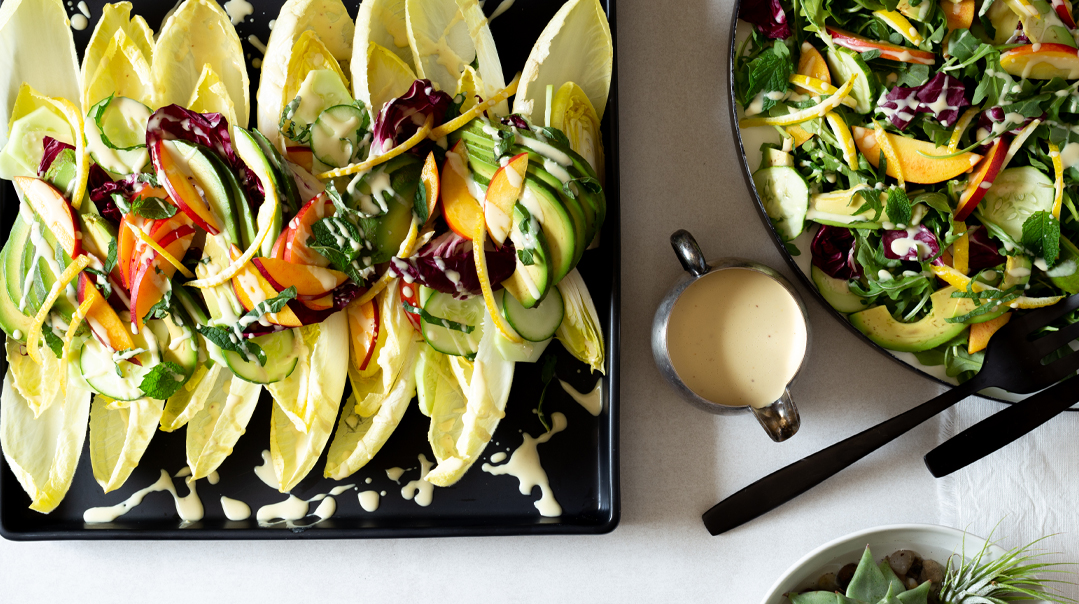 Food And Prop Styling By Renee Muller Photography By Moshe Wulliger
Endive Salad Platter with Tahini Drizzle
I know this salad is the polar opposite of typical, but I just had to share it with you, and I'll tell you why. I served it to company multiple times, presented this exact way, and each time, the dish was cleaned out in a matter of minutes. On top of that, it's crazy easy to put together, and you'll always get a beautiful, chic result without even trying.
SERVES 4–6
3 endives (I like to use both green and purple)
1 nectarine, thinly sliced
1 cucumber, thinly sliced
1 avocado, thinly sliced
peel of one lemon, thinly sliced
4–5 mint leaves, thinly sliced
TAHINI DRIZZLE
3 Tbsp tahini
2 Tbsp olive oil
1 Tbsp apple cider vinegar
1 Tbsp lemon juice
½ tsp salt
½ tsp honey
½ tsp Dijon mustard
1⁄8 tsp granulated garlic
In a small bowl, whisk together all drizzle ingredients.

Arrange fruit and vegetables on a platter. Drizzle with tahini drizzle.
Tip: I have a squeeze bottle of pure tahini in my fridge that I use for this recipe (that I've clearly used a few times!). I like that I don't have to open a can of tahini each time, and it stays very neat.
Endive hits the bitter notes of the taste spectrum, but pairing it with sweet, sour, and salty elements help balance out that flavor so it blends in, and doesn't stand out.
Endives are also a relatively maintenance-free green: peel the leaves from the core and wash them, and you're all set. They don't need to be checked for bugs, according to most halachic authorities.
(Originally featured in FamilyTable, Issue 655)
>