| Yiddishe Gelt |
Yom Tov Clothes | March 29, 2022
New clothes before every Yom Tov?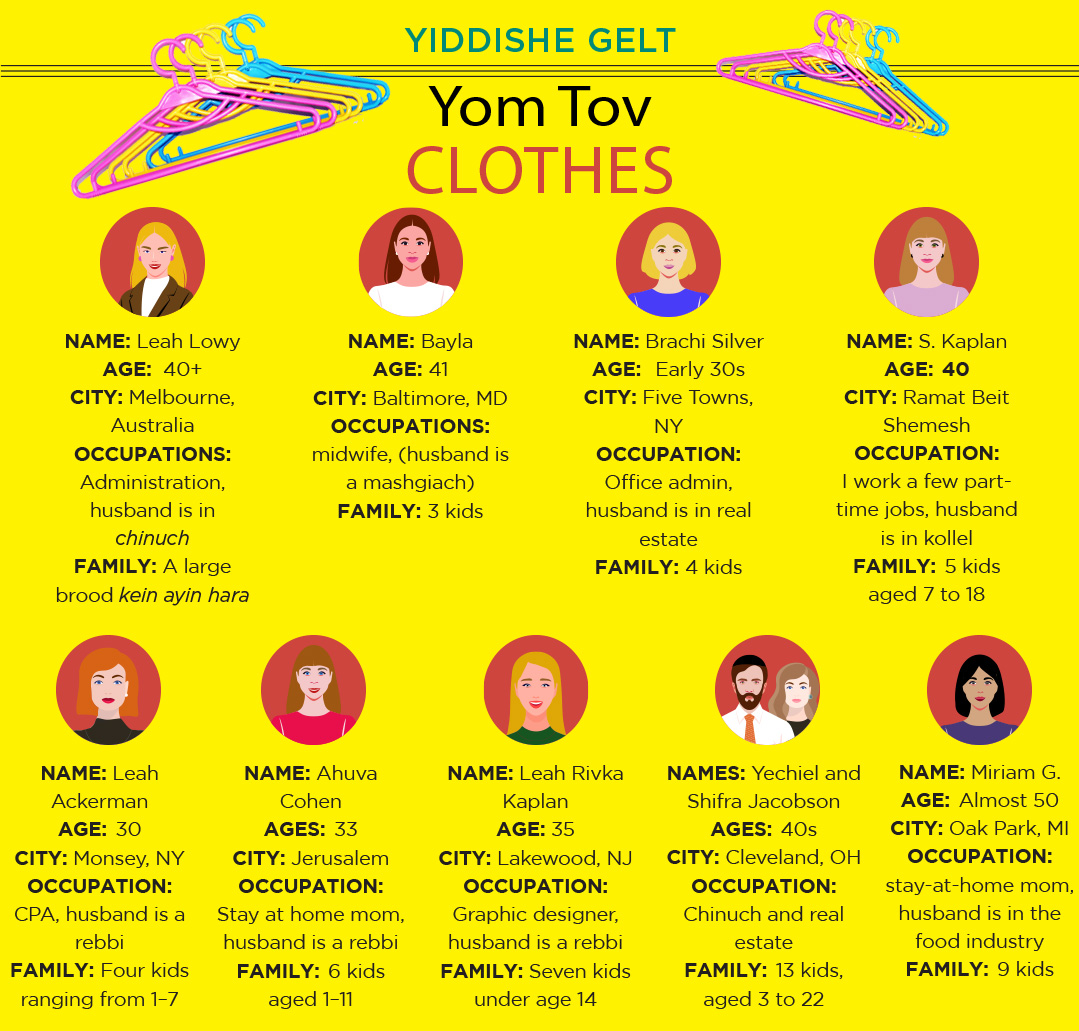 Do you buy your kids new clothes before every Yom Tov?
Absolutely not. I don't really enjoy shopping, I'm always worried about the expense, I don't have an eye for fashion, and tzniyus Shabbos clothing is a real challenge to find. I also really feel that while of course we need to look and feel good, simchas Yom Tov can be achieved in other ways as well. For example, we try to buy the girls inexpensive jewelry before Yom Tov.
We used to aim to buy new clothes for Pesach and again for Tishrei, but because tzniyus Shabbos clothes are so hard to find, my kids wouldn't necessarily find something then. So if they didn't get something new for Pesach, they could get for Shavuos instead… or for a simchah… or stam during the year if they found something appropriate. It's so hard to find something that if they do find something good, we're likely to buy it, no matter when it is.
For the last two years when we were in almost constant lockdown here in Australia, we also deliberately chose to spend less on clothes and more on toys, books and games to help entertain the kids over yom tov. New Yom Tov clothes just wouldn't have had the same effect.
—Leah Lowy
Usually only before Pesach, when a generous family member sponsors our kids' clothing. If the kids need  new clothes because their old ones were too small, I would buy them something new for a different chag.
—S. Kaplan
Yes, definitely for the Yamim Noraim and Pesach because they coincides with the seasons changing anyhow. Sometimes the kids grow so fast they need new clothes in between! I do try to size up but my kids seem to grow so fast.
—Leah Rivka Kaplan
No, just when they really need things. I have two boys so they wear their suits until they need new ones. My six-year-old daughter has plenty of clothes so I only buy for her when she outgrows her old clothes.
—Bayla
I generally shop twice a year, before Rosh Hashanah/Succos and before Pesach. Those clothes last them for the next six months in each case.
—Leah Ackerman
We shop for Pesach and Succos. It's part of simchas Yom Tov for the girls, and some of the boys also need new things to feel happy. I aim for one nice outfit per kid from a Jewish (more expensive) brand so that they'll feel part of the "in crowd." The second outfit is usually a nice, less-expensive top that can be paired with any skirt. That's usually what I'll do for Pesach and Succos… If there really aren't enough clothes that still fit from last season for other chagim, I'll buy more from cheaper, non-Jewish  stores or online.  When there are sales in the summer or winter, that's when I'll try to buy a few outfits.
—Yechiel and Shifra Jacobson
I buy fall and spring, which coincides with Yamim Noraim and Pesach. The kids wear any older stuff that's in decent condition and fits them.
—Brachi Silver
I buy the kids at least one new thing that they feel good about. In any case, they do usually need new clothes for the season, though I'm a stickler for not buying winter clothes when it isn't cold yet. Many times I've told my girls that they can wear their new winter dress the first night of Succos, but then they'll need to wear their regular summer stuff on Simchas Torah because it's HOT outside. After Succos, they may get another winter dress when it actually gets cold outside. They get new clothes again for Pesach but not for Shavuos and not necessarily in time for Rosh Hashanah either.
—Ahuva Cohen
No. I consider ourselves fortunate that we have generous neighbors and relatives who gift us huge bags of their hand-me-downs. Even my oldest daughter, a particular teenager, is excited and not embarrassed, and they all wind up with wardrobes stuffed with gorgeous outfits, more than they can even wear! I'm happy to buy things like socks, tights, hairbands and if they need shoes before Yom Tov, I'll buy that too.  But if it can wait, I'd  rather buy when I have the money than before yom tov when money is really tight from other expenses.
—Miriam G.
How many outfits do you buy per kid per Yom Tov?  
I don't have a specific number but I like to have at least three outfits available for the girls. The boys just need white shirts and dark pants.
—Leah Lowy
Usually one, but if there's a very good sale, maybe two. If a child had a growth spurt recently, I'd maybe even buy three outfits, enough for the whole chag, which I would hope will last them throughout the season and then get passed on to the next daughter!
—S. Kaplan
The boys need three shirts, two pairs of pants, and a suit. Girls need two dresses and a robe. If it's a three day Yom Tov, then I'll try to get away with them wearing their old clothes on the third day, but if they've really grown a lot, I might not be able to get away with that.
—Leah Rivka Kaplan
I don't have an official limit. Boys' suits are expensive but they need them and we don't buy them frequently. They're still growing so they probably need to be replaced one or two times per year.
—Bayla
I generally buy two outfits for each of the girls and sometimes a third. I also have a sister who gives me great hand me downs from her girls, so that's the third outfit for the seasons I only buy two. And I also buy a Shabbos robe that they wear most Friday nights, so that's usually enough. A third outfit comes in handy when there's a three-day Yom Tov. My girls are still little and don't ask for more than this.
—Leah Ackerman
Usually one outfit and one top from the Jewish stores, more if really needed.
—Yechiel and Shifra Jacobson
Usually two or three.
—Brachi Silver
In Israel, it's acceptable for a girl to have two nice Shabbos dresses, there isn't so much competition or social pressure, at least not before the teenage years. And, if they also have a robe (usually they have one that will last a year or so), they don't actually need more than two dresses.
—Ahuva Cohen
I don't. If for some reason, I really didn't get any hand-me-downs recently, I would start asking friends if their kids have something they're no longer wearing or even say (half-jokingly, but very much seriously) "I love your kid's dress, when you're finished with it, please pass it on to us!" It doesn't work with boys' white shirts though, but I don't buy them especially for Yom Tov, just as needed.
—Miriam G.
What's your spending limit?
It depends on the item and the needs of the kid. I don't have an exact limit per se, although obviously we aim for reasonably priced items.
—Leah Lowy
For the boys, I just buy the white shirts in the frum stores (usually about $20-30$/shirt) and the Armando pants. Suits are about $110 for the younger boys and more for the teenagers. For the girls – my rule is you buy what you find, you buy what fits, if you find something that works and it fits and you like it and she likes it, you just BUY IT and thank your lucky stars that you have something (although I try to start in the stores with lower prices…)
—Leah Rivka Kaplan
I like to stick to the $80 range or below for each Shabbos outfit.
—Leah Ackerman  
I strongly prefer as cheap as possible, but if it fits and the kid loves it, I'll try to make them happy. I wouldn't spend more than $100 a dress though. Younger kids are much less expensive, it's less complicated, things fit.
—Yechiel and Shifra Jacobson
I usually spend about $40 per dress for the girls, about $45–50 for the boys' sweaters, and $30-ish for the boys' shirts.
—Brachi Silver
For their one nice dress, I end up often having to pay full price which is — at the middle-class stores — about $50 here. Then for their second (and sometimes third) dress, I'll do a cheaper one, more like $30. The weekday clothes I'll buy gradually, like a couple of cheap T-shirts and then build on that as needed.I don't buy a new full wardrobe for each kid each season, just Shabbos clothes. (Except for the baby, who needs it, but often that's hand-me-downs.)
I do find that Yom Tov clothing shopping brings us way out of our budget. Usually we budget a little bit for kids clothing (the here and there type) each month. But all of this at once is a huge sum, one that means either swiping the credit card with a pit in my stomach (i.e. what we call debt) or else taking large amounts of money designated for other  categories in the budget, something that doesn't really make sense either.
—Ahuva Cohen
Do you spend more on boys or girls?
I used to think girls, but then my son had a bar mitzvah and I was shocked when all the expenses added up: the suit, woolen tzizis, hat. Girls might be expensive, but boys aren't exactly cheap! They're just easier to shop for most of the time…
—Leah Lowy
Definitely girls.  Girls' clothes are so expensive!  I can get my son a few new pants and shirts for less than one girl's dress/outfit.
—S. Kaplan
I have more boys than girls, so boys!
—Leah Rivka Kaplan
Boys. I can buy my daughter nice dresses online or she gets hand-me-downs and is happy with that at this age.
—Bayla
Girls… but I'm always buying new pants for my son throughout the year because he wears them hard and gets holes and that adds up as well. But he's young enough now that he doesn't wear suits yet, so I might change my answer in the future…
—Leah Ackerman
Girls! Not all my boys care if they have something new. Sometimes I can get away with just buying them a new pair of pants.
—Yechiel and Shifra Jacobson
Maybe a little more on the girls, because girls' shoes are much more expensive than boys' shoes. Girls also need accessories.
—Brachi Silver
I spend way more on girls, and I have a bunch of them. They also need all the accessories. Headbands, tights, shells, and they also usually need new dress shoes. The boys just get new white shirts and black pants — easy-peasy! They might also need new a new kippah, belt, and tzitis,  but all together, it's still much cheaper than all those dresses.
—Ahuva Cohen
Probably boys, because they wear their clothes so hard when they're young that they can't always pass it on. Girls can wear their older sisters' clothes and hand-me-downs.
—Miriam G.
Do you buy yourself something new for Yom Tov?
Sometimes, but it's not a priority for me.
—Leah Lowy
I like to try, but I'm usually so busy running around getting what my kids need, shopping, cooking, and preparing that I usually run out of time.
—S. Kaplan
If I can find something!
—Leah Rivka Kaplan
I try to buy something new for myself but can't always find something and don't always have time to go shopping. So it's not always before Yom Tov, but I'll buy myself something whenever I have time or find something nice.
—Bayla
Yes, I like to get a new Shabbos robe and one or two new outfits, and possibly a pair of shoes as well, if needed. But I tend to stick to the lower priced stores so I can get more items for the same or less amount of money than in the higher end stores.
—Leah Ackerman
I try to buy something, even if it's just one top, I'm not changing sizes any time soon so I definitely still have things that fit, but it's nice to have something new for Yom Tov.
—Yechiel and Shifra Jacobson
If I need something, then sure. I don't really buy stam to buy.
—Brachi Silver
I try to get at least one new thing for myself. It's too mentally exhausting, time-consuming, and expensive to get more than that. Also, at this point in my life, my social life isn't dependent on how good I feel in my clothing and how new they are. While obviously I like new clothes, I still feel presentable and pretty enough if my clothes are from last year (or the year before, or before that...). It helps that I live in an environment where there isn't a lot of materialistic pressure. Also, I will usually allow myself some new (cheap) jewelry and tichels since I don't get a lot of new clothes. New shoes I save for a non-Erev-Yom-Tov time. It's easier to afford when I'm not spending on the kids' clothes.
—Ahuva Cohen
No. Same as with the kids — I buy what I need when I need it. My kids are (so far) not complaining, and I'm sure part of that comes from my own feeling that we are happy with whatever we have.
—Miriam G
What do you do if a child makes a fuss about wearing last season's clothing (it fits but isn't the latest trend)?
My kids understand how hard it is to find good Shabbos clothing here so they don't make too much of a fuss about it if we really can't find something.
—Leah Lowy
It really depends on what the situation is.  Every child has such different needs, it's hard to give a blanket answer for the whole family.I guess for an older child, I would try to find deals so they could get more than one outfit. They're also welcome to buy something with their own money. Sometimes we split it, they pay half and we pay half.
—S. Kaplan
It doesn't happen that last season's clothing still fits! Ever.
—Leah Rivka Kaplan
My kids don't seem to notice if something is last season… and we also don't live in the kind of community where you get funny looks if you're wearing something unfashionable. Maybe when my daughter is older, she'll care more.
—Bayla
This doesn't happen so often to us as our kids are still young and the previous season's clothing usually don't fit anymore. But they don't have a problem wearing clothing passed on from their cousins. They actually like it!
—Leah Ackerman
It depends on the kid. Some of my kids fuss as they're getting dressed in anything but their one favorite outfit. We make deals — you choose this time, I choose next time! If the child is really making a big fuss, I drop it and move on if something else clean is available.
—Brachi Silver
I can usually gauge which kids are just putting up a fuss but will eventually be okay with it, versus the ones who will really feel bad and unhappy in their social sphere when they're wearing "old" clothes. So I assess each case individually. My oldest girl (age 11) is the only one that I think it's genuinely important for —  like when she goes to Bnos or other events, she needs to feel like she's not wearing the same two dresses every time, and when she expresses that, I try to validate her and do something about it. In general I try to indulge her requests just enough so that when I do sometimes say "no," she knows not to tantrum.
—Ahuva Cohen
They don't fuss about it. I let them wear whatever they want whenever they want it. Even if my daughter only wanted to wear a dress that's dirty, I wouldn't complain unless they were planning to wear it out of the house.
—Miriam G.
Do you shop end-of-season for the following years' Yom Tov?
No.
—Leah Lowy
No, there's no way to predict what size they're going to need, and the basics like pants and white shirts don't go on sale at the end of the season anyhow.
—Leah Rivka Kaplan
Not actively, but occasionally I'll find something. It's hard to estimate what size kids will be in a year from now.
—Bayla
I used to do this but I found that I often miscalculated the sizes and what I bought in advance didn't end up working out. I felt I was losing more money than I was gaining so I've stopped doing this for Shabbos clothing. Sometimes a few cheap weekday tops for my son worked out.
—Leah Ackerman
I try sometimes when I'm feeling super organized, but I only do that for the younger kids. My teenage girls are more style conscious, so it wouldn't work for them.
—Yechiel and Shifra Jacobson
Rarely. I always miscalculate with sizing.
—Brachi Silver
I often try to find things end of season for the next year, and that usually works out (sometimes with alterations). I get great deals this way, but it is a risk not knowing if it will fit well. Or else I'll buy something end of season and still have them wear it for Yom Tov, because like I said, there wasn't yet a change in weather! The best is when I buy something appropriate for all seasons — that's a real win.
—Ahuva Cohen
I tried it once, I was all excited about the metziahs I got, but then someone gave us a huge bag of the exact same stuff for free… and I was unable to return my metziahs to the store. A total loss! Never again.
—Miriam G.
(Originally featured in Mishpacha, Issue 905)
Oops! We could not locate your form.
>