| Impressions |
With Rabi Shimon bar Yochai in New Jersey | May 15, 2019
Who was Rav Naftali Tzvi, or Rav Naftulche as he was affectionately known? What was his connection with Rabi Shimon bar Yochai?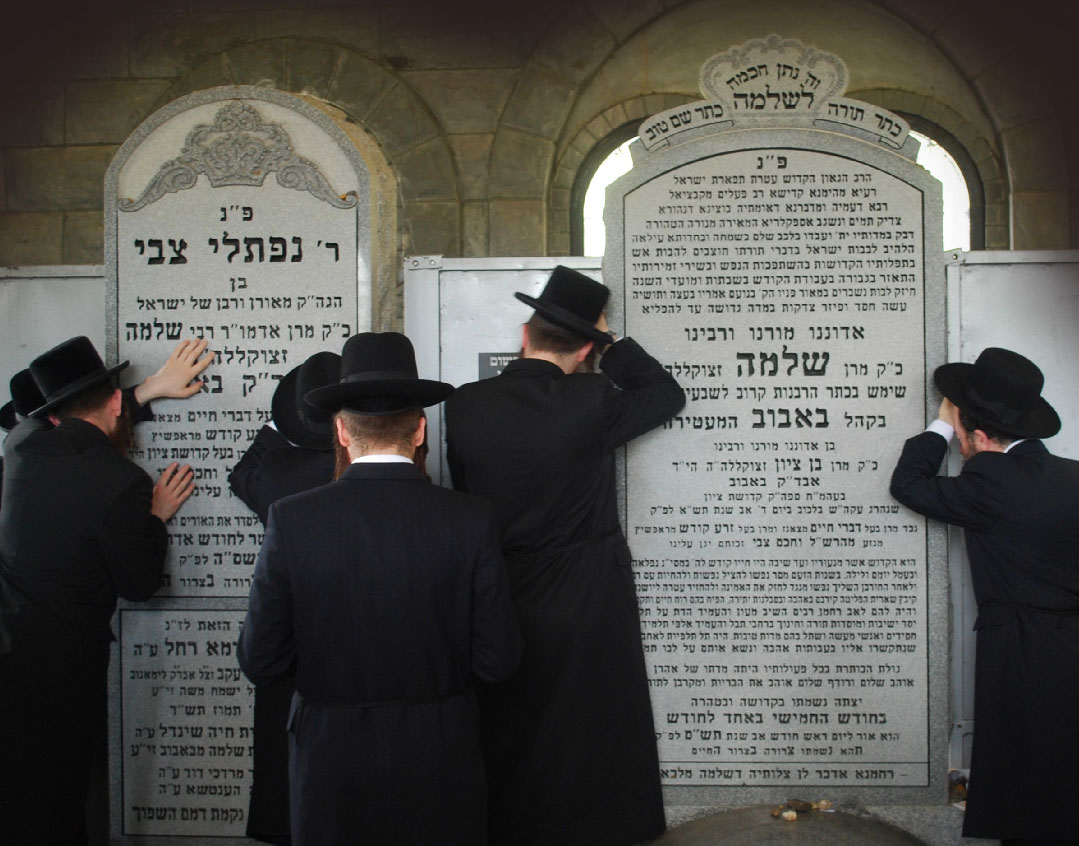 A
s the eyes of hundreds of thousands of Jews focus on a mountaintop in Meron, thousands are busy arranging rides and car pools to a quiet and little-known cemetery in New Jersey. They are heading to the resting place of the Bobover Rav, Rav Naftali Tzvi Halberstam ztz"l.
In a world where virtually every initiative is launched with neon lights and over-the-top marketing, Lag B'omer in New Jersey remains a notable exception. It was sparked by a private conversation, an enigmatic phrase heard by one person in the year 2002.
"Rabi Shimon bar Yochai vet zein bei mir Lag B'omer," Rav Naftali Tzvi had said, in Yiddish. "Rabi Shimon bar Yochai will be by me Lag B'omer."
Those ten simple words have been sowing yeshuos in ways that can only be termed miraculous.
Who was Rav Naftali Tzvi, or Rav Naftulche as he was affectionately known? What was his connection with Rabi Shimon bar Yochai? And — perhaps most significantly — how did this humble giant who always shunned the spotlight become the father of thousands?
As a youngster, Naftulche was surrounded by greatness. His grandfather, Rav Benzion Halberstam Hy"d, built an empire that had its roots in his hometown Bobowa, while its influence extended far beyond its borders. The Kedushas Tzion was a force of fatherly strength and he led the Bobover chassidim with passion and grandeur. His heavy schedule notwithstanding, he forged an intimate bond with his young grandson Naftulche. At Naftali Tzvi's bris, the Kedushas Tzion had remarked, "Naftulche will grow up to be a tzaddik nistar [hidden tzaddik] like the Ropschitzer zeide [for whom he was named]."
When the Holocaust raged through the length and breadth of Europe, Naftulche, a mere wisp of a boy, was hurled into the depths of horror. His beloved grandfather, his mother, and his two siblings were all taken from him. From a thriving, loving family, just two members remained — Naftulche and his revered father, Rav Shlomo ztz"l.
After a frightening separation of 36 hours, they met up in Bucharest, Romania, but their reunion was short-lived. A mere three weeks after arriving in the besieged city, Rav Shlomo booked passage for his young son on a ship headed to Eretz Yisrael.
Others would have balked at the mere idea of sending away their one remaining child, but Rav Shlomo possessed an inner core of steel. With tears in his eyes, Rav Shlomo told his young son, "My dear child, this is the third time we are parting. I beg of you — remember who you are! Remember your father, remember your zeide. Always remember your holy lineage. If Hashem will save me, we will be together again and I will merit finding a shidduch for you."
Rav Shlomo mustered the strength to voice the unthinkable. "But if I don't survive, you will be the only remnant of our family. You have a tremendous responsibility. Distance yourself from bad friends and learn with fervor, so that you remain a source of pride to the Bobov dynasty and honor the memory of your father and grandfather."
Those parting words engraved themselves in Naftulche's heart and mind, serving as his unerring compass on foreign shores. Three ships set sail on that fateful Thursday afternoon. The Marina, with 300 passengers, was the first to leave. It was closely followed by the 350 passengers aboard the ship Mefkura, and Naftulche boarded the Bulbul, which pulled out of port with 410 passengers.
With his father's words resounding in his ears, Naftulche sequestered himself in a corner to avoid contact with the many free-thinkers on board. Friday night at 1 a.m., a deafening explosion rent the air. The Germans had attacked one of the other ships, the Mefkura. Miraculously, the Bulbul was spared. Late on Shabbos afternoon, as the Istanbul port came into view, the Bulbul was caught in a tumultuous storm. The sailors spent the night doing their best to keep the ship afloat. When the storm finally abated, the passengers could not yet breathe free: Turkish border patrol ordered them to leave Turkish waters. Negotiations, threats, and tremendous siyata d'Shmaya led the storm-tossed passengers to Turkish shores and along a harrowing three-day journey on foot toward Istanbul.
When young Naftulche reached the chaotic streets of Istanbul — his father in far-off Bucharest, his mother and siblings gone — he had just one request of Rabbi Yaakov Griffel z"l. "I don't need anything to eat or drink," he said. "I ask just one thing. I want to send a telegram to my father in Bucharest to notify him that I've arrived."
The telegram was duly dispatched. It contained three words: I'm alive. Naftuli.
Rav Shlomo had heard that one of the three ships had been attacked, with hundreds of casualties. Unsure which ship his son had boarded, he was beside himself with worry and angst. After a full week of tension and confusion, two lists were dispatched to the consulate in Bucharest. One listed the survivors, while the other list reported the fatalities.
Naftali's name didn't appear on either one.
Standing at the consulate, beset by fear, the worried father told an acquaintance, "Hashem gave me a son, Naftuli. I tried to save him. I tried to keep him alive. I dragged him along with me from Bobov, through this entire exodus to Lemberg, back to Bobov, and then to Bochnia. I took him along to Czechoslovakia and then to Hungary, to Budapest, and to Grossvardein. Miraculously, we arrived in Bucharest. And now, I give him over in the Hands of Hashem. If it is bashert that I should have a Naftuli, that's surely good. But if not, I accept it with love."
After these impassioned words, Rav Shlomo broke down in tears; the tears of a father's love subjugated to the will of Hashem.
Eleven harrowing days of uncertainty elapsed before the telegram arrived: I'm alive. Naftuli.  Naftulche arrived in Eretz Yisrael with nothing but the shirt on his back and his tefillin. Bereft of his mother and separated from his father, the young Naftulche was in desperate need of a warm welcome. He received it… but turned his back on the smiling faces and open arms inviting him to join a kibbutz where all his needs would be met. His father's fervent words echoed in his ears."I beg of you — remember who you are! Remember your father, remember your zeide. Always remember your holy lineage."
Naftulche looked at the smiling faces around him.
"You have a tremendous responsibility… remain a source of pride for the Bobov dynasty and honor the memory of your father and grandfather."
He squared his young shoulders and turned his back on the promise of security. He sought placement in a religious yishuv, but was unsatisfied with its questionable standards. The young refugee was shuttled from place to place, to Tel Aviv and finally, to Yerushalayim.
On Rechov Lunz, in the home of his aunt Rebbetzin Nechama Stempel, he was welcomed with warmth and excitement. Leibele Stempel introduced his cousin to life in Yerushalayim.
Naftulche was fiercely independent. He knew that people would gladly share the little they had with the son of Rav Shlomo Bobover, but this young and destitute orphan would rather borrow and repay than accept handouts.
With empty pockets and gnawing hunger, Naftulche embraced three magnificent years of growth and Torah study in the Slonim yeshivah. In those years, Naftulche forged strong connections with the gedolim of Yerushalayim, including his rebbe, Rav Mottel Slonimer ztz"l; the Satmar Rebbe, Rav Yoel Teitelbaum ztz"l; and the mekubal Rav Yeshaya Asher Zelig Margulies ztz"l.
And during those years, he also began forging his mysterious connection with Rabi Shimon bar Yochai. As a young bochur, virtually alone in the streets of Yerushalayim, he merited a special relationship with the mekubal Rav Margulies, who was often referred to as the Ish Meron (i.e., the Man of Meron). Rav Margulies spent many hours learning privately with Naftulche and discussing esoteric topics. Since the Slonimer Yeshivah was located directly across the street from the mekubal's house, Naftulche utilized every spare moment to run over and learn together.
The title Ish Meron was not an exaggeration. For 50 consecutive years, Rav Margulies went to Meron several times each year to daven at the kever of Rabi Shimon bar Yochai. On Lag B'omer, he would dance before the tziyun, dressed in his Shabbos finery. He wrote two famous seforim, titled Middos D'Rashbi and Kocho D'Rashbi, that once again emphasize his connection with Rabi Shimon.
Rav Margulies taught a weekly shiur on the Zohar, which he urged young Naftulche to attend. Uncomfortable with the idea and wary of his friends' reactions, Naftulche tried to decline but Rav Margulies insisted. Every Friday, he sat among the greatest Torah minds of Yerushalayim, learning the words of Rabi Shimon.
Although the mekubal never interacted with young bochurim, Naftulche was clearly an exception. His children questioned him and Rav Margulies brushed off their queries, saying, "I like him because he's a true yarei Shamayim, an erlich child with good middos."
Every Shabbos morning, Rav Margulies waited for Naftulche to arrive before starting the seudah. It was important to him that Naftulche sit at his table every Shabbos, and he would learn in his seforim room until the young bochur was seen coming down the street toward the Margulies home. As young Naftulche built his inner world of Torah learning and dveikus, his father, Rav Shlomo, began to rebuild his chassidus on American soil, believing in a future that others deemed impossible.
With empty pockets but an iron will and unwavering emunah, he inspired the brokenhearted survivors to rise above the ashes and build anew. His warmth was so genuine that it tapped into the reservoirs of vitality they thought were gone forever. At the same time, he yearned to see his son once more, as he expressed in a letter to Naftulche: "[I exult in]… the good news that you already have citizenship papers and will procure a visa and soon I'll be able to see your face. This will be a balm to my broken heart, since from when I heard about this, my yearning got stronger. I am counting the days and hours until Hashem will give me the merit to embrace you..."
When the Marine Jumper pulled into port Wednesday afternoon, the 15th of Cheshvan, 5708/1947, hundreds of people craned their necks to spot friends and relatives aboard the ship. Rav Shlomo stood ramrod straight as the passengers started to disembark.
When he recognized his son from afar, Rav Shlomo cried tears of joy; a pure expression of love and longing that touched all who witnessed it. Father and son embraced, their tears mingling as past and future converged in one intense moment.
Thus began the next chapter in Rav Naftali's life. He was his father's right hand, in every sense of the word. The yearning he felt for Yerushalayim was shoved aside, along with his personal dreams and ambitions. With his characteristic humility and a down-to-earth practicality that masked his greatness, Rav Naftali shouldered the financial burden of the Bobov institutions.
It wasn't easy. It wasn't pretty. But he did it for decades, to assist his father and to glorify the Name of Hashem.
The years marched onward. Life in America changed dramatically. The Bobover community relocated several times — from Manhattan's West Side to Crown Heights, then Brownsville, and ultimately to Boro Park. Change was rampant, but Rav Naftali remained the same. Humble. Unassuming. His door was always open. It sounds clichéd, but at Rav Naftali's house on 49th Street, this was the actual reality. There was nothing clichéd about his approach to others. Anyone who knew him remembers the sweet, unpretentious smile that graced his face. Along with that open door, his heart was wide open too.
Shortly after celebrating his daughter's engagement, a brokenhearted Yid came to the Skulener Rebbe ztz"l. His wife had been diagnosed with late-stage cancer and the doctors said her days were numbered. "Please, promise me that she will live to walk our daughter to the chuppah," the Yid cried.
The Skulener Rebbe blessed him warmly, but the Yid didn't desist. He wanted a promise that his wife would merit a complete recovery.
"Only the Bobover Rebbe [Rav Naftali Tzvi] can promise," the Skulener Rebbe said. "Go to him and obtain his promise."
The Yid didn't hesitate. True to form, Rav Naftali told him to take upon himself a certain kabbalah and then promised him that his wife would recover and lead their daughter to the chuppah in good health.The woman with the most dire prognosis steadily regained her strength and participated in her daughter's wedding as the tzaddik had promised. Soon thereafter, her tests came back completely clear, leaving the doctors stumped.When the Yid told the Skulener Rebbe about her miraculous recovery, the Rebbe replied, "The Bobover Rebbe brings down miracles, and that is why he is so physically weakened. He is moser nefesh for Klal Yisrael."
Rav Yaakov Meir Schechter shlita of Yerushalayim, a close friend of Rav Naftali, echoed that sentiment. When someone asked him to daven for Rav Naftali's declining health, Rav Yaakov Meir said, "I'll tell you why he's not well." He explained that tzaddikim in previous generations were able to promise salvation without experiencing any pain or suffering as a result of their efforts. Rav Yaakov Meir concluded, "But your Rebbe [Rav Naftali] did undertake to draw forth miracles in this manner [like the tzaddikim of yesteryear], and that's why he's physically weakened."
That was Rav Naftali Tzvi; a world of mesirus nefesh and greatness concealed beneath a cloak of humility. He wanted to be just one of the crowd, without titles or fanfare. And for the most part, he succeeded.
In the summer of 2000, Rav Shlomo was niftar. Now, Rav Naftali stood at the helm of the Bobover community and hints of greatness started seeping through the cracks. Along with those little glimmers came mysterious allusions to Meron and Rabi Shimon bar Yochai.
Many times in the previous years, Rav Naftali had set out on short trips to Eretz Yisrael to daven at the kever of Rabi Shimon in Meron. He would take a taxi directly from the airport to Meron, spend some time at the tziyun, and then drive back to the airport to catch his flight back home.
Reb Sholom Zenwirth, a Bobover chassid in Yerushalayim, remembers calling Rav Naftali one Erev Yom Kippur as he did every year to receive a brachah. After hanging up, he remembered a minor detail he had forgotten to mention. He immediately called back and spoke to Reb Moshe Eliezer Griffel, who was then assisting the Rav. "Tell the Rav that I mentioned the Rav at the kever of Reb Shimon," he requested.
Reb Sholom Zenwirth visits the kever of Shimon Hatzaddik every year on Erev Yom Kippur. Rabbi Griffel didn't know this and assumed that he was referring to the kever of Rabi Shimon bar Yochai, in Meron.
Thus, when he dutifully relayed the message, he said, "Reb Sholom Zenwirth said that he davened for the Rav by Rabi Shimon bar Yochai in Meron."
In a heartbeat, the Rav replied, "I am not a rav, and he was not in Meron."
Rabbi Griffel was shocked. The first section wasn't surprising. He was well-aware of the Rav's innate humility. But he couldn't understand why the visit to Meron was summarily negated, until Reb Sholom later clarified his mistake.
Far away in New York, Rav Naftali knew what was going on in Meron. In 2002, Reb Moshe Elias a"h told Rav Natfali that he had just come back to New York after spending time in Eretz Yisrael. "I was in Meron, by Rabi Shimon bar Yochai," Reb Moshe said.
Cryptically, the Rav replied, "I have Rabi Shimon here, with me."
Nothing more was said, but the comment lingered in the air, unexplained.  A similar comment, told to Reb Elimelech Miller, menahel in Lelov Yeshivah, triggered the Lag B'omer–New Jersey connection.
It was just after Chanukah in 2002, when Reb Elimelech went into the Rav with a kvittel listing the names of his children. The Rav read the first three names on the list, and then looked up.
"Rabi Shimon bar Yochai will be by me on Lag B'omer," the Rav said. It was a cryptic comment, seemingly unrelated to the kvittel that he was in the midst of perusing. With Lag B'omer many long months away, Reb Elimelech was mystified at the strange reference.
Years later, in 2010, that comment suddenly resurfaced. Reb Elimelech felt the pain of his two married daughters and a son who had not yet been blessed with children. The first three names on that long-ago kvittel… As if from nowhere, the comment he had heard eight years previous suddenly flashed through his mind. In that moment, Reb Elimelech knew. Rav Naftali Tzvi had already been summoned to the World of Truth, but his words lived on. "We're going to the Rav's tziyun this Lag B'omer," Reb Elimelech resolved.
He went, along with his wife and two daughters. The pain of several silent years was distilled into passionate tefillah as they answered the call issued so mysteriously years prior. The place was relatively silent. No one knew that Lag B'omer in Floral Park Cemetery was different from any other day… but Reb Elimelech knew. And a year later, when he returned to express his gratitude to Hashem for blessing him with two grandchildren and a third one on the way, many others knew as well.
Rav Naftali was never one for big proclamations and flashy propaganda. His path was paved with silence, humility, and unfathomable selflessness. Even now, years after his petirah, the news continues to travel along that same quiet route.
It started with whispers and cryptic comments, shortly after that initial visit in 2010. Father to son, friend to neighbor. The news traveled fast, faster than one could have deemed possible. The following year, many people came to New Jersey to pour out their hearts at the kever of one who always listened.
The numbers swelled from one year to the next, reaching unprecedented figures in the thousands, hitting and then surpassing the 10,000 mark. The stories that filtered back are as mysterious and miraculous as the stories of old. Couples were blessed with children after years of fruitless attempts. Shidduchim were suggested and finalized, inexplicably bound with a visit to New Jersey. Business matters, health issues, and various crises were resolved in astounding ways after a tefillah in New Jersey at the Rav's tziyun.
For every story that's told, there are hundreds that remain unshared, known only to the grateful recipients. At this point, Lag B'omer in New Jersey has assumed a life of its own — a powerfully magnetic force of authenticity bearing the mark of a world that is no longer, offering whispers of fatherly warmth that translate into tremendous yeshuos.
Come the 18th of Iyar, tens of thousands will make their way to a quiet cemetery in New Jersey, where the promise and power of Rabi Shimon are inextricably tied to a single gravesite. They know that Rav Naftali continues to carry Klal Yisrael as a father supports his son. He's there for everyone, as he always was in his lifetime.
(Originally featured in Mishpacha, Issue 760)
The ohel of Rav Naftali Tzvi Halberstam is located at the corner of the Floral Park Cemetery at the Monmouth Junction in New Jersey. To send a kvittel to be read at the ohel on Lag B'omer, or for any other inquiries, e-mail lagbaomernj@gmail.com, or send a fax to (732) 647-1326.
Oops! We could not locate your form.
>