| Impressions |
Above the Alps | August 9, 2022
Leopold Bermann relives his role as legendary host of the Edelweiss Hotel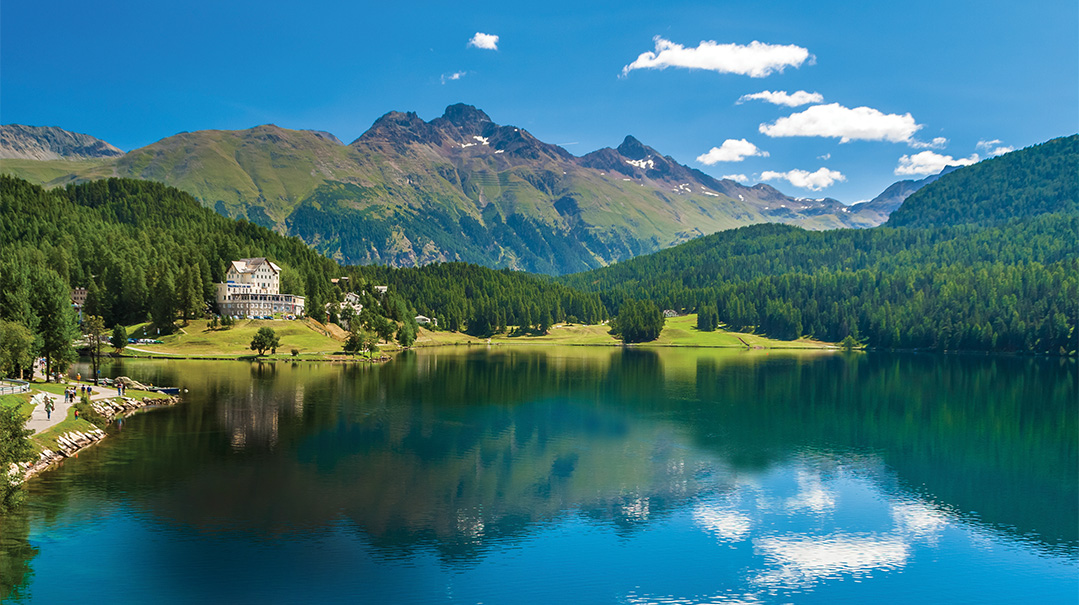 For 128 years, the Edelweiss Hotel was the solitary kosher sanctuary in the resort town of St. Moritz, Switzerland. And while its sale in 2010 ended the popular enterprise run by the Bermann family for three generations when its future was no longer viable and no children or grandchildren were determined enough to maintain the legacy, Leopold Bermann is still a hotelier at heart.
Today in his early 90s, Leopold ("Poldi" as his family calls him) lives in Jerusalem's Rechavia neighborhood with his Gateshead-born wife Rita, his life and hotel partner since their marriage in 1960. While they've been out of the business for over a decade, they welcome me with practiced hospitality that must be inborn for hoteliers. We're joined by son Yosef and daughter Debbie Bitton. Daughters Shoshana Bollag, residing in Switzerland, Scharon Hassan in Lakewood, New Jersey, and Dafna Benisri in Nice, France, are here in spirit, says Debbie, "because we all worked in Edelweiss at one time or another."
In its heyday, the Eidelweiss was the center of Jewish life in St. Moritz. It contained the only synagogue, mikveh and kosher restaurant in the area, drawing religious tourists, even though there were ritzier establishments elsewhere.
"I always knew I'd run the hotel one day," says Leopold. "These things were passed down from father to son."
Trust Was Enough
Before the Edelweiss came into existence, there was a small kosher restaurant in Merano, which in the 1870s was a part of Austria (today, it's in Italy). Leopold's grandfather (whose name was also Leopold) was the shochet, and his grandmother was the cook. In the summer of 1883, the restaurant hosted an esteemed customer —Baron Rothschild from Germany. After a satisfying meal, the Baron approached Leopold with an interesting proposal: "Leave Merano for two months, bring your young wife to my villa in St. Moritz where I will be hosting around 30 people, and work for me as my shochet and cook."
It didn't take much persuading for the Bermanns to accept the offer. The family worked for Rothschild in his villa for two years, from 1880-1882, until the Baron told them they should just open their own kosher hotel. And in 1883, they did just that: the Bellaria in Merano.
And, busy as they were, in 1896 they opened the Hotel Edelweiss in St. Moritz — possibly the oldest Jewish hotel in the world before its sale in 2010, and certainly the oldest family hotel. It was 20 hours by train to Merano, and the Bermanns shuttled back and forth between their two hotels.
It was the only kosher hotel ever in St. Moritz and was visited by rebbes, rabbanim, and Jews from across the spectrum.
"There was no hechsher, no kashrus certification," says Leopold. "Trust was enough back then."
They ran both hotels simultaneously; when Leopold Sr. passed away, his son and daughter-in-law, Josef and wife Sara, took over both hotels. "Every time we arrived at the Edelweiss, we had to defrost it," remembers Leopold, who was a small child during those years. "Everything was simply frozen."
In 1938 it became impossible to remain in Merano, as the Nazis were slowly spreading their demonic influence.
"My father was president of the Jewish community in Merano before they had to flee," says Leopold. "There were many prominent Jews there over the years — Kafka and Sigmund Freud and Weitzmann and Jabotinsky. There is still a shul there and a large Jewish cemetery, but not much else.
"My parents moved to St. Moritz, but came back to Merano to sell the hotel," he recounts. "The Italian police even asked my mother if she wanted them to sleep in the hotel in order to protect her, that's how unstable things were."
By evening, they had a contract to sell the hotel, and by morning there was a law prohibiting Jews from selling property. The Germans stripped the hotel, including the silver and china and Persian rugs.
"After the war," Leopold says, "my mother went back to Merano and found all of the Bermann hotel items packed away in a different British-occupied hotel. They assured her she'd receive everything back, but they stole it all."
(Decades later, in a different time and place when the Bermanns sold the hotel and made aliyah, they had the luxury of taking what they considered most valuable: sentimental pieces of silver from the dining room, old seforim, and three sifrei Torah, which are now housed right around the corner in Rabbi Berel Wein's Beit Knesset Hanassi.)
In His Father's Shoes
Sara Bermann, Leopold's mother, ran the Edelweiss during the war years practically singlehandedly. She went into the kitchen, lit the fires, and cooked for the Swiss and Austrian guests — the only ones who could enter St. Moritz. "My father chopped the wood. They were the entire staff," says Leopold. "My parents were busy, but they taught us wonderful Jewish concepts. It was a special time, being together, working together, and staying safe."
After the war ended, the guest list grew more diverse, beginning with Jewish American GIs on leave from Germany.
"And then my father died, at the age of 39," says Leopold, and there's something in his voice that says more than seven decades may have passed, but he still feels the keen sense of loss. "I was 13, and I had to step in and help my mother as best as I could. We all did, my five siblings and I."
Sara Bermann was left alone with a hotel to run and six small children to care for. "My mother was incredibly strong," says Leopold. "My father passed away without seeing a single grandchild. My mother passed away at the age of 99, surrounded by children, grandchildren, great-grandchildren, and great-great- grandchildren."
Sara ran the hotel until 1953, with the help of her industrious children. "They came home from school and peeled, chopped, changed linens, schlepped tables," says Debbie. "But our father did the lion's share."
Neighbors remember the serious 13-year-old biking every morning to the nearby farm of Michele to acquire milk for the family and the hotel. He'd pedal away on his bike, an attached wagon careening behind him.
He'd also go to the rail station to pick up guests. "There was only one taxi in St. Moritz, otherwise you took a horse and carriage or walked — even though the hotel was a good 20-minute walk from the station. But our father would stand there, in a too-big cap that said Edelweiss across the brim, offering to assist the arriving guests."
"I have big ears," Leopold interjects, "so the hat stayed on."
Family Traditions
The hotel prospered as Europe slowly mended itself.
In 1953, Sara moved to Zurich with her girls and opened a kosher restaurant, leaving her "Poldi" in charge of the hotel. At the age of 22, he officially took over the Edelweiss.
Leopold remembers those days. "We had almost no staff, and so I did everything myself. Reception, bookkeeping, room cleaning, cooking, baking challahs, leining, leading davening…"
I look around at his family. They're all nodding as if it's the norm to run an entire hotel single-handedly. But the food didn't suffer. From its early days until the end, the Edelweiss was known for its plentiful and delicious food.
"He still bakes the challahs at home," Debbie says.
Each evening, he'd go to St. Moritz's kosher certified bakery to turn on the ovens, ensuring that the daily bread baked there would be kosher, a tradition he continued for over half a century until the hotel was sold.
The '50s was when the hotel really began to shine, and family traditions were established.
"The same families came every year, and every year they'd request the same room they'd stayed in previously and the same table. So there was the Kavulsky table, the Shoenkopf table, the Wolfson table. Everyone had their spot," says Yosef, who eventually bought the hotel from his parents but left the management to them, as he and his Israeli wife, Talia, weren't interested in leaving Israel for Switzerland.
"And then there were the dignitaries," he continues. "The rebbes who would come, even though there was no formal kashrus certification. But they knew my father, they trusted my father. That was enough. There was the previous Vizhnitzer Rebbe — he'd rent a house nearby and come every morning to use our mikveh. Rav Yitzchak Yedidya Frankel, the chief rabbi of Tel Aviv and Rav Yisrael Meir Lau's father-in-law, would come as well, and so would Rav Lau, and even Rav Ovadia Yosef. And of course, the Kaliver Rebbe would come every summer. He'd lead the davening on Friday night and every Seudah Shlishis, he'd lead a tish."
The Kaliver Rebbe — a Holocaust survivor who remained a faithful advocate of life and taught a new generation to connect to Hashem's blessings — stood out as one of the more colorful characters among the hundreds of regulars who flocked to St. Moritz, either in the winter or summer. The Rebbe would come every summer, bringing dozens of chassidim along with him. But although he brought an enthusiastic, sometimes noisy entourage along, he was always considerate of the other guests. When he'd daven from the amud, he'd look around and make sure never to schlep out the davening even though that was his style, speeding up his own prayers so the tzibbur wouldn't have to wait.
"There were a lot of rebbes here, but the rav from Zurich came up maybe once every 20 years to check on the mikveh," says Leopold. "He trusted me." But the most important thing that happened when all these Jewish families converged on the one kosher hotel: "Shidduchim!" says Leopold triumphantly.
Shidduchim were brokered and set up, many successfully so. And then the weddings took place right there in the Edelweiss… And then even the brissim.
Leopold and Rita remember how Rabbi Paysach Krohn was once a guest there and was so overwhelmed by the Bermanns' hospitality that he mentioned it in one of his books. Apparently, there was a group of students from Georgia who were invited by a Jewish youth group to the Alps near St. Moritz. When they got there, they learned that the accommodations they'd booked weren't available. They knew very little about Judaism, but Leopold and Rita discovered them and offered them rooms and food, all for free. It was high season and the hotel was completely full, but they squeezed in. It ended up being such an inspirational Shabbos for everyone, that Rabbi Paysach Krohn, who was there for Shabbos, knew he had to publish it.
Whatever Needed to Be Done
Leopold and Rita — who says she never imagined she'd live in a German-speaking country but eventually learned enough German and Italian to deal with the kitchen staff — ran the hotel until 2007, when Debbie's husband took over management for three years until it was sold.
"A decade after the hotel has closed, we still often meet old guests or visitors who stayed in St. Moritz. They tell us how our father came especially to visit when they sat shivah or had an emergency. He truly cared about each guest," says Debbie.
In some ways the family still can't believe that the Edelweiss is no longer the Bermann Hotel.
"Things change," says Yosef. "Father to son, Leopold to Josef to Leopold. My name is Josef, but it ended there. Baruch Hashem," he says, with the knowledge that neither he nor his siblings were willing to carry on the family tradition.
Leopold smiles, his happy countenance belying his years. "I understand you. I could have never run the place without Rita's unwavering support and assistance."
It was hard for her, a girl from England who had never even stayed in a hotel, to take on the managing of one mere months after her wedding.
"We met on my mother's birthday," says Leopold, "and got engaged four days later. And now we're married for 62 years."
"I viewed it all differently than Poldi, with different eyes," Rita says. "But year by year, I gained the courage and strength I needed to continue the work."
For many years, though, following in her mother-in-law's footsteps, Rita too lived in Zurich with the children, so that they could attend proper schools, while Leopold ran the hotel in St. Moritz.
"It was difficult for us to be apart," says Debbie, "but our parents did what they knew needed to be done."
Welcome Back
And in fact, "doing what needs to be done" seemed to be Leopold Bermann's calling card.
One guest recalled how if someone was in St. Moritz collecting for a yeshivah or shul, Poldi would put them up in the hotel for free.
"And," he added, "he would always open the hotel doors wide so that everyone could come and daven there. There was no priority for hotel guests."
He was also a principled "kanoi" for his ideals. He once confiscated all the siddurim and sifrei kodesh and locked them in the basement until the guests agreed to take better care of them.
But that was one reason Leopold's guests would keep coming back, year after year. In a DVD created by the Bermann children in honor of 120 years of the hotel, Herman Kuvalsky, a guest since 1983, said, "When Mr. Bermann will have to decide to close the hotel, which will happen one day, many Jews in the world will shed tears."
(Originally featured in Mishpacha, Issue 923)
Oops! We could not locate your form.
>