| This Way That Way |
Wings
| June 28, 2022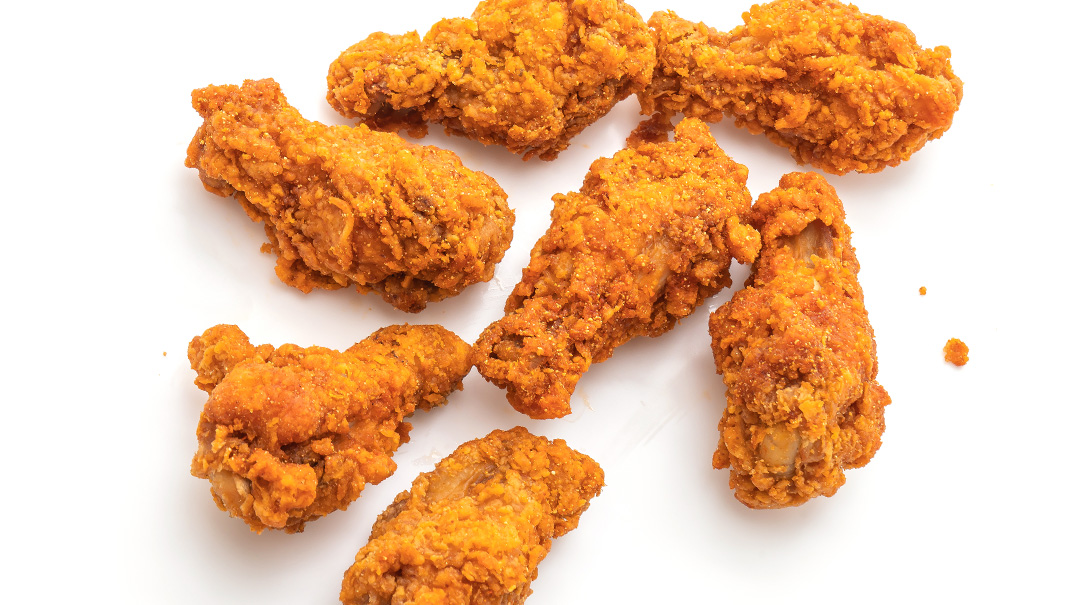 Some (like us) say wings are the perfect year-round finger food, and that they're one of the most versatile, cost-effective, and reliable appetizers, menu-fillers, and/or conveyors of sauce. One of the more forgiving cuts of protein, these are hard to overcook, making them a great option for someone new to cooking or in the mode of experimenting.
Just Wing It
Cut it Out
A full wing has three parts: the drumette, the flat, and the tip. The tip is inedible and oftentimes removed by the butcher.
More than Skin and Bones
Because of the high ratio of skin and bone to meat, wings are a phenomenal way to add body, flavor, and collagen to broths.
Lab Cooked
Since Americans eat so many of these, a wacky conspiracy theory developed, claiming that chicken wings are not, in fact, real chicken and are made in a lab.
Spiced Chicken Wings
Recipe by Sima Kazarnovsky
I don't really make wings, but when my mother-in-law does, my family makes sure to polish them off. I wrote down my mother-in-law's technique so that everyone can enjoy the simplicity of a fantastic chicken wing. Also, eat with your hands. It's the least frustrating method.
SERVES 6
2 lbs (1 kg) whole chicken wings or drumettes
olive oil, for drizzling
paprika
garlic powder
onion powder
salt
pepper
smoked paprika
Preheat oven to 350°F (175°C). Line a baking sheet with parchment paper.
Place chicken wings on the baking sheet in a single layer. Drizzle lightly with olive oil (it doesn't need much). Season generously with the first five spices and rub in with your hands. Sprinkle lightly with smoked paprika on top.
Roast for 45 minutes. Switch oven to broiler mode and broil chicken for 5–10 minutes or until crispy.
Enjoy!
Honey-Hot Drumettes
Recipe by Michal Frischman
The biggest problem with wings is how difficult they are to eat (not to mention clean!), and the biggest problem with drumsticks is that they're too big to be a good party finger food, right? The answer: drumettes. Not only are they adorable, they're the perfect size for a party plate. I highly recommend making more than you think you'll need. They go fast and are super easy to make!
SERVES 6
3 lb (1⅓ kg) drumettes (around 30 pieces)
Sauce
½ cup hot sauce (I like sriracha)
½ cup honey
¼ cup ketchup
¼ cup soy sauce
4 cloves garlic, crushed, or 4 cubes frozen garlic
2 tsp garlic powder
Preheat oven to 375°F (190°C).
Combine all the sauce ingredients and mix well.
Lay the drumettes skin-side up in a single layer on a baking sheet or two 9x13-inch (23x33-cm) baking pans. Pour sauce over the drumettes so they're coated but not swimming in it.
Bake uncovered for 1 hour and 15 minutes until browned.
Buffalo Wings
Recipe by Rivky Kleiman
Buffalo wings are a party no-brainer! My cousin Rabbi Mordechai Eisenberg is a rosh kollel in Marlboro, New Jersey. Often he wears a different hat — that of master chef. Here is the result of his playing in the kitchen.
SERVES 12
Chicken
24 chicken wings
¼ cup oil
1 tsp salt
½ tsp black pepper
Buffalo Sauce
½ cup margarine
¼ cup hot sauce, like Frank's
¼ cup honey
6 cloves garlic (whole, peeled)
Preheat oven to 450°F (230°C).
Clean and wash the chicken wings and lay on a parchment-lined baking sheet.
Drizzle the wings with oil and sprinkle with salt and pepper, making sure to coat the tops and bottoms completely.
Bake uncovered for 1 hour. Remove from oven and cool for 5 minutes.
Meanwhile, combine the sauce ingredients in a small pot over low heat. Bring to a boil, then simmer for 3 minutes. Remove from heat and cool for 5 minutes.
Dip each wing into the sauce and transfer to a serving platter, tray, or bowl.
(Originally featured in Family Table, Issue 799)
Oops! We could not locate your form.
>