| The Current |
Will the Real Joe Biden Please Stand Up?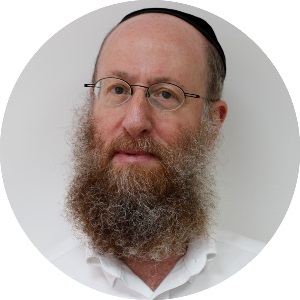 | April 5, 2020
Joe Biden's policies, positions, and persona — and how his track record and policies on Israel are still relevant four decades later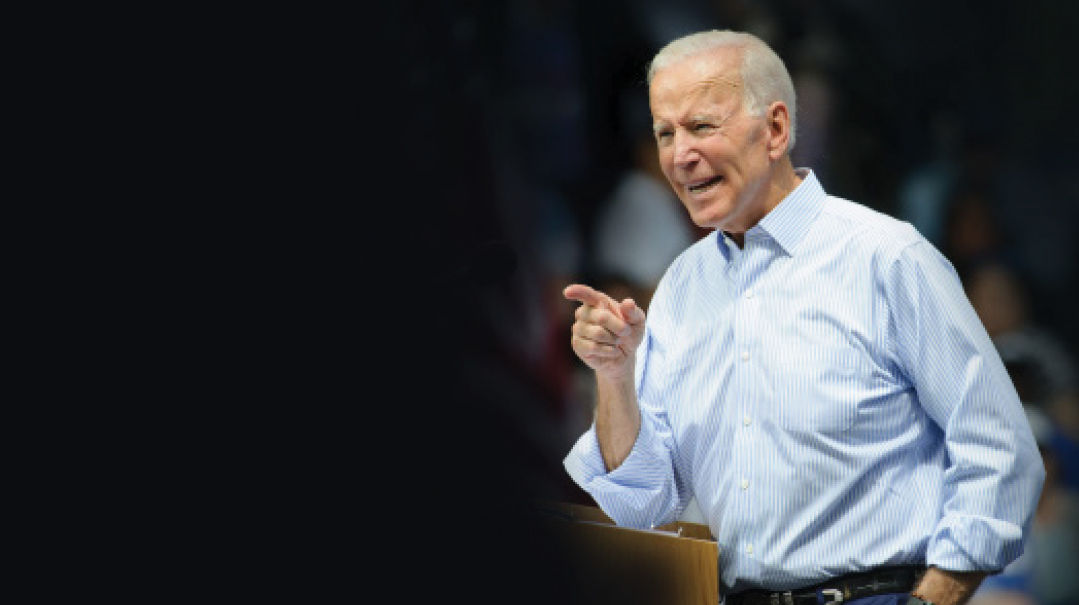 Photos: Flash90, AP Images
For close to four decades, Joe Biden has been climbing his way to the top of American politics, consummately skilled at being all things to all people. But that tends to obfuscate his real policies and positions, which require closer examination, especially as the Democratic nomination is all but sewed up for him
Some days are more memorable than others. Sunday, June 7, 1981, was one of them.
For Iraq, it is a day that will live in infamy. For Israel, it was a day of military daring, when Prime Minister Menachem Begin ordered the preemptive air strike that destroyed Iraq's nuclear reactor at Osirak, turning an existential threat against Israel to dust and ashes. For me, as a young journalist in Delaware, it afforded an up-front glimpse into Joe Biden's true feelings on Israel, in his role as a member of the Senate Foreign Relations Committee. Covering Biden soon became part of my steady beat as news director at WDOV Radio in Dover, the capital of Delaware. Little did I imagine at the time how both the nuclear threat to Israel and Joe Biden's track record and policies on Israel would still be relevant four decades later.
News traveled slower in the 1980s, and Israel initially kept mum about its lethal strike on Iraq's nuclear plant at Osirak. It was only a day later that the Associated Press teletype machine in our newsroom spewed out its initial reports of the surprise attack. But when it started clanging and clattering, it did so with great fanfare.
When the AP needed to alert subscribers to urgent bulletins, the machines were programmed to sound a chime of ten bells. Instinctively, when the bulletin bells sounded on Monday, June 8, my first reaction was, okay who got shot now?
The bells had been tolling off the hook in the first half of 1981 as newsmen got used to working on an emergency footing. On March 31, a lone Washington DC gunman shot and wounded President Reagan. Six weeks later, a Turkish militant tried to assassinate Pope John Paul II. To get breaking news on air promptly, I would run back and forth between the teletype machine and our broadcast studio, tearing the bulletins off a large roll of white paper (keeping a spare roll ready at all times), and interrupt regularly scheduled programming to update our listeners.
After Israel struck, pundits weighed in with a combination of shock and awe. Some analysts feared that Israel had just fired the first shots of World War III. More sober commentators contended Israel's audacity forestalled the next Middle East war.
As the days passed, and the breaking news yielded to routine follow-ups, my responsibility shifted from bulletins to covering the local angle, which on this story revolved around the junior senator from Delaware, Joe Biden, a member of the Senate Foreign Relations Committee.
The committee launched hearings ten days after the attack to debate the broader geopolitical implications of the strike and to weigh recommending punitive action against Israel for using US-supplied arms, for what some perceived as non-defensive purposes. Caught off guard, the Reagan administration initially censured Israel, suspended delivery of four F-16 fighter jets, and supported a United Nations resolution condemning Israel.
In the Senate, fighting a bout of laryngitis, Biden hoarsely staked out his position. First, Biden quashed a suggestion by a colleague, Senator Charles Mathias (R-MD), that Israel's act might embolden other countries, such as Tunisia, to strike Libya's nuclear plant in retaliation for the armed revolt that Libya's dictator Muammar Gaddafi was fomenting against Tunisia's rulers.
"To the best of my knowledge, Gaddafi has not announced to the world that he wants to move Tunisia into the Mediterranean Sea," Biden said. "However, in the case of Israel, this was a nation that was told, retold, and told again by the alleged possessor, or soon to be possessor of a nuclear weapon, that its goal was the elimination of Israel as a nation-state."
After delivering that defense of Israel, Biden went on the offensive, chiding Menachem Begin for what Biden termed the prime minister's "well-known insensitivity to people around him, both on a personal and a national level." He then reprimanded Begin for not informing America in advance of the attack. "I am not as disturbed with the action that was taken, but I was disturbed with the manner in which this was taken. I don't forgive Begin but I can understand why he did it."
A Pendulum Swing
Seasoned and skilled politicians, at least of Biden's generation, strived for a balanced and nuanced tone. Or, to put it more cynically, to be all things to all people.
Biden was consummately skilled at that, and remains so to this day, but that tends to obfuscate a record that requires closer examination. Barring any major political convulsions — in a year that's been full of them — Biden will be the Democratic nominee for president and may prove to be formidable competition for President Trump in a sharply polarized country in which every presidential election since 2000 has been decided by a razor-thin margin in key states.
Israel will be watching the campaign closely. While Israel is far stronger militarily and economically than it was in 1981, Jerusalem is even more dependent on American political backing in a world rife with anti-Semitism and teeming with hostility toward Israel.
Can Biden be trusted to "always have Israel's back," as he told thousands of cheering delegates at the March 2016 AIPAC conference? Or is the more credible version of Joe Biden the one who one month later vented his frustration and wrath to a J Street audience over his dealings with Prime Minister Netanyahu and settlement expansion?
If Biden becomes president, will he embrace his "Uncle Joe" persona, with fond memories of his many visits to Israel, especially his maiden voyage when Golda Meir taught him a thing or two about the challenges Israel faces? To Jewish audiences, Biden has often quoted his father, who once told him: "Were I a Jew, I would never, ever entrust the security of my people to any individual nation, no matter how good and how noble it was, even the United States."
Or will he revert to the Joe Biden of age 29, who told supporters just days before his election to the first of his six Senate terms that his support for Israel was just a tool to curry votes?
Israel has been "spoiled" by President Trump over the past three years. His administration has been a forceful defender of Israel at the UN and has assisted Israel in establishing new relations with the Arab world. Trump moved the US embassy from Tel Aviv to Jerusalem and recognized Israel's 1981 de facto annexation of the Golan Heights. His deal of the century has its drawbacks, but at the minimum, it would empower Israel to declare sovereignty over all of the Jewish settlements established in Judea and Samaria since the 1967 War.
Contrast that with the Obama-Biden administration, who in its waning days, declined to veto UN Resolution 2334 that declared all Israeli settlements to be illegal.
History repeats itself, and 40 years after Osirak, Israel faces an even greater nuclear threat from Iran — exacerbated by the Obama-Biden administration's policy of appeasement that bankrolled and empowered the Islamic Republic.
"Biden has gone on record that he considers the Iran deal to be one of the great accomplishments of the Obama administration and he intends to restore it," said Michael Oren, Israel's ambassador to the US during Obama's first term. "We, on the other hand, viewed the Iran deal as a historic betrayal of America's traditional allies in the Middle East, including Israel."
While Oren told me that Biden would be dependable on the basic US-Israel alliance, which he defined as military aid for Israel and support in periods of crisis, on other issues, the two strategic allies would be sharply divided. "I'm hard-pressed to see a situation where a President Biden would advance his predecessor's efforts to advance the deal of the century," Oren said, adding that he would expect a President Biden to restore aid to the Palestinians, re-open the Palestinian diplomatic mission in Washington, and possibly resume aid to UNRWA, which has perpetuated the Palestinian refugee status throughout the Middle East, to the detriment of Israel.
Biden has raised red flags during this year's cycle of Democratic candidate debates. While he has stopped far short of labeling Binyamin Netanyahu a racist, as his nearest competitor Bernie Sanders did, Biden has criticized Netanyahu for turning to the "extreme right" of his party and the nation, calling the move a "serious mistake."



Courting the Jewish Vote
Reporters covering Biden's presidential campaign are often dismissive of his statements, labeling him a gaffe machine because of his rambling answers and use of terminology that doesn't pass muster in today's politically correct climate.
Even when I first met Biden in 1981, he had a well-deserved reputation for being loose-lipped and saying things he later regretted. When people asked me for my impression of him, I would describe him as being "full of himself," or what we might refer to as a "baal-gaavah."
In a way, it was understandable. He was a cocky young man, winning election to the Senate when he was still "under-age" (he just reached the constitutionally required age of 30 to be a senator two weeks after he was elected for the first time), and he sensed he had a big future ahead of him. Yet underneath the bravado was a man voters found engaging and knowledgeable about the issues, even if they disagreed with his views. He wouldn't have won re-election six times if he was constantly antagonizing people. In one-on-one situations, he was skilled at listening closely to people, and showed his compassion freely.
Biden lost his wife and infant daughter to a car accident shortly after he was elected in 1972. His young sons, Beau and Hunter, survived the accident, leaving Biden a single parent with a very responsible job in Washington. Biden shared the details of the tragic story with me, off-mike, on one occasion before one of our lengthier interviews. At that point in his life, nearly ten years had passed since the fatal accident. He was remarried and had a new baby daughter, Ashley, that he said had provided him closure.
In October 1981, Biden came in for an interview in the midst of a suffocating economic recession. It was still early in Reagan's first term. After recovering from his gunshot wounds earlier that year, Reagan implemented sweeping economic reforms, in a bipartisan fashion uncommon today, garnering support from Democrats who enjoyed a 53-seat majority in the House of Representatives. Reagan had also come out on top in a showdown with PATCO, the nation's air traffic controllers' union, when he fired striking workers — a move that also enjoyed widespread bipartisan support, even though Democrats would normally stand behind a striking labor union.
When I asked Biden why Democrats would back a Republican president like Reagan, his answer was revealing: "If I were organizing a fishing trip for my friends, Reagan is one of the first people I would invite. Everyone likes him. He always has a good story to tell or something good to say about someone, and he's just fun to be with."
Biden strived to emulate Reagan, both when it came to bipartisanship and camaraderie. If anyone can get along with the Senate's stern and taciturn majority leader Mitch McConnell (R-KY), it is Biden, who served alongside him in the senate for more than 20 years and often reached across the aisle to hammer out legislation.
Biden personally showed me his good will in 1981, inviting me to his home during the holiday season, where I met his wife, Jill. That's the night he told me that he considered himself to be "Israel's best Catholic friend," a statement I have heard from politicians before, and after, and one that always makes me cringe. For many US politicians, being Israel's best friend often means they think they know better what's best for Israel than Israel does. And anyway, in geopolitics, there are no friends, only interests, and for most politicians, nothing interests them more than collecting campaign donations and votes, so they can keep their jobs.
Sometimes supporters are willing to look the other way and will go to bat for a politician, no matter how badly they misspeak. Biden's political career almost ended before it started in the critical days leading up to his 1972 senatorial campaign, when he was trying to make a quantum leap from the Newcastle County City Council to the US Senate. He made a gaffe in front of what he thought was a closed forum, only to see it in print a few days later.
Ted Kaufman tells the story: Kaufman worked for Biden from 1972 to 1994, including 19 years as Biden's chief of staff. Kaufman eventually replaced Biden in the Senate, completing the last few months of Biden's term once he became vice president in 2008.
In 2011, Kaufman shared his records and transcripts of his time with Biden in an interview with Donald Ritchie of the Senate Historical Office. Part of it reads: "There is a very entertaining story about when he was running for the Senate. At the very end of the race, when the numbers had closed in 1972 [a reference to Biden rallying from a 30-point deficit in the polls to draw even with incumbent Caleb Boggs], there was a fellow who had been an intern in the campaign who went to work for the local newspaper. On the Thursday before the election day, he wrote an article that appeared on the front page of the paper saying that he had sat in a meeting where Joe Biden said the only reason he was supporting Israel was because it was going to help him politically, that he really didn't care about Israel. Clearly, this was a concern," Kaufman told Ritchie.
As Kaufman relates, Pennsylvania's (Jewish) Governor Milton Shapp came to Biden's rescue at a hastily-arranged reception held at Wilmington's Hotel DuPont two days before the election.
"We had all the leaders of the Jewish community there. Milton Shapp [the first Jewish governor of Pennsylvania] came in and put his arm around Joe and said [in reference to the news report], 'I know Joe Biden, and that's just not true.' So all went fine, and the Jewish community disregarded the article."
Biden won by 3,100 votes out of 220,000 cast. There were approximately 5,000 Jews of voting age living in Delaware at that time, so it could be that the Jewish vote made the difference.

Going Off Script
Once a person takes public office, it becomes incumbent upon him to build ties with all of his constituents, so Biden began attending Jewish events in his home state, making the most of his new Jewish contacts, both informal and formal.
Biden commuted from his home in Wilmington, Delaware to Washington, D.C. on Amtrak, about a 90 minute ride each way. Wilmington was a transfer station on the route to Philadelphia, the home of Rabbi Abraham Shemtov, founding director of American Friends of Lubavitch (Chabad). The organization is headquartered in Washington, so on his own commutes, he often found that Biden was a fellow passenger.
It was his son, Rabbi Levi Shemtov, national director of American Friends of Lubavitch (Chabad), who shared the story of his father's relationship with Biden.
"Everyone who took that route famously knew that once Biden got on the train, he would take his jacket off and schmooze, and my father had many such schmoozes with him," said Rabbi Levi Shemtov.
Thanks to their relationship, Rabbi Shemtov invited Biden to speak at the organization's Living Legacy Conference in 2010 and 2012.
"Biden went off script at one point and turned to my father and said, 'didn't you once say the Rebbe taught that what you did today isn't good enough for tomorrow and we always have to grow?'" Rabbi Shemtov recalls. "His use of that expression was obviously built over many years in many conversations."
Rabbi Shemtov also appreciated how Biden could express his empathy in the face of unexpected tragedy.
On Thanksgiving morning 2008, just three weeks after Biden was elected vice-president, terrorists infiltrated the Chabad House in Mumbai, India, murdering Chabad shluchim Rabbi Gavriel Holtzberg and his wife Rivka, and four other Jewish guests Hashen yikom damam. Rabbi Shemtov had been in constant contact with Indian authorities, monitoring the situation.
"After working the whole night, I get a call. It's Joe Biden. He told me both he and President-elect Obama are ready to work with me and the outgoing Bush administration to help in every way they can."
Biden also shared in the happier occasions as well. President George W. Bush is credited with initiating the tradition of hosting a White House Chanukah party, but it was Joe Biden who began hosting an annual reception for Jewish leaders at the vice-president's residence at the US Naval Observatory. "One year, I get a panicky call that someone mistakenly scheduled the reception for Chol Hamoed Succos," Rabbi Shemtov said. "I said what's the problem, put up a succah near the pool in the backyard where the reception takes place so any guest who wants to eat in the succah could eat in a succah. His wife, Jill, even pitched in to help the people who were putting it up."
Biden's more formal contacts with Israel, at least initially, came through AIPAC, who scoped Biden out as a force to be reckoned with. Biden acknowledged his connection with the lobby from the podium at AIPAC's 2016 policy conference: "Thank you for mentoring me, thank you for teaching me," he said.
Biden then related one of his standard "stump" speeches to Jewish audiences, describing his 1973 meeting with Prime Minister Golda Meir, which took place before that year's Yom Kippur War, but while the memories of the 1967 War were still vivid in her mind.
Meir showed Biden flip charts of maps, depicting the different military encounters during the Six Day War and Israel's vulnerability on multiple fronts.
"I was getting increasingly depressed," Biden said, until Meir turned to him and said, "don't look so sad, Senator. We have a secret weapon in our battle against the Arabs."
"I thought she was going to tell me something classified," Biden said, until she pointed again at a map of Israel and said, "Senator, we have no place else to go."
"It was a piercing moment for me. A formative event that has shaped my life for decades and it remains as relevant to me today as when she said it 40 years ago," Biden said.
Yet a month later, the same Joe Biden sang a different tune at a J Street conference, venting his "overwhelming frustration" with the Netanyahu government, lambasting Israel's "steady and systematic expansion of settlements, the legalization of outposts and land seizures," all of which is raw meat for J Street's left-wing audience.
None of this should have come as a surprise, says Michael Oren: "I viewed J Street as a branch of the Obama administration. I came under criticism for saying that and the administration criticized me for not interacting with them more, but it's not surprising that Biden would reach out to J Street. It's an important voice in the American progressive Jewish community," Oren said.
Three years later, in a 2019 appearance at J Street, Biden pulled a reversal with an address focusing on Iran as "an existential threat to Israel and an unacceptable danger to world peace and security" while supporting some form of sanctions against the Islamic regime, as opposed to going to war.
Aa attendees began tweeting their displeasure with Biden's message, J Street resorted to damage control, spinning Biden's message to mean that "military strength is important, but diplomacy is stronger."

Confronting Confrontation
If Biden's goal was to lure more progressive votes by pandering to the left, he will find that he is falling short of their most extreme demands.
In its recent candidate profile of Biden, the progressive think tank Data for Progress noted that "In his present campaign, Biden has mostly avoided speaking about Israel/Palestine since declaring his candidacy, despite a round of reporting in February 2019 that his campaign would focus on his foreign policy experience and expertise."
However, when confronted by progressive activists affiliated with the anti-occupation Jewish group If Not Now, Biden tried to make up for lost time, using the forum to once again criticize the settlements as "unnecessary." He made a stab at evenhandedness by calling out the Palestinians, asking them "to accept the notion that Israel has the right to exist."
Then, Biden concluded by pointing to his record as evidence that he has put pressure on the Israeli government in the past and that he would continue to pressure them "in terms of what they can and cannot do relative to what is accepted internationally."
Biden's visceral opposition to the settlements predates J Street, If Not Now, and even the Obama administration by decades.
Part of that can be explained away as his adherence to America's long-standing official policy, ever since the Six Day War, that the settlements were, at the very least, an obstacle to peace.
Another part can be linked to Biden's personal animosity for Menachem Begin, who championed settlements, building some 80 new communities from 1977 to 1983 at a time when Biden was intent on burnishing his credentials on the foreign policy front.
A year after Biden expressed his "disappointment" with Begin over Osirak, the senator got the chance to take it out personally on Begin, when the prime minister arrived in the US and senators grilled him on Capitol Hill over Israel's invasion of Lebanon.
Biden shifted the topic to settlements, at one point reportedly banging his fist on the table and threatening Begin with a cutoff of US aid if Israel kept expanding them.
Begin took his gloves off too. "This desk is designed for writing, not for fists. Don't threaten us with slashing aid. Do you think that because the US lends us money it is entitled to impose on us what we must do? We are grateful for the assistance we have received, but we are not to be threatened."
It's not clear if that was as piercing a moment as his experience with Golda Meir ten years prior, but Biden kept his cool during a head-on diplomatic collision over settlements on his 2010 visit to Israel. That trip took place while Israel was still smarting over Obama's June 2009 address in Cairo, seen in Israel as Obama's olive branch to the radical Muslim world.
A junior-level apparatchik in the Ministry of Housing issued a news release during Biden's visit announcing approval for 1,600 new homes in the Ramat Shlomo neighborhood in north Jerusalem. It was a deliberate attempt to embarrass Netanyahu and rile Biden. Israeli officials scrambled to come up with a formula in which they didn't apologize for their action but regretted the way in which it was announced.
If Biden was angered by the announcement, he barely showed it.
He did demonstrate his diplomatic displeasure by delaying a dinner meeting with Netanyahu by 90 minutes and asking his aides to cancel a meeting with Ambassador Oren. But as Oren writes in his book, Ally: My Journey Across the American-Israeli Divide, the next day, Biden appeared on schedule at Tel Aviv University, gave a very pro-Israel speech and dispensed with the settlement controversy in one line, saying: "At the request of President Obama, I condemn it immediately and unequivocally."
Nathan Diament, executive director for the Orthodox Union Advocacy Center and a Harvard Law School classmate of Obama's, told me some of the backstory.
"I was in a meeting with Biden and a number of Jewish leaders before he made that trip," Diament said. "Biden had told us the purpose of that trip was to get the Israeli and American relationship back to where it has always been — friendly and collaborative. Even after the announcement, and this was a person who was supposedly slapped in the face by it, his inclination was to handle it in a much calmer way than some of Obama's advisors in Washington wanted."
Diament added that he would expect Biden to continue on that path if he were elected. "You might call it the old-fashioned Democratic approach, from the type of Democrats who do not at all want to be at loggerheads with Israel, and view resolving the conflict as in Israel's best interests, which is, by the way, how the Trump administration views it also," he said.
Too Early to Tell
With Biden now leapfrogging over the Democratic primary field after a dismal showing in the early primaries, he has proven the contention that even though the progressive wing of the party makes all the noise, the old-fashioned Democrats have a sound grip on the party.
Nevertheless, after two successive campaigns in which Bernie Sanders has proven that he can give mainstream Democrats a run for their money, it is clear that the progressive agenda has already driven Biden farther to the left. He too supports a hike in the minimum wage to $15 (linked to inflation), supports two years of free community or technical college, favors higher taxes on corporations and wealthy individuals, and backs a higher capital gains tax on stock market profits.
The progressive influence will impact his foreign policy, says Oren. At both the 2012 and 2016 party conventions, there was acrimonious debate over Israel. At this year's Democratic Convention in Milwaukee, it will be louder and more acrimonious than ever.
"I expect the platform would include a call for a Palestinian state along the 1967 borders with Jerusalem as its capital," Oren said. "There may be some implicit language about cutting back aid to Israel if it doesn't comply, lifting sanctions on Iran, restoring aid to the Palestinians and opposing annexation. The progressives have not won this contest but they have also not lost. Their voices are increasingly important and Biden can't afford to ignore them."
However, some analysts expect that if Biden is elected, he will chart a different course, even as he courts the progressives and assiduously wraps himself in President Obama's mantle.
Some of that is a facade, according to Thomas Wright, a senior fellow at the Brookings Institution, a Washington, D.C., think tank with close ties to the Democratic Party.
"The Biden campaign believes that the candidate's connection to Barack Obama is an asset, and no political benefit exists in distancing Biden from the former president, except in the gentlest of ways," Wright wrote in a recent article in the Atlantic.
Wright contends that Biden is drawing his ideas from an influential group in the wider Democratic foreign-policy community whom he calls the "2021 Democrats." "This group has spent much of the last three years thinking about what they need to do differently if they have another bite at the apple."
For the 2021 Democrats, the Middle East is not a high priority. Wright mentioned Israel only once in his piece, when paraphrasing Martin Indyk, the Israel-Palestinian peace envoy to both Presidents Clinton and Obama, who said after a lifetime of supporting a very activist US role in the region, he is now of the view that it is no longer constructive.
Instead, the Biden team sees a world in which democracy is eroding, authoritarianism is strengthening, and economic discontent is increasing. The convergence of these forces makes international cooperation harder to achieve, even when it comes to tackling shared problems such as pandemics and climate change. Biden's campaign advisors have also noted Trump's successes at throwing his weight around. While they disagree with much, if not all of what he has done, they do admit Trump has proven that the US can use its leverage in the world to prevent the further erosion of democracy, deter aggression, and reform the global economy.
It is too early to say if Biden will get the chance. He still has to prove he has the stamina to go the distance in a long, grinding campaign that will be heavily impacted by the coronavirus outbreak.
Biden's penchant for being loquacious, which was once part of his charm, is no longer a plus in an era in which messages are delivered on social media, in 20-second sound bites. His squabbles with average Joes when he presses the flesh, his forgetfulness on stage, and the occasional blank stare leads onlookers to believe that although Biden jogs to keep in physical shape, he has lost some of his mental capabilities. His defenders say that's fake news, and that the view from up close is different from the view from afar, but as Biden approaches age 78, whatever health issues he may be struggling with are not going away.
Having said that, Biden polls well nationally, as he has since he announced his candidacy. He is ahead in many key swing states that Trump flipped to the Republican column in 2009, although a leading pollster warned about putting too much stock in the polls at a stage when the only number that counts is the number of coronavirus patients.
"Things are in such a state of flux right now that it makes little sense to talk about specific electoral college states or how Biden matches up against Trump," said Sean Trende, senior elections analyst for RealClearPolitics. "Trump could go into the general election viewed as a de facto wartime president with sky-high approvals or as a dangerously incompetent incumbent with Bush 2008 approvals. It really is impossible to say anything right now."
There is one more wild card that will impact the race.
Biden has begun vetting potential vice presidential candidates and has committed to picking a woman. Presidential nominees have a long history of going off the rails when it comes to selecting running mates. There is little doubt that to balance his ticket, Biden will favor a running mate who can energize the party's youth and progressive wings, and perhaps a person who has card-carrying credentials in those ranks.
In American history, eight vice presidents succeeded in replacing a president who died or was killed in office. While the axiom that the vice president is only a heartbeat away from the presidency always rings true, like the bells on an AP teletype machine, considering Biden's age, his choice of a running mate will take on greater importance than ever before. Voters will need to examine the pick in light of that, before pulling the lever in November.

WHAT DID BIDEN DO FOR 36 YEARS?
While Joe Biden served for nearly two decades on the Senate Foreign Relations Committee, including two years as chairman, the Senate's role in foreign policy is limited.
Biden made a greater impact domestically in the 14 years he served on the Senate Judiciary Committee, eight of them as chairman.
Biden still refers to the 1994 Violent Crime Control and Law Enforcement Act as the "Biden Crime Bill." Biden did not sponsor the legislation, but the New York Times once called Biden's determination to pass the bill as his defining moment on the committee.
Passed during the Clinton administration when Democrats were trying to prove they were not soft on crime, the measure provided $30 billion for 100,000 more policemen on the streets, new prison construction, and increased border protection.
It may become an issue that dogs Biden in this current campaign among liberal Democrats, especially after Clinton himself expressed regrets that it went too far in toughening sentencing standards, thus contributing to "mass incarceration."
Biden now proposes new laws to "confront racial and income-based disparities" in the criminal justice system and "eliminate overly harsh sentencing for non-violent crimes."
Biden can also be credited for sponsoring the 1993 Religious Freedom Restoration Act, prohibiting the federal government from "substantially burdening a person's exercise of religion." Even though the Supreme Court eventually overturned the law, Congress went back to the drawing board and passed a stripped-down version of the law, known as the Religious Land Use and Institutionalized Persons Act (RLUIPA), which has proven important to Orthodox Jews when they wish to open a neighborhood synagogue, and keep them open in the face of neighbors' complaints.
Here are a few more highlights of bills sponsored or co-sponsored by Biden:
PASSED 2007: Required the Justice Department to develop a National Strategy Child Exploitation Prevention and Interdiction and improve the Internet Crimes Against Children Task Force to fight child exploitation and abuse. Thousands of offenders have been put behind bars every year as a result of this measure.
FAILED 1997: Proposed a Constitutional amendment granting Congress the power to set "reasonable limits" on campaign donations and expenditures for candidates running for federal offices. The Senate voted this down 61–38.
VETOED 1991: The Family Leave Act entitled employees to 12 weeks of paid sick leave in a 12-month period to care for a child, spouse, or parent with a serious health condition or their own illness if it prevents them from performing the functions of their position. President George H.W. Bush vetoed the bill twice but it was eventually reintroduced and signed by President Clinton.
FAST FACTS ON BIDEN'S 36 YEARS IN THE SENATE:
491 bills sponsored
2,710 bills co-sponsored
42 sponsored bills that became law
348 co-sponsored bills that became law
11 sponsored and co-sponsored bills the president vetoed
1,781 missed votes out of 14,556 roll call votes, which is 12.2% higher than the median 2% among lifetime records of senators serving in January 2009
(sources: GovTrack US, Library of Congress, Congress.gov.)
(Originally featured in Mishpacha, Issue 806)
Oops! We could not locate your form.
>