| Ask a Venture Capitalist |
 WHY WE INVESTED IN NEIGHBORHOOD GOODS 
| December 18, 2019
Investor Secrets Revealed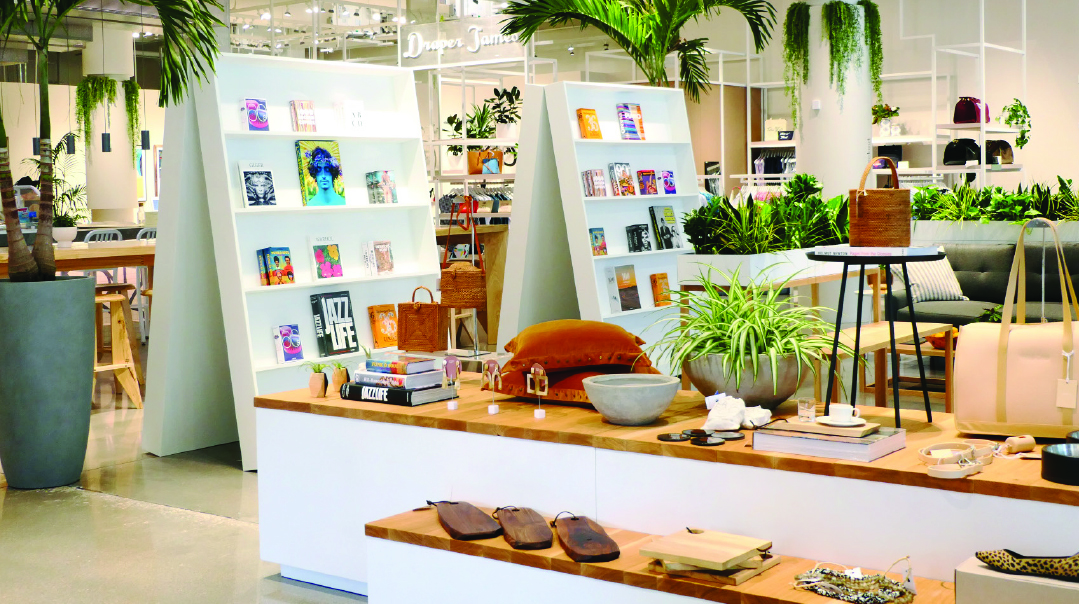 F
or the past few years, the world has been hearing about the "death of physical retail."
As legacy brands such as JCPenney and Macy's face a steady decline, we're seeing a transformational shift in consumer shopping behavior away from what we've always known, to experiential retail, in which brands bring their products alive through storytelling and design.
As these trends unfold, our company, Ground Up Ventures, formed a thesis around a future of retail that is omnichannel (or integrating different shopping methods, like online, through a physical store, by phone, and so on), on-demand, experiential, and curated. And when we met Matt Alexander, the founder and CEO of Neighborhood Goods, we were excited to discover in him someone with a shared vision for the future of retail. Alexander has the experience and ability to create a retail brand of lasting significance in this evolving landscape. That's why he and his company caught our eye.
Neighborhood Goods is a new type of department store, featuring an ever-changing space of the world's most exciting brands, products, and concepts. More than that, Neighborhood Goods is a community, bringing thoughtful people together to shop, eat, and learn through its vibrant physical spaces, editorial channels, events, and in-house restaurants. The first store opened in Plano, Texas, in November 2018, and Neighborhood Goods just inaugurated another branch at New York City's Chelsea Market earlier this month.
OMNICHANNEL: STORES NEED ONLINE AND ONLINE NEEDS STORES 
For years, people have been saying that e-commerce will wipe out physical retail. But even Amazon, the Angel of Death to brick-and-mortar businesses, has shown a strong commitment to a new physical retail strategy through the opening of its own organic store concepts, Amazon Go and Amazon Books, as well as with its acquisition of Whole Foods Market. In line with these trends, Neighborhood Goods enables digitally native brands to make a seamless transition into a physical location, affording them the benefits of a concrete presence, while allowing them to stay focused on what they are best at — rather than on developing, launching, and operating their own actual stores. One of the advantages of shopping in real life is the ability to walk out of a store with your purchase. One of the advantages of online shopping, on the other hand, is efficiency: the ability to bounce around effortlessly and not wait in lines.
Accordingly, Neighborhood Goods offers different ways to shop to fit every customer's preference in a way that makes online and offline seamlessly flow into one another. "The goal for us is to get out of the way of the customer," Alexander says. "If you want to come in and have a showroomy experience where you buy something, but you don't necessarily want to carry it home, we can ship it to you. If you want to order for in-store pickup, that's fine as well. If you want on-demand delivery within a few hours, you can do that. Or if you want to go the traditional online route and order from the comfort of your home and have it brought to you, that also works."
SELF-SERVE: FRICTION-LESS CHECKOUT EXPERIENCES 
In the spirit of creating this frictionless shopping experience, Neighborhood Goods offers self-checkout in the store. Shoppers can scan an item's barcode and pay via the Neighborhood Goods app, eliminating any unnecessary interactions with sales clerks or waiting in line to pay. The app's indoor positioning function recognizes your location in the store, and a member of the Neighborhood Goods team brings you your items, bagged and ready to go.
EXPERIENTIAL: WHAT OFFLINE SHOPPING NEEDS TO BE 
For offline shopping to stay relevant, it must become all about the experience. "I don't think retail is dead," Neil Blumenthal, the co-CEO of Warby Parker, told The Wall Street Journal. "Mediocre retail experiences are dead." While e-commerce may possess an advantage for efficiency-minded transactional shopping, brick-andmortar locations have a clear advantage for social, experiential shopping. A core part of the philosophy of Neighborhood Goods is that the store should be a neighborly gathering place. This belief is manifest in the physical design of the store, which includes a proprietary restaurant concept called Prim & Proper, and which provides ample communal space to host workshops, lectures, and other events, like product launches or parties. For any experience to stay fresh, it must be dynamic.
Unlike traditional department stores, at which the only things that occasionally change from visit to visit are the clothes on the racks, Neighborhood Goods will feature a revolving set of brands and categories so that each visit to the store is an opportunity to discover and interact with new companies, installations, and events. This dynamism is even programmed into the in-store restaurant concept: the menu evolves throughout the day and covers everything from breakfast and a coffee pick-me-up to after-work drinks and weekend brunch.
CURATED: NO TIME OR ENERGY FOR DISCOVERY 
People want to be exposed to items and ideas that are new. However, most prefer that someone else do the "heavy lifting" of the discovery and filtering process. Neighborhood Goods delivers this value proposition with a curated set of brands that only includes the most interesting emerging digitally native category leaders and that covers children, men, women, and lifestyle, so there is something for everyone. Neighborhood Goods is also producing and curating retail- and brand-oriented content dedicated to "Behind the Brands" stories.
The power of these stories to upgrade shoppers from regular customers to loyal followers of these brands is another way that Neighborhood Goods is thinking about how to deliver value to its tenants beyond the physical space of its store.
If you're interested in learning more about Neighborhood Goods, feel free to visit them at neighborhoodgoods.com or follow along at @neighborhoodgoods.
Jordan Odinsky is an investor at Ground Up Ventures, an early-stage venture capital firm based in the United States and Israel, founded in 2018 by Cory Moelis and David Stark. It is a generalist fund that invests in pre-seed and seed-stage companies. Ground Up Ventures has invested in eight companies to date across the insurance, retail, financial, real estate, and enterprise verticals.
David Stark is a founding partner at Ground Up Ventures. Before Ground Up, David was a builder and partner at OurCrowd, a 1.2B Israel-based venture capital fund, in which he invested in over 100 startups. David started his career in Blackstone's real estate private equity group and is a graduate of the Wharton School of the University of Pennsylvania. 
(Originally featured in 2.0, Issue 7)
Oops! We could not locate your form.
>