| Cooks Compete |
Whole Wheat Challah
| April 26, 2022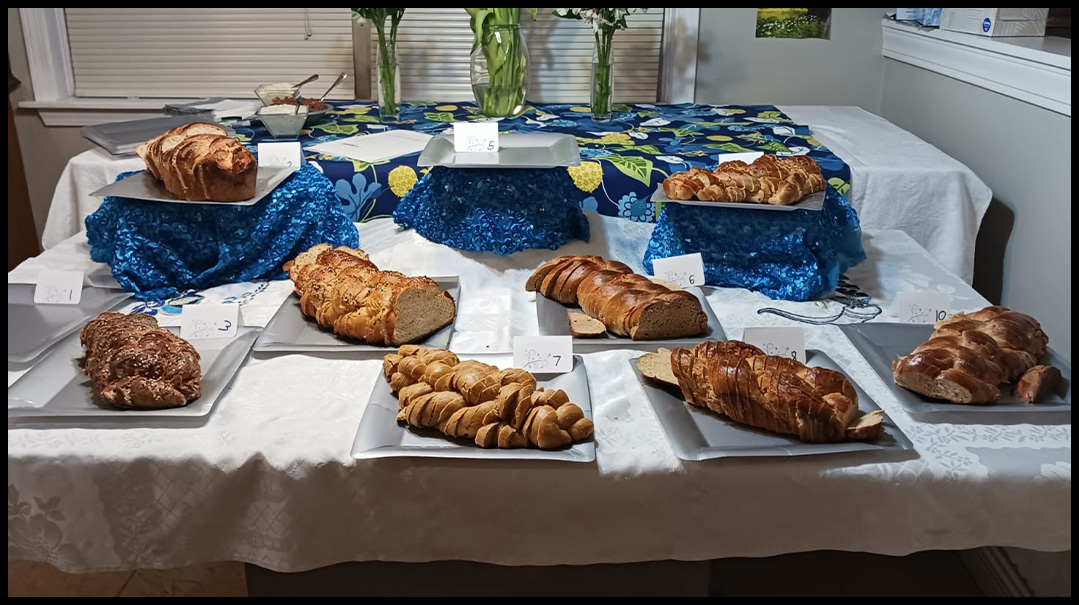 Ahh… that first bite of challah post-Pesach. Whether you shape your challah like a key or wrap a key in foil and stick it in, that first bite is even better with the best kind of whole wheat challah. Here are the ones we've rounded up!
Fluffy Whole Wheat Challah
Submitted by Malki Sinensky
New York, NY
I love testing and trying new recipes, and challah is no exception. Whole wheat challah has always been a challenge because no matter which recipe I tried, the challah inevitably came out heavy. So I adapted this recipe, for a basic fluffy challah, to whole wheat flour. It took several weeks and different modifications, but the result was a tasty, light challah.
YIELDS 3 6-BRAID CHALLOS
1 Tbsp sugar, for proofing
2 cups warm water, or more as needed
2 Tbsp active dry yeast
¼ cup honey
½ cup sugar
½ cup oil
2 large eggs, plus 1 for egg wash
2 cups high-gluten flour
3 cups whole wheat flour
1½ tsp kosher salt
Mix sugar, water, and yeast in a small bowl. Let rest for about 10 minutes until you see the yeast bubbling.
Place honey, sugar, oil, and eggs in the bowl of your mixer and mix. Add the yeast mixture, then the flours and salt. Mix again until smooth and still slightly sticky. (I usually mix it for 7–10 minutes.) You probably won't have to add more flour, but if it looks very sticky you can add a bit, 1/4 cup at a time. If it looks too dry, add more warm water, also 1/4 cup at a time. (I often end up adding 1/4–3/4 cup.)
Let the dough rest for 3 minutes, then transfer it to a well-greased bowl, cover it with plastic wrap, and let it rise for an hour to an hour and a half until it doubles in size.
Form into balls. If the dough is sticky, rather than adding flour, grease your hands and shape the balls that way. Let the balls sit for 10 minutes, then roll into ropes and braid.
Cover the braided dough with plastic wrap and let it rise again for 30–45 minutes. Brush with egg wash, then bake it at 350°F (175°C) for 30–35 minutes.
Whole Wheat Egg Challah
Submitted by Suri Goldstein
Brooklyn, NY
This recipe is from my mother, a"h, who taught us by example the benefits of healthful cooking and a healthy lifestyle. I feel good serving it to my family because it's made from 100% whole wheat flour and no sugar.
YIELDS 8 LARGE CHALLOS
5 Tbsp dry yeast
4 cups lukewarm water, divided
1 5-lb (2.26-kg) bag white whole wheat flour (I use Grain Brain)
2 Tbsp salt
1⅛ cups + 1 squirt honey or agave (I use ½ cup + 1 Tbsp of each)
5 eggs + 1 for egg wash
1⅛ cups oil
Dissolve yeast in 2 cups warm water and a little sweetener. Set aside and allow to bubble.
Combine flour and salt in a mixer or large mixing bowl. Mix remaining 2 cups water, honey and/or agave, eggs, and oil. Add everything to the mixer or bowl and mix until combined.
Let rest for 5–10 minutes, then continue kneading until the dough is very smooth.Cover and let dough rise until more than doubled in bulk (about 2 hours).
Divide into 8 parts. Braid and leave loaves to rise again until doubled in size.
Preheat oven to 375°F (190°C).
Brush braided dough with beaten egg. Bake until desired doneness, about 35 minutes.
Basic Whole Wheat Challah
Submitted by Miriam Lea Ungar
Far Rockaway, NY
This recipe goes back as far as I can remember. I got it from a good friend and neighbor, who was probably convincing me to eat more healthy. It's light and fluffy. My kids ask me if I made "chocolate" challah for Shabbos, since on any given week I can have regular, whole wheat, spelt, or sourdough challah!
YIELDS 6–8 CHALLOS
5 Tbsp dry yeast
6 cups water, divided
3 Tbsp salt
2 cups sugar
1 cup oil
2 eggs, plus 1 for egg wash
5 lbs (2.26 kg) whole wheat flour
In a bowl, combine yeast with 1 cup water and a little sugar. Set aside until it starts to bubble.
Place salt, remaining water, and all the rest of the ingredients into your mixing bowl. Add the yeast mixture and mix well. Let rise. Braid the dough and then let it rise again.
Preheat oven to 350°F (175°C).
Brush braided challos with egg wash, then bake until done.
Special thanks to the N'shei of Midwest Torah Center of South Bend, Indiana, for hosting this tasting party.
(Originally featured in Family Table, Issue 790)
Oops! We could not locate your form.
>