| True Account |
Where Baalei Teshuvah Stand | June 27, 2023
Unless a person works on himself to internalize and truly live Yiddishkeit, what does the fact that his parents were religious say about him?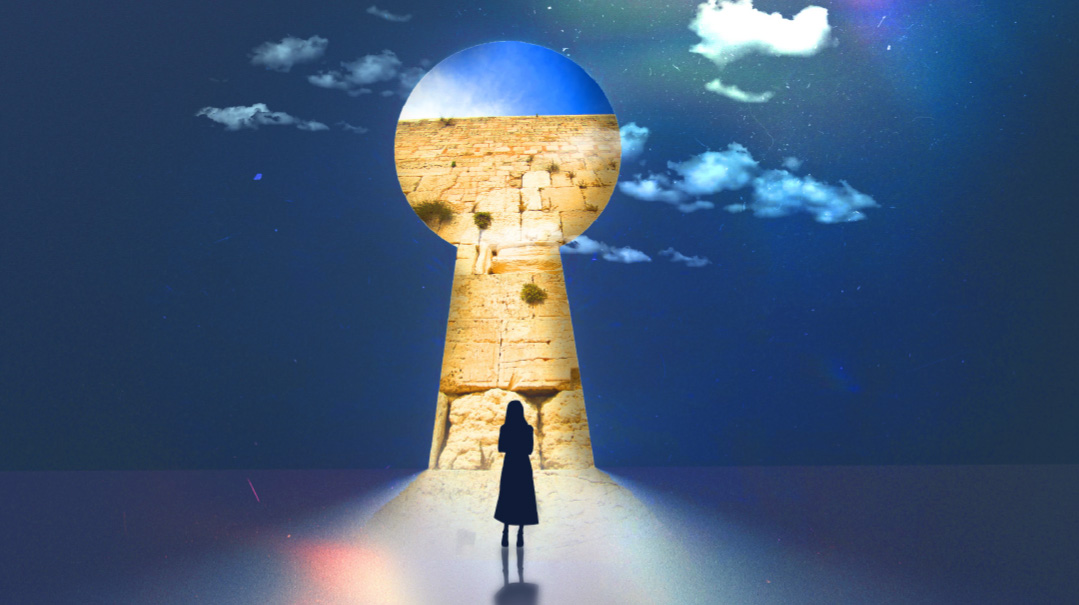 As told to C. Saphir
"It's not possible for baalei teshuvah to fully integrate into the frum community," the woman beside me remarked confidently.
"Of course it is," I replied.
"No, it's not," she insisted. "I can always tell a baal teshuvah from a mile away."
"Really?" I asked, my curiosity piqued. "How can you tell?"
"Oh, in a million ways," she said, waving her hand. "The way they talk. The way they dress. The way they pronounce Hebrew words. There's always a giveaway."
"Interesting," I murmured.
I kept my glee safely hidden until I came home. "I made it!" I announced, to no one in particular, once I closed my front door. "She thinks I'm an FFB!"
 Ever since I became a baalas teshuvah, some 40 years ago, I've told people who asked about my background that I grew up "traditional." I don't tell them traditional what.
My mother was born in prewar Berlin to assimilated Jewish parents. Her father was born to an Orthodox family, the youngest of 14 children, but he defected and joined the Reform movement, putting himself through Heidelberg University and graduating as an electrical engineer. When the Nazis rose to power, he fled, escaping to safer shores with his wife and daughter — my grandmother and mother — before the start of the war. All his siblings perished at the hands of the Nazis.
My grandfather actually blamed the Orthodox for causing the Holocaust — through their refusal to assimilate. After the war, when a local rabbi knocked on his door and tried to convince him to send his daughter to a Jewish school, his response was to put her in a convent — where, ironically, she was reviled because she was a German.
After several years in the convent, my mother went to college, where she met my father, who came from a completely secular family. At my grandfather's behest, their wedding was held in a church, and a photo taken during the occasion shows my mother's father beaming with delight at having achieved his life's goal of total assimilation.
My sister, my brother, and I were raised as Christians, attending church every Sunday and celebrating Xmas and other Christian holidays, much to my grandfather's satisfaction.
Oddly, each time we visited my grandfather, he would point to me and tell my mother, "You're going to have trouble from this one. She has a Jewish heart."
He passed away and was cremated when I was only six, so he was saying this when I was just a young child. To this day, I have no idea what he saw in me at that age that so worried him; I didn't even know I was Jewish, and I certainly didn't observe any Jewish practices. His fears would prove to be well-founded, though.
I was officially told that I was Jewish when I was 14, after my mother insisted that I watch a late-night television documentary about Hitler's Final Solution. "You should know that you're Jewish, and this can happen to you," she said.
I wasn't interested in the documentary, and I was even less interested in knowing I was Jewish. "Can I go to sleep now?" I asked my mother when the presentation was finally over.
I attended an elite Christian private school, and once, a divinity teacher of mine began ranting against the Jews, whom he called "the most damned people in the world."
"Hitler did the world a favor by trying to exterminate them," he stated.
I raised my hand to comment. "I'm Jewish," I said calmly. "What's wrong with me?"
"Don't ever say things like that," he scolded me. "That's the most evil thing you could say! You're not a Jew — you belong to the church!"
Although I had a friendly, outgoing personality, I had trouble finding my place socially once I entered college. I had a group of friends that I thought I belonged to, but every weekend, they would go out together to have a good time without informing me of their plans.
A classmate of mine would often tell me, "You're so lucky to be Jewish." I had no idea what she meant, and apparently not everyone shared her sentiments.
Seeing how I was being shunned by my friends, my mother remarked, "You need Jewish friends. You should go to Israel."
She might as well have told me to go to China. I knew nothing about Israel, and nothing about Jews.
"I want to finish college!" I protested.
But she had made up her mind that I should go to Israel, and she practically begged me to get on a plane. This, from the person who hadn't even told me I was Jewish until I was 14.
"You can defer your college studies," she said. "Just take six months off."
MYmother had some nonreligious cousins in Israel, and they set me up on a Hashomer Hatza'ir kibbutz near Afula. There, I befriended a non-Jewish Canadian girl — I'll call her Sheila — who had come to Israel to trace the footsteps of the Christian "savior." I tagged along with her as she followed the trail of the Nazarene, visiting Bethlehem, Nazareth, the Sea of Galilee, Jericho, the Jordan River, and other sites of interest to Christians.
Wherever we went, Israelis would ask me, in their characteristically direct manner, "What is she doing here?"
"We're traveling around Israel together," I would answer.
"But what is she doing here?" they would repeat, pointing to Sheila. "You're obviously Jewish, but why are you with her?"
I didn't understand the question.
One day, I suggested to Sheila that we visit Jerusalem. "I've heard it's an important city," I said.
"Oh, yes," she agreed. "The Via Dolorosa is there."
In Jerusalem, we stayed with some Christian Israelites in Kiryat Hayovel who observed rituals that I found creepy, such as group prayer sessions in which each participant would commune with G-d and then relay to the group the divine message he had received. One day, I told Sheila that I'd like to have some time alone, and I boarded a bus heading toward the center of town.
"Where can I find Jews?" I asked the bus driver. I had no idea what it meant to be Jewish, but I figured I'd find some Jews and ask them.
"Jews go to Wailing Wall," the driver replied in his broken English.
That's how I found myself standing before the Kosel. Watching people talking to the wall, quite literally, I naively assumed there must be something behind the wall. So I walked out onto the Temple Mount, straight into the mosque behind the Wailing Wall. There, I saw that people were talking to something beneath them, so I began descending the staircase leading down from the golden dome.
I was stopped by an Arab, who asked me what I was doing.
"I want to see who the people are talking to down there," I explained.
"There's no one down there," he answered. "The people are talking to G-d."
Disappointed, I returned to the Wailing Wall plaza, where I met a man who introduced himself as Meir Schuster. Pointing to the worshippers at the Wall, he asked me, "Do you want to know what these people are doing?"
"Yes," I said.
Next thing I knew, he brought me to the doorstep of a women's kiruv seminary. At the time, I had no idea what this place was all about, but eager as I was to get away from the creepy folks in Kiryat Hayovel, I accepted the madrichah's offer to stay for a week.
After eating lunch at the seminary, I returned to Kiryat Hayovel and informed Sheila that I had found a school of Jewish studies where we could sleep for a week. But when we showed up together the next day, the principal regretfully informed her that I had taken the last bed.
At the first seminary class I attended, I understood almost nothing the rabbi said. But one thing I did understand, and that was when he said that every Jew has a homing device, like a salmon that goes back to its birthplace to lay its eggs, or a bird that migrates around the world each winter. Somehow, I felt at home, although I couldn't possibly explain why.
At the end of that first week, no one asked me to leave, and I felt more comfortable in the seminary than I had in Kiryat Hayovel or at the kibbutz, so I stayed on.
For the next three months, I attended shiurim at the seminary — and had no idea what the rabbis were talking about. Who is this Hashem they keep mentioning? I wondered. Most of the other girls in the program came from Conservative or Reform backgrounds and had some knowledge of Judaism; I was the only one who was totally clueless.
During one class, the rabbi mentioned Yom Kippur. Finally, something I had heard of! "I know what that is," I piped up enthusiastically. "It's the day they commemorate the Yom Kippur War!"
The rabbi very quickly changed the subject.
Shortly after my arrival, I turned on the light in my room on Shabbos, much to the horror of one of the other students.
"Hashem is going to punish you!" she exclaimed.
I deliberately turned the light off and then on again. "Don't tell me what to do," I said. "This is my room and I can do what I want. Anyhow, you see Hashem hasn't punished me."
 INthe meantime, I wrote my mother a letter telling her all about the interesting place I had discovered. "Such lovely people there are here," I gushed. "They're Orthodox Jews."
When my father got wind of the letter, he urged my mother to get on a plane immediately and drag me back home.
"They've nabbed her!" he said. "If you don't bring her back, we'll never see her again."
"But she's 19!" my mother wailed. "How can we force her to come back?"
My mother would cry bitter tears every night over having lost me to the Orthodox. She had sent me to Israel to meet secular Jews, not Jewish Jews. "You've learned enough already," she wrote to me. "Now it's time to come back."
Sensing the urgency in her words, I decided to return home and finish my college degree, which had been my original plan. I booked a return flight, and on the day of my departure I packed my suitcase and ordered a taxi. As I was waiting outside for the taxi, it occurred to me that I should say goodbye to the principal, so I left my suitcase at the door and dashed upstairs to his office.
"I've leaving now," I said. "I just wanted to thank you for everything."
"You're going?" he asked, his eyes wide with surprise.
"Yes," I said, thinking of the suitcase I had left unattended downstairs and the taxi that was probably waiting for me impatiently.
"But what are you going to tell your children?"
"I don't have any children," I replied blithely. "Goodbye!"
But when I went back down to get my suitcase, I couldn't get his question out of my mind. What would I tell my children? Would I live a life like that of my parents, full of hypocrisy and falsehood? Would I tell my children they were Jewish but not teach them how to live like Jews?
Having studied at the seminary for three months, I knew enough about Judaism to know that there was a whole lot I didn't know. And if I left now, I'd be unequipped to give my children a more Jewish upbringing than I had received.
Until this point, I hadn't really made any choice to explore my Jewishness. I had come to Israel upon my mother's urging, I had been delivered to the seminary by Reb Meir Schuster, and I had stayed at the seminary simply because it was a nice place to be. Now, for the first time, I was at a crossroads, compelled to decide: Would I return home and live like a gentile, or would I remain in Israel and fully embrace my religious heritage?
I canceled my taxi. And stayed in Jerusalem for another six months. By then, I was fully religious. When I finally returned home, it was for a visit — with a return ticket back to Eretz Yisrael already booked.
My parents, of course, were furious and forbade me to return. We had a big fight, but in the end, I prevailed.
I studied in seminary for another year after that, at which point one of my teachers introduced me to my husband, who was also a baal teshuvah from a "traditional" background, except that the tradition he had grown up with was Jewish. His parents, who were proud of their Jewish identity, were horrified that I had been raised as a Christian, and they tried to break up the shidduch. But we persisted in our plans to marry, naively believing that love would conquer all. (It didn't, but that's a different story.)
My husband and I lived in Eretz Yisrael for a few years after our marriage, after which we moved abroad to a city with a small Jewish community, where my husband joined the local kollel. When it was time for him to begin working for parnassah, we moved to a more established frum community near my hometown, which is where I met the woman who told me she could always spot a baal teshuvah a mile away.
This woman's attitude was hardly isolated: When we first moved into town, the local rav called us in and told us that this was not a good place for baalei teshuvah. And when I bumped into a woman in the community who had studied with me in the kiruv seminary, she blanched, and asked me very bluntly to deny any prior acquaintance, even though she was the only person in the community whom I actually knew from before. "I don't want anyone to know I'm a baalas teshuvah," she explained.
By this time, my father had passed on. My mother lived a distance of several hours away, and she would often come to visit and spend time with our children, whom she adored and who adored her. In deference to our community's standards, she dressed modestly when she came, and no one dreamed she wasn't frum, even though she didn't cover her hair. Much to my amusement, I discovered that the people in my community assumed that the reason she didn't cover her hair was that she was Yekkish, as evidenced by her German accent. (Apparently, it was common for frum Yekkish women of that generation not to cover their hair.)
I never did tell anyone in the community about my background, which was just as well, because when my husband became mentally unstable and our marriage fell apart, no one was able to blame it on the fact that we were baalei teshuvah.
I dreaded having to tell my mother that I was getting divorced, since I fully expected that in her eyes this would be a condemnation of my chosen way of life. To my surprise, however, when I finally worked up the courage to inform her of my imminent divorce, her response was, "Husbands like yours exist in every society, and it has nothing to do with you being Orthodox."
Then she said something that truly blew my mind. "Torah is true," she reflected. "It's just that some people don't know how to keep it properly. You're strong, you'll be okay."
Unbeknownst to me, over the years of watching me build a Jewish family, my mother had come to admire and recognize the truth of Yiddishkeit. She herself did not feel capable of changing her lifestyle, but she had come to genuinely respect mine.
Several years after my divorce, the Jewish Observer published its now-famous issue about kids at risk. That issue explored a series of risk factors that supposedly make kids more likely to go off the derech, and as I perused the articles, I realized that my children had every single risk factor!
I was divorced. The children had suffered abuse at the hands of their father. We were impoverished, receiving no child support from my ex-husband. My sons had been bullied in school because of their father's behavior. We had recently moved to a different city. My ex-husband and I were baalei teshuvah. And we had no family support.
I wasn't frightened by the discussion of risk factors — I was incensed. I called the office of the Jewish Observer and asked for the contact information of the author of one of the articles, so that I could give him a piece of my mind. Turns out, he was a rav who lived not far from me, and I called him and asked if I could come speak to him.
When I entered his house, I asked him, "How dare you write such a thing? You're basically telling me that all my children are bound to go off the derech. Now what am I supposed to do? What's the point of telling me this?"
The rav asked me detailed questions about my children, all of whom were learning in top-notch yeshivos and Bais Yaakovs, and when he was sufficiently convinced that my children were all happy, stable, and religiously committed, he told me not to worry.
"Your children are not going to drop out of Yiddishkeit," he assured me. "Even though a lot has gone wrong in their lives, something obviously went very right in the chinuch you gave them that enabled them to distinguish between the truth of Torah and people's bad behavior."
His prediction, or perhaps his blessing, came true, I'm gratified to say. Today, all my children are happily married and are building beautiful Torah homes. I, too, remarried — an FFB, actually, with whom I found true happiness. (When I told my second husband that it was a shame we hadn't married each other on the first round, his response was, "Well, I never would have married you the first time." A shame, isn't it?)
Even with all my children married off and my status in the community firmly cemented, I still don't share my story freely. I'm concerned about my grandchildren's shidduchim, frankly, and I don't think my worry is ill-founded. While I myself am proud, not ashamed, of my journey to Yiddishkeit, I highly doubt that my children would have been accepted to the prestigious frum institutions they attended, or would have been considered as shidduch prospects for the people they married, had the details of my "traditional" background been public knowledge.
Back when I was a fresh baalas teshuvah, I ate a Shabbos seudah at the home of a frum family. This experience was certainly an outlier, but it was one I will never forget. At the table, in front of his entire family and the other guests, the man of the house announced, "The Gemara says that baalei teshuvah cannot stand in the same place as tzaddikim, and the reason is that a baal teshuvah brings with him all the shmutz of the outside world, which he can never fully escape."
Minimal as my Torah knowledge was at that point, I did know that the Gemara he was quoting actually said the reverse: that tzaddikim cannot stand in the same place as baalei teshuvah. I was a guest at this tactless person's table, though, so I had to keep my mouth shut.
What I would have liked to respond is that being an FFB says nothing about a person's true spiritual level. In fact, I often think that the acronym FFB should really be changed to FFH: frum from habit. Unless a person works on himself to internalize and truly live Yiddishkeit, what does the fact that his parents were religious say about him?
I, on the other hand, can say that I chose, and continue to choose, the Torah lifestyle — not because it's convenient, but because it's the truth. In answer to the question posed to me so many years ago by my seminary principal, that is the legacy I have given to my children. And despite all the "risk factors" they encountered in their early lives, that is the legacy they are transmitting to their children as well.
(Originally featured in Mishpacha, Issue 967)
Oops! We could not locate your form.
>