| 5783: Year in Review |
When Demonization Became Respectable
| September 12, 2023
            The New York Times systematically weaponized its coverage to heap embarrassment on Orthodox institutions and individuals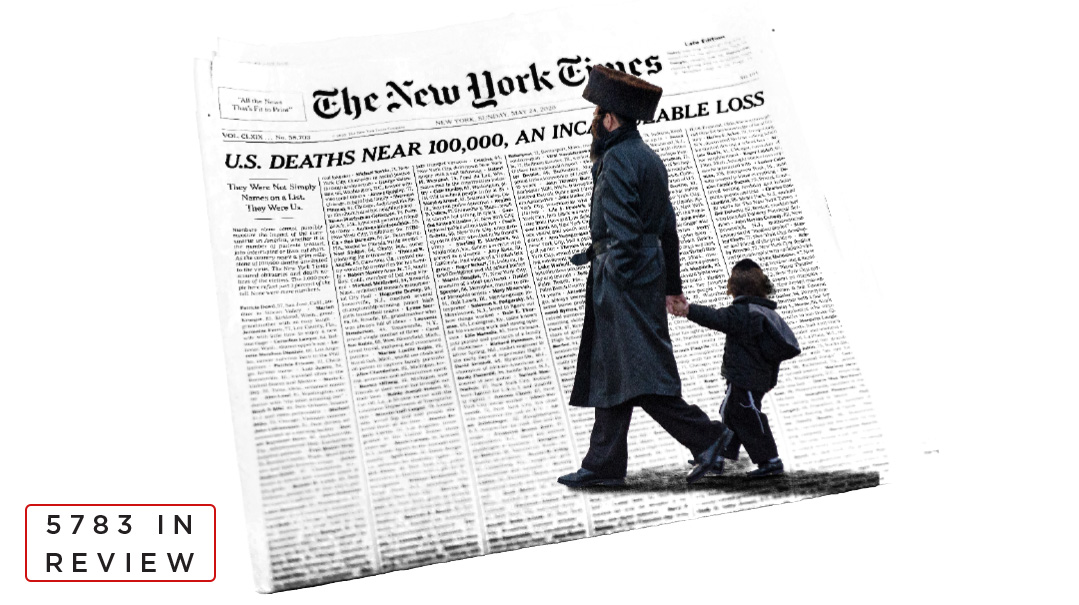 IN
5783, Klal Yisrael found itself under repeated assault by the New York Times. Whereas in the past, anti-Semitic tropes and bigotry were relegated to the darkest corners of society, this year saw demonization of Orthodox Jews unapologetically showcased on the front page of the world's most prestigious newspaper.
When the Times attacked the yeshivah system, gone was any of the normal cultural sensitivity that it routinely extends to minority communities. But instead of apologizing for its egregious discrimination, the Times systematically weaponized its coverage to heap embarrassment on Orthodox institutions and individuals.
This incessant bullying by the 800-pound media gorilla was foisted upon our community in the form of 17 articles in the "paper of record." In tandem, the reporters responsible embarked on an unprecedented speaking tour to promote their misleading and activist-driven hit pieces, with nary a word of protest even from our elected "friends." As the saying goes, with friends like these....
Further demonstrating the lengths to which these journalists went, emails recently disclosed by the Breitbart news site point to apparent collusion between Times reporters and state education officials to produce these articles. This was apparently done with the intent to impinge on the independence of yeshivos while capturing a Pulitzer Prize for Team Sulzberger's anti-Orthodox crusade. Thanks in great part to the herculean efforts of the Agudah's groundbreaking "KnowUs" multi-media push-back campaign, their malpractice was exposed, and they were denied American journalism's ultimate prize.
But severe damage to our reputation was done nonetheless, and the sound of crickets from the establishment, aside from a few heroic journalists, and even fewer elected officials, was nearly impossible to overcome. Significantly, this reign of editorial terror coincided with a historic rise in anti-Semitic incidents, according to the annual ADL Hate Crimes report. The correlation between the two — which, as they say, does not prove causation — is hard to miss.
So, on the cusp of a new year, we need a change in strategy from our previous reliance on fair-weather political connections. Along with faith in the Almighty, our community needs to make a serious, sustained commitment to fighting back against the new bigotry stemming from media conglomerates and well-funded adversaries.
The "KnowUs" initiative, dedicated solely to proactively setting the record straight about religious Jews, is one of the first of its kind from within the community's organizational structure, but it cannot be the last. Leadership from every kehillah should prioritize robust investment, both in money and in manpower, and make a lasting commitment to support coordinated, professional shtadlanus to counter the full-scale attacks on our way of life.
This isn't exclusive to chassidishe or yeshivishe communities. The shameful coverage by the media during Covid, as well as targeted government enforced "red zones," taught us that an attack on one should be viewed as an attack on all. Our detractors seem particularly effective at dividing us, and unfortunately, oftentimes, we seem to let them, for short-term political expediency or a fleeting photo op.
Truth be told, the decline of traditional family values, alarming anti-Semitism, and the rise of the militant progressive agenda require unprecedented communal unity, as complicated as that vision might be. Because while the parochial needs of individual communities may be critically important, the very autonomy and survival of our collective chinuch system and the ability to live life as Torah Jews in a rapidly decaying moral environment should trump any individual self-interest.
If 5783 taught us anything, it is that we are alone and can only count on each other. Frankly speaking, the current atmosphere demands capable and committed klal askanim from every community to step forward and lead with clarity and conviction.
Chaskel Bennett is a member of the Agudath Israel of America Board of Trustees, and co-founder of the Flatbush Jewish Community Coalition.
(Originally featured in Mishpacha, Issue 978)
Oops! We could not locate your form.
>