| 5783: Year in Review |
Halls of Power: 5783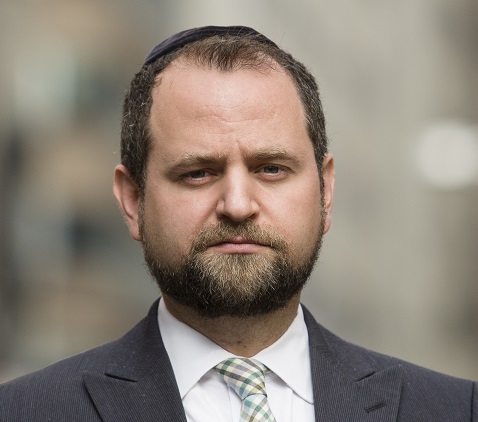 | September 12, 2023
A repeat of the 2020 election looks to be in store

Same Old, and More of the Same
D
uring boring meetings in 1956, one man doodled. Sick of partisan fighting and the same names leading the two major parties, he dreamed of a third grouping. He had even thought of a name for it: "Americans for Modern Republicanism." This man was Dwight D. Eisenhower, and he had just been reelected president by a landslide, getting 35 million votes to his opponent's 25 million.
Biographer Stephen Ambrose wrote about Eisenhower's longing to create a new voice in American politics and how forces beyond his control intervened. Richard Nixon, a GOP establishment mainstay, was nominated for president in 1960 and again in 1968. It was a sign that "business as usual" was here to stay.
Political observers on both sides of the aisle have fantasized over the past year about a similar revolution. The slates of presidential candidates in both parties seemed at first to hold out some promise, but that quickly petered out. A repeat of the 2020 election looks to be in store.
Let's start with the Republicans. Even after skipping the first Republican presidential debate and facing a series of indictments, former president Donald Trump still cleared 50 percent in an Emerson poll in late August, leaving all his challengers in the dust. Governors, senators, ambassadors, entrepreneurs — whatever the job title, they can't seem to overcome Trump's lead. With President Biden the oldest president in American history, the Democratic Party has faced similar questions about who may or may not be on the ticket this year. During the long waiting period for Biden to declare his reelection bid,  speculation mounted that someone else might take the front-runner role.
Speculation that Vice President Kamala Harris would be replaced was even more widespread. Despite extremely low polling for Harris and questions about Biden's age, the ticket remains unchanged.
Perhaps this is why the centrist group No Labels continues to tout the notion of a third-party presidential run, with names like moderate Senator Joe Manchin (D-WV) attached to the effort.
But this is unlikely. No Labels has only to look back nearly seven decades to President Eisenhower to see why it was just a dream and unlikely to occur. Most Americans, then like now, are affiliated with one of the two major parties, and will coalesce around the party leaders with whom they are most familiar.
We know that no third party has captured the imagination or votes of a plurality of Americans for over a century. And if you were hoping that fresh new names could lead one of the mainstay parties, consider this nugget. If the 2024 contest again pits Biden against Trump, it will have been 44 years since a general election did not feature a Bush, Biden, or Clinton, on one of the tickets as either the presidential or vice-presidential nominee.
In 1976, Jimmy Carter overcame national political anonymity to wrestle the nomination from his party. The spark was a nation tired of Nixon's lies; Carter's singular commitment to honesty gave them hope.
In 1992, Ross Perot was able to mount a third-party challenge that garnered almost 20 million votes and proved to be a spoiler. The spark came when President Bush Sr. promised no new taxes and broke his word.
In 2008, Barack Obama won the presidency in a major upset. The spark was the most serious financial crisis since the Great Depression.
There has been no spark this year to move a challenger ahead of the 2020 frontrunners. Trump's indictments haven't proved enough to hurt him with the Republican primary voters. Biden's age hasn't been enough to divide the Democrats. There exists no external economic or foreign policy issue which has propelled an underdog or third-party bid.
So, it's been another year when individuals on both sides of the aisle made cases to lead their tickets but couldn't quite get to the top, another year when political dreamers doodled to themselves about what might have been.
Who's Up
Education Reformers
Often ignored but never silent, those fighting for education reform in America have had a banner year. How else can you explain ten states passing major school choice legislation? Iowa and Utah may not have large frum communities, but when states like Ohio and Florida start passing these programs, it's time for the community to recognize that a growing movement that can provide real relief to parents has awakened.
Who's Down
The Squad
Recently, a group of progressive organizations met in Staten Island to plot who they could run against incumbent New York mayor Eric Adams in 2025. Far-left candidates, one after the other, publicly denied they were running against the proudly moderate Adams. This included "Squad" member Jamaal Bowman, and represents the latest blow to a group proving more ineffective by the day. It's been a down year for the former media darlings. They haven't added any new members in 2023, haven't been able to block any legislation, and aren't even able to mount the kind of challenges they were once famous for within their own party.
"I've acquired a thick skin."
—Supreme Court Justice Amy Coney Barrett
A year of reports about Supreme Court justices receiving lavish gifts generated calls for ethics reform and a code of conduct at the highest court. These negative reports touched Justices Thomas, Gorsuch, and Alito and made more news this year than actual groundbreaking decisions. Justice Barrett's quote would be expected out of the mouth of an elected official but not from a lifetime appointee. The Court is supposed to be above the day-to-day criticism lobbed in the political arena.
58 and 65
The average ages of members of the House and Senate, respectively. Age in politics continues to be a theme this year. After 81-year-old Senate Majority Leader Mitch McConnell froze for the second time in two months during a press conference, speculation was rampant about his health and retirement. California's Senator Dianne Feinstein is 90, and her frequent absences due to health are impacting the day-to-day operation of the Senate.
(Originally featured in Mishpacha, Issue 978)
Oops! We could not locate your form.
>