| Calligraphy |
Wedding Plans | April 16, 2019
At least now he'll see that nonsensical, silly, irresponsible Molly had done well for herself, is married to a celebrated rebbi, has raised poised, wonderful, eidel children…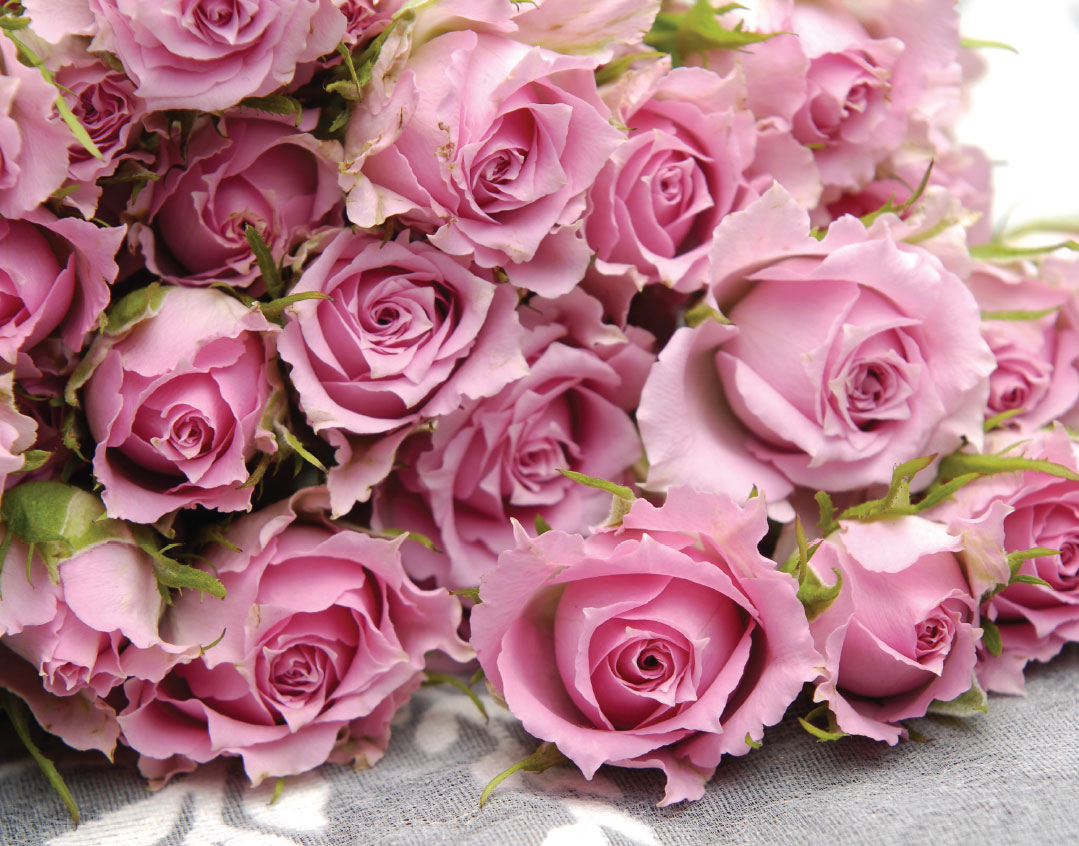 E
very kallah is radiant, Molly thinks, but some are just... peaches and cream. Roses and tulips. Nechama doesn't see her watching; she glitters, eyes clear, cheeks pink, clasping an older woman's hand in both her own and telling her something earnestly.
She is so beautiful and so good, it breaks Molly's heart.
Molly coughs past the roughness in her chest. Chava Kirschenbaum squeezes her shoulder. Bracha, the chassan's mother, is busy receiving a round of air-kisses from a cadre of rebbetzins.
Tzipi pulls at her skirt. "Ma, Tatty's calling you."
She turns away from the happy tinkle of well-wishers in the kitchen. Yehuda ducks into the doorway. His face is flushed. He looks like a real father of the kallah, even though Nechama's father is sitting just a few feet away, tapping his fingers and accepting mazel tovs, fancy cufflinks winking in the strong light, wondering how on earth a babbling dimwit like Molly could have raised such a—
"How's it going?" Yehuda asks. "Did you drink anything since, um, yesterday? We're running out of cups in the dining room."
Molly offers a huge smile. "This is unreal, no? Wait here, let me get more cups." She hesitates.
"What?" Yehuda asks.
Molly licks her lips but says nothing.
"What, you're worried about him?" Yehuda smiles easily. "Relax, Molly. He's just sitting there, not bothering anybody. Don't think about it."
Her eyes flick past Yehuda to where Yosef sits. He's grown a beard by now, salt-and-pepper, very balabatish. Silver tie, designer glasses. The lines over his eyes are still there, only deeper now. Molly looks away quickly, clenches her fists. Does she really have to linger over long-ago nightmares on this glorious evening?
Yehuda follows her gaze. "Molly, stop. Just stop. It's good that he came, really. I'm sure it makes Nechama feel good that he cared enough to fly in for her vort. It must have cost a pretty penny, getting a ticket on such short notice."
Molly snorts. "The guy has enough money for a private jet."
Yehuda shrugs again. "Whatever. You're the kallah's mother. Stop making yourself crazy and go enjoy yourself. Just get me those cups first."
Molly laughs. Kallah's mother. She murmurs the words under her breath as she heads to the pantry; they feel strange and magical on her tongue, like cinnamon and cream.
So he's here, so what. Soon he'll be back in Stamford Hill with his wife and family, where he'll stay forever after, far away from me and Nechama. And at least now he'll see that nonsensical, silly, irresponsible Molly had done well for herself, is married to a celebrated rebbi, has raised poised, wonderful, eidel children…
"Molly, mazel tov!" Devorah from next door comes crashing into the kitchen. Her sister pats her on the shoulder, Yocheved brings a slice of cream cake.
Molly pumps Devorah's hand. It feels good and right and wonderful, the rush of happiness that spills somewhere deep inside and washes over her, though she can't quite swallow the aftertaste of nightmares.
If there was anything nicer than Nechama getting engaged, it was Nechama getting engaged on a Monday night.
Molly puts her feet up on a kitchen chair and lifts her coffee to feel its warmth on her cheeks.
Tuesday is her day off, which means she can do the overwhelmed-but-overjoyed mother-of-the-kallah thing — shoo the kids off in her morning robe, sigh about the endlessness of everything she must do, and then sit down in the wonderful silence of her little kitchen with an apple and a coffee and think about yesterday.
The kitchen looks tired after the dazzle of last night, pitchers and platters in the sink, windows grubby, paint on the back wall more scratched than she remembers it. Too bad, there will be no paint job any time soon.
"We have a kallah in the house, don't you know?" Molly says aloud and gives a little laugh.
The phone rings. She eyes it, annoyed. She has not had her coffee yet.
"Hello?"
"Mrs. Greenberg?"
Molly stills.
"Hello?"
She pulls breath through her teeth. "Yes," she says.
"It's Yosef. It was a beautiful simchah last night." He pauses, Molly curls her fingers around the phone and bites her lip until she tastes blood. "I'm calling because I want to discuss Nechama's wedding. The arrangements and all." He pauses again, with an air this time. "And the finances, of course."
"Okay," Molly says. Her voice shakes slightly and she wants to kick herself. "What would you like to discuss?"
"Well," Yosef says, "Nechama is my daughter and I'd like to see that she gets everything she needs. And the wedding itself, of course — I want to finance that."
He is being gracious, so gracious. Molly wants to hurl the phone across the room. She doesn't need his favors, thank you. Except that she does, she really does. They are just scraping by. The idea of paying for a wedding is downright terrifying.
Molly traces her finger over a bold scratch on the kitchen table. "That's very gracious of you," she says finally, coldly.
Yosef makes a vague noise. "Of course, I want do this for Nechama. But really I can only do this on condition…" He clears his throat, pompous as ever. "Excuse me. On condition that she is married off properly. In style."
Molly closes her eyes. The nerve.
She mumbles something about talking to Yehuda. She hears a dial tone in her ear.
Cruel. It is cruel to thrust this choice on her. To mask his need to show off with a grand display of benevolence.
All he really wants to do is trap me again. He thinks I'm not capable of marrying off his daughter properly. He wants to wrap me around his finger… again.
Molly swallows.
Marry her off in style? What could that mean if not Terrace on the Park or Marina del Ray and carving stations and tuxedoed orchestras? For a wild moment Molly imagines herself in a simple gemach gown, standing incongruously in a glamorous hall lit with a trendy blue glow. She pictures herself welcoming Devorah from next door and Rebbetzin Neiman and her coworkers, all wearing their sensible pumps and pushing their Baby Joggers while tuxedoed waiters startle them with offers of exquisite hors d'oeuvres.
Molly puts her head in her hands and lets out a laugh like a bark.
There are phone calls she has to make; Nechama sweetly handed her a list before leaving for work this morning. But first, cinnamon buns. It is Tuesday, the day she gets to play housewife all the way.
Fingers full of dough, she gives up and reaches for the phone.
"Yehuda, I spoke to him this morning."
"Really?"
"Yes. He offered to finance the whole wedding." She sighs, presses her fingers into the doughy softness. "On condition that we, ah, how did he say it? Marry Nechama off 'in style.' "
"Hmm," Yehuda says.
"Hmm." Molly sniffs. "What exactly am I supposed to say? I know, I know, Yehuda — I know we don't have the money. I should throw my ego to the wind and just say yes. But think about it. This will be ridiculous. And — and wait, we can't do this to Nechama."
"Do what?"
"Yehuda," Molly says firmly, "is there anything that can single Nechama out as different from the family any more than this? Why should she have to choose between our values and his luxuries? Why should she have to choose anything? It's not right, it's cruel."
Yehuda is silent.
"Besides, it would be ridiculous. How would you feel hosting the rosh yeshivah in Terrace on the Park? This will be the talk of town, the Greenbergs marrying off their daughter in style. Because Nechama is different. Because she has a real father somewhere else, a rich guy who likes to do things differently than us." Molly dabs at her eyes. "Sorry. I'm being bitter now."
Yehuda sighs. "Look, Molly, I don't know what to tell you. For him to pay for the wedding would mamash be a yeshuah for us. But I understand what you're saying. Why don't you ask Nechama what she thinks?"
Molly sucks in her breath. "No. No way am I telling Nechama any of this. It's horrible, to burden a young girl with this decision, to make her choose between her parents. No."
"I guess it's your decision, then."
"And I've decided that the answer is no," Molly says roughly. What is it about her former husband that drains her of every bit of goodness? Everyone knows her as happy and kind and fun, but here Yosef just pokes his nose into her day and all the good energy inside her is gone.
Yehuda is quiet.
"I'm going to call him back now," Molly continues, holding a tissue to her eyes.
"Nu, nu."
Yehuda hangs up. Molly takes a moment to steady her breathing, then dials.
He picks up on the first ring, with that air again, waiting.
"I appreciate your offer," Molly says, "But I think we'll manage on our own."
There is silence and Molly is afraid. "I mean, Nechama grew up in our community, with our values, and a luxury wedding just won't go over well. This is not what she wants, not something we feel comfortable doing. But thank you."
There. Clear, concise, and not unkind.
"This isn't something you can decide just like that," Yosef says. He sounds annoyed, very annoyed, and for a brief moment, Molly wonders at the unfairness of it all. She said her piece, does he have to prolong the agony? "You need to speak to Nechama, let her decide. With all due respect, this is her wedding, not yours."
Molly's cheeks flush. "There is no way I'm getting Nechama involved," she says, her voice rising slightly. "It's not fair, it's not… not Jewish, to put a young girl on the spot like that."
Yosef snorts. "Irrelevant. I just want her to have the option of a more elegant wedding."
"You just want her to choose between her parents, that's what," Molly says flatly. Fury makes her heedless. "You want her to have to pick between the values of her community and the luxury you're offering. To tempt her with everything she never needed." She forces herself to calm down, then says in what she thinks is a very firm tone, "I refuse to do that to Nechama."
Yosef grunts and hangs up.
Molly covers her face with her hands. Her fingers feel warm and chapped, with a whiff of yeasty scent. She is sweating all over.
She won. This round, anyway.
***
Airports always give her the chills.
There is something so vulnerable about saying goodbye, about willingly climbing aboard a massive machine that will take you thousands of feet above sturdy ground and put you at the mercy of the wind.
But at least she's heading to the arrivals terminal; it is a cheerful place, with families chattering loudly and craning their necks to catch a first glimpse, and the heady scent of coffee everywhere.
"You look happy," Yehuda tells her.
Molly smiles. "I'm so glad Nechama's back."
It's been a long weekend. Nechama doesn't visit her father in London too often. Really, it's not her place there, Molly thinks. Yosef's wife is a society woman, she runs at least half the committees in town. And their children are spoiled little rich kids.
Molly wonders what Nechama will say when she gets home. What did Yosef want this time? Did he hound her about a fancy wedding? She pushes the thought away. Right now, Nechama is coming back, which is wonderful, and she won't let him ruin it.
"There she is," Yehuda says.
Nechama bounces over. She is glowing, like a kallah should be. Yehuda takes her suitcase and she chatters happily all the way to the car; the ride was bumpy but okay, her kosher meal was missing but she wasn't hungry anyway. And she got a lot of gifts.
At that, she stops for a moment, steals a glance at her mother to see how she's taken that. Molly smiles brightly.
"Really, I don't know what to do with all these fancy things," Nechama laughs, and slides into the battered minivan. "But they're pretty. Gosh, I'm starving."
Molly passes her a cinnamon bun. Sweet, good, wonderful Nechama.
"Anyway, so, um…" Nechama pauses. Then she says in a rush, "My father told me he'd like to pay for the whole wedding and everything." She leans closer to the front seat and eyes her mother anxiously. "Which I thought would be really nice, I mean, I feel bad, we really don't have extra money and making a wedding is so…"
"Sheifeleh, we have money for everything we need," Molly says.
"I know, but still." Nechama sighs, and Molly's eyes fill. Why did you do this to her? "I don't know, I thought it would be very helpful. But he said that if he's financing things, he wants it to be nice. Like, really nice."
Molly presses icy fingers to her forehead. Yosef is back, trying to run her life.
Yehuda shoots Molly a look. "Does having a… really nice wedding bother you?" he asks Nechama.
Nechama shrugs. "I don't know. People would for sure talk. But I guess it would be fun." She glances at her mother, then adds, "Or maybe not. It could be embarrassing, I really don't know. What do you think, Ma?"
"I think we can afford to make this wedding ourselves, with Hashem's help, and we'll make it our way." Molly stops. She is doing this for Nechama, but the words sound selfish. "Though of course, sweetie, it's your wedding, so you get to decide."
Nechama nods glumly.
Molly's heart aches. For a dark moment, she remembers the wretchedness of her daughter's birth, the twisted joy and heartache of giving birth days before divorce. All she ever wanted was for Nechama to be happy, to be one of the family.
"Look, tomorrow's my day off," she says brightly, changing the subject. "How about I pick you up during your lunch break and we hop over to Target? Chava tells me they have wonderful plush towels."
It's the right thing to say. Nechama smiles, fingering her diamond ring.
They skirt the issue easily as they drive to the store. Molly plies Nechama with a banana and cookies, urges her to eat something before they reach Target.
She scours the parking lot for a spot. "This is why I hate shopping," she complains, but she's excited. She loves spending money, loves nice things and a good metziah.
They make good time. Half an hour later, the big red cart is full: a set of pinstriped towels in muted greens, a matching rug (a splurge, but she can always return it), a sturdy plastic laundry hamper.
They aren't Boll and Branch, but they're fresh and pretty.
On the way back to work, Nechama finishes the last of the crinkle cookies. "Yum. I forgot to bring lunch today."
Molly frowns. "I'll stop at Hibiscus and get you a sandwich. You can't work on an empty stomach."
"I ate cookies."
Molly skids into a parking spot. "I need to pick up a few things for supper anyway. I'll be right back."
She rushes through the aisles, ketchup, green beans, some more potatoes. When she gets back to the car, Nechama's seat is empty.
Molly drops the bags in the trunk and walks back to the row of shops beside the supermarket. Her fingers dial Nechama's number. She passes Potpourri — this new bed and bath shop is pure indulgence, but so beautiful anyway. She stops. Through the large glass walls, she sees Nechama fingering a magnificent tablecloth, Chantilly lace. She sets it down, picks up an exquisite tumbler and the matching soap dish in cream and gold porcelain. She looks up, catches Molly's eye. She waves and strides quickly out of the shop, smiling but looking wistful.
Something squeezes in Molly's chest. Their family doesn't do Potpourri, they don't spend a hundred dollars on a cute little tissue box cover.
"I figured I'd take a look, just for fun," Nechama says breezily as they stride back to the car.
Molly nods. She can't think of anything nice to say.
After dinner, Nechama is bathing Shimshy, singing Uncle Moishy songs. Molly bustles into the bathroom with a new bottle of shampoo. Nechama stops in the middle of the song and blurts, "Ma, I think I'm going to take my father up on his offer."
Molly bites her lip and says nothing.
"It just doesn't make sense not to… you know?" Nechama scans her mother's face, anxious. "Why should you and Tatty have to borrow money, save every scrap, go into debt or whatever, when he can pay for everything easily?"
"And when you can shop in Potpourri, at the same time," Molly mutters. She is surprised at herself. She doesn't consider herself nasty.
Nechama's face clouds. She turns back to Shimshy.
Molly lingers for another moment, willing herself to apologize, to tell Nechama that it's okay and she understands. But somewhere, she hears the sound of Yosef's key scraping the old lock in their little apartment in Baltimore, feels the cold dread in her throat. She slips out of the overheated room. She needs air.
***
"I always thought shopping with an unlimited credit card would be the ultimate freedom," Molly sighs. The phone is wedged between her ear and shoulder; her neck hurts, too bad. "But Leah, it was nasty yesterday. The lady at the linen place took one look at us and waved in the direction of some cotton sets. I thought they looked nice, but Nechama smiled sweetly and asked if she could see their newer collection, maybe?"
Her sister chuckles. "Smart girl. So did you find anything in the end?"
"We got this luxurious sateen set. We also put in an order for a suede and lace combo, rustic blue and silver. Monogrammed, of course." She pauses, flushing lightly. "I told Nechama I thought it's a bit much for a kollel home. Okay, so that wasn't nice of me. But really, she had it coming."
It had been more than just a little reproach. Nechama had been insulted and Molly had willed herself to stop, just stop, but something angry and urgent egged her on. Now she has to wash the dishes with this acrid taste in her mouth.
"I don't know," Leah says. "Look, what do you want? Nechama is just a kid, and if she can have all these goodies, who's to stop her?"
From somewhere, Molly hears the sound of Lego crashing, followed by a wail. "I know, you're right," she mumbles.
She needs to think about gowns. No gemachs, they'll do a real bridal boutique. But where should she start looking? She doesn't even have whom to ask; Leah can give her a list of the best local gemachs, but she won't know the first thing about rentals. This is so embarrassing.
"I think you should chill," Leah goes on, between loud crunches.
"What are you eating?" Molly grumbles.
"Pretzels."
Nechama wanders into the kitchen, frowning. "Ma, my father just called," she says, not noticing the phone or pretending not to.
Molly pushes back a sigh. "Talk to you later, Leah." She lets the phone drop and massages her neck. "Okay, what's up?"
"Um, so it's like this. He says he's very happy to pay for everything and all, but he would love to know some details. Like, um…" Her frown deepens. "Like he wants to have a say in the arrangements."
Molly nods. She wonders at the terror twisting behind her ribs. What had she thought? That he'd hand over a wad of cash and let her spend it as she saw fit?
"So he's happy with the El Caribe ballroom. But he wants Kiki to fly in and figure out the flowers and menus and stuff, together with us."
Molly presses her hands against the counter to stop them from shaking.
Nechama shrugs, looking defeated. "Not fun, right? But what was I supposed to say? It's only fair."
"It's only fair," Molly echoes.
"And then Kiki came on the line. She told me she's obsessed with Ita Walter, you know, this fancy personal shopper that keeps advertising? She wants Ita to take us to some gown place, and to coordinate sheva brachos clothes and everything." Nechama giggles. "So ridiculous."
Molly smiles shakily. "It is. So what did you say?"
Nechama spreads her hands. "What could I say, 'No thank you'? I couldn't say anything. I just said, 'Sure, thanks,' and she said she'll have Ita call us to schedule a gown appointment."
Molly valiantly keeps her smile in place. She will not ruin everything for Nechama, it's bad enough already. "Sure, okay, sounds like fun," she says, and coughs.
***
Chandeliers, mirrored walls, white couches. Velvet curtains in dusty pink. It smells vaguely like roses, or maybe it's Chanel Parfum, and for a moment, Molly gets swept up in the magic, watching Nechama gaze at the shimmering rows of bridal white. It is so beautiful here, so fun, so not Malky Brach's linoleum-tiled basement gemach.
Then she catches sight of Ita Walter in one of the mirrors. She wears an asymmetrical skirt, hoop pearl earrings. Manolo Blahniks. Molly takes a long look at herself and scurries in after her. She should've redone her sheitel.
The owner, Penina Reinhold, greets Ita with a gush and a hug.
"A beautiful kallah," Ita murmurs to Penina, one eye on Nechama. Nechama blushes.
"I don't want her in any of these standard dresses, you know." Ita sashays across the room, waves her hand in the direction of the dress racks with reams of French lace, tulle and crystals. "We want something grand. Majestic. New." She turns to Molly. "Penina personally oversees the design for every bride. She's great, you'll see."
"I'm sure," Molly murmurs.
At least three of the fancy mother-and-daughter pairs standing around offer Ita an admiring nod, then turn their gazes on her client. Molly tries not to squirm.
***
They are silent in the car on the way home. Molly's head throbs.
"I think your gown will be beautiful," Molly forces herself to say at last. Shopping trips and gown places are meant to fill you with heady energy; she hadn't expected this kind of dry silence.
Nechama's eyes are half-closed. "Yeah, it's gonna be gorgeous." She opens her eyes and turns to face her mother. "I just hope we made the right decision with that silk lace. I really don't know if I liked it better than the corded look. Though I guess we should trust Ita."
Something boils in Molly's chest. "Does it really make a difference? This lace, that lace… The wedding is not about the gown, you know."
Nechama licks her lips. "I know."
"Nor is it about El Caribe, or your thirty-piece band, or flowers, for that matter."
Nechama swallows. "Um, about the flowers…"
Molly stops at a red light. "What?"
"So Kiki wants to fly in, maybe next week? She wants to know what time works for us, so we can meet at Orchidee. She, ah, wants to do the color scheme thing, I guess."
"She can color scheme all she wants," Molly hisses through her teeth. "Why does she have to pull us into it?"
"Because it's my wedding and I want to pick the flowers!" Nechama says, angry. "Ma!"
Molly bites her lower lip, hard.
***
"I'm going to call her Lady Marigold," Molly murmurs to Nechama as they walk in. It is fashionably cold inside, floors a polished marble, breathtaking floral creations looming up to the ceiling. The flower lady looks upper-middle age but she wears a gold skirt and matching shoes; incredibly, she thought to attach a husk of white Freesias to her wig. Nechama hides a giggle. The woman offers a sugary smile, then ushers them into the back office.
Molly's heart slams. She's never actually seen Yosef's wife before. Not that it's been hard to imagine what she looks like; her neighbor Devorah's sister-in-law was a classmate of Kiki's, so the gossip filtered back.
Kiki sits inside the office, nestled comfortably in one of the button-tufted vinyl chairs. Short, jet-black sheitel, almond eyes, a blue suede dress. A red stone hangs from her neck. Molly smiles politely. Lady Marigold urges them into chairs.
"So," she says grandly. She sweeps her hand across the desk and several papers go flying.
She turns to Molly, then Nechama. "Kiki here is a good friend of mine. And she already gave me an idea of what she has in mind. Let me show you a sketch."
Kiki speaks airily. "I've been thinking about this for a long time, and I really think I've come up with something fantastic." She turns to give Nechama a smile full of teeth. "Of course, it depends if you like it. You're the kallah. But I think you're gonna go wild over it."
"Might I add that Kiki has great taste," Lady Marigold intones. She pretends to shuffle some papers, but it's obvious that they've both been here for a while, planned everything before Molly and Nechama even showed up.
"Ah, here it is." She pulls out a paper with a raw pencil sketch and hands it to Nechama.
Nechama stares for a moment, then shrugs and passes it to Molly.
An arc of flowers, forming a crown-like circle. Clusters of… leaves? Branches? Little lights are suspended in glass bubbles.
"It looks beautiful," Molly says.
"What do you think, Nechama?" Kiki croons.
"Beautiful," Nechama echoes.
"Great, so we're set with this structure," Lady Marigold says.
That's it? No choices, no pictures, just "this is my idea" and everything is settled? Molly presses her fingers together in her lap; they are ice.
Somewhere above her head, Lady Marigold and Kiki segue into a passionate discussion of the benefits of roses versus orchids, but Molly can hardly follow. Not that they seem to mind.
She's vacuuming the matted pink carpet in the tiny living room. Yocheved is engaged and it is so exciting, so huge. She doesn't hear Yosef coming in. He snaps, annoyed. Molly turns, eyes shining. Her best friend is engaged. The chassan. The flowers. The ring… Yosef trails out while she is still talking.
Molly tries to breathe deeply. Around her, they are debating some detail, Nechama looks confused.
Baltimore is nice, but she left so many friends behind in Brooklyn, and all her sisters. Evenings find her homesick sometimes, and nauseous, pining for Ma's crinkle cookies. Yosef wonders when she will grow up.
Lady Marigold is addressing her. "So we're settling on roses, okay?"
Molly blinks. Then nods.
Satisfied, Kiki leads the discussion to colors. Salmon? Coral? Or maybe something more exotic… cerulean? Molly is numb. She doesn't know why she agreed to this. Why she has willingly come here, to cut through two decades of amity to stare the old ugliness in the face?
Kiki is still here for the rest of the week; doubtless, she will have plans, ask Molly to tag along like a little hanger-on.
But Molly is done.
"Ma, rich people are funny," Nechama says, sauntering into the kitchen that evening.
Molly sits at the table, stone-faced. After all that wretchedness, it was a grilled cheese night and, as usual, everything went downhill from there. She has no energy for this.
"Hmm?" she manages.
"Kiki just called me." Nechama rummages in the pantry. She finds a bag of pretzels and settles herself on the counter. "She'll be here for the rest of this week and she wants to know when we can meet with, um, I forgot her name. Some seamstress." Nechama giggles, then stops when she sees Molly's face. "She doesn't think that clothes are meant to be bought ready-made. She wants to meet with this lady to discuss, um, styles. Designs, fabrics, colors." Nechama shrugs and smirks.
"Ridiculous," Molly snaps.
"I know. But what am I supposed to say, no thanks?" Nechama frowns. "I couldn't, Ma. She was being all gracious."
"Ridiculous," Molly repeats. Her head feels heavy. She has no energy for this.
Nechama shifts. "But… what should I tell her? She's waiting for an answer. When do you think you can be available?"
Molly bangs her hand on the table. "I'm not coming."
Nechama blinks.
"You heard me," Molly hisses. Her chest burns. "Feel free to go wherever you like, but I will not participate in this farce. Count me out."
Nechama chews her lip, slips off the counter. "I… I really don't know what to do, Ma. I don't want to pick out my sheva brachos clothes without you."
"You'll figure it out." Molly turns away. Nechama doesn't have to see her cry.
Nechama slips out of the kitchen. Molly puts her head in her hands.
Fraud. You're nothing more than a fraud. This has nothing to do with Nechama. Or your values.
Heat drips onto her fingers. She lifts her head, rubs her eyes. This is all about her — her own insecurities, her own darkness.
The old fear knocks behind her ribs. She is afraid: afraid of Yosef's money, afraid of his influence. But mostly afraid of him.
The leftover scent of burnt cheese hangs in the kitchen, making her gag. She clenches her fists.
She wants out. She wants to be free.
But she's been free for nearly two decades now.
She sighs, weariness spreading down through her legs. It's been nearly two decades but she still thinks about him every day, feels the pinch of who he was and what he's done.
"This is not okay," she says aloud. Something has to change.
***
Raindrops clatter against the windshield as she drives down the winding highways back to Baltimore. The sky is numb with clouds, the memories old but grotesquely vivid.
She has many friends from her days as a single mom. They've all moved on, raised new families. She thought she'd moved on too, but now she's going back.
She pulls up in front of the old, red brick townhouse. Chills rock her body and she hugs her elbows. It feels like I never left. The thought surprises her.
There is a little garden out front now, tricycles on the lawn. How does a place heaped with so many broken dreams just dust itself off and make space for new things? New families, new hope.
Molly stares.
The old resentment burns. The subtle coercion, his distaste, feeling so unwanted. The heartache. She tries to breathe past it, but the weight of it crushes her.
She thought she had moved on, but it is all still deep inside her. She doesn't think she can let go.
Worst of all, she doesn't want to. It feels safer hanging on, remembering.
She turns away, crying again.
A cute young family walks up the steps: father holding a basketball, a tired-looking mom in a snood. Two little boys brandish snack bags. Funny how the place of her darkest nightmares can reinvent itself as a haven of warmth and goodness for someone else.
Molly closes her eyes. She's always dreamed of reinventing herself. She wanted to be a mainstay, a beacon of everything good, for her family. She wanted to leave all the misery locked in this red brick townhouse. She wanted to love and hope and laugh like she always had, before.
She thinks of Yehuda and her beautiful children. Maybe it worked, maybe she did let go, enough that all the people she loves don't sense the lingering night inside her. But a part of herself is still here, shrouded in the hurt and darkness.
Molly hears barking.
She turns. A handful of kids in caps come toward her. Mrs. Applebee follows behind them, a German shepherd nipping at her dress. Her face is flushed, her ashy hair hangs limp at her shoulders. Time alone won't always change things, Molly thinks sadly, watching as Mrs. Applebee hollers something and the kids scatter.
When Molly had moved in here, the neighbors had warned her to stay off Mrs. Applebee's grass and not to annoy her pets. She had gone through "something," everyone knew, a baby she once loved, a sudden calamity that ended everything for her.
Molly puts her head in her hands. For the first time, she thinks of Mrs. Applebee and wants to cry for a woman veiled in a long-ago grief she cannot shake. Were there other children? Did she have another son, or a daughter, who grew up never knowing the beauty their mother mourned, only the stench of their mother's grief?
Is Nechama growing up, getting married, in the lingering fog of her mother's pain?
Molly takes a long swig of water and steps on the gas pedal. She needs to go home, do something, because some things don't go away on their own.
Something needs to change, and quick, though she has no idea how.
She will talk to Nechama, Molly assures herself all the way home, and agree to join her at the seamstress. It won't be a picnic with Kiki there, but she must do this.
Then her phone pings. Yosef.
Call me to discuss wedding expenses when you have a chance. I want a detailed list where the money is going.
Molly hurls the phone across the car. She doesn't bother looking for it when she gets home.
Her kitchen feels warm even with all the lights off. Sunlight pools on the counters. She needs to pick up Shimshy from the neighbor, but her chest is tight, stiff with old dread.
She grabs an apple from the fridge.
Who is she kidding? She isn't going to the seamstress and facing Kiki tonight and she isn't calling Yosef, either. Nechama will have to do it herself.
She goes to get Shimshy, throws split peas into a pot, welcomes the chaos that comes. Then Nechama is home from work; she has to run right out to meet the seamstress.
Molly serves her a bowl of soup. She wants to tell her, she is going to tell her, to call her father later. Review the shopping and costs, no big deal. Her tongue is dry.
Nechama finishes her soup.
"Uh, Nechama," Molly calls, from where she stands at the sink.
Nechama turns.
Molly chews her lower lip hard. What if she calls Yosef herself? What if she could talk to him, without going back there? Without digging into the old agony?
"What, Ma?"
Part of her is broken, but that doesn't mean she isn't whole. She closes her eyes for a brief moment, sees velvet canopy and silver sky, and Nechama and herself and Yehuda and everyone. And Yosef too, and Kiki, but they're just… there. No danger, no threat. They'll just be there and it will be okay.
What if she could call Yosef herself and be okay?
"Ma?"
"Here's a snack," Molly says. She pulls two granola bars from the freezer. She wraps them: wax paper, silver foil, Ziploc bag. She smiles and waves.
When Nechama is gone, Molly sinks into a chair. She is afraid, but the vise around her ribs loosens a bit.
She picks up the phone and dials.
(Originally feature in Calligraphy, Issue 757)
Oops! We could not locate your form.
>