| This Way That Way |
Walnuts
| March 28, 2023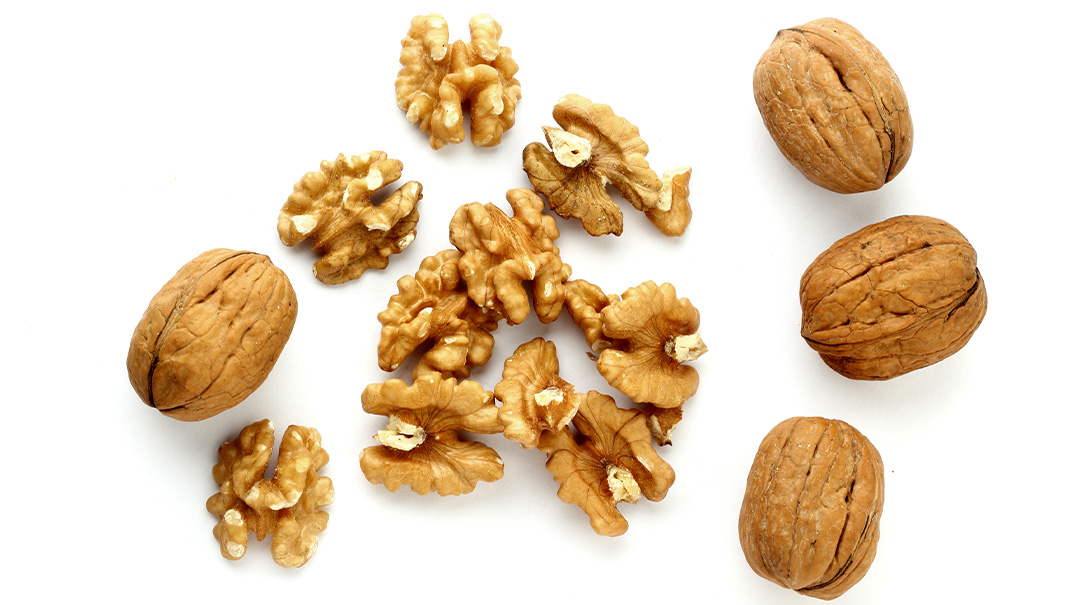 Walnuts are the superfoods of the nut community. With higher antioxidant and omega-3 levels than any other nut, they help promote heart health and brain health, and help protect our bodies from cancer. They also provide a truckload of vitamins and minerals, including copper, folic acid, magnesium, vitamin B and E, and phosphorus.
It's easy to add these little gems to your daily food intake; sprinkle them in granola, mix them into brownies, top your salad with a toasted bunch, or snack on them straight from the bag. And, of course, enjoy them in these super-satisfying Pesach recipes.
In a Nutshell
Keeping It Cool
It's best to store walnuts in an airtight container in your fridge or freezer instead of in your dry food cabinet.
Smashing Success
Smashing as many walnuts as possible using the elbow is actually a competitive sport in some parts of the world!
Food for Thought
The raw form of a full walnut in a shell looks eerily similar to a human brain encased by a skull. Studies have shown that a diet high in walnuts can decrease motor decline.
Rainbow Salad with Sweet Lemon Dressing
Recipe by Faigy Grossman
Serve this enticing salad as a beautiful appetizer for your Yom Tov seudah as is, or add a small piece of simple grilled salmon or chicken on top.
SERVES 8
1 8-oz (225-g) pkg shredded lettuce
1 small candy cane beet, very thinly sliced (see note)
1 green apple, halved and very thinly sliced
1 large carrot, peeled
chopped walnuts, for garnish
Dressing
¼ cup + 1 Tbsp lemon juice
¼ cup oil
¼ cup honey
1 Tbsp sugar
2 Tbsp white wine
¼ tsp salt
¼ tsp pepper
Divide lettuce among plates. Arrange the beet and apple slices on top. Using a peeler, peel the carrot into long ribbons. Divide carrot ribbons among plates.
In a small bowl, mix dressing ingredients together until combined. Drizzle dressing over salad and sprinkle chopped walnuts over the top.
Note: Candy cane beets are beautifully striped beets that taste sharper than a red beet, almost like a radish. If you can't find one, you can substitute with a watermelon radish or a regular radish.
Walnut-Crusted Salmon with Garlic Aioli
Recipe by Estee Kafra
Simple and tasty, this is a twist on salmon your family will love.
SERVES 6
6 salmon fillets, cut into cubes
lemon juice, for drizzling
mayonnaise, for smearing
2 cups ground walnuts
½ cup matzah meal
1 Tbsp rosemary
salt and pepper, to taste
oil, for frying
Garlic Aioli
½ cup mayonnaise
2 cloves garlic, minced, or 2 cubes frozen garlic
1 Tbsp lemon juice
½ tsp imitation mustard
salt, to taste
Pour lemon juice over salmon cubes. Set up a breading station with mayonnaise in one bowl and walnuts and matzah meal seasoned with rosemary, salt, and pepper in the other. Coat the salmon cubes first in mayonnaise, then in walnut mixture.
Heat oil in a frying pan and fry the breaded salmon over medium heat for 2–3 minutes per side, or until cooked through.
For the garlic aioli: In a bowl, whisk together all ingredients. The aioli can be refrigerated for up to two days.
Note: You can sub 1⁄2 cup ground almonds for the matzah meal if you don't use matzah meal on Pesach.
Coffee Squares
Recipe by Esti Vago
This is my favorite Pesach cake!
YIELDS 1 9X13-INCH PAN
6 eggs, separated
1 cup sugar, divided
¾ cup oil
2 scoops vanilla sugar
¾ cup potato starch
½ cup chopped walnuts
3 tsp coffee granules, dissolved in 1 Tbsp water
Preheat oven to 350°F (175°C).
Beat egg whites until stiff. Add 1⁄2 cup sugar and set aside.
Mix yolks until thick. Add oil, remaining 1⁄2 cup sugar, vanilla sugar, and potato starch. Mix in nuts and coffee. Fold in egg whites until combined.
Grease the bottom of 9×13-inch (23×33-cm) baking pan. Pour in the batter and bake for 40 minutes.
(Originally featured in Family Table, Issue 837)
Oops! We could not locate your form.
>