| Gourmet Vs. Everyday |
Turkey Rice Bowl
| August 8, 2023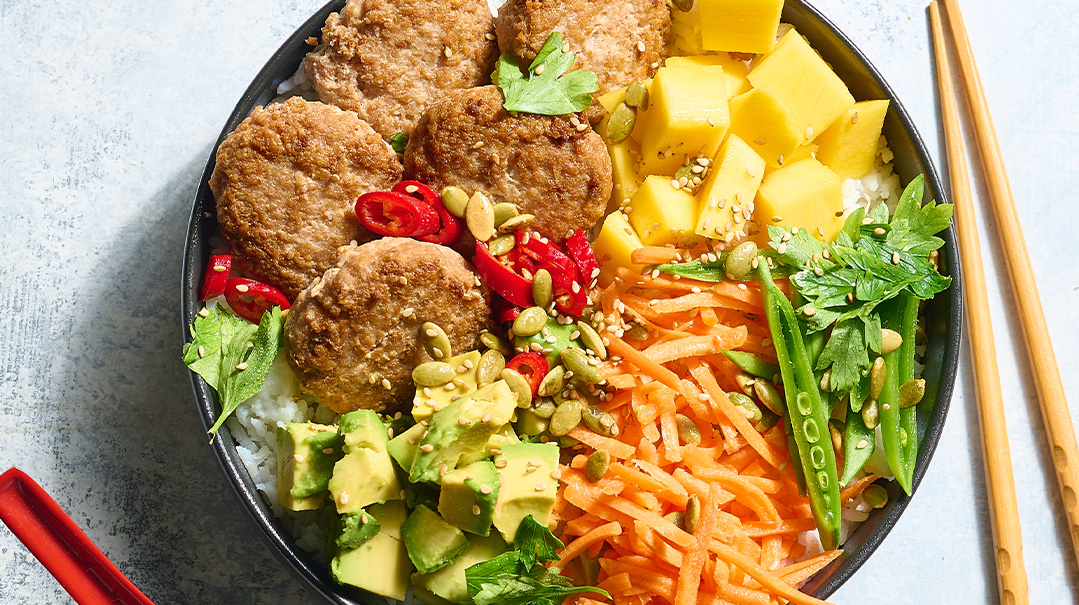 Styling by Shiri Feldman
Photography by Hudi Greenberger
Chaya Suri Leitner
When I serve this dish for supper, I offer it as a create-your-own-bowl experience. The kids love it because they get to choose exactly what goes on their plate, and the adults appreciate the versatility. If we're not in the mood for carbs, we enjoy it over a bed of fresh lettuce as a salad instead of over rice. This is also a perfect light summer meal.
Sara Gold
We love bowls in our family. Poke bowls, acai bowls, cereal bowls, anything in a bowl with toppings is really fun for us. A turkey bowl, however, is something we've never tried before, so of course I was curious...
SERVES 4–6
2 lbs (910 g) ground turkey

I used ground beef.

1 Tbsp salt
1 tsp smoked paprika
1 Tbsp granulated garlic
1 tsp onion powder
½ tsp cumin
½ tsp coriander


I skipped this.

I added a nice sprinkling of freshly ground black pepper over each burger.
Hot Mayo
1 cup mayonnaise
3 Tbsp hot sauce
1 Tbsp honey (optional)
Optional Toppings
cooked rice
lettuce
diced mango
sliced avocado
shredded cabbage
shredded carrots
corn with herbs (use your preferred herbs)
sliced chili pepper
snap peas
pumpkin seeds

...I used shredded carrots, diced avocado, canned corn, 
and sautéed snap peas, with rice as the base.
In a bowl, combine the ground turkey, salt, smoked paprika, granulated garlic, onion powder, cumin, and coriander. Mix well until the seasonings are evenly distributed.
Using your hands, form the turkey mixture into patties.
Heat a skillet over medium heat and add a little oil to coat the bottom. Place the turkey patties in the skillet and cook for about 4–5 minutes per side, or until they're cooked through and reach an internal temperature of 165°F (74°C).
While the turkey patties are cooking, prepare the hot mayo by combining the mayonnaise and hot sauce in a bowl. Mix until well combined. Add honey if desired.
Once the turkey patties are cooked, remove them from the pan and set aside.
Assemble your rice bowl by layering rice, turkey patties, and toppings in each bowl.
Sara Gold
This recipe was fantastic! A real keeper! Each kid got to choose their toppings, which made it a really fun experience, and it didn't take long to prepare all the elements — always a plus for me. I swapped out the ground turkey for regular chopped meat to avoid funny looks and comments from the peanut gallery. We loved it!
(Originally featured in Family Table, Issue 855)
Oops! We could not locate your form.
>