| True Account |
Turbulence in My Sky | June 6, 2023
With my bipolar swings, would I ever land on middle ground?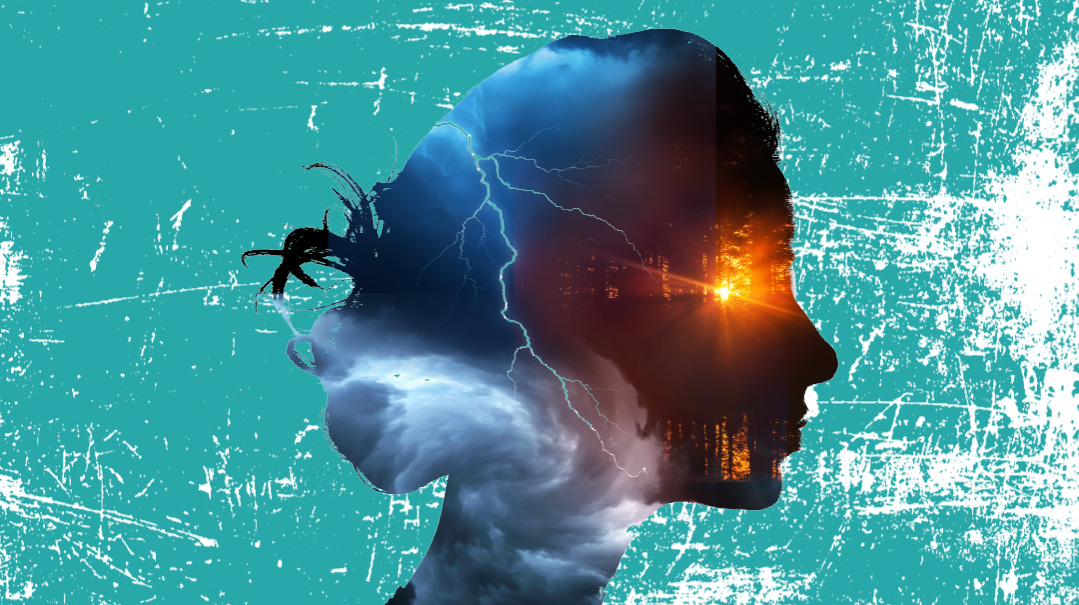 Chapter 1
T
he summer after seventh grade, I went to camp for the first time. I remember grassy hills, playing softball on the worn campgrounds, the swirling summer breeze. Standing there at bat, hitting the ball, watching it sail away before dashing to first base, I, Yael, was the happiest girl alive.
But I have a second name, Shprintza. I hate the name,  especially  because my father calls me "Yael Shprintza" when he's being strict with me. I keep my second name quiet — it's not even on my siddur! — and I don't want anyone to find out what it is, but my mother signed me up for camp with my full name: Yael Shprintza. That meant that all of the name tags, bunk lists, and anything in the office system had me down by this name I despised.
"I'm called Yael," I kept telling people, and I always crossed out my second name on anything I could get my hands on.
No one said a word about it, until one Friday night, when we were eating the seudah in the dining room, and one of my bunkmates said loudly, "Yael Shprintza, can you please pass the Coke?"
Everyone heard. I blushed profusely.
"I don't like to be called that," I said quietly.
"Why not, Yael Shprintza?" she replied.
Her friend, who was sitting next to her, laughed.
"Let's just call her Shprintzy!"
"Hi, Shprintzy," her friend said, joining in.
I fled the dining room and walked slowly back to my bunkhouse, kicking the dirt path, keeping my head low. It was empty, and I lay on my bed, waiting for the tears to come. But they wouldn't. I felt drained, dazed. It was uncanny, eerie, little to do with the girls and their taunts. It was something worse than sadness — a devastation, the bottom falling out of my world. Hours later, the fog still wouldn't lift. I felt like something had happened to my brain, like it was a tremendous effort just to think.
In the following days, I had no interest in camp activities anymore. I walked by the softball field listlessly. There was a girl up at bat, hair flying, eyes glinting. That would've been me a few days ago. But as she started running, my thoughts drifted. Why would I even want to do that?
More often than not, I found myself in bed. I lay there on the top bunk, under the cobwebby ceiling, watching a spider do its thing, and feeling nothing. Not interest, not disgust. It wasn't normal. The only thing I could feel was nausea, butterflies in my stomach, like I was nervous for a high school interview all the time.
I followed girls around camp, trying to stay connected to my bunkmates, mimicking what they were doing. But I wasn't interacting, I wasn't there. My friends were baffled by my seeming indifference, bemused, and then they just gave up on me.
I felt like I wasn't normal anymore: Something had taken over my brain and my emotions. I felt like there was no me, like I had no self-esteem, no sense of worth. I'd become a shell of a girl. Who was I?
One Shabbos afternoon, at Shalosh Seudos time, I was huddled under my blanket, dimly registering the chatter of girls getting ready to go to the dining room.
"Where's my headband?"
"Can I borrow your siddur?"
"You're changing Shabbos outfits again?"
I shrugged into myself, scrunched up so tightly, until I couldn't hear anything anymore. I felt like I'd ceased to exist.
Somebody tapped my blanket.
"Yael, you coming?"
I didn't want to get out of bed, not then, not ever, but when she called to me, she showed me I existed. I walked torpidly along with her to the dining room, timid, withdrawn, and, though I didn't know it then, deeply depressed.
Chapter 2
Two weeks and an eternity later, I came home from camp.
My mother was waiting for me in the doorway, faded hoodie, colorful tichel, crinkles at the corners of her eyes. We sat down together, and I tried to show my mother the demons inside me.
"Something happened at camp. I feel like I'm a totally different person, like something's blocking me from being me."
"Really?"
She cared. Maybe I could tell her.
"I think I got depressed," I blurted.
Her laughter rang out in the room, echoing with what felt like treachery. She didn't believe me. "Depressed people lie in bed all day. That's not you. You can't be depressed."
I was desperate. I needed her to know how dreadful I was feeling, so I said something ridiculous. "I feel like I can't make friends anymore, and… that my husband is not going to like me…."
I was 13 years old. She looked at me like I'd lost it a little, and gave me her sweet, pat response. "Your husband, when he comes, will accept you for who you are, sweetie."
But even I didn't accept myself, hated myself just then. I needed help. Couldn't she see that?
"I think I should go to therapy," I said quietly.
She sighed but didn't resist. She called up a therapist, gave her a little backstory, and booked me a session for a week later.
In the days before the session, I fantasized about the therapist and how she would help me. Then I finally met her. She smiled at me and said, "So, what happened?" and just like that, the fantasy fizzled and burned away.
I was only a slip of girl, but I felt how wrong the question was, how invalidating. The depression was a beast in and of itself; nothing had happened, other than my little story about being called Shprintzy. I needed her to validate the depression for what it was.
The therapist took me to the sand tray and told me to take what I wanted from the shelf and put it in the tray. I found some big, tall people and placed them around the border of the tray. In the center I put a small girl. That was my life. Everyone around me was okay, they were big and strong, they were going to be just fine, and I was looking up at them and thinking I'd never get there.
Istarted eighth grade that way, half-depressed, my brain not working properly. The learning that had previously come easily to me felt like a huge stretch. But then, over the chagim and vacation, the fog slowly started to lift.
"I'm feeling better," I told my mother, "I don't need therapy anymore."
I wanted to leave therapy. I didn't feel understood or respected in that therapist's space. I still needed therapy more badly than I — and certainly my mother — realized, but I left then anyway. I thought I was fine again. Semblances of normalcy were returning; learning came easy again. I wriggled back into my social group, and by the middle of eighth grade, things were great.
A teen can be resilient. It had been an awful summer, an awful start to the school year. I'd battled a depressive episode, but I was bouncing back. I was 13 and flying high.
Too high?
I developed this strange feeling that I was special, that I needed to do loads of mitzvos, to save myself and the world.
Halfway through the year, we got our long-anticipated eighth grade sweatshirts with the school logo. Everyone was trying on her purple sweatshirt and prancing around in it. Only one girl, Shira, looked like she was on the verge of tears.
"What's wrong with my sweatshirt?" she wailed.
I looked over: The logo wasn't done well, and the lettering was ugly and off.
Girls tsk-tsked, but then just continued taking pictures, running around the place. I saw my opportunity. I went over to Shira and traded sweatshirts with her, my perfect one for her ugly one, just like that.
"You traded with her?" my friends asked when they saw me.
"Yes," I said simply.
They didn't know that I was filled with a spiritual light.
The feelings of bliss and euphoria continued during the school shabbaton that weekend. I was on top of the world, on a roller coaster car, climbing impossibly higher, until I could go no further — and then bam. I landed on the ground, under the ground. My brain completely shut down. I had no thoughts, no words, I could only sit and stare off into space and at the ceiling. I knew it was socially off, but I didn't care — the ever-present nausea in the pit of my stomach returned. I couldn't eat, I couldn't sleep. The depression had returned.
By the time our graduation trip rolled around, I was back on my feet, and on a high again, only to plummet after the trip into a depression.
It was only later that we realized that these depressive episodes were connected with lack of sleep. On the shabbaton, on the graduation trip, and previously, during camp, I was getting significantly less sleep, and that took a toll on my mental health.
Each of the depressions was progressively worse, taking me into a dark, hollow pit from which I thought there would be no return.
Chapter 3
Dealing with depression as a teen while trying to keep up a social life was horrendous. When I got depressed — which happened several times throughout high school — life stopped for me, but it went on for everyone else, and I had to claw my way back each time, reintegrating into life and finding my place socially again.
But I did it — each time — and with no professional help. I hadn't gone back to therapy since that first ill-fated attempt.
And then came 12th grade, that pivotal last year of school.
"If I get depressed again, I'm not going to survive," I told my mother.
So much was at stake. But still, we didn't do anything serious about my mental health. No one thought to refer me to a psychologist or psychiatrist.
Once 12th grade started, things became intense, fast. There were politics within my group of friends. Then, my grandfather, with whom I was close, had a stroke and passed away.
And the biggie was seminary. It was all anyone could talk about — applications, interviews, hype. I applied to three good seminaries and waited.
One night, around the time that acceptance letters were going to be mailed out, my mother called me to the dining room.
I sat across from her on a swivel chair.
"The principal called me." She cleared her throat. "She wanted to let us know before the mail comes…. She said you didn't get into any of the seminaries we applied to."
I spun the chair around and covered my eyes. I felt depressed, and so sad — but at least I was able to cry, which felt good.
The school had a rule that girls couldn't talk about seminary responses for a certain amount of time. But of course, girls couldn't keep it to themselves.
I was outside with a friend during lunch one day when she turned to me and asked in a hushed tone, "Yael, where did you get in?"
"You first," I said.
"No, you."
"I'm telling you, you want to tell me first."
"No, you go," she was stubborn.
"Fine." I looked down at the parking-lot asphalt, "I didn't get in to any seminary."
She gasped, and her face turned red. "I can't tell you about myself, then."
"You got into all of them, right?"
She looked down and nodded slightly.
Both of us were at a loss for words.
The principal pulled strings, and after a few days, I got into another seminary. But the experience of rejection, especially when I was in such a vulnerable place, compounded the pain inside me, and I felt I really needed to talk, to heal.
I begged my mother to find me another therapist, but she'd recently had her own difficult experience with therapy and refused. Finally, I opened up to one of my teachers, and she called my mother, who procured an appointment with a highly regarded therapist.
But that was only a few weeks away, and the turmoil of the past months — the social politics, my grandfather's death, and the seminary parshah — were festering inside me. Something was going to give.
I started feeling very confident, over-confident. I thought I knew what everyone was thinking. My heart was racing, and I had so much to say all the time. Mainly there was this aggrandized sense of confidence. Suddenly, the whole world made sense to me. I felt so happy. And I also knew that Mashiach was coming, I could feel it.
I spent Shabbos at a friend's, and we had the most amazing Shabbos ever. We chatted until the wee hours of morning. We took long walks. I felt the deep connection between us.
On the drive back home, I looked out the car window. Fields, trees, buildings flew past. The world was fresh and bright. Pesach was coming. I wanted to be fresh and clean myself, rid myself of spiritual chometz.
How can I remove the yetzer hara from myself?
There's a small room in our upstairs hallway, filled with old coats and linen. I'd put the yetzer hara there, I decided. Every time I'd feel him trying to get me, I'd put him in that room and push the door closed. The visualization became so real to me, I started to fear the room.
A couple of days later, it was nighttime and my parents were already upstairs. Something was happening to me. I was all over the place, talking a lot, telling everyone I knew what they were thinking.
I called a friend. "Mashiach is coming very soon," I said to her, "I can feel it."
Around midnight I went to get ready for bed. I saw my new Yom Tov dress in the front of my closet, and it felt natural to put it on, so that if Mashiach came, I'd already be dressed. The excitement was taking over my psyche. I opened the window in my room to hear the shofar shel Mashiach, and sat down beside the window with my blue Tehillim.
I was saying Tehillim with utmost concentration when my mother knocked on my door.
"Are you dressed?" I yelled through the door. "You need to be dressed in your Shabbos clothes, Mashiach is coming!"
"Yael, I'm in pajamas. It's the middle of the night," she answered. "Please open the door."
I heard her crying. I opened the door, and to my shock and horror, the door of the little room, the one that my yetzer hara was in, was flung wide open. I shrieked, then ran to my bed and cried my brains out. My mother sat next to me and wept.
I was completely wrung out the next day, which, providentially, was the day of my first therapy appointment.
I came in and started talking frantically to the new therapist. I told her about the night before, and other experiences I'd had. Right away she referred me to see a psychiatrist, and I got an appointment for a few days later.
In the meantime, I was spinning out of control. I was calling random contacts and embarrassing myself by saying strange things to them, until my mother took my phone away from me. I went to the woods behind our house, took some canvas and paints, and painted a beautiful forest scene. I produced many artistic creations that would generally be beyond my abilities. The delusions continued to come thick and fast. I was convinced that my friend was getting engaged and I was missing the whole thing.
On the day of the psychiatrist appointment, we left at dawn.
I couldn't stop talking. "The people up there in the plane can see us."
"The people in the car next to us — they know us, they can hear us."
Words were leaving my mouth, faster than my thoughts.
When we got there, I collapsed into the doctor's red couch and spoke to him a mile a minute. Eventually, the doctor sent me out of the room and sat with my parents for a while. I talked to the secretary the entire time they were inside. When I was talking, interacting, I felt happy, busy, buzzing. I had to keep doing that.
On the way home we picked up some pills. I didn't know what they were for, but I took them, and after a few days I felt myself calming down.
Chapter 4
AT the next appointment, I sat down right away and said to the doctor, "I have bipolar disorder, right?"
He gave me a small, tight smile and nodded his head. "Bipolar 1 disorder, that's your diagnosis, yes."
I shrugged. I didn't care what it was called just then, I only wanted to be helped from the horrors of my recurring depressions.
"Bipolar used to be called manic-depressive disorder, which is mania followed by depression," he explained. "That's what you've been experiencing. It comes in a broad range of symptoms and manifestations."
I nodded.
"Just continue taking the meds. We should be able to keep this under control."
I did, and little by little, over the summer, I began to feel more like myself again. I graduated high school, took my driver's license test and failed, and was slated to start seminary in the fall.
Before I could set out to seminary, my mother had to find a therapist and psychiatrist for me in Israel, as practitioners in America aren't allowed to service patients who are out of the country.
She did that, and I started seminary on the right foot. I was on the medication. I was stable. I was able to be the real me and make friends. I had only two problems: the new therapist and the psychiatrist.
The therapist wasn't helping me. She took nerve-racking, copious notes in front of me, and while I mainly wanted to share what was going on in the seminary social scene, she wanted me to talk about other things. And it was getting increasingly difficult to sneak out of the dorm without friends wondering where I was going.
After one particularly hard time of bluffing my way out, I threw in the towel.
"That's it," I told the therapist on the phone, "We're not even talking about what I want. I'm done."
And then there was the doctor. I was on a medication that was working well, but the Israeli psychiatrist insisted that it wasn't good for me to take it long-term. He wanted to get me off that medication and on something new, and that opened up the discussion on medication, when it should've been closed and clear.
My father took it up with his mentor, whom he very much respects, but who's really out of touch with the realities of mental illness on the ground.
"I was advised that being on medication is bad for shidduchim," my father told me. "But if you really need it, it would be best if the dose could be lowered significantly. If you're on a very low dose, you won't have to disclose it to the boy or the family."
These were blanket statements, with a perverted sense of my well-being at heart.
"The medication is working for me as is. I'm not changing anything." I said, "I'm the one who knows depression up close, I'm not going there again, no matter what he or anyone advises."
My father spoke to the mentor again and then got back to me. He remained insistent. "Talk to your doctor and see how you can lower the dose."
My father couldn't see the medication for what it was, something that was genuinely helping me to maintain good health. He could only see shidduchim.
One night, I was standing at the window in the seminary dorm, the chilly Jerusalem night air blowing in. My father was on the phone again. "What happened at your appointment with the doctor? How many milligrams are you taking now?"
I gave him the number.
"You know, Yael, the goal is to get off of the medication completely."
I hated the way he put it: "the goal." Couldn't he see that healing was the goal? That being me was the goal?
But his repeated insistence was wearing me down. When I spoke with the doctor next, I told him how great I was doing and that I wanted to decrease the medication. He agreed. And then my parents came up with the idea of halving even that new dose, and somehow, I acquiesced.
I took half of a reduced dose for a few days, and all seemed fine, and then it was Adar, time for me to fly home for my brother's wedding.
Chapter 5
IN the flurry and stress of packing and flying — and losing a night's sleep on the flight — mania started rearing its head. The house was a bevy of activity, the chassan and my parents were nervous and jittery about the upcoming wedding. My sleep was patchy and disrupted from travel and the whirlwind in the house.
"I'm not sleeping well," I told my mother. "I'm feeling strange, like maybe I'm heading to another high."
It was a few days to the wedding and she brushed me aside.
But over the next couple of days, I was noisy, all over the place, and hypersensitive.
The day before the wedding, my mother finally took a good look at me, and called the psychiatrist's office. We drove the two hours down to him on that busy-dizzy day.
"You had the dose lowered and then you didn't take even that? What are you doing, girl?" The doctor sighed. "I'll put your dose back up. You should be fine from here."
But the doctor didn't realize how far out I was. At the wedding, I went wild. The crowds and the music intoxicated me, and I danced the night away. At some point I took off my heels and just continued capering on the dance floor without shoes. I spoke to everyone and anyone. My cousins were having a blast with me. This is the new me, I thought, the Israeli-seminary me. The girl who's fun, loud, exciting, exuberant. I was ecstatic about my new personality, I felt like I could take on the world, right there in my gown with no shoes.
Over sheva brachos, there was a lot of tension in the house, which fed the mania — fuel to the fire. I was yelling a lot and talking non-stop. I felt like I knew everything, and again I thought Mashiach was coming.
The entire Shabbos sheva brachos I couldn't sit still. I was sure something — Mashiach? — was going to happen at any moment. I knew I wasn't myself, but still, I thought if I just got through Shabbos and made my flight back to Israel on Sunday, I'd be okay.
On Motzaei Shabbos I went out with a friend and somehow, I came up with a creative new business venture for us to launch together. The idea was so compelling (I was at my creative best when manic) and I was so convincing, that she put my fingerprint on her phone lock so we could use it together for the business.
I came home late, convinced I was being filmed on live TV, and that my every move was being watched. I was famous, and the thought of it made me proud and humbled. I couldn't go to sleep. I flicked through my camera and tried to organize my seminary photos, to do something useful even while on TV.
My father came downstairs and found me on the couch with my camera. "If you don't go to bed now, you're not going to Israel tomorrow," he said.
"But I'm on TV, I can't go to bed," I answered.
Then I had a brainwave. I called a friend in Israel, where it was morning already, and asked her to take over my show. That sorted, I turned to my father.
"Why did you come down in middle of the night? Ma should've."
He looked at me strangely, and I thought I saw something in his expression.
"There's something you're not telling me. It's Ma — she has bipolar, right? I knew you were hiding it from me all this time! Why did you hide it?!"
My thoughts were so potent that I started feeling viscerally afraid of my mother.
"I don't want to see Ma," I shouted, and I ran up the stairs.
I bolted my bedroom door. I wanted to collapse into sleep but I realized I hadn't taken my medication yet.
I called a friend in seminary who knew of my condition. "I have no water in my room to take my medication, but I can't go out of my room in case I see my mother."
"Go to the bathroom and get some water," my friend said, "You won't meet her, okay?"
"Ma, don't come out of your room," I yelled from my room. "Do not come out."
Shaking all over, I pulled open the door a crack and peeked out. I screamed. My parents' bedroom door was open, and I saw the outline of my mother. I felt like I was going to keel over.
I slammed the door closed, and screamed. My friend stayed on the phone, angel that she is. She got me to take my meds with a chocolate bar that I had in my room.
I got into bed, but the fear wouldn't leave me. My tremors were so strong my knees were banging into each other. At last, when dawn broke, I fell into a troubled sleep.
I awoke with a headache, but determined to leave to Israel. My stuff was in my room on the floor, but I left it there. I didn't need to put it into a suitcase, I figured, because Mashiach was coming and my room would fly with me to Jerusalem.
The terror of my mother hadn't dissipated with sleep.
"Ma, I'm coming down, but don't dare look at me," I said as I walked down the stairs.
When she passed me, I closed my eyes. "No, don't make eye contact. Don't."
I still thought that I was on TV and that when I'd get to the airport, I'd see myself on a large screen. But nobody was making a move to leave for the airport.
MY sister and her kids were at our house.
"Eat something, Yael, sit down," my sister said.
I was too full of nerves to eat a thing. I was on TV, Mashiach was here. My body was trembling.
"Why are you acting so crazy?" my six-year-old nephew wanted to know.
"You don't get it," I said. "You don't know what's about to happen."
I found Avraham Fried's song "Baruch Haba Melech HaMashiach" on my iPod and started to play it out loud.
My parents still didn't seem ready to take me to the airport, so I tried to take initiative.
"Can you get me an Uber?" I asked my brother-in-law.
"Uber doesn't work on Sunday," he said, straight-faced.
Finally, my parents put my mostly empty suitcase into the car. I got in and we started driving in the direction of the airport, but instead of taking the right exit, we went straight past it.
"The airport is over there, turn around," I yelled hysterically from the back seat.
My father kept on driving despite my agitation and pulled up in front of a big brick building. My parents took my suitcase and I followed them inside.
"Where are we?" I asked.
My mother sniffed, and my father scratched his head.
"Hey, there's a TV there," I pointed out to my father. "How come I'm not on it?" I started ambling toward it.
"Just come here," he said, leading me toward the front desk.
People with strict, inscrutable expressions handed me some papers to sign.
I felt an all-consuming anger toward my parents. They'd duped me, I wasn't going to Israel. What were they doing to me? Why weren't they talking to me?
I took the pen, signed my name, but then I added in the signature line: I want to sue my parents for not bringing me to the airport and for lying to me.
The people behind the desk gave me another paper. "Just sign your name," they said.
But again, I wrote that I wanted to sue my parents.
The third time, I wrote my name and they grabbed the paper from me before I could add anything else.
I looked at my parents. Betrayers. Where had they brought me? What had I signed?
The anger rose like a geyser. "Get out of here," I spat out, and then said it louder, from the depth of my being. "Get away from here, from me."
The people at the desk nodded at my parents, who looked at me for a long, sad moment. Then my mother and father fled, with terrified, stricken faces.
A woman came over, put me in a wheelchair, and took me upstairs. She helped me into a small room with a bed. Someone else gave me some food that was packaged like an airplane meal. I was ravenous and wolfed it down.
I'm on my way back to Israel, I thought. I must be on an airplane, maybe flying first class with my own room and bed.
For a good few days, I didn't register that I was in a hospital. I thought I was on an airplane, that the other patients were passengers with their own special rooms, and that the nurses who accompanied me (I was on "status," which meant I had to be watched by a nurse at all times) were stewardesses.
I was still manic those first few days and was running around the hospital. I made friends with others on the ward, particularly with a woman who told me she had schizophrenia and was homeless.
About a week after I'd been admitted, I was sitting around with some patients in the day room.
A girl sitting next to me turned to me, waved her hand in front of her nose, and said, not unkindly, "Have you taken a shower since you got here?"
A shower? What?
The penny dropped. I was sick in the hospital, so sick I'd forgotten to shower.
I shook my head.
I felt shame and revulsion, but also this deep clarity of where I was at. I didn't know what day it was or how many days I'd been in the hospital. I was that sick… but I knew this was the place to heal.
I took that shower, and started going to group sessions the next day. I was still feeling psychotic and was having mild delusions, but they were petering out. I was starting to get a grip.
While I was in the hospital, even though I wasn't well, I kept Shabbos, ate kosher, davened, and wore a skirt when outside of my room. I only appreciated this later, how I'd managed to stay true to myself as a frum girl even alone among non-Jews in a harsh hospital environment.
After two and a half weeks the mania had ridden its course. I was on high-dosage antipsychotics and hadn't crashed into a low. They pronounced me good to go and discharged me from the hospital, with the injunction to see a psychiatrist every two weeks.
Pesach came and went, and I knew I wouldn't be going back to seminary. I had to accept that, like I had to accept the other parts of the situation Hashem had given me. But it was hard as anything, and I couldn't do it myself.
And then finally, I found a good therapist, who got through to me, who started to help me. I opened up to her and got to know myself.
My nerves were shot by this time and I was hypersensitive, easily hurt and upset, and not able to hold a different reality from the one I saw.
"You have two hands, you can hold two disparate things at once," she explained. "On the one hand you're deeply hurt, and you can validate that pain, and on the other, the people who hurt you had a reason for acting how they did. Maybe they were busy, tired, or overwhelmed themselves."
That paradigm helped me to balance my own strong emotions and learn to cope with other people's, too.
We worked on acceptance, which was a huge piece for me. I felt beaten by G-d. I was just a teen and had already been in a psych ward. I had a diagnosis. A chunk of my high school years had been occluded by depression.
"I'm different from everyone, I can get ill in my mind," I said. "I can never have a life."
But I learned that I could hold both; the difference, and the healing and knowledge that G-d had a plan for me just like He did for everyone else.
Chapter 6
Part of acceptance meant dealing with the differences of my experience of the last few years vis-à-vis those of my friends. They arrived back in the States en masse when seminary ended, and even though I'd lost out on so much, I'd kept up with some girls, so I hadn't lost it totally socially. My friends hadn't seen me at my worst, and I was able to get back into my social circle once again.
They started shidduchim. I was far from there yet, but they were my people — I was part of the group.
I danced at weddings, so many weddings, and I was the life of the party, dancing up a storm. I was happy for my friends, but my own future seemed murky. I had a bipolar diagnosis and had experienced two major manic-depressive episodes.
Who will want to marry me?
I continued doing extensive work with my therapist, "parts work," to find the parts in me, in my little girl, that were hurt in childhood. I learned that I could build a relationship with that little girl within, give her love and attention; my Self could heal her now.
A year later, between the therapy and my strict adherence to my medication regimen, I was a different person. I'd had not a whiff of a bipolar symptom all year. I was doing well at my job, in my social circle, in my family, and my therapist thought I was ready for shidduchim.
"Don't look for someone with mental illness," my father said resolutely, parroting his mentor, the same one who had advised me to get off medication back in seminary.
I knew how pointless his advice was now, but it took a full year for my father to see the futility as well.
In the end, I met a shadchan who deals with sensitive shidduchim, and she redt me to a young man leading an active, successful life, who had his own mental health history and was on medication.
We dated, one hotel lounge and then another. We got comfortable with each other. We spoke about our stories and struggles with mental health, but that wasn't the totality of our relationship — although it helped our relationship move somewhere deep, real, raw. Our shared experiences were a boon, but we connected deeply as whole people besides.
Normal daters are on their best behavior, their skeletons shut away in imaginary closets. With us, it was real, grisly life from the start. But we were doing our work in therapy; we'd survived horrors, we had strength. Now we could move on and build.
We were walking along the Hudson one sunny day, and suddenly it started to rain. I just laughed and continued walking in my dress shoes and blown hair. So it would frizz and droop, I knew we were that close, and nothing could keep this from happening.
Then my date whisked me out of the rain and into a nearby bar. "I wasn't going to do it like this," he said. "AccuWeather said sparkling sun, but it's pouring cats and dogs, and well, here we go."
And he pulled out a ring.
Mazel tov!
Chapter 7
Five years later, we're happily married, and we have a beautiful, two-year-old little boy.
In our home, there's love, laughter, light. Both of us are in therapy and have a deep awareness of ourselves, our triggers, and our needs, which we then bring back into the marriage.
Yes, we have traumas from the past. (Who doesn't?) I carry those difficult high school years and that difficult hospitalization with me. But I've moved on. I'm in a different place, a place of understanding myself, my husband, other people. I'm sensitive toward them, and I try to focus on the goodness and fortune I have.
I still take medication, though the bipolar hasn't reared its head since I was hospitalized in my seminary year, and I take steps to ensure I stay healthy, like getting enough sleep.
When my son was a newborn, I didn't get up at night for him at all.
He was born during the height of the pandemic, and I'd tested positive for Covid upon coming into the hospital. That first time I held him, I wore a mask. I stared into his jet-black eyes. I couldn't believe that after everything I'd been through, I was holding, my son, our son. My hands trembled and my lips murmured fragments of prayers and gratitude to G-d.
The staff said that if my husband left the ward, he wouldn't be allowed back in. There were no visitors allowed either, and so we spent two days together — Mom, Dad, and baby. It was the best cocoon. Outside, the world had gone mad; inside, I lay surrounded by the loves of my life, by a family of my own.
My husband slept on the hospital recliner and he did the nights with the baby. He took over at nights, bless him, with the help of a nurse we sometimes hired, not just then but in the first few months of the baby's life, because that's how I was able to be a great mom during the day.
My son is an active toddler now. I'm managing a home and a family. I work. If you meet me on a Sunday in the park with my kid, you'll see a thriving wife and mom — you'll never know what happened in my past.
The bipolar isn't in the forefront of my life. I know that if I attribute every mood change and every ailment to bipolar, I'll be sick with it. If I realize my moods are normal and human, I'll be human. And I am human.
These days I don't live in fear of something happening again. I live with gratitude for what I have. I live with Hashem.
(Originally featured in Mishpacha, Issue 964)
Oops! We could not locate your form.
>