| Text Messages |
Try Your Hand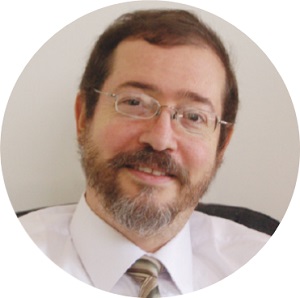 | February 1, 2022
There's something moving about the mental image that a long-ago handwritten reply conjures up
Reading Rabbi Dovid Bashevkin's introduction to The Fundamentals of Jewish Faith, one of the ten books by Rabbi Aryeh Kaplan ztz"l that has been newly republished by NCSY, I came across these lines: "When Rabbi Micah Greenland, international director of NCSY, was a teenager, he reached out to Rabbi Nosson Scherman with a question. He received a handwritten reply, which he still keeps today."
Reading those words, it occurred to me that much of the power of that anecdote lies in one word: "handwritten." Had it been instead, "He received an email in reply…" it still would have been impressive, but I wonder whether its recipient would have held on to it for all these years.
There's something moving about the mental image that a long-ago handwritten reply conjures up, of a busy man with lots of responsibilities, taking the time to sit down and write a note to a youngster. The mere act of writing it, rather than just signing something typed up by a secretary, is a powerful statement of regard for the worth of that young person. And then, of course, there's the time, the effort, and the forethought involved.
Reb Nosson's reply and what it represents is in turn related to something else in Rabbi Bashevkin's introduction, an important facet of Rabbi Kaplan that was touched upon in my recent article on him in these pages: that although he was a true intellectual, someone steeped in Torah in both the revealed and esoteric realms, and very much at home in scientific and other disciplines as well, he spent a lot of time speaking with teenagers and geared much of his writing to them.
"For all his brilliance," Rabbi Bashevkin writes, "Rabbi Kaplan's focus was inspiring teenagers…. who were not to be avoided or spoken down to. Instead, as Rabbi Kaplan saw… they are awake to causes, ideals, and values that are often replaced by the pragmatism of our adult years. Teens are awake; perhaps it is we who have fallen asleep."
SPEAKING OF THE UNIQUE EFFECT of the handwritten, the New York Times has a regular column called "Times Insider," in which one of its writers provides a behind-the-scenes look at the people and processes involved in producing the newspaper. A recent offering focuses on two writers for the Times who draft their pieces by hand, "a time-consuming process that reporters operating on daily deadlines might consider impractical."
One of them is Sam Anderson, a staff writer for the paper's Sunday magazine who's based in Beacon, New York. As a long-form writer, he's free of the pressure of daily deadlines and thus has the luxury of handwriting the 5,000- to 10,000-word pieces he contributes to the magazine several times a year.
The word for writers who create an article or essay or story with painstaking care is "wordsmith," and we speak, too, of the "writer's craft." And like most smiths and craftsmen, there's a lot to be said for those who shape their literary creations with their bare hands by engaging in the tactile experience of putting pen or pencil to paper.
And that's precisely what Mr. Anderson, who had the good fortune to grow up writing by hand before the computer became ubiquitous, observes about the experience: "You write by hand the same way you make a sweater by hand. There's a kind of folk craftiness to it. The first step is a very personal thing — drawing yourself out of your mind and body. Then, later, you translate that into impersonal print."
He likes the way handcrafting his writing "slows him down and puts him in touch with his thoughts," and even makes handwritten revisions to the typed drafts his editor sends him. "The quality of the thinking and writing feels higher to me when revising by hand. The trade-off is worth it, even with the time I lose."
There are other, more tangible benefits to his method, too. Mr. Anderson says it helps him avoid writer's block, since the initial scrawling he does on his notepads doesn't feel like "official" writing at that point. And, he notes, tapping away on a laptop is also a recipe for distraction and procrastination.
A.O. Scott, the Times' chief film critic, who's the other hand-writer at the paper, concurs. He started drafting by hand six years ago because, he says, "with how online we are now, it's easy to lose productive hours…. I needed a fairly radical method to get away." And so, he began leaving his phone and computer at home to spend two hours every day writing in parks and coffee shops using only a 5-by-8-inch notebook and a pen. "You can't go hunt around online for things when you don't have your laptop," Mr. Scott says. "So there's something very clean about it, and the prose has more clarity."
And even if your laptop lacks broad online access, as does mine, it does receive email, and any self-honest writer knows that the ritual checking of email isn't for fear of missing an important one, which comes along a few times a week at most, not hundreds of times a day. Instead, it's about that immobilizing ogre called procrastination. Here's Washington Post columnist Megan McArdle's self-reflective description of her writing experience:
Like most writers, I am an inveterate procrastinator. In the course of writing this one article, I have checked my e-mail approximately 3,000 times, made and discarded multiple grocery lists, … and googled my own name several times to make sure that I have at least once written something that someone would actually want to read.
So it is. When I really need to get work done, I have to head out somewhere where I won't be able to check my emails either. But wait: Stored on my computer are the archives of my past written work, affording me the opportunity, as Ms. McArdle describes so unerringly, of repetitive checking of same so as "to make sure that I have at least once written something that someone would actually want to read."
Now, where's that pen and notebook?
(Originally featured in Mishpacha, Issue 897. Eytan Kobre may be contacted directly at kobre@mishpacha.com)
Oops! We could not locate your form.
>