| Eye on Europe |
Truss and Verify
| September 6, 2022
Liz Truss replaces Boris — can she hold his voters?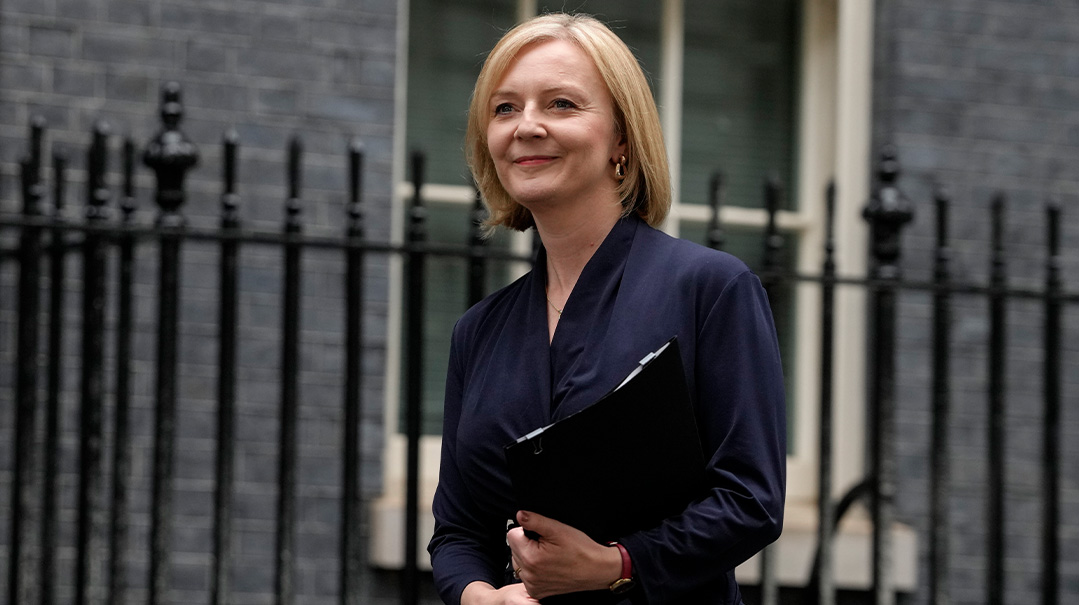 "Maggie, Maggie, Maggie, oot, oot, oot!" It was the 1980s, and a young Liz Truss marched with her parents in Paisley, Scotland, demanding the ouster of Conservative prime minister Margaret Thatcher. She little dreamed then that four decades on, she would succeed the Iron Lady as Tory leader and PM. But now, a combination of timing and shrewd politics has propelled her to the top job. As she takes the helm after defeating former chancellor Rishi Sunak by a margin of 57%-43%, here are five things to know about Britain's new prime minister and the country's road ahead.
Shape-shifting or evolution?
Truss's political journey has left her open to charges of ideological inconsistency. Born to left-wing academic parents, she moved right in her student years to become an anti-monarchist, center-left Liberal Democrat, before joining the Conservative Party in 1996, becoming an MP in 2010.
That ideological flexibility continued with Truss — who has served in Cabinet continuously since 2014 — adapting her political views to align with the three administrations in which she's served. Despite coming out against Brexit before the 2016 referendum, in Boris Johnson's post-Brexit government, she embraced uncompromising Euroscepticism and cultural conservatism.
Becoming foreign secretary in 2021, she won plaudits for her tough stance on Russia and benefited from the UK's position as Ukraine's staunchest European ally. When Johnson was toppled in July, she ran for leader on an uncompromising right-wing ticket, pledging tax cuts, a hard-line foreign policy, and a crackdown on illegal immigration and perceived "wokery" at the Whitehall civil service. Her ideological purity, and loyalty to Johnson, who is still popular with the membership, gave her a significant advantage in the final runoff.
Cut and Spend
Truss has laid herself open to charges of voodoo economics, promising both tax cuts and fresh investment. She won over the party membership by focusing on tax cuts rather than state intervention to deal with the country's energy and cost-of-living crises. Yet in the final stages of the contest, when victory looked assured, she confirmed she would offer support to households.
At the same time, she has doubled down on her intention to cut taxes. When asked how she will pay for expenditures in the absence of spending cuts, her answer included growth generated by tax cuts. But much of that growth is expected to be wiped out by inflation, and most economists are unconvinced tax cuts will generate growth amid global energy shortages and geopolitical uncertainty.
In the same way, Truss has pledged to fix the country's ailing health system, the NHS, by airily promising to "cut bureaucracy," while simultaneously vowing to increase NHS capacity by giving more funding to social care (lack of affordable care packages is a common barrier to freeing up beds occupied by fit-for-discharge patients). But the source of this funding is in question, as Truss intends to abolish the tax rise that would have raised the revenue for it.
Leveling Up
Truss will be confronted by a daunting to-do list from day one. Besides economic and health care problems, Britons face skyrocketing energy bills, projected to surpass £5,000 annually per household in January, inflation expected to reach 18%, strikes on critical sectors like rail and mail, and an impending recession.
Having passed the purity test of Conservative voters, she'll be judged by voters nationwide on these issues. The post-Brexit Conservative voter coalition includes residents of post-industrial northern towns (the British equivalent of the Rust Belt), enticed by Boris Johnson's promises to "level up," helping the region catch up to the prosperous south.
Truss, who represents a safe southern seat, has never shown particular enthusiasm for the leveling up agenda, but MPs whose seats depend on its success hope her loyalty to Johnson will translate into determination to implement this aspect of his legacy.
Winning Streak
With national elections just over two years away, the key question is whether Truss has what it takes to defeat Labour Party leader — and erstwhile Corbyn lieutenant — Keir Starmer to deliver a historic fifth consecutive victory for the Conservatives.
The Tories are currently 15 points behind Labour in the polls, badly damaged by the scandal-ridden Johnson administration, and the subsequent divisive leadership contest. According to YouGov, a pollster, Truss's defeated election rival Rishi Sunak is viewed more positively than the new prime minister by voters, and they are considering switching support to other parties in the next election.
However, separate analysis by Field Consulting showed Truss would beat Starmer 41% to 37% at a general election. Focus groups have found that voters preferred Truss's plain-speaking style to Sunak's polished one, feeling that her background, modest in comparison with Sunak's wealth, made her more relatable.
Hasta la vista?
Making it to the general elections assumes that Truss can contend with her fractious Parliamentary party, most of whom initially favored Rishi Sunak.
There's also a problem called Boris. The outgoing prime minister's final words in his last appearance before Parliament as leader — the Spanish equivalent of "I'll be back" — hinted that for Johnson, the story isn't over. So, what's next for the most iconic British politician of his generation?
A political comeback for Johnson is unlikely; the parliamentary party is still bruised from his premiership and is unlikely to entrust him again with leading it.
Johnson has also signaled his reluctance to step down as an MP immediately, as polling shows the Tories would lose the seat in the by-election that would be triggered. But he may prove a headache to Truss if he does remain in Parliament. He still has a loyal, albeit small, following of MPs, and could be a real thorn in her side by instigating rebellions on votes and making unhelpful interventions in the Commons.
As a great entertainer, he will be in demand on the after-dinner speaking circuit and, having been a star columnist at the Telegraph before entering politics, he may return to its pages.
Truss may deal with the problem by handing Boris a plum post beyond Parliament. He is rumored to be in line for a position as envoy to Ukraine, a job he would relish, having noted ironically that he is more popular on the streets of Kyiv than in the fashionable London borough of Kensington.
(Originally featured in Mishpacha, Issue 927)
Oops! We could not locate your form.
>