| Gourmet Vs. Everyday |
Tomato-Olive Chicken
| January 31, 2023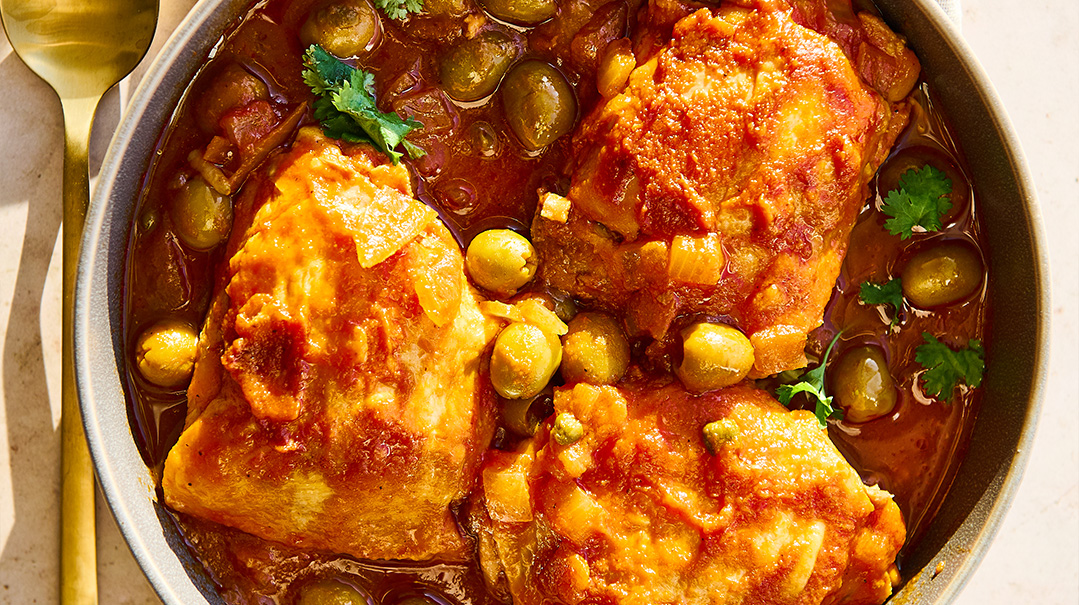 Styling and Photography by Sina Mizrahi
Chaya Suri Leitner
My kids love olives any way they're served. This is one of those dishes they all like to eat. Serve it with rice, pasta, or quinoa. This is a great dish to make for Tu B'Shevat, thanks to the olives that are part of the Shivas Haminim!
Sara Gold
To be honest, I was a little wary of this recipe, since I like olives but 
never had them in a chicken recipe before, and I pretty much knew my kids 
wouldn't appreciate it. I tried it anyway, with a few changes, and ultimately 
some of us ate it and some of us didn't!



Side note:


My neighbor loves all things olives and was thrilled to get our leftovers! 
She can't wait to make this recipe for her family!
Tomato-Olive Chicken
SERVES 6 ADULTS OR 8 KIDS 
6–8 bone-in chicken thighs, skin on
3 tsp salt, divided
1 onion, diced
1 cup pitted olives
1 Tbsp capers

I skipped this.

2 15-oz (425-g) cans tomato sauce
½ cup water
½ cup red wine

I used white vinegar instead.

1 tsp black pepper
1 tsp cumin
1 tsp honey

I used 3 tsp since we like a sweeter chicken. (It didn't really make it sweet!)
Preheat oven to 350°F (175°C).
Season the chicken with 1 tsp salt.
Add all the ingredients except the chicken to an oven-safe dish. Mix everything to combine, then add the chicken. Spoon the tomato olive mixture over the chicken.
Cover dish tightly and bake for 2 hours.
Alternatively, you can place all the ingredients into an instant pot and cook on high pressure for 30 minutes.
Sara Gold
The chicken definitely had a very olive-y taste, more so than I expected. 
It was good and soft and juicy, but the flavor was a little too strong for 
most of my family. If I were to try this again, I would cut down the olives by a lot.
(Originally featured in Family Table, Issue 829)
Oops! We could not locate your form.
>