| Gourmet Vs. Everyday |
Tomato Confit Pasta with Salmon
| November 29, 2022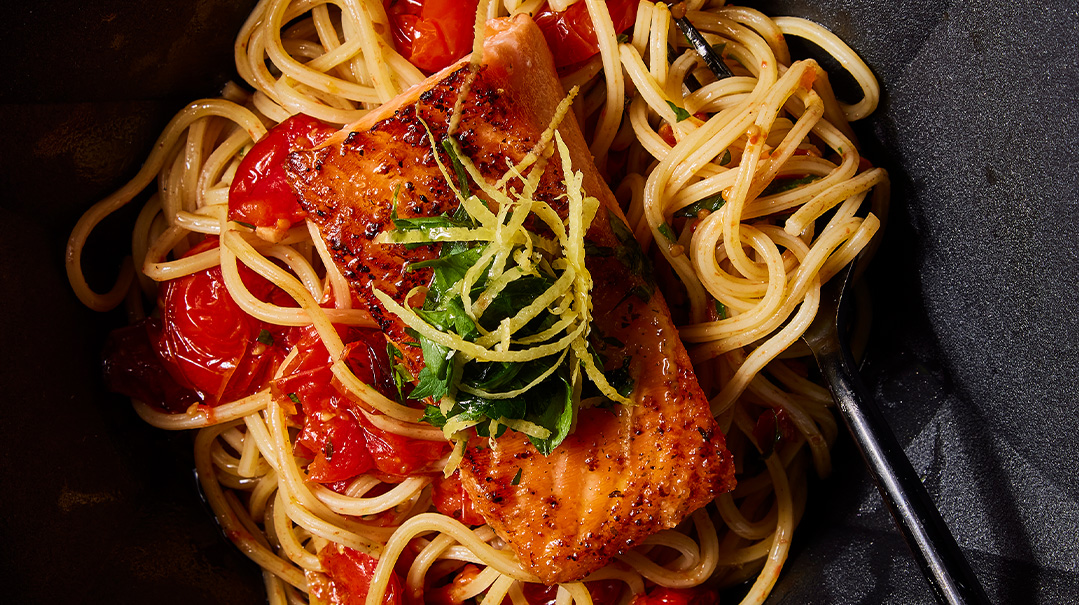 Food Styling by Chef Suzie
Prop Styling by Shiri Feldman
Photography by Felicia Perretti
Chaya Suri Leitner
While most people celebrate Chanukah by frying up all kinds of goodies, I like to do it differently and serve dishes rich with olive oil. Good-quality olive oil adds a delicious flavor and is packed with health benefits (naturally high in antioxidants and anti-inflammatory properties, to name a few). Try this dish, you'll love it.
Sara Gold
I was thrilled to see this recipe from Chaya Suri, since most of my family loves 
salmon, and spaghetti is always a good filler. I did adapt it somewhat, of course!


Tomato Confit Pasta with Salmon
SERVES 4
1 16-oz pkg (450-g) spaghetti (see note)

I used angel-hair pasta — it's lighter.

2 pints grape tomatoes

I used 1 pint.

8–10 cloves garlic, roughly chopped

I used a full head, 'cuz…garlic!

¾ cup olive oil

I used avocado oil. (The store was out of olive oil, weirdly enough.)

2 tsp salt, divided
1 tsp black pepper

I used a little less… My kids don't love spicy food.

2 sprigs thyme

I skipped this!

1½ lb (680 g) skinless salmon
lemon zest from 1 lemon

Only used a little sprinkle of zest, not the full lemon.

fresh chopped herbs (optional)

I used parsley, and it made the dish go up a notch!
Preheat oven to 375­°F (190°C).
Cook the pasta according to package instructions.
Place the tomatoes, garlic, thyme, and 1 tsp salt in a baking dish. Pour the olive oil on top (it should cover the tomatoes at least halfway up). Bake uncovered for 45–60 minutes.
(I baked mine longer, until the garlic cloves got very soft.)
Season the salmon with remaining salt and pepper and bake for 18–20 minutes. Once cooled, you can flake it or cut it into squares.
Add the tomatoes and garlic to the cooked pasta and toss. Top with the salmon with 1⁄2 cup of olive oil from the tomatoes
(I only used a few teaspoons). 
Finish off with lemon zest and herbs.
Note: My family loves brown rice pasta. It took some adjustment when I started using it (almost 10 years ago), but slowly incorporating it into our rotation helped. Now this is the only pasta we use and love!
Sara Gold
This recipe did not disappoint! It was delicious and presented beautifully.
In the words of my ten-year-old, "This is actually really good and amazing!"
They couldn't get enough and asked me to put it on my regular 
supper rotation. Why yes, I could definitely do that!
(Originally featured in Family Table, Issue 820)
Oops! We could not locate your form.
>