| Fiction Corner |
To Live Again | April 11, 2018
So now he had a new nickname. Gorilla. Yet another entry on the list of insulting names the rebbi had affixed to him.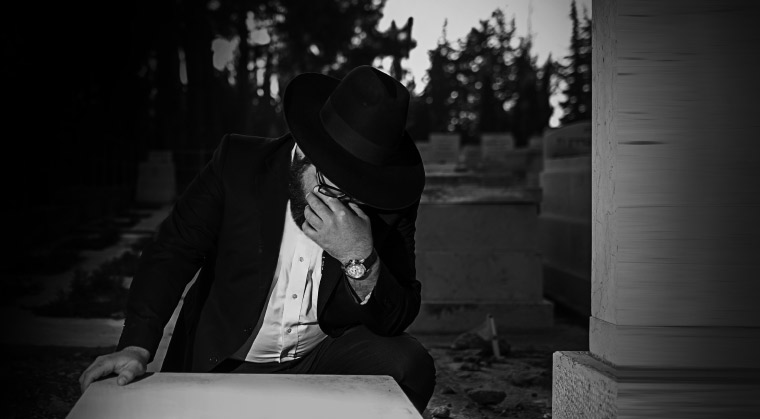 As he left the office and stepped out into the street, Moshe's eyes opened wide. The bold, black letters seemed to be moving toward him, and he shrank back in alarm.
"So he was niftar," he whispered to himself.
Voices that had settled in the recesses of his mind awakened. That face, that name… Moshe hadn't mentioned him in years, but he was always there, lurking in the background like a foreboding shadow.
"Baruch Dayan haEmes."
He tried to push the matter aside, to shrug it off and cross the street, but the freshly pasted notice seemed to hold him there.
His eyes ran over the words: "…departed before his time… exemplary mechanech who taught Torah and yirah to the young flock of Israel for more than half a yovel…"
Yes, so it must be him. Rebbi Levy.
"Good!" he said suddenly. "Good!"
Passersby stopped for a moment and looked at the notice. Some bit their lips, some raised their eyebrows with that "I don't know him" look and kept walking, and others let out that sigh of relief that said, "Well, we're still alive."
But Moshe still stood there, engulfed in his own thoughts. And consumed with anger.
On the outside, he looked like any other young man who'd just finished his day's work, but on the inside, he was shooting sparks of rage at Rebbi Levy, now billed as HaRav Yitzchak Aharon Levy z"l. For a fleeting moment, he even imagined himself tearing down the notice.
As if it hadn't been 17 years already.
Again he was a ten-year-old, full of boyish energy. He pushed hard on the handle of the green door, burst into the classroom at Talmud Torah Yesodei HaDas, and tripped over the rebbi's foot.
He was sprawled on the floor, and Rebbi Levy was standing over him, saying, "Go back outside, Moishy, and next time don't come into class like a gorilla in the zoo."
So now he had a new nickname. Gorilla. Yet another entry on the list of insulting names the rebbi had affixed to him.
He was still there by the notice board, rubbing his elbow as if the rebbi had just now tripped him, instead of 17 years ago. And the memories kept coming. The time he was banned from the class trip, the month his desk had been moved to the corner as punishment for talking during a lesson. His whole life had been irrevocably altered because Rabbi Levy had chosen to share his impressions of the "gorilla boy" with all the decision makers in his little universe. If Moishy could have taken his teacher to beis din, the charge would have been "ruining a life."
An idea flashed in his mind. It flashed again, and took hold. He'd do it. He'd go to the levayah.
•••
"Oy, Reb Yitzchak, your panim meiros…" sobbed the speaker.
Moshe stood at the back of the small hall, engaging in a mental dialogue with the eulogizer. "Panim meiros? More like a face from the netherworld… a face glowering with evil…"
"Your love of chesed!" the speaker bellowed, and his words hovered over the crowd.
"Chesed?" Moshe silently retorted. "Right — chesed shel emes. You murdered talmid after talmid."
All at once, his eyes flooded with tears, and he couldn't hold back the sobs. Many heads turned, curious to see who was so deeply affected by the hesped. Moshe didn't really care. Hardly anyone here knew him; Rebbi Levy hadn't lived in his neighborhood. And anyway, it wasn't Moshe Lowey, married man and junior bookkeeper, who was crying and making a scene. It was little Moishy, then ten-year-old whose heart had been trampled and crushed, day after school-day.
Who could he have spoken to, back then? Not his father, who would only scold him for being so wild and unruly. Not his friends, who made sure only to play with him when nobody was looking, so they wouldn't be targeted for being friends with "Mushke the rabble-rouser."
"What's your connection to Rav Levy?" someone asked him in a hushed tone.
"I was his student," he answered.
"Pssshh," the man enthused. "That's the kind of impression he left on his talmidim?"
"Yes," said Moshe, forgetting his tears and relishing the cynicism. "How could I forget a rebbi like that?"
The man sighed deeply.
Moshe joined the rest of them on the bus to the cemetery, still intent on his plan. He just had to wait until everyone was gone and he was alone with Rebbi Levy. Finally, it was over. The last of the melavim left the cemetery as night began to fall, signaling to the living to go back to their lives and leave the dead to their slumber. Moshe approached the fresh grave.
"Okay, Rebbi Levy," he said, "now you're the one on the ground, and I'm standing over you. I just came to tell you I don't forgive you, not for a second! You got that, Rebbi? Your Olam Haba is your problem. You never cared about me, so why should I worry about you? And I plan to come here again and again, just to remind you that I'm not moichel. I don't forgive you for a single insult, for a single moment of suffering you caused me, for a single tear you made me cry, for the childhood you ruined for me, for the second-rate high school I had to go to because of you… Yes, because after I finally got accepted to a good yeshivah, you had to talk to the rosh yeshivah and ruin it for me. From the moment you came stomping into my life, I stopped believing in myself. That's right, Rebbi Levy. How are you going to fix that now?"
What started out as gleeful defiance ended in broken sobs. His wounds were still raw. His adult self was much more fragile than he'd realized.
He tried to shake off the pain. "Come on," he told himself. "You're not a kid anymore. You're an adult already, with a job, a family. Go get a life."
But even as he exited the graveyard, he couldn't leave the pain behind.
•••
"Lachein Baal HaRachamim yastireihu b'seiser kenafav l'olamim…"
The small family group marking the shloshim of their dear departed father began to break up, each to his own car, his own affairs, his own life.
Minutes later, a figure in a suit and hat began swaying beside the grave.
Moshe approached slowly, trying in vain to identify the young man standing by the pristine matzeivah. The bochur was reciting perek after perek of Tehillim. "Mah nimletzu l'chiki imras'cha midvash l'fi," his voice filled the open air. "Mipikudeicha esbonan… Saneisi kol orach sheker…"
He finished the pesukim that spelled out the word "neshamah" and began to pray as if he were standing at the Kosel. After that he simply stood there and continued praying as though delivering a lecture to no one in particular. When he finished, he announced, "L'illui nishmas Yitzchak Aharon ben Zalman," placed a clipped-together bundle of papers on the stone, and walked away.
Moshe was pretending to daven at another grave a few meters away. The moment the corner of his eye caught the young man leaving the cemetery, he shot over to Rebbi Levy's matzeivah. He bent over and scrutinized the photocopied pages left on the grave. "B'din yeiush shelo midaas," read the title page. These must be that bochur's Torah chiddushim.
Moshe launched into his monologue.
"I want you to know that I still don't forgive you! My life is still a mess, and nothing is going right. You took a little boy who wanted to learn and grow, and you labeled him and stunted him and prevented him from ever becoming anything. I declare that I am absolutely makpid on every single thing you did to me. And if I could, I would stand here as the representative of many, many souls that were destroyed by the wicked man buried in this grave."
He said his piece and left.
•••
Three months later:
The paperwork on Moshe's desk was comforting. His job as a junior bookkeeper in a modest Jerusalem office was a refuge; he loved being absorbed in a world of numbers.
Numbers were never aggressive. They never argued or made demands. They obeyed your orders to stand in neat columns. Even if they didn't match up correctly, it wasn't like they were out to get you. They would wait patiently for you to find the error, and then they'd obediently line themselves up again.
"Fixing mistakes is also a talent," Moshe muttered bitterly.
His cell phone buzzed. The word "kever" appeared on the screen.
Moshe stopped mid-calculation, saved the file hastily, and stood up. He pulled on a thick sweater and went out to his car in the parking lot.
It was Erev Rosh Chodesh, time for his monthly follow-up appointment with Rebbi Levy. He fastened his seat belt and sent the usual text to his wife: "Yom Kippur Katan. I'll be late." He grabbed a quick Minchah in the neighborhood shtibel near the cemetery, and then went to perform his Yom Kippur Katan ritual, in which he took the dual role of plaintiff and prosecutor.
As he made his way toward Rebbi Levy's grave, he saw that bochur there again, intent on his Tehillim. This time, he didn't pretend to be visiting a different grave. The moment the boy looked up, he spoke to him.
"Hi, I'm Moshe. Moshe Lowey."
"Shalom u'vrachah. Yitzchak Elchanan."
"Are you related to the niftar?"
"I was a talmid of his, back in fifth grade."
"So was I, but about ten years before you, I guess."
Moments later, they were sitting side by side on a rock. With red eyes, Yitzchak Elchanan was speaking, and Moshe fought in vain to hold back his own tears.
"…He was telling the class that old story about Rav Yitzchak Elchanan Spektor standing before the Beis Din shel Maalah, and they told him to go left, to Gehinnom, because he'd killed the gadol hador by becoming a shoemaker, and just when he had the whole class stunned, he suddenly turned to me with a nasty smile and said, 'And you, Yitzchak Elchanan, you'll they'll send to the left davka if you try to be a talmid chacham… they'll say you killed off a good shoemaker.' "
"Wow."
"Yeah. All the kids laughed, of course, and from then on all I heard from them was 'Yitzchak Elchanan — get yourself over to the left, you shoemaker-killer!' "
"I think the nicknames he gave me might have been even worse. That's what I come here for, to remind him that I've never forgiven him."
"And what do you gain from that?" the teenager inquired.
"Nothing. It's the truth, and it's how I get it off my chest. It makes me feel better just knowing that he's paying the price Up There."
"Too bad it still bothers you so much. I took my pain and my anger and used it as my motivation to get back at him. All these years, I've been getting revenge by proving that I can be everything he said I couldn't. That I can learn, that I can write my own chiddushim, that I can be the one people ask for advice and answers. It's been a very sweet revenge. I've gotten farther than he could ever have dreamed."
Yitzchak Elchanan paused, not wanting to sound boastful, but Moshe was looking at him expectantly, waiting for him to finish his story. "Today I'm in a top yeshivah, and I'm considered one of the top guys… I know I'm still a kid, and I have a long way to go, but since he passed away, I've been trying even harder, and I'm doing it all l'illui nishmaso, 'cause I want him to look down from up there and see what became of the boy he told to be a shoemaker."
"That's not healthy," Moshe countered. "You're not really learning for the right reasons. You're only shteiging to show him. It just doesn't sound healthy. It shows how much he still bothers you, that you can't let it go."
The bochur looked at him. "And you think it is healthy to come here every month and tell him you won't forgive him?" he asked. "That sure doesn't sound healthy to me. It just gives you someone to blame, and it gives you a good excuse not to do anything with your life. You're letting him win!"
"I'm not in a fight," Moshe said. "I don't see it in terms of winners and losers. But maybe you have something there. I need to think about it. The Chofetz Chaim says we have to remember that our suffering ultimately comes from Hashem — he just sends it through people like that. Maybe… maybe I should stop coming here. Maybe I need to move on."
Yitzchak Elchanan gave a weak smile. "That's just what I'm thinking."
•••
"M. Lowey, CPA," read the brass sign by the entrance leading up to the second floor of his building.
Moshe was overloaded with work. It had been two months since he'd opened his own accounting business, and the stream of clients was more than enough to fill his work hours and wallet. A few months before, a collapsed Ponzi scheme had left a group of businessmen in severe trouble. Until then, Moshe had always preferred the anonymity of the shadows, but this time he'd seen a way to clear through the dismal numbers to access legally approved resources and regain some of the funds. Word went out about the young accountant who'd rescued several families from collapse.
Now more and more people were asking him to handle their taxes. Opening his own accounting firm seemed the next logical step.
The change had revitalized him. His work was more than just a bland way to fill up his day; it was a stimulating challenge that made it worthwhile to get out of bed. And that was aside from the regular Torah learning he'd added to his schedule. Before dawn he was already sitting over his Shulchan Aruch with Nosei Keilim. In the evening, he was a sort of "rosh kollel" to a group of fellow working men; they learned Gemara together under his direction. He'd left a shallow existence behind and become a new person. A person who was growing, achieving, worthy of self-respect.
His phone rang.
"Hi, Reb Moishe. Did you remember that today is the yahrtzeit?"
"Yitzchak Elchanan!" Moshe replied cheerfully. "Don't you remember that you're engaged? I'm pretty sure you have a new life to plan. We've stopped hanging around graves, haven't we? Let's keep it that way."
Yitzchak Elchanan laughed. "No, I was just calling because I want to give you an invitation. You didn't come to the yeshivah for our monthly chavrusa this Rosh Chodesh. I know you're busy, but I owe you so much. I've never told you before, but ever since that day we first met, by Rebbi Levy's grave, something changed for me. I was upset when you gave me mussar, but afterward I realized you were right. My learning was fueled by this bitter poison. I might have been a top bochur, but all I could think about was revenge, about showing him. I don't think I could have been a good chassan if I were still holding where I was then."
"I have an idea. Do you have time to do something today?"
"What's on your mind, Reb Moishe?"
"I think we davka should go there today. To the cemetery. But without any schtick. You won't show him how much Torah you learned l'illui nishmaso, and I won't rant and rave. We'll close up the grave and put the whole story to rest."
"I'll come," said Yitzchak Elchanan, and paused. "I actually prepared an invitation for him," he finally admitted in an embarrassed tone.
"So keep the invitation, and let's go early this time, because I don't want to have to wait for that whole family gathering to finish up. I'll pick you up by the city entrance."
•••
A pebble was placed on the grave.
Moshe stood with his head bent, his forehead touching the matzeivah. "I… I'm ready to forget everything that happened, Rebbi Levy. I forgive you for everything. Everything, b'leiv shalem! There, I said it. It's time to live now, you know?"
A trembling hand grabbed his collar, pulling his head up wildly.
Moshe stared at Yitzchak Elchanan, his eyes wide with alarm and annoyance. "What's the matter? Are you cra—"
His eyes followed his friend's frightened gaze, and his mouth went numb.
They both stood there, frozen in horror.
"Let's get out of here," said the bochur.
"Wait, we're getting carried away… Of course it's not him. Look, his beard is white…"
The figure approached, and their doubts melted away as he came closer.
He was older now, with a lot of wrinkles, but it was Rebbi Levy in the flesh, steadily drawing closer.
He stopped, and gave each of them a long, searching look that felt like it would never end.
"I think I know you," he said.
They nodded vigorously.
"What brings you here to the grave of my cousin, the famous rebbi and chinuch mentor, Rav Yitzchak Aharon Levy, zecher tzaddik livrachah?"
Instinctively, Yitzchak Elchanan reached into the bag he was carrying and pulled out an invitation, which he proffered with a shaky hand.
The older man took it, and a look of surprise came over his face as he read the name on the envelope. "HaRav Yitzchak Aharon Levy."
"It's customary to add shlita," he said stiffly.
"Yes," said Yitzchak Elchanan. "In this case, sheyibadel l'chayim might be more appropriate."
"We should all be zocheh to chayim tovim," Moshe spoke up.
Rebbi Levy's expression softened. "Yes," he said. "We have to do all we can while we're still in this world, and not put things off until it's too late… To be honest, I don't really remember everything that passed between every one of my talmidim and me, but as long as we're here, it could be that I ought to ask you for mechilah, just to make sure…"
"That's all right," said Yitzchak Elchanan. "There's no need. It's all forgiven."
Moshe nodded. "Yitzchak Elchanan is right," he said. "We're past it. We've moved on."
(Originally featured in Mishpacha, Issue 705)
Oops! We could not locate your form.
>