| Recipes |
Three-Cheese Pesto and Tomato Buns
| October 19, 2021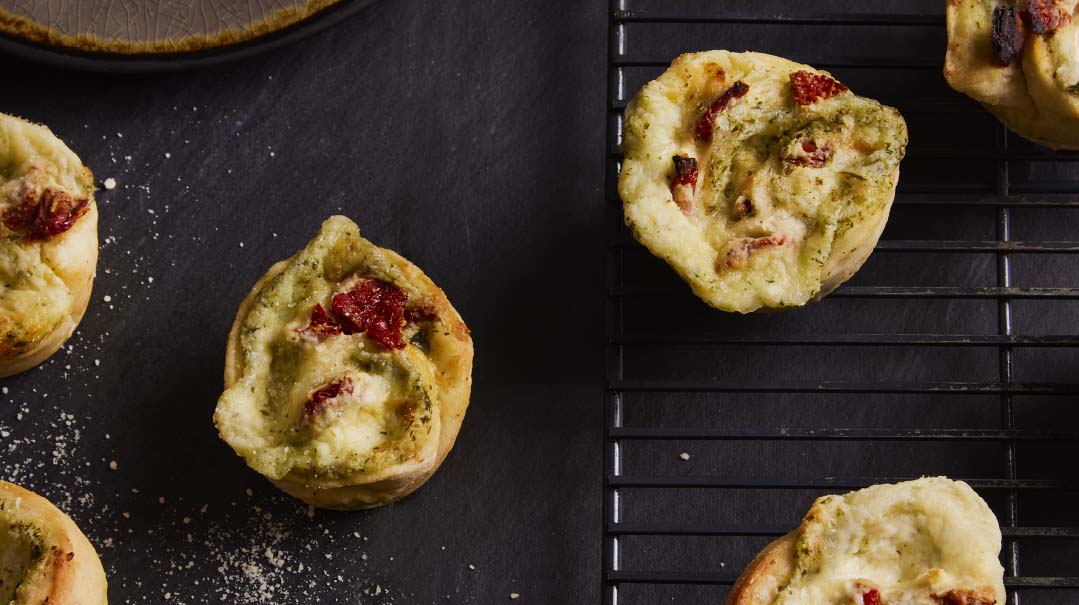 Props and styling by Goldie Stern
Photography by Felicia Perretti
The pesto and sundried tomatoes in these creamy, cheesy buns impart a sophisticated flavor that makes it seem like you spent loads of time slaving in the kitchen. But what can be quicker than using store-bought pesto and pizza dough? Gotta love these shortcuts… and I won't tell if you don't!
YIELDS 24 BUNS
1 lb (450 g) store-bought pizza dough, at room temperature
2 cups ricotta cheese
1 cup shredded mozzarella cheese
6 Tbsp Parmesan cheese, plus more for sprinkling
¼ cup prepared basil pesto
25–30 sundried tomatoes, diced
cooking spray
Preheat oven to 400°F (200°C).
Place ricotta, mozzarella, and Parmesan cheeses into a medium-sized bowl and mix well to combine.
Divide pizza dough in half by cutting with a sharp knife. Sprinkle some flour onto two pieces of parchment paper and roll out each dough into a 10x12-inch (25x30-cm) rectangle. You may need to stretch the dough slightly to reach the full size, as it tends to spring back a bit.
Spread 2 Tbsp of pesto onto each of the rectangles. Using half of the cheese mixture for each dough, spread filling gently and evenly over the pesto. Spread the filling up until about 1 inch (2.5 cm) from the top of the 12-inch side. Sprinkle each rectangle with half of the diced sundried tomatoes. Tightly roll the dough up, jelly-roll style, starting from the bottom of the 12-inch side. Place seam-side down, sealing the edges of the dough as best you can.
Using a serrated knife, gently slice each log into 12 one-inch (2.5-cm) slices and place into greased muffin tins, spiral-side up. You should have 24 buns. Spray buns with cooking spray and sprinkle lightly with Parmesan cheese.
Bake for 15–17 minutes or until edges are lightly browned. Allow to cool for about 5 minutes and serve.
(Originally featured in Family Table, Issue 764)
Oops! We could not locate your form.
>