| Open Mic |
These Are Your People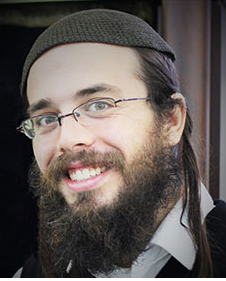 | October 3, 2018
Now, with the close of the Yom Tov season, is the time to speak the praises of the Jewish People.
The Sar Shalom of Belz is reported to have enjoyed learning in the style of pilpul, where one uses great intellectual rigor to juggle assorted passages in the Talmud and its commentaries in the hopes of arriving at novel conclusions that allow the various sources to all work together.
One of his chasssidim questioned him about his affinity for this method, which was not usually associated with the early chassidic masters.
The Sar Shalom smiled. "You see," he explained, "sometimes one comes across a difficult passage in the Talmud. It simply doesn't fit with another observation found elsewhere. One must struggle to reconcile the two passages.
"That struggle is good practice," the Rebbe continued. "For sometimes you find a Jew who doesn't quite reflect what is written in the verse: 'V'ameich kulam tzaddikim — And, as for Your nation, G-d, they are all righteous' (Yeshayahu 60:21). Yet, if one struggles mightily, and is well practiced in the derech of pilpul, he will surely succeed at darshening that Jew until he fits perfectly with the description of a tzaddik."
This was, of course, the famous pastime of Rav Levi Yitzchak of Berditchev, the great defender of the Jewish People, who sang their praises, saw their good points, and was never afraid to mention them directly to Hashem.
I am endowed with neither the intellect of the Sar Shalom nor the power of attorney of Rav Levi Yitzchak to represent the Jewish People, but seeing as we've just concluded the days set aside to seek out and speak out the good of Am Yisrael, I mustn't remain silent.
Master of the World, how fortunate You are to have chosen such a people — more compassionate and caring than any other nation in the world. Believe me when I say that one cannot possibly know the well-oiled machine that is Am Yisrael's chesed until they are the direct recipient of it (may the remnant of Your People never need it). Well, Master of the World, Your humble servant has recently been the beneficiary of it. So please allow me to share their magnanimity with the world.
After our now-annual summer visit to my family in the States, unexpectedly, and with great pain, my family was sent on a mysterious "shlichus": I need treatment for lymphoma, and we are staying in America for the year. But wait, our apartment in Ramot Bet, Jerusalem, together with all of our belongings (dining room table, chairs, couches, seforim, dishes, some beds, our baby's crib, kids' toys, a few paintings, and some musical instruments) are 6,744 miles away, and treatment starts in a week.
How wondrous is Your nation?
Master of the World, I must tell you what the Jewish People did. Over the next week, miraculously, our empty rental house for the duration of our sojourn here was filled with "stuff."
An old friend of mine had an extra bookshelf, a dining room table, and chairs in his garage. "I thought someone might need it someday," he said. A family friend offered four beds they weren't using. Another had some lamps. A former student had an extra set of Shulchan Aruch and Mishnah Berurah.
Someone we'd never met before (a friend of my aunt from L.A.) dropped off three huge boxes packed with brand new kitchenware: dishes, knives, cutting boards, etc.
Who is like Your People?
Like the mystical tale of the Arizal, who miraculously dipped himself in the mikveh for his own taharah, all of the dishes "toiveled themselves" and showed up organized in our kitchen drawers. Some family and friends from the neighborhood stepped in to schlep the furniture.
A few bags were packed by friends back home and then brought by other people returning to America. Suddenly, our favorite paintings and pictures, my wife's candlesticks — polished, of course, by one of our neighbors in Ramot — my guitar, and some extra winter clothing we never expected to need, arrived at our door.
I shared this with one of the nurses in the chemotherapy infusion center of the hospital where I am receiving treatment. She didn't believe it. Neither do I, really.
But it's true.
"U'vchein tein kavod Hashem l'amecha — Therefore, Hashem, give honor to Your Nation!"
Originally featured in Mishpacha, Issue 729. Rabbi Dovid'l Weinberg is a rebbi at Yeshivat Orayta in the Old City of Jerusalem and the rosh kollel of Camp Hasc's Kollel Toras Chesed. A writer and musician, he cofounded The Mishna Project, an educational tool that aids the memorization of mishnayos through music. He lives in Ramot with his wife Rina and their three children.
Oops! We could not locate your form.
>