| Jr. Feature |
The Magic of Mini Worlds | January 18, 2022
   

  What if there was a world that could fit in your pocket?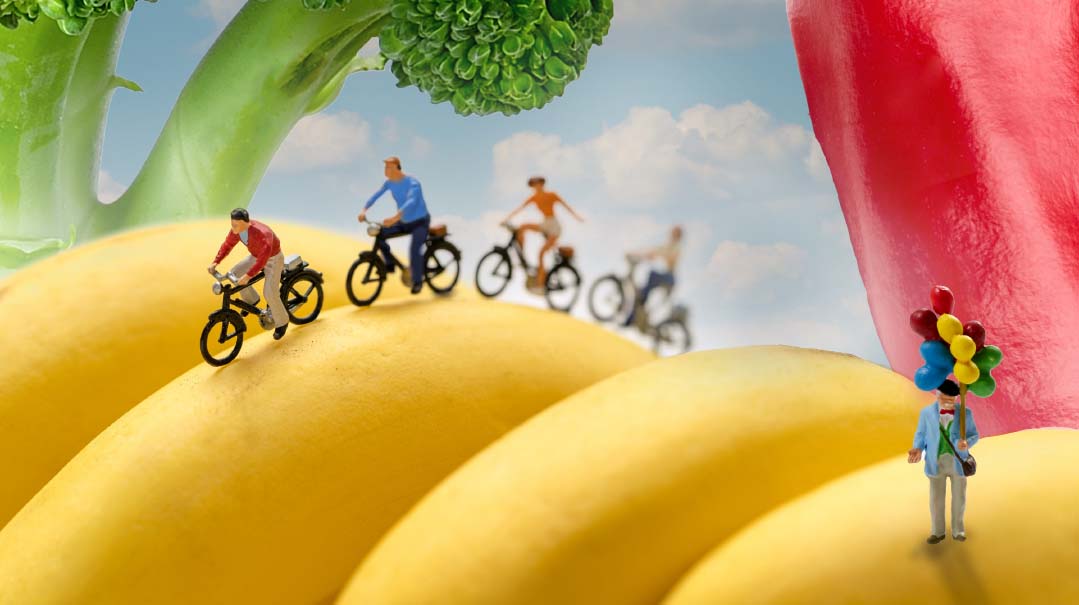 What if there was a parallel universe to ours, in which tiny people (or other little creatures) lived out their everyday lives directly alongside our own? What if there was a world that could fit in your pocket? Or where your dolls could live out your dreams? In which mice lived like people? Or in which pint-sized little yous got up to all kinds of shenanigans?
These artists have also asked "What if…"
Imagining a Miniature Reality
"Broccoli and parsley might sometimes look like a forest, or the tree leaves floating on the surface of the water might sometimes look like little boats," Japanese miniature artist Tatsuya Tanaka says. "I wanted to take this way of thinking and express it through photographs." From that starting point of broccoli, Tanaka has been making a daily scene of life in miniature for the past ten years.
It's that one thought, about the broccoli trees (c'mon, you've thought it, too!), that Tanaka credits for a seemingly unending ability to create and imagine. (Apparently, he did not even like broccoli, but Tanaka started eating it after it jump-started his career. And now his kids eat it, too.)
Tanaka uses stuff you'd find around the house, like fruit and veggies, utensils, office supplies, medicine cabinet essentials, and so much more to create his scenes. When he sees these things, he doesn't see them for what they are. He sees them for what they could be… for mini people. And, thus, unrolled toilet paper becomes a ski slope, a computer mouse becomes a race car, piano keys become a crosswalk, a banana becomes a hammock, and a red paper clip becomes the red-hot heating element of an electric grill. Just add tiny figurines. And don't stir. Or breathe. Because everything must stay in place!
Thinking Small
Widely known as the world's first "miniature photographer," Tanaka had a longtime serious hobby of collecting mini figures. (Umm, he has about 50,000 of them, actually. Good thing he turned this into a job, right?) He also loved making plastic dioramas. And he has a degree in art. But, really, his work is about having a completely unique and "unrestrained perspective" of the world.
Tanaka is able to see beyond an object, to what else it could be and what it resembles. "For example, people who cook can imagine the dishes [they'd make] from the food in the refrigerator," he explains. "It's similar to that kind of perception." So, he looks around at objects in everyday life and then he tries to create a scene that people will recognize — regardless of background, age, nationality, language, culture, and so on.
Each mini scene may look simple enough, but believe it or not, they take around five hours to create and photograph. He paints the figurines himself and then uses computers to help him figure out how to set up his scenes and where to put each piece. Then he arranges everything with tweezers (and glue).
Designing a Doll's Dream Life
Creator Mandi Johnson of Canton, Ohio, wasn't inspired by broccoli. "Making a dollhouse for my kiddos was my reason for getting into miniatures," she recalls. "But I quickly realized I was absolutely in it for myself!" When Johnson's daughter asked for a dollhouse, she started looking around and realized she could build a way cooler and better dollhouse than she could buy. It took three months to make, but she loved it. And when she felt kinda sad to be giving it away (even to her own daughter), she realized she wanted to pursue this hobby.
Over the years, Johnson has made mini rooms, dollhouses, and home decor for American Girl-sized dolls and smaller ones. She always loved miniatures and creating tiny things, but it wasn't until she made that first dollhouse that she realized how much she enjoyed creating spaces — and making them as small as possible without skimping on the details. "Creating pieces that I find beautiful and would put in my own home," she says, is one of the things she most enjoys about making miniatures.
Indeed, the photographs of her tiny spaces often look like real rooms — so much so that they create a major mind-bend on perspective. In fact, the brands Anthropologie and Article have had Johnson create mini rooms, which they then photographed as if they were really people sized. (They're that realistic.)
So, how does one become an interior designer for micro-micro-homes? Well, for one, Johnson's been DIYing all kinds of things for years. And two, she easily knows her way around a toolshed, operating scroll saws and jigsaw machines. She starts with a floor plan and other sketches and then works to build the space (with micro-sized square footage). Then Johnson plans the details of the interior and sees if she can get materials to actually create them (like plaster walls, special tiles, patterned wood floors, stained-glass windows, and so on). Then she moves on to furniture, wallpaper, and even mini art. "Making miniature spaces is a unique way to exercise creative compulsions," she says, "even if you'd need a shrink ray gun to fit inside!" Hmm, a shrink ray gun sounds pretty cool, doesn't it?
Why does she find it so satisfying to design teeny-tiny homes? "Most of us don't have the opportunity to do exactly what we want with our real-life homes, so the idea of being able to create our dream space in miniature — it's a fantasy," she says.
You Make It Mini
Did you ever stop to look at that little plastic three-legged circle that comes in a box of pizza? It keeps the lid of the box from touching the top of the pizza. And it looks just like… a table. You thought of it, too, right?
So did an innovative Canadian pizza restaurant (confusingly called Boston Pizza). About three years ago, they decided to include an entire patio "set" in the pizza box: two chairs to go with that little table. Although it was just done for a promo, it went viral, because they hit on something so universal.
What other everyday objects could really be something else, some mini thing? Show us your best mini ideas created from everyday objects in your home (think corks, nut shells, buttons, clothespins, paperclips, and so on), and send us your creations to be featured in Jr.!
Building All the Little Castles
Günther Beinert goes for miniatures of a regal — and royal — nature. His tiny castles dot the town of Gerbstedt, about an hour from Leipzig, in central Germany. Though only about 3,000 people live in the town, they've got 40 castles — tiny ones, at least.
Beinert's intricate constructions come complete with all the details, from mini windows and plants to royals and noblemen dressed in historically appropriate garb. Now 87 years old, Beinert remembers building his first castle back in 1949, after World War II ended. He used rubble from a wall in his parents' old home to make it.
It helps that Beinert has been working in construction as a bricklayer all his life. When he got home from work, he'd pursue his hobby of building mini castles. But soon they took up so much space, he couldn't store them. His biggest replica weighs in at 44.1 tons (uh, just for comparison's sake, that's like seven-ish elephants) and contains around 100,000 stones. (Even so, it's still called mini.) That one took him 18 months to build and features Mansfeld Castle, from a neighboring town. Today it sits in front of the town's real castle, Gerbstedt Castle. But before we get ahead of ourselves, back to the problem of storage….
Beinert called the municipality and asked if he might install his castles around the town. "And that's how it all began," he recalls. About seven years ago, officials in the town noticed that tourists were stopping all over the city to take pictures of the mini castles, which can reach about 5.5 feet in height. So, the Gerbstedt City Council created a Burgenwanderweg — a castle-trail walk — that connected all 40 of Beinert's creations. Visitors could follow the trail, take pictures, and learn a bit about each one. This outdoor "museum" today decorates people's lawns, the front of the supermarket, and other public buildings, like the abovementioned Gerbstedt Castle.
Although he's definitely been motivated by visits to real castles, Beinert had a book on German castles that he used for inspiration. Interestingly, the castles he built helped sustain him and his family when Gerbstedt was still part of East Germany, a communist state. Until the Iron Curtain fell in 1989–90, he would trade castles for things he needed, like parts to fix his car or a door for his garage. He also got into trouble for the hobby. Since most of his miniatures featured castles of West Germany, he was reported to the authorities and "disciplined" by the Socialist Unity Party. Nonetheless, he kept it up.
"I was a nobody, I only gained joy from my craft," Beinert says. "I recreated West German castles because we couldn't visit them — that's why I brought the West to Gerbstedt." Beinert continues working in his workshop on what is probably going to be his last castle, this time a fictional one. "My fingers don't work the way I intend them to anymore…. But this castle has given me strength again."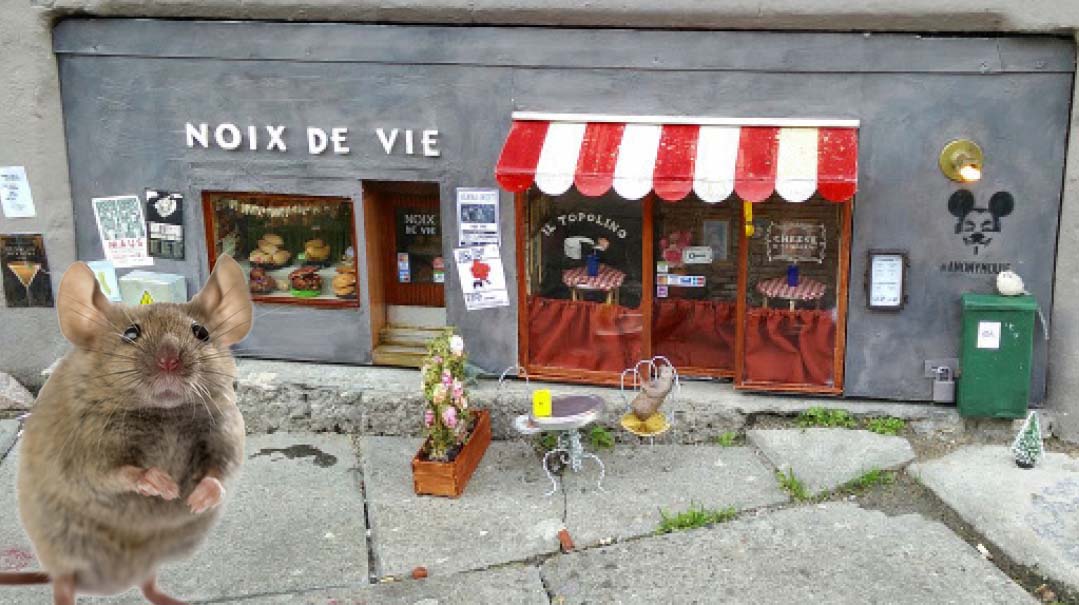 Enjoying the Mice Life
What if there was another world just like ours, right under our feet? A world where mice could buy music and drink coffee, shop for exotic nuts and make art and do things just. like. us.? Those were the daydreamy questions a group of artists were asking, inspired by some children's books they'd grown up on.
Known as Anonymouse, these artists — whose identity remains secret (think anonymous) — started creating incredibly detailed mini mice buildings in public spaces in Malmo, Sweden, about five years ago. "We like to think of it as something we, ourselves, would love to stumble upon in an otherwise dull, concrete environment," an Anonymouse spokesman says.
Their teensy-weensy (meesy?) world started with a fancy rodent restaurant called Il Topolino. Then they made a mouse amusement park, several shops, and even a tiny mice-mobile gas station. Other mice sites included a barber shop, homeless shelter, bistros, a travel agency, a jazz club, a record store, and even a detective agency. (The public could participate in helping to solve a fictitious mouse mystery!)
The tiny installations set up around the city garnered so much attention that Anonymouse built exhibits in Bayonne, France, and the Isle of Man, off the coast of the United Kingdom. And unconnected artists created some similar mouse displays in other cities, like a mouse motorcycle shop and a gym, inspired by the same idea. Over 30 mouse "houses" have been created so far.
These are no simple two-dimensional pictures or basic dioramas. Rather, they're "scenographies," with working lights, menus, tablecloths, signs, graffiti, and a bunch of other fine details to make them realistic. So, how does the group decide what to make and where to do it?
First, they scout locations (i.e., good basement windows in the city). Then they research the local history to figure out what design and ideas would work. Then they sketch and construct (that is, cut, glue, drill, decorate).
Each storefront is about 12×25 inches and can take about two months to build before they're set up and installed, which is always done in the middle of the night to maintain anonymity. The group doesn't generally announce the exact location of their projects, preferring to let people chance upon them or discover them by following clues.
Why doesn't Anonymouse want people to know who they are? "As long as we remain anonymous, each viewer can project whomever they want us to be," the Anonymouse artist said. "And also, the pun is pretty good, so if we revealed ourselves, we would have to change our name."
Anonymouse's artists aren't trained miniature makers. They're simply a network of artists with a great imagination and sense of fun. "We just want to bring a little bit of magic into people's everyday lives, and maybe inspire someone to create something on their own street," Anonymouse said. "We like to imagine a world where small animals live parallel to us, and recycle objects we lose or throw away, so a bottle cap becomes a chair, a box of matches a table, a stamp becomes a painting, and a trash can becomes a restaurant."
Maintaining a Mini Perspective
Two of the miniature artists here spoke about the change in perspective that one gets when working with miniatures. The most basic things we barely notice could be something else entirely. But there's another perspective one could get on the miniature life…. What if we people were really just a bunch of miniatures in some diorama?
If you've ever been at the top of a skyscraper or looked down from a plane at the rapidly shrinking world below, you've seen how stunningly small everything is. People look like ants, cars and trucks like Matchbox toys, and buildings like LEGO towers. Breathtaking, right? Nothing is as big or important as it seemed from the ground.
Tanaka's advice for those who want to see and even create mini worlds?
"Take a good look around you; a little change of view, and you might recognize that the world is filled with interesting things."
Hashem, the Ultimate Miniature Artist, has created a world in which we're consumed by the sites before our eyes. But when things get overwhelming, we can zoom out and remember that we're just miniatures in the Hands of the Ultimate Designer.
(Originally featured in Mishpacha Jr., Issue 895)
Oops! We could not locate your form.
>