| Jr. Feature |
The Skoolie Seven 
| September 26, 2023
     The Segals longstanding dream of traveling became a reality when they converted a school bus into a home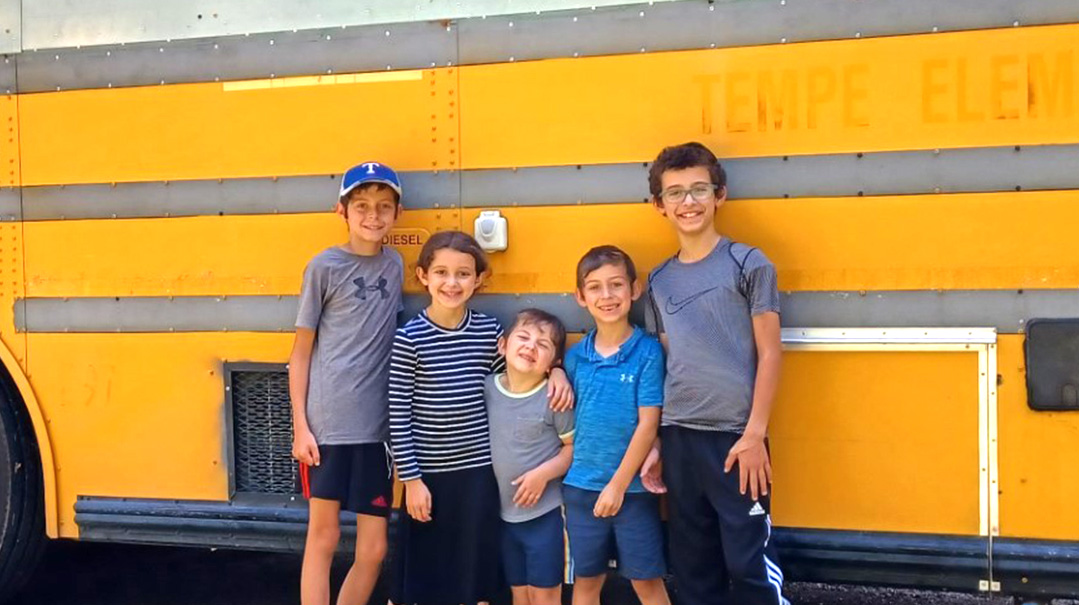 BUCKLE UP!
"Are we actually moving into that?" Gedaliah exclaimed, pointing at the giant yellow school bus parked in his driveway.
"For a whole year?" Avi questioned doubtfully.
"Without my friends?" Esther chimed in.
"Is that a bus?" four-year-old Shaya blurted out.
"Yes, yes, and yes!" The Segal parents nodded to their children.
"Wow," Chaim marveled.
The Segal children had known this was going to happen. They had been planning it over the past few months, and they were super excited. But it was still a shock.
"Everybody hop in. We're hitting the road!" Mrs. Segal called, swinging the yellow school bus doors open wide. Their mother loves adventure, and the ginormous grin on her face was catchy.
With their luggage packed and their house rented out, they had nothing else to do but head inside.
The Segal family of seven from Silver Spring, Maryland, didn't always call a school bus home. They used to live just like any other family. However, their longstanding dream of traveling became a reality when a friend of the family mentioned the concept of converting a school bus into a home.  After searching for a while, they found a renovated school bus for sale. People call these buses "Skoolies." Playing on the word, the Segals adopted the name TheSkoolieSeven.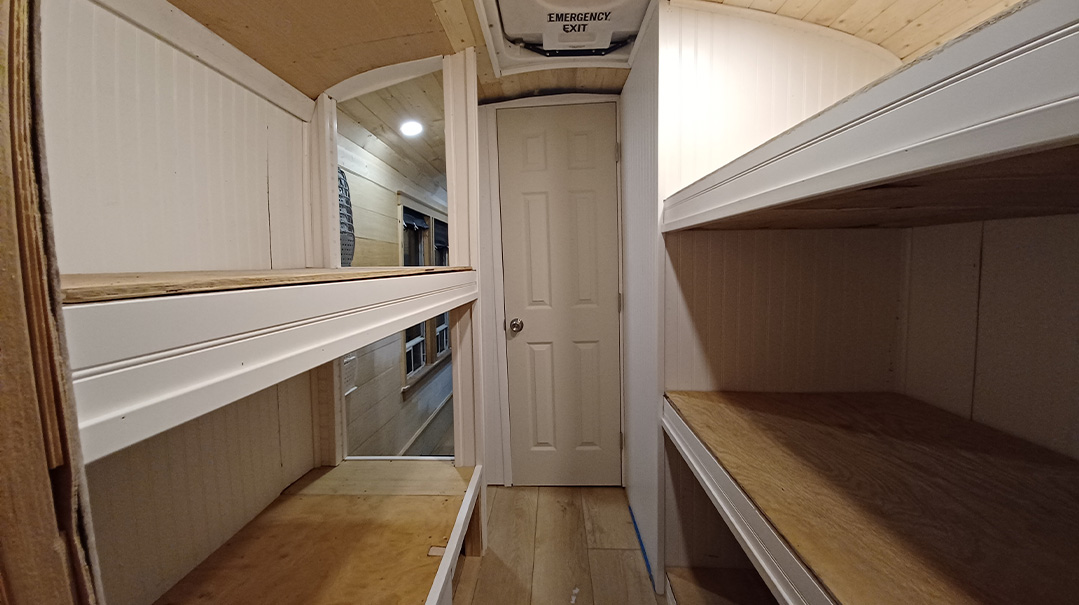 CONVERTING TO A HOME ON WHEELS
"Whoa! This is crazy!" Chaim exclaimed, throwing his backpack onto his bed.
Originally, the bus was built to accommodate three people while traveling, and only had a master bedroom situated off the kitchen. Yet, in a mere three weeks, a skilled handyman had transformed the space, building bunk beds and replacing the bathtub with a compact shower. What surprised Chaim most was the height of the ceilings, noticeably taller than the buses he had been on during camp. The kitchen was practical and functional, fitted with a three-burner gas range, a nearly full-size refrigerator/freezer, and a farmhouse sink. The countertops matched the style of their previous home, and a separate dining area added a touch of completeness to the setup.
"After seeing this, I don't even mind that we gave our house out to renters!" Chaim told his siblings who were searching the bus like he was. "This bus is so cool!"
They didn't reply. Instead, they poked their heads into cabinets, or under beds, asking their parents what everything did or how it worked. Their bus looked just like any other house, but in miniature. And it moved!
Speaking of wheels, Chaim was looking forward to taking his bike on long rides with his siblings around the various beautiful parks they'd be staying in.
Rabbi Segal's voice broke his wonder, "Kids! Back here. Let me show you where to put your stuff."
As they all gathered in the space between the bunk beds, Rabbi Segal demonstrated, "Underneath every bed is a space. Just pull up the bed and —" he effortlessly lifted the bed board, revealing a hidden compartment.
Chaim's eyes widened; it was the coolest thing he had ever seen. He couldn't wait to unpack! A broad smile crept across his face. This wasn't going to be as bad as he thought…
The Segal's school bus stretches forty feet long and seven feet wide. Designed specifically for adventures on the road, it's packed with many smart features. The roof is raised to seven feet tall to provide enough headroom. In the kitchen, the cabinets all have a magnetic lock so that nothing falls out while they're driving.  Additionally, the bus boasts a shower, hidden storage drawers beneath the beds, and even solar panels on the roof. These panels ensure that the bus battery doesn't drain while running the fridge/freezer.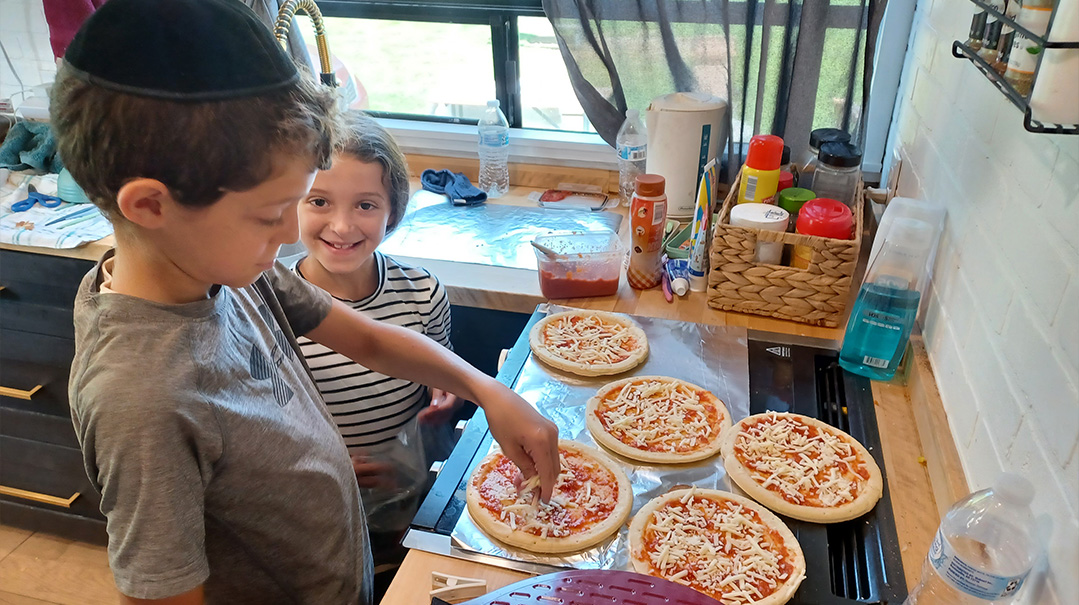 LIFE ON THE BUS
Squinting into the afternoon sunlight, Gedaliah marveled at the sprawling mountainous dunes of Sleeping Bear Dunes National Park. The sky was the brightest shade of blue he had ever seen, a sharp contrast to the inky black it had been the night before.
Gedaliah was fascinated by space — its vastness, the trillions of stars that decorated it. His biggest dream was to become an astronaut. After a month of traveling, they finally had a cloudless night. His mother had woken him and together they laid against the grass, studying the stars. He'd never forget the hot dog constellation his mother pointed out, and the tent constellation he found in the glittering night sky.
As he let the sand run between his fingers, memories of his family's adventures since they boarded the bus flooded back. They went on daily hikes, and his older brother, Chaim, taught him how to ride a bike.
"Hey, Gedaliah? You coming? We're taking a family picture," his older brother Avi called.
"Yup!" Gedaliah called back, dusting off his hands. "On my way."
The Segals have a daily schedule. Mornings begin with davening, followed by learning sessions with their father and online classes. As they "go to school," Mrs. Segal works remotely. In the afternoon, the family usually goes on a trip or to the store and then heads back to the bus for dinner. Besides for having a fun time, the Segals are also using this trip to teach their children about responsibility. Each week, one child gets a two-hundred-dollar allowance to meal plan and budget the family's groceries for the week (except Shabbos). "That's so much fun," Esther said, when she first heard about this plan. "I can have laffy taffies for breakfast every day!"  While she hasn't gotten laffy taffies, she did get lots of other tasty treats she's enjoying.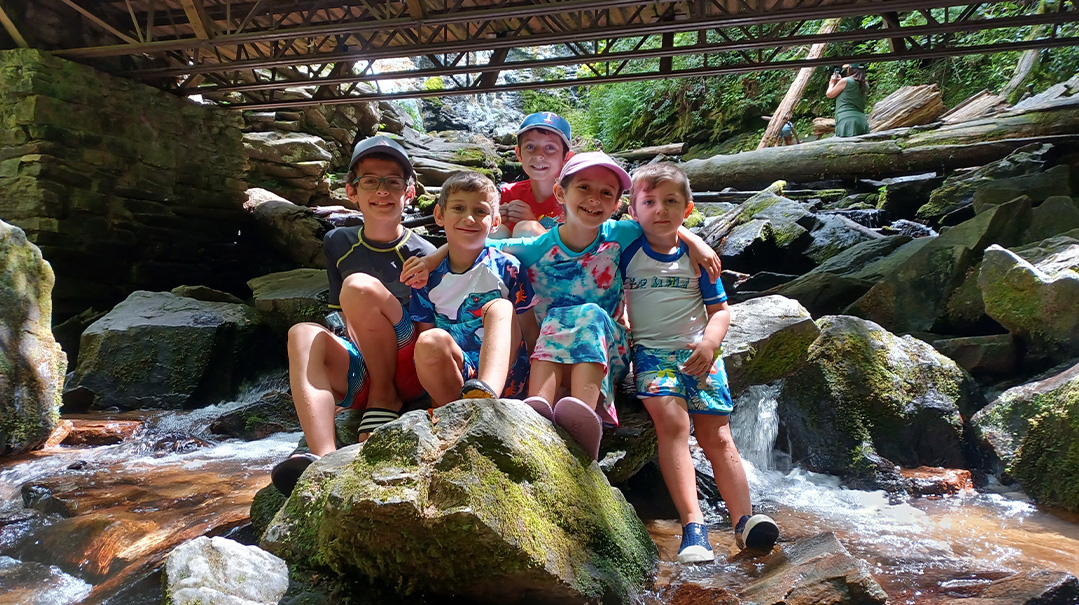 ROAMING THE ROADS
The Segal family has been traveling for close to two months and Esther still can't figure out how she feels about it. Resting her head against her palm, she looks out the window, taking in the sights of North Carolina.
She spots her family's bus a few cars in front of her. Because their bus doesn't have seat belts, they take two separate vehicles wherever they go. Their mother drives the van with her and her siblings, while her father drives the bus.
She smiles, thinking back to the past few weeks. They explored Michigan and Ohio and had lots of adventures: hiking many trails, exploring an underground cave, and seeing crazy tall waterfalls. They traveled to different family members for Shabbos and even made it to a family bar mitzvah. But with all the fun, she still misses her old friends and her own room. She doesn't have the same amount of alone time and space as she used to, and she can't do cartwheels or front kickovers across the living room anymore.
Esther notices cameras peeking out from car windows, all trying to snap some pictures of their bus. She stifles a giggle, remembering the elderly couple who knocked on their door the other night, asking for a tour. Since their bus and family is so big, they often park in RV parks for the night. Sleeping on the side of the road just isn't an option for them.  And it seems that their bus and family get lots of looks wherever they go. What surprised Esther was finding another Jewish family in the same park! They talked about how, funnily enough, both their families get lots of attention.
Living on wheels requires more planning than pulling up to your house at night after a long day of work. The Segals have to research where they can park, where they sell kosher meat, and where they can find other necessities. Of course, not everything goes as planned, so they have to be flexible too.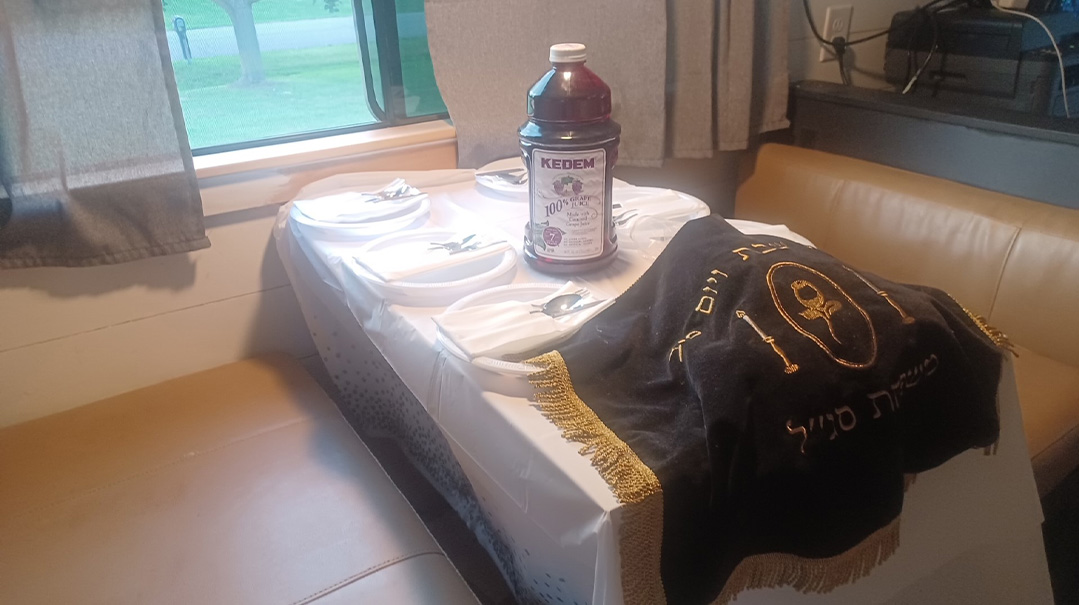 SHABBOS ON THE BUS
The past three Shabbosim were filled with warmth and camaraderie for Avi and his family. They had been warmly welcomed into the homes of friends and family for Shabbos. It was quite the sight when they parked their enormous bus in a regular driveway on a typical street. And yes, the neighbors thought so too, often coming over curiously to see the bus up close.
Avi loved those Shabbosim. There was more space and the chance for him to be with kids his age. Back in Silver Spring, his friends were just a doorstep away. They'd gather at his house, or he'd visit them, and every Shabbos his family went to the same shul. Now, when they were guests in other people's homes, the Shabbos atmosphere felt familiar. There were kids his age to schmooze with, a new Shul, and usually a ball and hoop he could use.
However, not every Shabbos was like that. Take this week, for example. The Segals were parked in a Chabad parking lot for Shabbos. Soon, the mouthwatering aroma of cholent cooking in their bus kitchen would likely waft towards the Shul.
Avi couldn't help but laugh at the incredibly short walk he'd have to take to get there. Although it was steps away,  Avi always had to double-check his pockets, ensuring they were empty since there was no eiruv.
Shabbos on the bus was certainly quieter.  While they always had a great time playing games and singing zemiros together, he missed being able to play with boys his own age.
Navigating Shabbos on the road posed challenges that most families never faced. And while the road brought its own adventures,  Avi knew he would deeply appreciate the easiness and comfort of Shabbos once they were back home.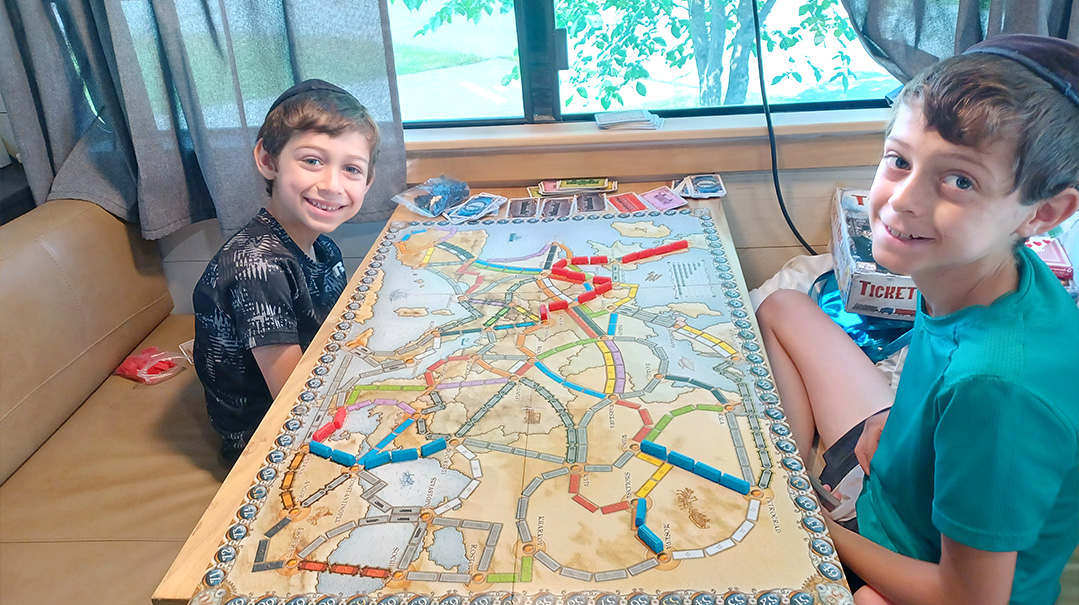 LESSONS ON THE GO
After spending two months on the road, the Segal children have a lot to share about what they learned.
"With Succos coming up, it's hard not to think about the Yidden traveling," Esther shared with her father one night. "I mean, the Yidden not only got to travel and see the beautiful world Hashem created for us, but they were protected the whole way through, like we are, in our bus."
"I love our bus!" Shaya pipes up from his spot at the table. "I get to say hi to tons of people and see lots of dogs!"
"And let's not forget Thursday night bonfires!" Avi adds.
Rabbi Segal smiles.
"You're right guys.  We are so fortunate to be able to experience so many beautiful aspects of our world and have such great family time while we're at it.
With the dishes washed and the kids tucked into bed, Mrs. Segal turns out the lights and goes to bed, while the Segal children dream about their next adventure.
MIRACLES IN THE MIDBAR
Some families, like the Segals, choose to live on the move, much like the Yidden did during their 40-year journey in the Midbar. But while modern travelers find their own way, the Yidden had everything taken care of by Hashem. This wasn't only in the form of guidance; they experienced many incredible nissim!
Mahn
Not only did Hashem send the Yidden mahn daily, but the tzaddikim had it fall right at their doorstep! The mahn tasted like anything they imagined (except zucchini, watermelon, leeks, onions, and garlic) and had all the nutrients they needed.
Be'er Miriam
Throughout the Yidden's journey to Eretz Yisrael, the Be'er Miriam accompanied them, providing them with fresh water wherever they went.
Clothing
Imagine clothes that never fade or tear! In the desert, where there were no stores, Hashem ensured the Yidden's clothing remained pristine for all forty years. Even more astonishingly, these garments grew with them!
Ananim
The Yidden's path was lit and shielded by the Ananei Hakavod and Ananei Ha'eish. These miraculous clouds not only defended against harsh weather but also paved a smooth way, making their desert trek an effortless voyage.
(Originally featured in Mishpacha Jr., Issue 980)
Oops! We could not locate your form.
>