| Recipes |
The Hundred-Dollar Latke
| November 23, 2021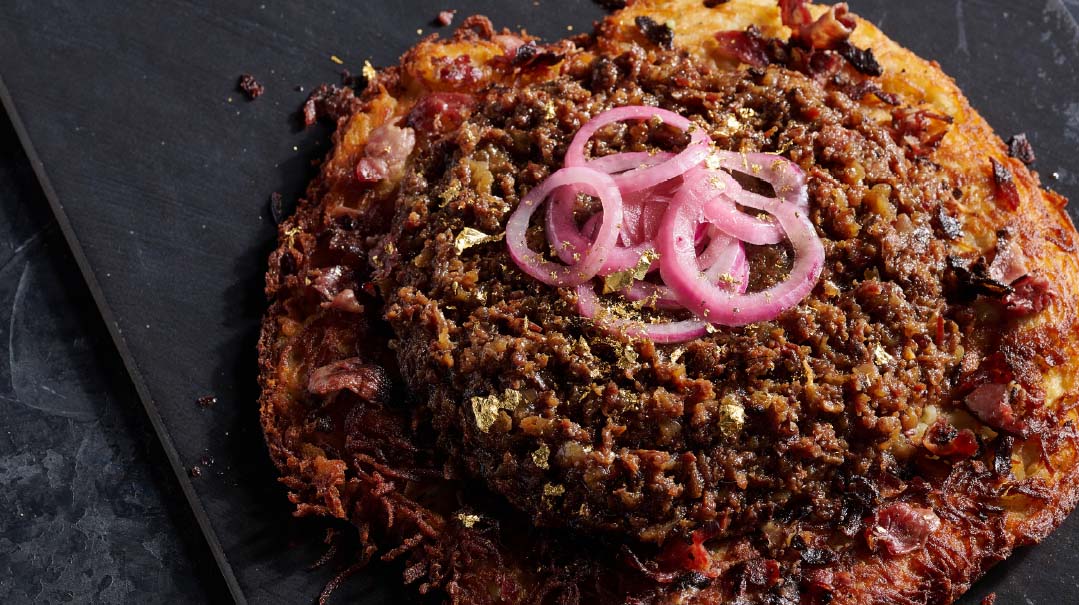 Props and Styling by Mindy Rubin
Photography by Hudi Greenberger
I started selling the hundred-dollar latke in Snaps on Chanukah 2017, with 100 percent of the proceeds going to Chai Lifeline. (That was a little gimmick for me to reach my fundraising goal on Bike4Chai.) The response was insane! We sold a ton of them over the week. Since then I've been selling them every year on Chanukah, with the money going to Chai Lifeline.
I'm guessing most of you won't patchkeh with making such a large latke, but the pastrami jam is something you really want to try. It's next level! Goes well with everything.
YIELDS APPROXIMATELY 4 LATKES,
ABOUT 2½ LBS (1¼ KG) PASTRAMI JAM
Potato Latke
12 potatoes
10 eggs, whisked
1 cup flour
3 Tbsp salt
1 tsp black pepper
oil, for frying
edible gold leaf (you can buy this online)
Pastrami Jam
1 lb (450 g) pastrami
1 Spanish onion
½ cup schmaltz
¼ cup honey
1 Tbsp apple cider vinegar
1 Tbsp black pepper
1 tsp salt
To make the latkes: Grate potatoes into a mixing bowl. Add eggs and mix. Add the flour slowly while mixing, then add the salt and pepper.
Preheat ¼ cup hot oil in a 10-inch (25-cm) nonstick frying pan over medium-low heat. Using a ladle, pour about ¼ of the potato mixture into the pan. The latke should be around half an inch (1 cm) thick. Let it cook for around 10 minutes, until you see nice brown edges. Test with a spatula to make sure it's not sticking to the pan. Flip onto a plate. Add another ¼ cup oil to the frying pan, then gently return the flipped latke to the pan. Cook until crisp on the second side.
Repeat with the remaining latke batter and garnish with edible gold leaf, if desired.
To make the jam: Grind pastrami and onion, or chop super small. (You can ask your butcher to run the pastrami through the grinder if you don't have one at home.) Place in a saucepan with the rest of the jam ingredients and let it simmer for 3–4 hours, mixing every 10 minutes or so. Let cool and refrigerate overnight.
Note: Schmaltz is rendered chicken fat (not skin) and is considered liquid gold in the gourmet food industry. (I love to add some to my cholent when my wife isn't looking.) It can stay in the fridge until you finish it.
(Originally featured in Family Table, Issue 769)
Oops! We could not locate your form.
>