| Jr. Feature |
The Dogs of War | January 29, 2020
Here's the story of one of history's most famous war dogs: Sergeant Stubby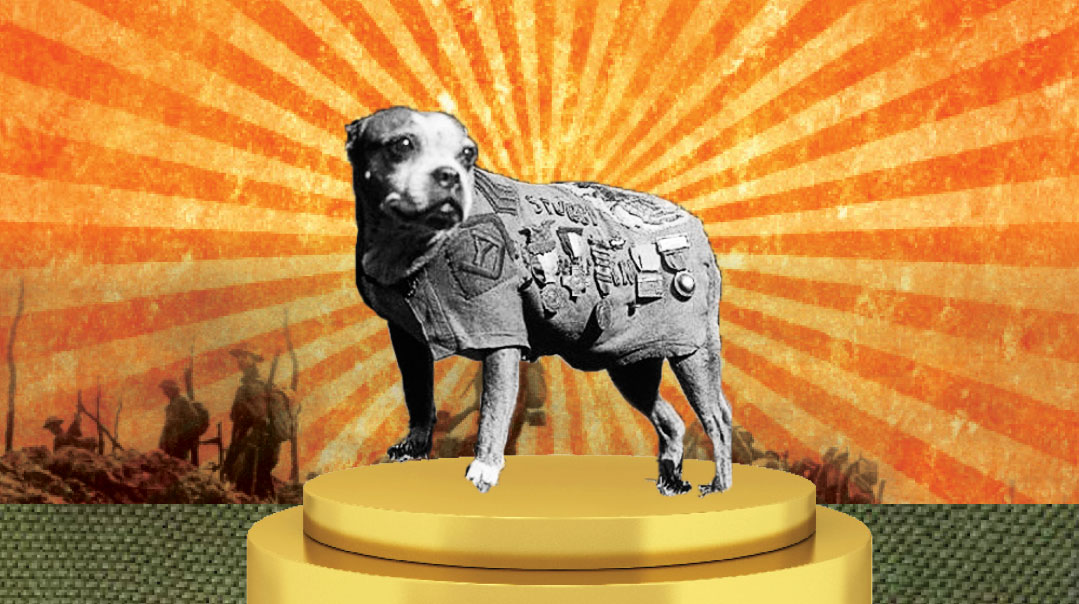 When a lost dog moseyed onto a field at Yale University in New Haven, Connecticut in July 1917, he meandered straight into a military exercise that was taking place there. The pup stuck around with the young World War I recruits of the 102nd Infantry, 26th Yankee Division during their training. They liked the dog, calling him "Stubby," after his short, stubby tail. Private Robert Conroy, a 25-year-old from Connecticut, took responsibility for the little dog and cared for him during his stay at Yale.
When the time came for them to ship out to France, the soldiers had to travel by train to their departure point in Virginia. They desperately wanted to sneak Stubby along with them. They managed to conceal him on the train somehow, and this success gave them encouragement for the next adventure: sneaking the dog aboard the ship, the USS Minnesota.
Private Conroy took his Army-issued greatcoat (that's what they were called; no word on what was so great about them), and wrapped the little dog in it. Carrying the wadded-up coat with the dog hidden inside, Conroy simply walked up the gangway — and he and Stubby were aboard! Conroy then snuck the dog down to the ship's cargo hold and hid him there.
Although the recruits hoped Stubby would go unnoticed, it wasn't long before the little dog's presence was discovered. But the platoon's commanding officer quickly became a Stubby fan. As the story goes, the little dog sat on his hind legs and "saluted" with his paw when commanded to "present arms." Is that part of the tale true? No one really knows. But it's definitely a beloved piece of Stubby lore.
Enlisted!
Someone on board made Stubby his own set of dog tags (no pun intended; "dog tags" are what metal military ID tags are called). Stubby became the mascot of the division, traveling with the soldiers for about 18 months as they fought 17 battles on the Western Front, including several famous ones. And he had the blessing of Colonel John Henry Parker, the regiment's leader, to be there. It is rumored that Stubby was the only one who could "talk back" to the colonel.

The brave dog didn't only serve to raise morale. He became a valuable part of the team when he warned the men of incoming gas attacks by running up and down the lines, nipping at the soldiers to wake them up. He could also hear missiles flying toward them before the men could. Stubby lent a paw on search-and-rescue missions, locating wounded soldiers and comforting them as they recovered.
Once, Stubby even caught an enemy — a German spy — who was hiding out in the underbrush. In Stubby's obituary, published in the New York Times, it says that Stubby "stole out of the trenches and recognized — a German. Attempts by the German to deceive the dog were futile. Seizing his prisoner by the breeches [i.e., pants], Stubby held on until help arrived."
(Excerpted from Mishpacha Jr., Issue 796)
>