| Sidekick |
The Best-Kept Secret
| September 28, 2022
If her engagement is a secret, why does everyone know about it?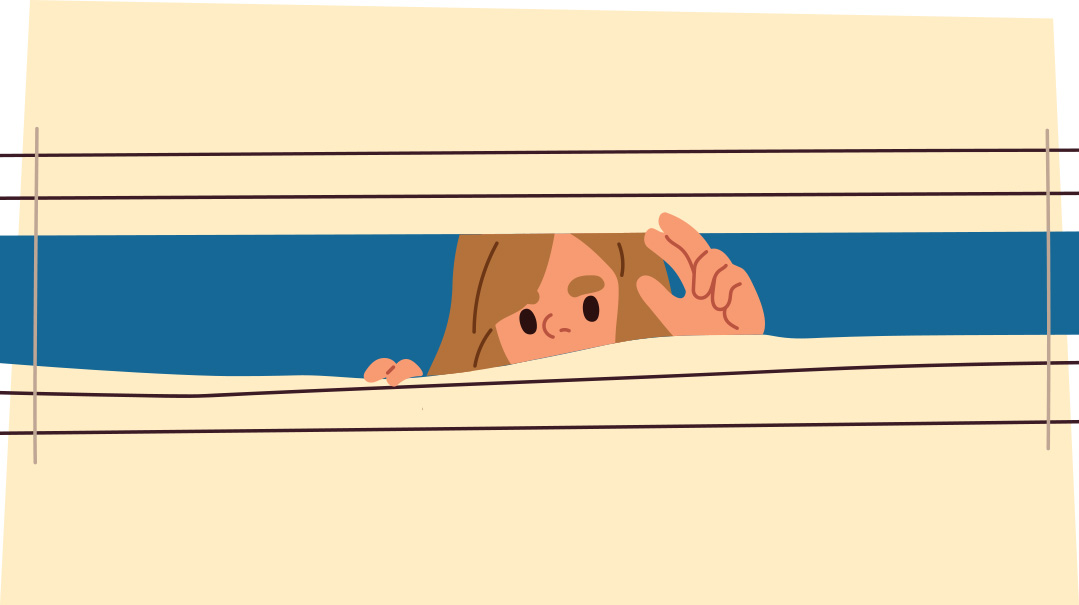 Nechama is going out with The One.
She likes the way he smiles and nods as she babbles away. She likes the way he sings aloud in the car as they drive together. And yes, she likes the fact that he towers over her — even in her heels.
Yoni is The One. Nechama is 96.9999% sure.
She loves that she's finally getting engaged. She loves the thought of telling her family and friends. And she loves that, for now, it's a special secret.
Then she gets a text from Tanta Rochie wishing her hatzlachah.
And another from Tanta Esti, with a bunch of smiley face emojis.
And another from her next-door neighbor, Mrs. Katz, saying she left an empty space in her driveway in case anyone wants to pull in for a few minutes between 6:30 and 11.
"Did someone spill the beans?" Nechama demands over supper that night.
"Of course not!" says Tatty. "But I did call Uncle Yossi to ask about the going rate for support."
"And I needed someone to babysit Aviva and Menashe while Yoni picked you up, so I asked a few of the neighborhood girls," Mommy says. "They all know anyway, they love watching you go out. There's not much entertainment in this area."
"Tanta Chaykie and Tanta Raizy are on your résumé, so I'd imagine they also know," Tatty says. "And Uncle Mord dropped in while you were going on your third date, remember?"
"Taaa!" Nechama wails. "Who doesn't know?"
"You're 25. Everyone knows you're dating," Tatty says. "But only a few relatives and friends know about Yoni. It's still a secret."
"I never told anyone," Leah Hadassah says. "Just saying."
"Remember when I was going out last year, and I was sure I was getting engaged?" Nechama says. "Officially, no one knew then either, but I still had to call up half the world to tell them I wasn't getting engaged after all. Chevy told me she had already bought herself a best-friend-of-the-kallah dress, and it wasn't refundable. She said I owed her $550! It was mortifying!"
"Well, that's her problem," Leah Hadassah chimes in. "She should've taken your notice with a grain of salt. This already happened twice, you know."
"Excuse me!" Nechama sputters. "Is it my fault my bashert-sensor is overactive?"
Nechama takes a deep breath and composes herself. "Anyway, Yoni is different. This time, it's for real. And I didn't want anyone to know until it was official!"
"Nechama, Nechama," Tatty soothes. "I'm sure there are people who don't know. Like Uncle Shia."
Mommy shifts in her chair. "Actually, I might've asked Shia to keep an eye on him in BMG."
"Well then, there's… uh…" Tatty and Mommy look at each other blankly. Nechama crosses her arms.
"Tanta Shev!" Mommy exclaims at last. "Tanta Shev doesn't know."
Nechama is incredulous. "So of all my aunts and uncles, only one doesn't know?"
"Good point," Tatty says, grabbing his phone. "She'll feel so left out. I'll text her."
"I never told anyone," Leah Hadassah repeats. "Just saying."
It's a relief for Nechama to return to the refuge of her office the next morning. At least there, her secret is safe.
She settles into her swivel chair, and her eyes glaze over. Will her coworker shriek when she finds out? Nechama can't imagine Blumie shrieking… A goofy grin spreads over her face.
"I remember when I was going out with my husband," Blumie says suddenly, interrupting Nechama's daydreams. "I couldn't get any work done. I would stare into space all day."
Nechama tears her eyes from her black computer screen to look at Blumie. "Oh?"
Blumie smiles sweetly and returns to her work.
Nechama stabs the power button on her computer. She has a missed Slack message from her boss: I notice you've been coming in late these last couple of weeks. Just want to let you know that you can take off as much time as you need. Good luck with everything 🙂
Nechama huffs.
Nechama needs a break from the hustle and bustle. She calls Chevy to schmooze.
"So, do you have a vort dress yet?" Chevy asks innocently. "Do you want me to come shopping with you?"
Nechama is outraged. "What makes you think I need a vort dress?"
"Well, you didn't answer my texts till 1:15 in the morning three times this week," Chevy replies smugly. "Three times. I know there's something in the works." She drops her voice. "But don't worry — I can keep a secret."
As Minchah ends and all of the men are pouring out of the shul next door, Yoni pulls up in front of the house. He escorts Nechama to his boring black Camry.
As they pass the Katzes, Nechama spots a gaggle of girls with their noses pressed to the window. An assortment of her aunts and uncles are hunched in nondescript minivans, pretending to be invisible. Uncle Mord waves from behind a neighbor's trash can. Only Tanta Shev is missing — and is instantly promoted to #1 Aunt.
"How important is privacy to you?" Nechama asks Yoni as they walk. "Say, for example, while dating?"
Yoni steps aside to allow a wide-eyed neighbor to pass.
"Very important," he replies earnestly. "It's easy for me to keep my dating quiet, though. My friends are all married and busy with their own lives, and I only have two aunts and seven first cousins — and every one of them lives in Israel."
Nechama smiles. She is now 99.9999% sure.
(Originally featured in Mishpacha, Issue 812)
Oops! We could not locate your form.
>