| PlateArt |
That's Nutty | January 31, 2023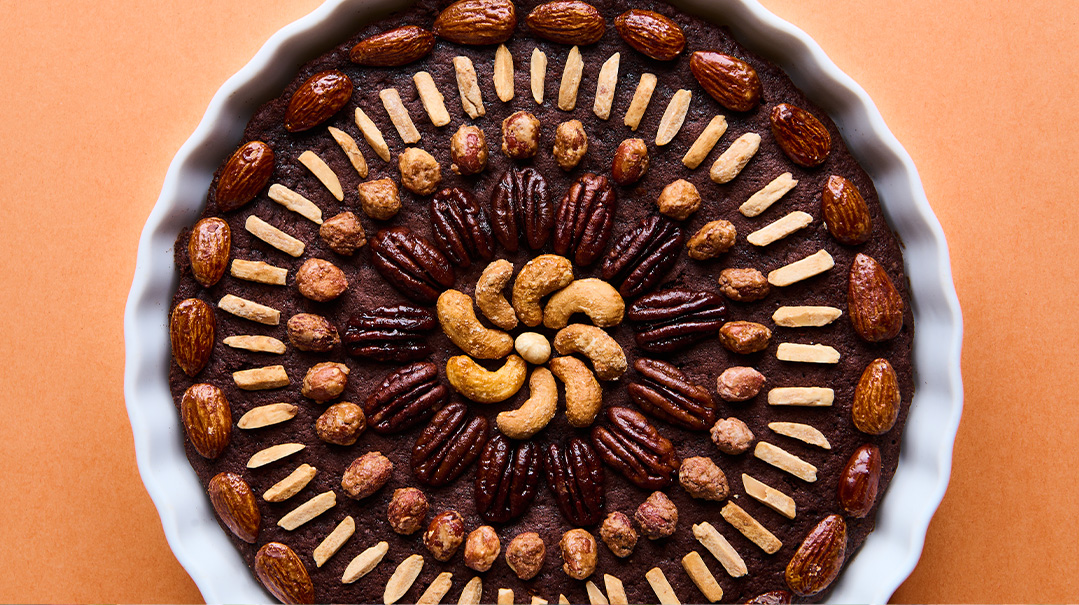 Styling by Esther Ottensoser
Photography by Sina Mizrahi
Planted between Chanukah and Purim, Tu B'Shevat's activities and crafts have blossomed of late. With the availability of a vast variety of beautiful fruits and nuts, designed by the Greatest Artist of all, there are so many opportunities to create something a little extra in honor of this unique and special day.
Geometric Brownie Cake
The variety of nut choices available keeps growing, with choices of sliced, slivered, ground, chopped, sweet, and savory in almost every nut category. Although the cake featured here is only about 12 inches, I could have easily continued this design for a few feet, switching off nuts for each ring. I hope you enjoy creating your own beautiful nutty designs!
You will need
brownie recipe
round pan
frosting (optional)
assorted nuts of your choice
Bake your brownies in a round ramekin or foil pan. Use a little bit less baking soda than the recipe calls for to prevent the center from rising too much. (See note.)
Add frosting, if desired, then arrange nuts in a geometric design. I added the nuts when the cake was warm and didn't use anything to "glue" them down.
Note: If the cake rises too much, you can slice off the top, flip over the cake, and decorate the other side instead.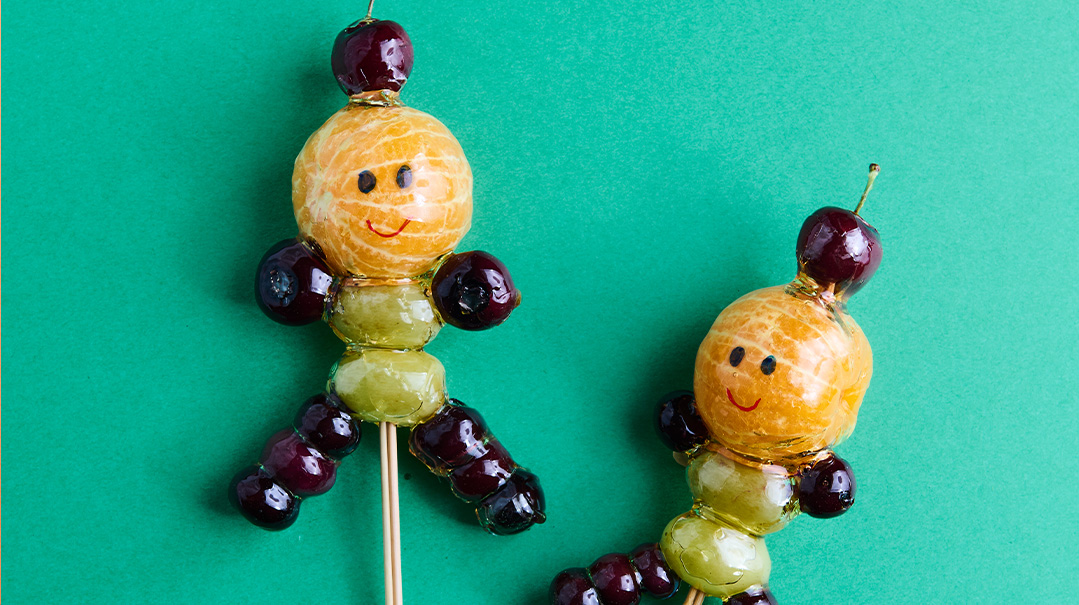 Fruit Candy Man
These adorable fruit men are fun to put together. Of course, you can also make them without the glass candy coating. This candy coating, called tanghulu in Chinese, involves coating fruit in a hardened sugar syrup that forms a sweet crunchy shell around it. Work carefully and enjoy!
You will need
clementines, grapes, blueberries, and cherries, washed and dried very well
8–10-inch skewers
toothpicks
glass candy coating (see below)
candy thermometer (very important)
edible markers
Glass Candy Coating
8 cups sugar
2⅔ cups water
2 cups light Karo syrup
To assemble the fruit man
Assemble grapes, clementine, and cherries on skewers, as shown. I used two skewers for each fruit man to give it more support.
Break a toothpick in half for the two arms and add to your "man." Add toothpicks for the legs.
Fill toothpicks with blueberries (the number of blueberries needed depends on the size of the berries).
To make the candy coating
Combine sugar, water, and corn syrup over medium heat.
Raise the heat and let it simmer until it reaches 300°F (150°C) and then immediately lower temperature to 290°F (143°C).
Quickly and carefully dunk each fruit man into the sugar mixture just long enough to coat the fruit.
Let the extra liquid drip back into the pot, then quickly place the fruit man on parchment paper.
Allow to cool, then add eyes and mouths with edible markers.
Serve within an hour. Not recommended for storing.
Tips
Use a heavy six-quart saucepan. The liquid should only fill the pan a third of the way to avoid the risk of boiling over.
Make sure to dry your fruits completely before dipping.
Avoid burns: Never touch the syrup. Use gloves or oven mitts when dipping.
Avoid stirring the syrup while boiling, as it could trigger crystallization and make it harden rapidly. Instead, gently swirl the mixture in the pan.
Work quickly before the liquid candy hardens.
To dip the fruit properly, you'll need a lot of sugar mixture. After I was finished dipping, I immediately poured the leftover mixture into a foil pan to harden, as I didn't want it to harden in my pot. You can crush up the leftover candy and use as a topping.
Note: Follow the instructions of your LOR when preparing the fruit.
(Originally featured in Family Table, Issue 829)
Oops! We could not locate your form.
>