| Recipes |
Teriyaki Steak and Mushroom Salad 
| March 4, 2020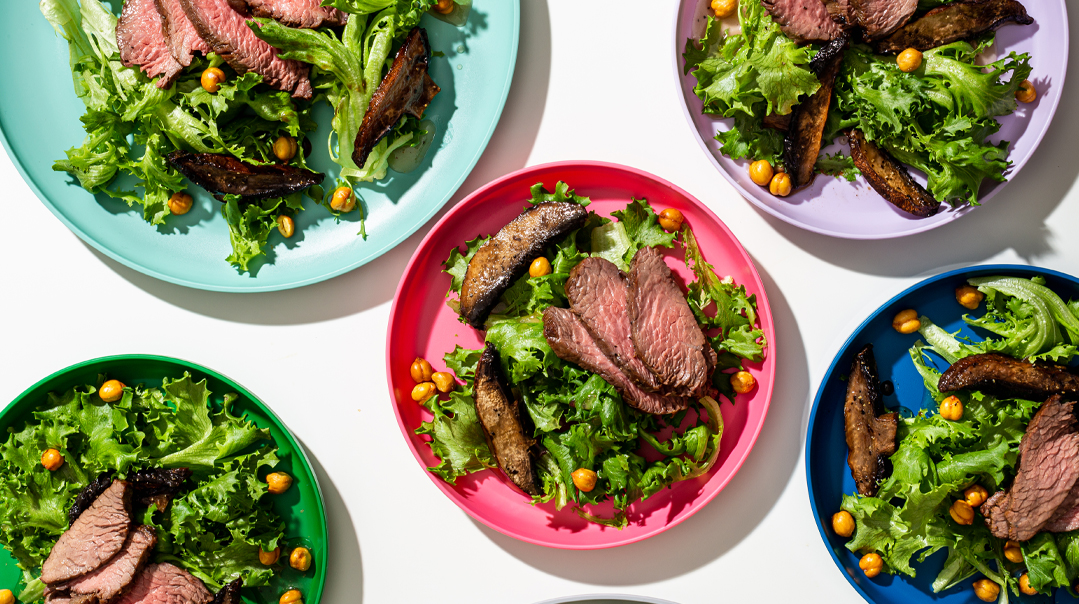 Teriyaki Steak and Mushroom Salad 
There's something very festive and satisfying about a steak salad. Pair it with portobello mushrooms — I honestly can't think of anything better!
 SERVES 6–8 
1 8-oz (225-g) pkg lettuce mix of yourchoice
1 16-oz (450-g) oyster steak
3 portobello mushrooms caps, sliced
1⁄2 cup roasted chickpeas (I used Biena)
 MARINADE
2 Tbsp olive oil
1 tsp kosher salt
1⁄2 tsp black pepper
1 Tbsp honey
3 Tbsp teriyaki sauce
DRESSING
1⁄4 cup canola oil
1⁄4 cup red wine vinegar
1⁄4 cup honey
1 tsp dried mustard
1⁄2 tsp salt
1⁄4 tsp black pepper
Preheat oven to broil. Combine all marinade ingredients in a small bowl. Place oyster steak in a small pan. Brush the steak with the marinade and broil for 4 minutes. Turn the steak over, brush with marinade, and broil for an additional 3–4 minutes. Remove the steak from the oven and allow it to rest. Slice against the grain and set aside. Reserve remaining marinade for the mushrooms. Lower oven temperature to 375°F (190°C). Spread the mushrooms on a parchment lined baking sheet. Drizzle mushrooms with the remaining marinade and toss to coat evenly. Place in the oven and bake for 15 minutes. Stir the mushrooms and continue to bake an additional 5–10 minutes. Remove from oven and allow to cool. Combine dressing ingredients in a small cup. To assemble: Place all salad ingredients in a large bowl or plate individually. Top with dressing and toss to coat. Note: You can prepare the steak, mushrooms, and dressing in advance and store them separately. Refrigerate until ready to use. Bring to room temperature before plating your salad.
(Originally featured in Family Table, Issue 683)
Oops! We could not locate your form.
>