| Family First Feature |
Take a Spin | December 9, 2020
Decades of dreidels spin a tale of a family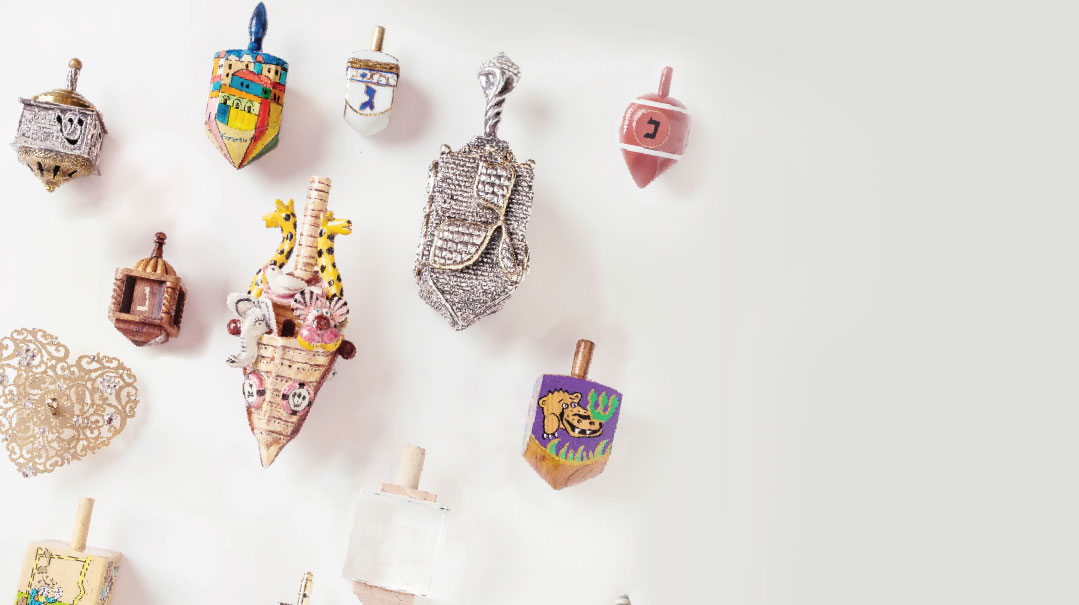 Photos: Eli Greengart
On a trip to Israel, they saw a dreidel they loved and purchased it. And then they bought another. And another. Decades and hundreds of dreidels later, Abby and Sarah Spero describe the growth, care of, and pleasure obtained from their extensive dreidel family
One of our greatest pleasures when we're in Israel — not nearly as often as we'd like — is walking the streets of Jerusalem and looking in the windows of all the interesting gift shops, both the well-designed stores with professional displays, and the innumerable carved-out corner stands in the Old City. Hotel lobbies are great as well — as are the well-known artist galleries and silver emporia of Geulah, Meah Shearim, the Cardo, Mamilla Mall, Chutzot Hayotzer outside Ir David, or even the pricier businesses of Kanfei Nesharim; even the grand displays in the kiosks at the airport pique my interest.
I think our obsession with dreidels began when we went to visit our boys during their years in yeshivah in Israel. We'd established a policy with all our children: Once they left home to study in another city, we made it our business to travel to that city — be it on American shores or on the other side of the Atlantic — and introduce ourselves to their rebbeim and teachers so that these educators knew that this child didn't fall out of the sky. The kids might have been mortified, but since this condition wasn't negotiable, we simply made it happen. Because we were the ones who always made the appointments with these teachers and rebbeim, we always brought our embarrassed children along. Those meetings translated into wonderful relationships that we've nurtured over the years, and continue to enrich our lives decades later.
Somewhere between the many cities and shores, we were introduced to the world of dreidels. There's nothing like the ho ho ho season in Israel to remind us Americans that we're living in the wrong place. Except for the YMCA near the Old City walls, there is nary a piece of tinsel or evergreen tree in sight! It fills my heart with song to see all the chanukiot and different sufganiyot that fill our eyes with light and our stomachs with calories (all in the name of religious observance, of course).
I would like to tell you that I remember the first dreidel we bought. I don't. I think it was a Danny Azulay (he used to sign and number them on the bottom with the year; I don't know if that still happens).
I do remember seeing something handsomely displayed in the gallery window, entering the shop and looking at it more closely, and walking out of the store with the dreidel wrapped and ready for travel. Little did I know how far it would take us.
We're impulse buyers and I have beautiful jewelry, our condo, and a car in the parking lot of said condo in Baltimore, to prove it. Let me rephrase that: one of us is more of an impulse buyer than the other, so a few shops later we did the same thing: saw something in the window, walked in, and before we knew it, the newest acquisition was nestled next to the previous one. And after the third was added — voilà, we now owned a collection!
As time went on, each Israel trip and each seasonal Judaica gift catalogue (remember those?) brought the promise of more — and more. Our local Jewish bookstores knew our number. At that point, we were neither discriminating nor were we specific in the style or substance or size of what we purchased — be it wood, glass, plastic, metallic, Lucite, copper, pottery, crystal, sterling silver, pewter, ivory, or mixed combinations of these. The shin and the pei were interchangeable and so were the artists.
Then we found Zyzyx (pronounced zizigs), a fabulous gift shop in Baltimore, the city where our children seemed to be settling in — and where we now live. It carried the most unusual gifts, jewelry, and Judaica one could ever find. And the artists weren't afraid to use unusual colors, styles, sizes, or materials. Let me put it this way — we were quickly on a first-name basis, then best friends with the owners, and before we knew it, we were sending each other birthday cards. We shopped there every time we came to Baltimore to visit, and they set aside for us many of the unique dreidels that now take up real estate on the glass shelves of our display cases in the library.
Once friends and family learned of our new hobby, we became the recipients of more beautiful dreidels. We also gifted each other. There are the happy-birthday dreidels, the happy-anniversary dreidels, the good-Yom-Tov dreidels, even the just-because ones, and the I'm-sorry dreidels — there are quite a few of those!
As the years went on, we became a bit more discerning, and we began to commission handmade dreidels that were truly original. Abby, my husband, once walked into a local pottery shop and, after looking around, asked the owner about interesting craftsmen who did this kind of work. Before I could say, "Not Gonna Happen, Sweetheart" or the Israeli version, "Not Gonna Happen, Pal," he'd made arrangements to commission a dreidel from a newly arrived Russian Jewish artisan who had never heard of, nor seen, a dreidel (nor did he know about the holiday itself).
Abby brought him one, explained what it was, and why and how they were connected to this holiday. The commissioned dreidels may look more simple, but we know they're one of a kind. The dreidel that was hand painted with our names (and a spelling mistake in one of the Hebrew words — how many "yuds" in nissim?) is probably the most expensive, even if it's only ceramic.
As the collection grew, so did the places it took to put them. What started on the corner of a glass shelf in the side cabinet soon took over the entire cabinet itself, the top of the buffet and three inlaid wooden shelves in the living room. Sure enough, they were soon joined by "cousins by the dozens" — they multiply when you're not looking — and began to inhabit the oversized coffee table, the top of the piano, and the mirror-backed shelf of the sofa table. Because the living room was small, dreidels now fill our dining room mantle, along with all three shelves of the glass curio breakfront.
Some of the outsides of the crystal ones are etched, and the hand-carved sterling ones often depict scenes, and as much as I love them, but with their intricate sculpting, cleaning them is a full time job.
And so is keeping them safe.
After a while we began to realize that this hobby was becoming a responsibility, almost like another one of our progeny. Each new dreidel needed space, it needed to be supported, and each needed to shine on its own. And, somewhat like the kids and grands, there really are favorites that we try not to favor… but I'll never tell.
Over the years, people have wondered what we did with the dreidels when our children, well, mostly grandchildren, came to visit. Before we moved to Baltimore and built custom cabinets to house the collection, the dreidels owned more of our home than we did.
As little ones joined the clan, we had to find innovative ways to keep both our growing "families" safe during those anticipated visits.
At first, having the children come to visit was much less complicated. Both "families" were smaller and it wasn't that hard to put all the dreidels out of reach by transferring them to a higher shelf. Couldn't do that with the kids…
There were times when the little ones wanted to come and, as anxious as I was to see them, the thought of clearing off all the dreidels was just too overwhelming. I remember one occasion when I knew they were waiting for a more enthusiastic response… and I simply couldn't get the words out. We went there instead….
As the years went on, we had to start storing away the dreidels in advance of visits — out of sight, out of mind. That's when you're grateful for storage bins, extra laundry baskets, and a basement to hide them in.
Dutifully and with much choreographed and practiced precision, we (what, we? Me!) would painstakingly, individually wrap and place each dreidel, lovingly, within folds of towels and old, soft linen that we now repurposed for keeping our collection safe and away from prodding, inquisitive, little fingers.
We always kept some of the wooden and larger plastic ones out so the children could play with them and after they'd leave. Inevitably, I'd find them in the cribs, under the beds, stuffed into couches, hidden in the vegetable bin, and/or clogging up the laundry chute, along with the Shabbos shoe that my children had spent over two hours looking for before they pulled out.
And then it happened. It was Pesach and I was standing at the sink with the water running — my feet had grown roots there — washing dishes or peeling something, when I felt a tug at the bottom of my skirt. Looking down, I saw a very sad little face on a delicious almost-four-year-old. The quivering lip gave him away and I could barely make out the trembling words as I turned off the water in the sink and dried my hands.
"Bubby, I didn't do it." I just looked at him as he repeated his guilty-as-all-get-out comment again: "Bubby, I didn't do it." (Who asked him?)
It's hard to concentrate at the end of the third day of a Yom Tov that never seems to end, but somehow, I was able to connect the rumble I'd heard from the downstairs playroom earlier with his-not-quite-innocent confession, and with the lightning speed that can only come from family in danger — I wasn't sure which — I rushed downstairs to the basement.
I still can't figure out how those little kids, who couldn't put away their toys in the toy chest because "it's too hard," managed to drag that heavy chest over to the tall filing cabinet, climb up, stick those precious little fingers into the basket, grab onto the corner of one of the wrapping towels, and pull down the stacked and loaded baskets and bins that held all the "other children." But there was the evidence strewn all over the floor — much of it in bits and pieces.
Let me tell you: sometimes you can put Humpty Dumpty back together again, and sometimes you just can't. I'm only happy that I had some tissues with me to catch the trickle of blood from biting my tongue, while I hugged and kissed the little ones who truly bring me the greatest pleasure and delight.
Our dreidel collection was the background to all sorts of events. For the many years that I worked as an event planner, we'd usually have our initial meeting in our home, particularly with non-observant clients. Those welcoming dreidels served as nonthreatening ice-breakers and we often had the privilege of hosting more than one holiday dinner that included the wonderful, new clients, some of whom became close friends.
Once a year, during the Festival of Lights, we hosted lots of students. As the collection grew, so did the teachers who would bring their classes to see it, and we became famous for all the right reasons — entertaining, engaging, and educating.
We never did figure out a way, nor did we want, to categorize or segregate one kind from another. In one cabinet you will find an unusual decanter sharing a cabinet with an Asian-influenced custom-made dreidel set; a piece of unique colored glass will be sitting next to a pewter-and-wooden-based pitcher, and the rest of the shelf will be made up of various dreidels in different sizes, an intricate cut-crystal, family-heirloom bowl sharing space with a few hand painted glass and wood dreidels.
And we can drop names with the best of 'em: Lenox shares a shelf with Rosenthal, Agam and Azulay; Godinger and Swarovski. And if Tiffany's here, can Hazorfim be far behind?
Some of our dreidels come in sets — think salt and pepper shaker dreidels, cup and saucer dreidels, mug-style dreidels. Some of our dreidels are musical; they sing and dance. Some are practical; they open and have space for little surprise gifts — just big enough for a little bling. After many years of passing that one sitting on the coffee table and opening it again and again, imagine my surprise when I really did find something inside! It's been almost three decades since that happened but I still keep opening it each time I pass it — I'm determined to prove that lightning does, indeed, strike the same dreidel twice.
Some are dual-purposed toys with handles that are hollow at the top, and a string and mini dreidel attached. You can spend more time than you realize trying to perfect your eye/hand coordination attempting to get the mini dreidel into its larger, hollow base.
There are tiny, ceramic necklace dreidels and wooden hand-painted Disney-themed dreidels; Noah's ark dreidels, and Lucite, angle-carved dreidels; silver filigree ones and wax-candle versions; tzedakah box dreidels, bisamim container dreidels, clear glass sets that twirl round and round because they're cylinders, and multi-colored ones that catch the light and glisten.
Our fascination with dreidels, developed over decades, was featured in our local Cleveland Jewish News, some of the more interesting dreidels were the cover of greeting cards, and some simply continue to give us pleasure because they're reminiscent of the memories of trips or occasions shared with family and friends that continue to bring us comfort and joy.
Why did we choose to collect dreidels? That's easy. Dreidels are Jewish. They're indicative of the ingenuity and resilience we, as a nation, have always had to adapt, and to be resourceful in ways that can teach and sustain. Being creative and finding unusual ways to express ourselves seems to run in our blood. Sometimes it's nice to acknowledge and respect that concept and to celebrate that originality. And the fact that so many of them are so pretty doesn't hurt.
Dreidels have taught me many things. Perhaps, most importantly, that before you begin to play, you have to define the rules: Everyone has to agree to what each letter stands for, and that you can't change regulations in the middle of the game. With just a twist of will, you can continue to twirl — and no matter where you land, you have to accept the consequences: win, lose, or draw. Sometimes you just have to wait while someone else takes a turn.
There are four distinct sides, reminding me of the four questions, the four sons, and the four seasons. Relating how they all connect can prove to be both introspective and thought-provoking. Sometimes there are questions and sometimes the answers depend on where we are in the seasons of our lives.
Are we still in the market for more dreidels? You can't own everything, though there will always be someone who needs to try. When one is too focused on what we think we need to complete us, we forget to cherish and delight in that which is already ours.
Shhhh… our small and expanding groupings of ceramic and metallic pomegranates as well as our silver, musical-instrument bisamim containers have started to blossom… But the dreidels are definitely still the stars of the show.
Have I mentioned our growing army of mini silver and colorful, musician chassidim? Some things never change.
(Originally featured in Family First, Issue 721)
Oops! We could not locate your form.
>