| Recipes |
Take 5 Musketeers Bars
| February 14, 2023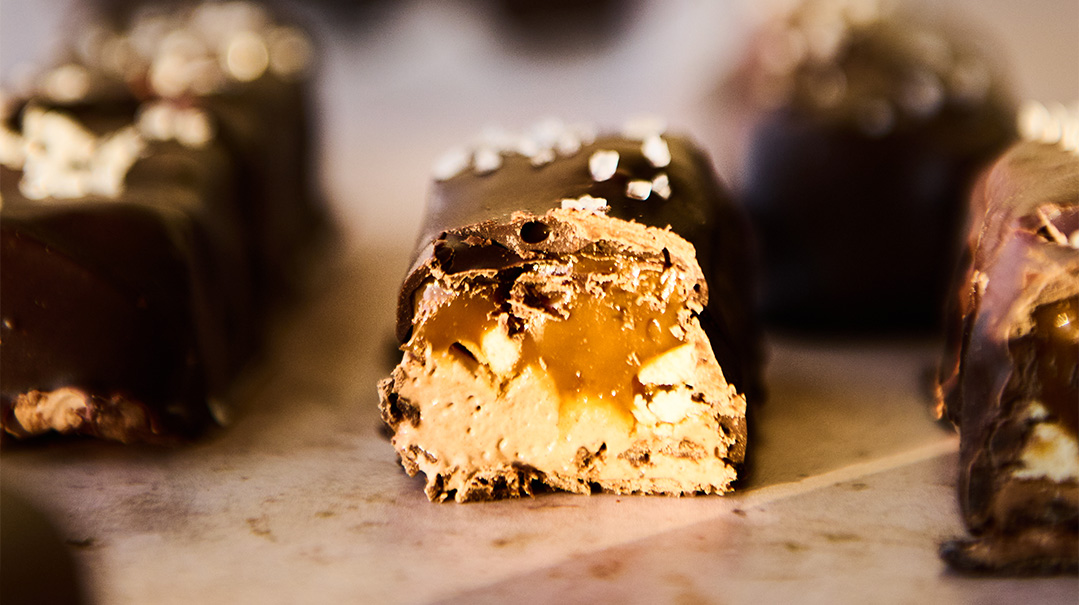 Styling and photography by Sina Mizrahi
Yes, this is exactly what it sounds like: a homemade mash-up of two delicious chocolate bars. This recipe is no-bake, super easy (besides the Marshmallow Fluff sticking to everything it touches), yet sophisticated enough to be enjoyed by adults as well. Something about creating a classic candy bar at home suddenly makes it feel artisanal, a delicacy to be enjoyed with an espresso double shot. Or, if you're three years old, with apple juice. For this chocolaty treat, either way works.
YIELDS 15–16 BARS OR 30–32 SQUARES
4 cups chocolate chips or dark chocolate Candy Melts, divided
1 7½-oz (210-g) container Marshmallow Fluff
1 tsp instant coffee granules, dissolved in 1 Tbsp hot water
1 cup chopped peanuts
coarse sea salt, for sprinkling
1 cup peanut butter (I used crunchy)
1½ cups pretzels
1 cup dulce de leche
Line a 9x13-inch (23x33-cm) baking pan with parchment paper.
Over a double boiler, melt 1 cup of chocolate chips. Add the Marshmallow Fluff and dissolved coffee. Stir until uniform in color.
Pour the mixture into the prepared baking pan and smooth it out. Top with peanuts, and gently press down so they stick. Sprinkle with coarse sea salt.
Next, add the peanut butter (put it into a warm oven for 5 minutes for easier spreading, or microwave it). Smooth out into an even layer. Sprinkle the pretzels on top, crushing them lightly with your hands as you go.
Add the dulce de leche. Spread until even. (You can also microwave or warm this.)
Freeze for two hours or up to overnight.
Remove the pan from the freezer and slice it lengthwise down the middle. Cut each side into candy-bar-sized sticks, or into squares, depending on your preference.
Melt the remaining 3 cups of chocolate chips in a double boiler. Using two forks, submerge each stick in the chocolate and allow all excess chocolate to drip off. Place on a baking sheet to dry and immediately sprinkle with some sea salt.
Store at room temperature in a tightly sealed container or bag.
(Originally featured in Family Table, Issue 831)
Oops! We could not locate your form.
>