| This Way That Way |
Tahini
| November 11, 2020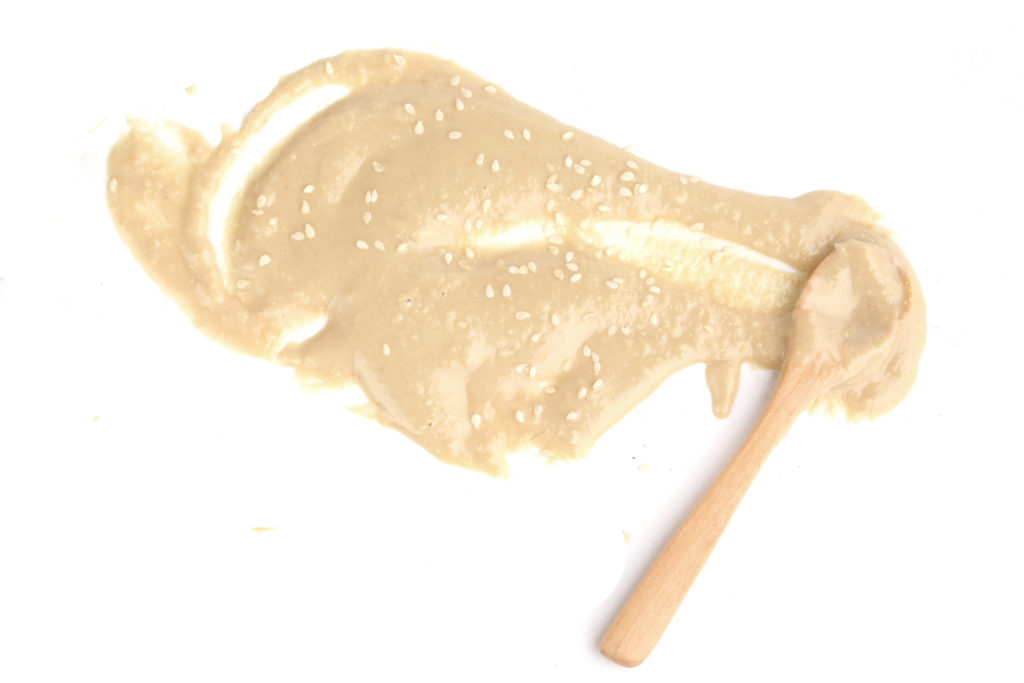 Tahini is a paste made from toasted, ground sesame seeds, with a light, nutty flavor. It's widely used in many dishes around the world, particularly in Mediterranean and Asian cuisines. A few years ago, tahini was simply the paste we used to make chummus, and maybe found in the halvah we dream of from the shuk. Now, its ubiquity in dishes is astounding, and for good reason!
Marbled in brownies, drizzled over carrots, or used in rubs for a roast, its versatility continues to shine. Here are our favorite ways to use it.
Decadent Halvah Ice Cream Cake
Recipe by Estee Kafra
This recipe is a must-try. The ice cream is delicious on its own as well.
SERVES 12
BROWNIE LAYER
•½ cup butter or margarine, melted
•1 cup sugar
•2 eggs
•1 tsp vanilla extract
•½ cup flour
•¼ tsp baking powder
•⅓ cup cocoa powder
•½ tsp salt
HALVAH ICE CREAM
•16 oz (450 g) pareve whipped topping
•3 egg yolks
•½ cup confectioners' sugar
•1 Tbsp vanilla sugar
•½ cup soy milk
•5 Tbsp tahini
•5 oz (140 g) vanilla-flavored halvah
CHOCOLATE LAYER
•3½ oz (100 g) 55% chocolate
•½ cup butter or margarine
•1 tsp light corn syrup
Preheat oven to 350°F (175°C). Trace a circle of parchment paper to the size of the bottom of a 9-inch (23-cm) springform pan. Cut it out and place on bottom of pan. Spray with baking spray. In a large bowl, mix all ingredients for the brownie layer. Pour into prepared pan. Bake for 20 minutes. Allow to cool completely.
In a mixer, beat the pareve whipped topping, adding egg yolks and confectioners' sugar. Add vanilla sugar, soy milk, and raw tahini and mix to combine. With a sharp knife, shave the halvah into thin pieces and fold into the mixture. Pour over the cooled brownie layer, smooth out, cover, and freeze until set, about 8 hours.
In a double boiler, melt the ingredients for the chocolate layer. Stir until smooth. Remove from heat, let sit for 5 minutes,and then pour over the ice cream. It should harden quickly. Cover cake and return to freezer.
When ready to serve, run a sharp knife around the edges of the pan. Open the pan and pull up the parchment paper totransfer the cake to a serving dish.
Endive Salad Platter with Tahini Drizzle
Recipe by Chanie Nayman
I've served this salad to company many times, and each time, the dish is cleaned out in a matter of minutes. It's crazy easy to put together, and you'll get a beautiful, chic result without even trying.
SERVES 4
•3 endives (I like to use both green and purple)
•1 nectarine, thinly sliced
•1 cucumber, thinly sliced
•1 avocado, thinly sliced
•peel of 1 lemon, thinly sliced•4–5 mint leaves, thinly sliced
TAHINI DRIZZLE
•3 Tbsp tahini
•2 Tbsp olive oil
•1 Tbsp apple cider vinegar
•1 Tbsp lemon juice
•½ tsp salt
•½ tsp honey
•½ tsp Dijon mustard
•⅛ tsp granulated garlic
Arrange salad on a large platter. Combine ingredients for the drizzle and drizzle over the top. Serve immediately.
Roasted Eggplant and Tahini Dip
Recipe by Chaya Suri Leitner
This is a staple that I make all the time. Serve it for dinner with fresh pita and grilled chicken or on Shabbos as a dip.
YIELDS 1 LB
•1 eggplant, roasted
•½ cup prepared techinah
•juice of ½ lemon
•¼ cup chopped fresh parsley or cilantro, plus more for garnish
•1 clove garlic, minced
•salt, to taste
•pine nuts, for garnish (optional)
Blend everything together except the pine nuts. Garnish with fresh herbs and pine nuts, if desired, and serve with fresh bread, challah, or crackers.
FUN FACTS
More than Milk
For adults who can't consume dairy, sesame seeds are a good calcium source. Just 2 tablespoons of tahini provides almost 15 percent of the recommended daily allowance.
Eat Your Heart Out
Sesame seeds, the primary component of tahini, are known for their heart-healthy benefits. Specifically, they can help lower cholesterol.
World Famous
Tahini is found in Middle Eastern, African, Chinese, Japanese, Iranian, Turkish, and Korean cuisines. It began to appear in the United States in the 1940s.
Need Ideas? We want to hear from you.
What ingredient do you have in your fridge or pantry that you're wondering what to do with and need an idea and/or recipe for? We've got you covered. Email us your choice ingredient at recipes@mishpacha.com and we'll print three recipes for it!
(Originally featured in Family Table, Issue 717)
Oops! We could not locate your form.
>