| This Way That Way |
Tahini
| August 23, 2022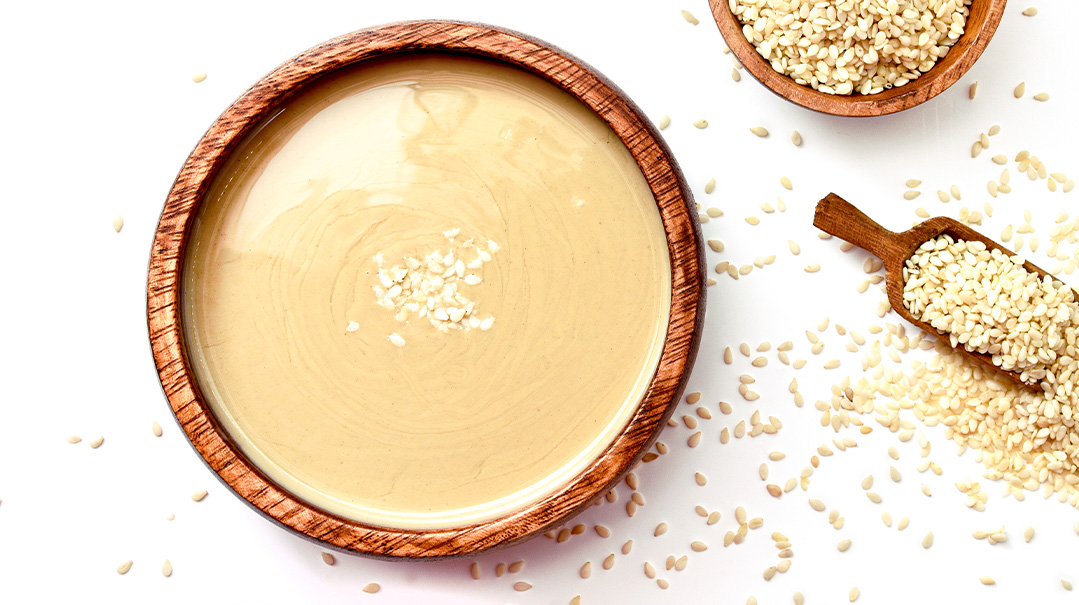 Easily confused with techina, the prepared condiment, tahini is just pure ground sesame paste. Well-known for its application in Middle Eastern and Mediterranean cuisines, there are many Asian dishes, like desserts, noodles, and sauces, that use sesame paste as well.
Awesome Sauce
Sweet and Simple
Halva is made by adding sugar syrup and flavorings to pure tahini.
DIY-able If You Dare
Most tahini is made with an industrial mill, but you can make it at home with a food processor, although you may need to add some oil to smooth things out.
Propose a Toast
Tahini is made from raw hulled sesame seeds, while Chinese sesame paste is made from toasted sesame seeds.
Eggplant and Techina
Recipe by Sima Kazarnovsky
I make this eggplant every week. Lately, I alternate and cut up the eggplant into bite-size pieces, tossing all the ingredients into a bowl like a salad. The freshness comes through either way you eat it, with the sharp chili peppers and fresh parsley nicely complementing the rich taste of the techina. Enjoy!
SERVES 4
1 eggplant
salt, for soaking
olive oil, for drizzling
salt and pepper, to taste
garlic powder, to taste
dried parsley, to taste
1 plum tomato, diced
1 shallot, diced
1 green chili pepper, diced
2 handfuls parsley leaves, chopped
2–4 Tbsp store-bought techina
lemon juice
coarse sea salt, for sprinkling
Cut eggplant in half and score the flesh of each half with a knife, making "x" marks. Salt it, leave it soaking for half an hour, and then dry it.
Preheat oven to 400°F (200°C).
Place eggplant skin side down on a baking sheet and drizzle with olive oil; season with salt, pepper, garlic, and dried parsley. Roast for around half an hour, or until it's very soft.
Mix together tomato, shallot, chili pepper, and parsley.
To serve, smear the flesh of each eggplant half with 1–2 tablespoons store-bought techina. Top with the diced salad. Drizzle olive oil and lemon juice, and sprinkle coarse sea salt on top. Enjoy.
Tahini Oatmeal Cookies
Recipe by Rorie Weisberg
This wholesome mini-macro snack, published in my cookbook Food You Love: That Loves You Back, is packed with nutrients that keep you energized and fortified. The oats are a good source of complex carbs, and the tahini and flax meal provide fiber, fats, and protein. This recipe is also incredibly allergy-friendly (read: perfect for school!), as it's free of gluten, dairy, nuts, soy, and eggs! I've heard it's made waves in some schools. Hope you love it!
YIELDS 12 COOKIES
½ cup tahini
⅓–½ cup pure maple syrup
1 tsp pure vanilla extract
½ tsp cinnamon
½ tsp Himalayan pink salt or sea salt
1 cup gluten-free quick oats
4 Tbsp golden ground flax meal
¼–⅓ cup raisins or dark chocolate chips
In a medium bowl, combine tahini, maple syrup, and vanilla. Add dry ingredients except raisins; mix with a fork or spoon. Add raisins or chocolate chips. Cover bowl and refrigerate for 20–30 minutes.
Preheat oven to 350°F (175°C). Line a metal baking sheet with parchment paper.
Spoon out tablespoons of the mixture onto prepared baking sheet. Bake for 12–14 minutes or until cookies look set.
Turn off the oven and open oven door slightly. Leave cookies in the oven with the door open for 30 minutes, then remove from oven and cool to room temperature before eating.
Store in the freezer or in an open container at room temperature. Defrost at room temperature.
Note: The cookies will soften if stored at room temperature in a tightly closed bag; brown paper bags are the best option for storing these.
Sweet and Succulent Chicken
Recipe by Brynie Greisman
Best chicken ever!
SERVES 6
6 chicken bottoms
1 onion, finely diced
1–2 Tbsp olive oil
¼ cup tomato sauce
¼ cup tomato paste or finely crushed tomatoes
2 Tbsp honey
2 Tbsp natural silan (sugar-free date syrup)
2 Tbsp raw tahini
Sauté onion in olive oil on very low heat for at least half an hour or up to 1 hour, time permitting. (The longer you sauté, the sweeter it gets, but the flame must be low.) Fifteen minutes before the onions are ready, preheat the oven to 350°F (175°C).
Meanwhile, in a medium-sized bowl, mix together the tomato sauce and paste, honey, silan, and tahini. Place the cleaned chicken pieces in a large baking pan.
Add sautéed onions to the tomato mixture and mix together well. Spoon evenly over chicken pieces and cover baking pan. Bake for 11⁄2 hours covered and 1⁄2 hour uncovered. Once uncovered, baste 2–3 times.
Tip: Skinning your chicken allows the sauce to permeate the chicken better.
Note: Placing a piece of parchment paper over the tray of chicken before putting on the aluminum foil will add even more moisture to your chicken.
(Originally featured in Family Table, Issue 807)
Oops! We could not locate your form.
>