| Recipes |
Sweet And Tangy Barbecue Salmon 
| July 31, 2019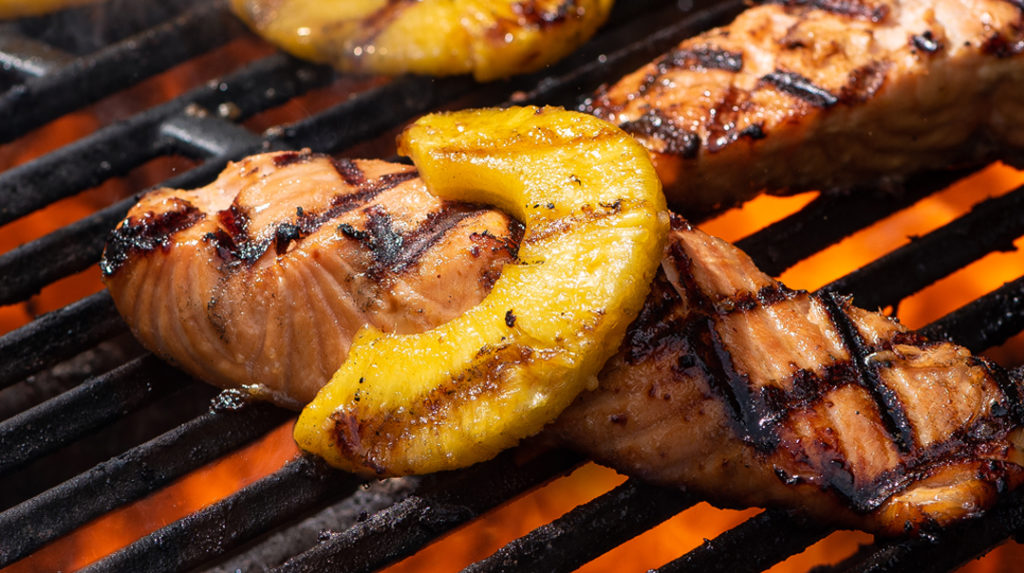 Photography by Hudi Greenberger
Sweet And Tangy Barbecue Salmon 
The tropical blend of flavors in this delicious dish takes salmon to a whole new level! And when paired with the heavenly grilled pineapple, it feels as if you're eating dessert for dinner. 
Serves 4
Editor's note: According to the ruling of both the Star K and the OU, since it is difficult to clean a grill, it is recommended that the same grill rack should not be used for both meat and fish. Either the fish should be double wrapped in aluminum foil, or seperate grill racks should be used 
4 slices salmon fillets, at least 1-inch (3-cm) thick, skin removed
1 large pineapple, peeled, cored, sliced into rings (see tip)
salt and pepper for sprinkling
MARINADE
¼ cup pineapple juice
½ cup brown sugar
¼ cup lite soy sauce
½ Tbsp sesame oil
1 ½ Tbsp olive oil
1 Tbsp apple cider vinegar
1 Tbsp hot sauce
2 Tbsp spicy brown mustard
1 clove garlic, minced
⅛ tsp ground ginger
Place all marinade ingredients into a medium-sized bowl, and whisk until well blended. Rinse salmon fillets in cold water, and pat dry. Sprinkle generously with salt and pepper. Place in a large ziplock bag, and pour in half of the marinade. Turn bag several times, so the marinade coats the fish. Place pineapple rings in another ziplock bag, and add the rest of the marinade, shaking well to coat. Marinate both the salmon and the pineapple for about an hour, turning the bags to coat 2–3 times. Preheat an outdoor grill to mediumhigh heat, and lightly oil grills. Place the salmon on the grill, spaced apart, so that the fillets do not touch each other. Use a flat spatula to flip the salmon over when it's about 60 percent cooked.

(Note that a 1 inch-thick piece will cook in about 6–10 minutes. After 6 minutes, it will be a little pink in the middle. After about 10 minutes, it will be ready. When the fish is done, remove it from the grill and let it rest. The fish will keep cooking for a few minutes after you take it off the grill. Place pineapple rings on the grill, and grill about 3 minutes per side, until heated through and grill marks appear. Serve alongside the salmon.
NOTE: You can use a grill pan for this dish, but it will need more cooking time.
TIP: I used a pineapple corer to get perfect slices.
(Originally featured in FamilyTable, Issue 651)
Oops! We could not locate your form.
>