| Recipes |
Strawberry Shortcake Cheesecake Cups
| May 17, 2022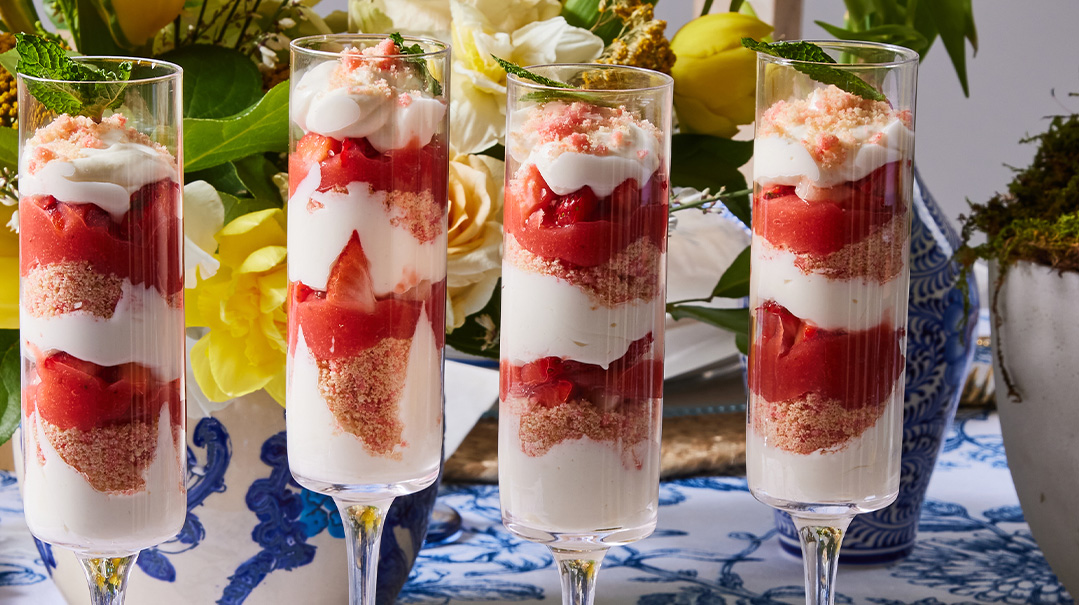 Food and Prop Styling Goldie Stern
Photography Felicia Perretti
What's Shavuos without cheesecake, right? Here's a light and airy, no-bake variety that's bursting with strawberry goodness. The crumb topping, loaded with candied strawberry bits, is reminiscent of the Good Humor ice cream bars that some of us enjoyed as kids.
SERVES 12
Crust and Topping
6 oz (170 g) vanilla cookies
1 3-oz (85-g) pkg strawberry Jello
10 Tbsp butter, divided
1 3-oz (85-g) pkg instant vanilla pudding
¼ cup flour
Strawberry Sauce
3 Tbsp cornstarch, dissolved in 2 Tbsp water
1 lb (450 g) frozen strawberries, defrosted and pureed
½ cup sugar
1 tsp lemon juice
Cheesecake
3 cups heavy whipping cream, chilled
3 8-oz (225-g) bars
J&J Cream Cheese,
at room temperature
1½ cups sugar
1 Tbsp pure vanilla extract
fresh strawberry slices, for garnish (optional)
To make the crust: Pulse vanilla cookies in your food processor using the S blade until fine crumbs form. Place into a mixing bowl and set aside.
Preheat oven to 350°F (175°C).
Place the strawberry Jello powder into your mixer along with 4 Tbsp butter at room temperature. (The butter should be soft but not melted.) Beat the butter into the Jello until well combined. Add in the instant vanilla pudding and beat it into the mixture. Beat in the flour until mixed through and no white spots are left. Spread this mixture out onto a parchment-lined baking sheet. Bake for 8 minutes.
Remove from oven and allow to cool for 2–3 minutes. Transfer baking sheet to your fridge and let the mixture cool for at least 15 minutes.
Break up the cooled Jello mixture into large pieces and transfer to your food processor. Pulse until crumbs have formed, but make sure not to over process so it doesn't become too fine and powdery. Transfer the crumbs into the bowl with the vanilla cookie crumbs and mix until well-combined.
To prepare the strawberry sauce, whisk the cornstarch and water together until all the cornstarch has dissolved. Place the cornstarch mixture along with the rest of the sauce ingredients into a small saucepan over medium heat. Using a wooden spoon or rubber spatula, stir the mixture as it cooks. Bring it to a simmer and allow to simmer for 5 minutes, stirring constantly. Remove pan from heat and allow to cool. The mixture will thicken as it cools.
Melt the remaining 6 Tbsp butter and combine with the crumbs. Prepare 12 8-oz (225-g) mousse cups. Spoon about 2 Tbsp of the crumbs into the bottom of each cup.
To make the cheesecake, pour the heavy cream into your mixer bowl and beat on high until stiff peaks form. Make sure the cream is very cold, or it won't be stiff enough. In a second bowl, combine the cream cheese, sugar, and vanilla and mix until completely smooth and creamy. Gently fold the whipped cream into the cream cheese mixture and stir until completely combined and creamy. Transfer the mixture into a piping bag and divide about half of it among the cups to create the first layer. (You can also spoon it in.) Drizzle about a tablespoon of strawberry sauce over the cream and add several fresh strawberries, if using. Repeat with another layer of crumbs, cream, and syrup, topping lightly with remaining crumbs and garnishing with fresh strawberries, if desired.
These cups may be refrigerated up to a day or two ahead of time, but add the fresh strawberries and additional crumb topping right before serving.
Tips
Swap the cheese mixture for pareve vanilla ice cream to use this dessert at a fleishig seudah. If you'd like to cut down on some of the prep, you can use strawberry pie filling in place of the homemade strawberry sauce.
(Originally featured in Family Table, Issue 793)
Oops! We could not locate your form.
>