| Magazine Feature |
Still Smoldering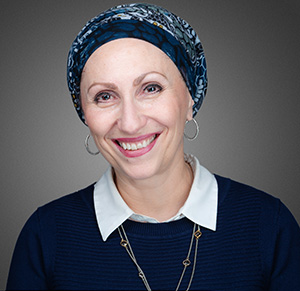 | November 2, 2021
Two decades later, 9/11 hasn't finished claiming its silent victims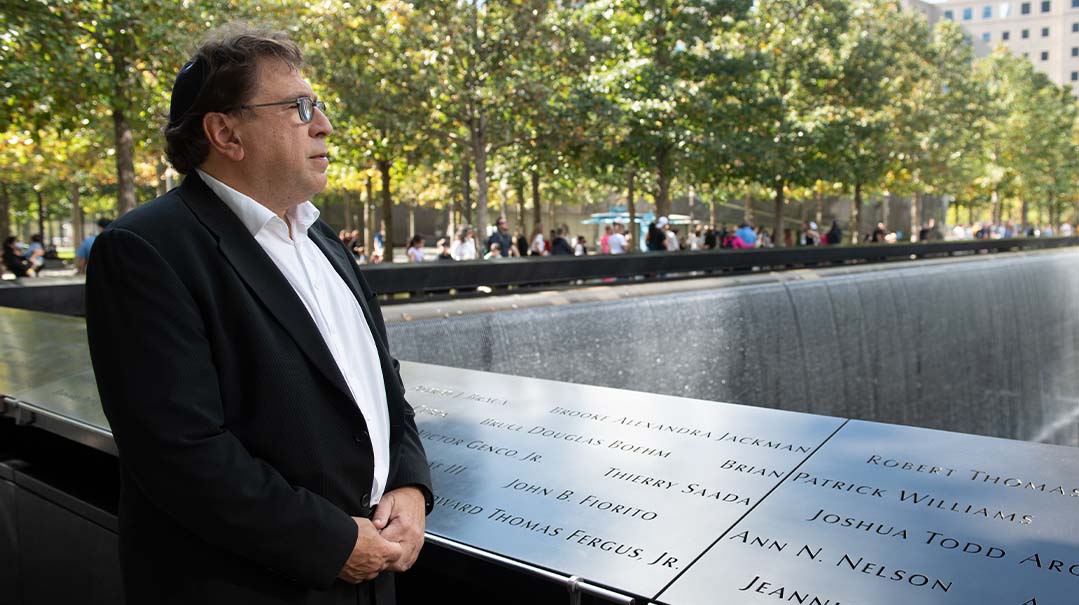 Photos: Jeff Zorabedian
It's a gorgeous October morning, not too hot or cold, the leaves only starting to think about turning colors and the sky a deep shade of blue. In fact, the weather was just this beautiful on the September morning when I returned from my children's bus stop to get a phone call from my husband telling me a plane had just crashed into the World Trade Center. True, I was in Brooklyn on 9/11, not lower Manhattan. I didn't see anybody jump from a burning building, or race to flee the advancing cloud of smoke. I watched the towers implode on my Italian neighbor's television, while my children gathered burned scraps of paper that had floated into our yard.
But picture-perfect autumn days still trigger a little spike of anxiety, as I half expect something sinister to shatter the scene — and I'm not the only one. My sense of unease is shared by Dr. Marc Wilkenfeld, a specialist in occupational and environmental medicine, whose career for the last 20 years has been dominated by the effort to treat and advocate for patients with medical conditions brought on by exposure to 9/11 toxins.
"What a nice day — exactly like the weather on 9/11," he offers as we stand in the leafy park built at Ground Zero. "It always makes me sad to come here, especially around this time of year." While two decades have passed since that horrifying morning, for Dr. Wilkenfeld, 9/11 is never over. As Chief of Occupational Medicine and Clinical Assistant Professor at NYU-Langone in Long Island, he still sees patients suffering from the aftereffects.
The Centers for Disease Control and Prevention website estimates that about 400,000 people were exposed to toxins, injury, or emotional trauma in the period during and after 9/11. Dr. Wilkenfeld explains the nature of those toxins: "You had tremendous heat, thousands of degrees, and incinerating chemicals creating compounds we'd never even seen before," he says. "There was diesel and concrete burning. There were 5,000 tons of asbestos, a known carcinogen, in the first tower alone. There was silica and mercury dioxin — known as Agent Orange during the Vietnam War, and PCBs — polychlorinated biphenyls, highly toxic industrial compounds — in the fumes. At that time, lead was used in computer monitors, and that burned as well."
Dr. Wilkenfeld, who lives in Great Neck, was working at a clinic at Bellevue Hospital-affiliate Gouverneur Hospital in Chinatown after 9/11, where he immediately began seeing locals from Chinatown, the housing projects, and first responders who had developed "WTC cough" and respiratory problems like asthma.
"Concrete has a low pH, which meant the smoke from it burned people's lungs and sinuses," Dr. Wilkenfeld says. "It traveled to the stomach as well, creating reflux. At least 20 percent of the firefighters who worked at 9/11 had respiratory issues and were unable to work again."
The towers didn't stop burning until the end of January 2002, and the final loads of debris weren't carted out until the end of May; the risk of disease has been directly correlated to the amount of time spent on the burning pile of rubble or within the asphalt cloud.
Then-First District Manhattan Councilman Alan J. Gerson, who was campaigning outside P.S. 234 four blocks north when the first tower was hit, involved Dr. Wilkenfeld in his City Council team to coordinate environmental health policy.
"We made sure vents in the schools were tested and cleaned before they reopened," Mr. Gerson told Mishpacha. "Then we initiated the first independent analysis of the particulate matter, the Chatfield Kominsky report, which was used to argue for better federal cleanup."
Later — Dr. Wilkenfeld estimates it started around 2005 or 2006 — many survivors developed forms of cancer, which takes time to incubate (think cigarette smoking and lung cancer). Skin and lung cancers are the most common, but dozens of other cancers, including some rare ones, have been associated with 9/11 exposure. More recently, patients have been coming in with autoimmune and nerve diseases. Dr. Wilkenfeld has conducted four different studies showing a link between 9/11 and these diseases, in the hope of convincing the World Trade Center Health Program to include these diseases in their coverage. The New York City Fire Department has run its own studies, one of which calculated that for every month worked at Ground Zero after 9/11, the odds of developing an autoimmune disease increased by 13 percent.
Many survivors — traumatized by watching people jump out of windows or being engulfed by the asphalt cloud — needed help with mental health issues such as post-traumatic stress disorder (PTSD) and other emotional traumas. Others were haunted by near-brushes with death. Scores of people sought out therapy as they found themselves prone to anxiety, unable to sleep and panicking at the sound of a siren or a car backfiring.
In the years following 9/11, the community of responders and survivors was fortunate that Councilman Gerson advocated tirelessly for them. "We fought to get them coverage," Mr. Gerson says. "We even had joint City Council-Congressional hearings, which is very rare, to make the case for more federal aid."
Dr. Wilkenfeld remarks, "We were full of praise for the first responders, for those 9/11 heroes, but it was so frustrating when we had to fight with the government to cover their care. Dr. John Howard, director of the National Institute for Occupational Safety and Health, who is both a doctor and a lawyer, strongly advocated and worked with Congress to help the victims. Still, it took a long time before they recognized that cancers are related to toxic exposure. I still remember a first responder who testified for the committee, a father of three who was now bald from chemotherapy and had no insurance. He told them, 'By the time you guys figure all this out, I'll be dead.'"
It took the Obama administration until 2010 to pass the James Zadroga 9/11 Health and Compensation Act of 2010 (the Zadroga Act), creating the WTC Health Program and reopening the September 11th Victim Compensation Fund (VCF). Many people haven't signed up, since they feel healthy, but if you lived or worked below Canal Street it's wise to sign up just in case things change.
Toxic Aftershocks
On the morning of September 11, Dr. Wilkenfeld had gone to his parents' Lower East Side apartment to check on his father, who was home alone. Sitting together on their fourteenth-floor balcony, they saw the first tower go down, then the second.
"When you're a son, you look to your father for reassurance," he says. "If it snows, he remembers the blizzard of '44. If the stock market crashes, he remembers the crash before that. So I asked my father, 'Is this like Pearl Harbor?' My dad had listened to the radio with his father when Pearl Harbor was attacked. But 9/11 was unprecedented — there was nothing in his life that he could compare it to."
But Dr. Wilkenfeld didn't sit watching for long. He ran to a local hospital to wait for casualties.  The next day, he and his brother ran from the East Side to Ground Zero, only a mile away, to see if they could help. "It looked like Gehinnom," he remembers. "There were so many other doctors there, waiting to help the survivors. But there were no survivors."
The best they could do was to be on hand for the first responders, he says, noting with wry irony how if a fireman got a piece of ash in his eye, three ophthalmologists would race forward to help. He's still in awe of those courageous responders: While most people run out of burning buildings, he remembers how these firefighters ran into them, some of them climbing 80 flights of stairs with 100 pounds of gear on their backs. The scene soon turned into a war zone, with military trucks driving in and civilians forbidden to enter.
"Fleets of boats arrived on the docks of the Hudson River, just south of Ground Zero, to ferry people to New Jersey," Dr. Wilkenfeld says. "Fifty thousand people left the area. It was the largest mass evacuation in history."
The first Hatzolah members at the scene on 9/11 were the closest ones — Hatzolah of the Lower East Side — although their ambulance had been parked next to one of the Twin Towers and was destroyed when the towers crashed. Miraculously, not a single Hatzolah member was niftar in the rescue effort, although there were some who later developed illnesses as a result of exposure to the toxins.
"I knew a man who was one of the first from Hatzolah to arrive at the site, and then worked long hours on the pile as part of the recovery effort," Dr. Wilkenfeld says. "He later developed a blood cancer and was niftar ten years afterward."
The days that followed were tough for Lower East Siders. With the area around Ground Zero cordoned off into red, orange and yellow zones, people couldn't move around freely to shop, attend minyanim, in some cases go home. Businesses suffered as people fled the city; some never recovered. While Christine Todd Whitman, the Commissioner of the Environmental Protection Agency, declared the area safe just days after the disaster (under pressure to get the city back on its feet), daily activities were paralyzed for months — after all, many people no longer had offices to go to, and the people who used to stop in on the East Side to eat or pray stopped coming.
Dr. Wilkenfeld lost two friends, both young men. He remembers trying over and over to reach one of them on his cell, to no avail. The other had gotten married just three weeks before.
"I went to his funeral, and there was his boss standing there. I thought I was seeing a ghost," Dr. Wilkenfeld recalls. "I said, 'How are you even here?' He told me that 9/11 was his child's first day of kindergarten, so he didn't go in that morning."
Ground Zero Park has the calm, peaceful feeling of a cemetery, augmented by the splashing of the two fountains spilling into the craters of the towers. Tourists mill around thoughtfully, reading the names of the victims inscribed in plaques around the perimeter; someone has left a yellow rose propped in the grooves of a loved one's name, and little American flags have been inserted in a different name nearby.
One of the trees near the crater has a special designation: the survivor tree, the only tree at Ground Zero that didn't die. Although scorched and bedraggled after 9/11, this Callery pear was nursed back to health at a Bronx park and replanted here. Today tall and strong, it stands as a symbol of resilience; each year seedlings from the tree are sent to three communities that have endured recent tragedies.
Just past it, toward the far corner of the park is a walkway lined with large boulders, commemorating those responders and community members who survived the disaster but died from the aftereffects. "I've heard that when somebody dies, they put his picture on the rocks," Dr. Wilkenfeld says. Close to 3,000 perished on 9/11, and while there are no precise figures and the numbers increase as time goes on and new cases come to light, "by now, more people have died because of the effects of 9/11 than died in the Twin Towers."
Patients Aren't Machines 
Dr. Wilkenfeld had been preparing the refuah for 9/11 diseases long before the makkah: he specializes in the effects of toxins on human health. When there's an explosion at a chemical or pharmaceutical factory, he's often called to evaluate the damages to those who were on the scene. He's served as a consultant in such diverse locations as Iowa, California, France, and Israel.
Dr. Wilkenfeld wanted to be a doctor from the time he was a five-year-old talmid in the East Side Torah Center day school. His aptitude for science gained him entry to Stuyvesant High School in Manhattan, followed by college at McGill University in Montreal and medical school at the University of Vermont. He returned to New York to do a residency in internal medicine at Roosevelt Hospital, then specialized in occupational and environmental medicine at Mount Sinai Hospital. He's worked at Columbia-Presbyterian, Bellevue, and NYU Langone hospitals.
Three years ago, he took his family to Israel (he and his wife Shana have twin boys) and spent a year working at Rambam Hospital as well as teaching Technion students, some of whom he still mentors. There, he says, treating patients felt like treating family. "One day, when I was traveling to Rambam, my cab driver asked if I could visit his brother-in-law, who was a patient there," he relates. "There's such a wonderful sense of connection there. After all, wouldn't you do that for family?"
He also brings his caring and connectivity to the very broad spectrum of patients he sees in the US. "Medicine is much more than science," he asserts. "Patients aren't machines, and doctors aren't mechanics." He invests hours speaking with patients, finding out about their jobs, their families, their lives. This level of caring, rather than just care, earned him a Gold Award for Humanism in Medicine as well as an award from an association of 9/11 responders.
But it doesn't end there. Dr. Wilkenfeld believes that a doctor must actively demonstrate his concern for patients beyond the walls of the hospital or office by advocating for them politically. He served on an Environmental Protection Agency committee that evaluated the air quality around Ground Zero and joined with 9/11 survivors and local politicians to demand compensation for survivors who got sick. While everyone wanted to help first responders, it took time and advocacy to get help for people who lived in the vicinity and breathed toxic fumes for months. The government finally demarcated the area below Canal Street as the NYC disaster zone; anyone who lived or worked there was eligible to sign up for free healthcare and compensation. (That meant that Mesivta Tifereth Jerusalem and some shuls were included, but those living in the co-ops and other areas south of Houston Street, as well as in some areas of Brooklyn, were covered for healthcare but not compensation.)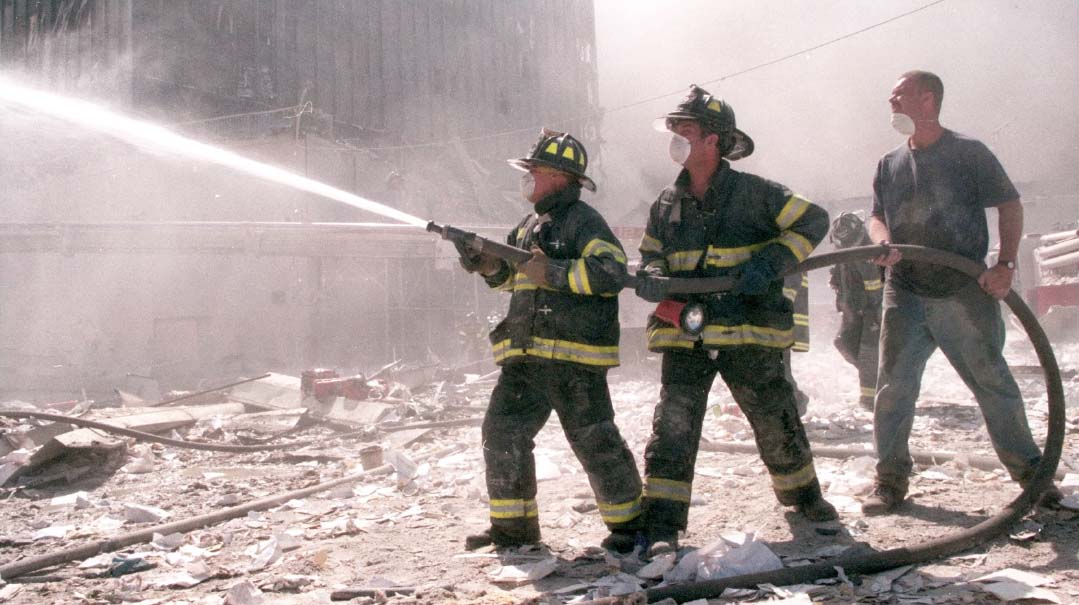 Moving On
For the past year and a half, Dr. Wilkenfeld has been spending half his time on toxins and the other half on Covid. In addition to treating individual patients, he became involved with public health initiatives.
"Covid was a very different disaster from 9/11," he says. "9/11 united everyone, but Covid seemed to divide us. With Covid, the challenge was to contain the surge so the hospitals didn't get overwhelmed. Then we needed to vaccinate as much as possible. People think the vaccination is to keep them from getting sick. But the main point of the vaccine is to keep people from dying, because vaccinated people don't die when they get Covid." Covid is particularly dangerous for 9/11 survivors whose lungs are compromised.
Dr. Wilkenson has become connected with mental health treatment through an Israeli program called Peace of Mind, created at Jerusalem's Herzog Hospital to help soldiers traumatized in combat and the loss of comrades. The program sends groups of these former Israel Defense Forces recruits to New York, where they're hosted by American families, participate in therapy sessions, and enjoy social events. One of their activities is a trip to Ground Zero to tour the site and the museum. Dr. Wilkenfeld, who served on the committee for the responder memorial at the museum, often leads these tours. They're sometimes joined by Michael Arad, the Israeli-American architect who designed the 9/11 Memorial Park and reflecting pools. Arad himself is a former soldier from the Golani Brigade and the son of an Israeli diplomat.
"Believe it or not, it's very healing for the Israeli men to come here," Dr. Wilkenfeld says. "One of the soldiers said to me, 'I see that even though there was so, so much destruction, people rebuilt and life goes on.'
"They see the resilience, the regrowth. They see that we mourn. But we pick ourselves up and continue doing the best we can." —
Survivor Principle
Dr. Wilkenfeld's friend Michael Barasch, of the law firm Barasch & McGarry in New York City, has become the leading advocate for 9/11 survivors seeking compensation for health issues.
Before the attack on the Towers, Barasch's 15-person practice was mostly concentrated on representing firefighters injured in the line of duty. It was natural to segue into representing firefighters and other first responders from 9/11.
Today, his practice has grown to 150 employees and deals almost exclusively with getting compensation and health care for the survivors who have suffered damage to their health. While Congress restricted legal fees for 9/11 injury cases to ten percent of the compensation awarded, Barasch doesn't mind the lower rates. For him, 9/11 is personal.
"My office is on Park Place across the street from the Woolworth Building, two blocks away from Ground Zero," he relates. "My wife called when the first tower was hit and screamed, 'Get out of there!' When the first tower began to implode, we ran down 18 flights of stairs and by the time we got there, the lobby was completely filled with smoke."
In the years that followed, everyone on his staff developed respiratory problems. His secretary, Lianna, succumbed to breast cancer at age 47; a paralegal, Dennis, died of kidney cancer at the same young age. Both Barasch and his partner have had bouts with cancer.
"In 2012, doctors hadn't yet linked any cancers to 9/11," he says. "Today, there are 68 cancers associated with south of Canal Street, as well as other respiratory diseases."
The WTC Health Program is open to fund care for anyone who was affected by 9/11, even those with psychological issues like PTSD. Mr. Barasch believes it's a shame that more people aren't aware they may be eligible for benefits.
"People think it's only for firefighters and cops," he says. "While 80 percent of first responders signed up for the program, only eight percent of non-responders did. There are probably 35,000 people eligible who haven't enrolled in the free health program, even if they're currently healthy."
He explains that even if you moved away from New York, you can still enroll in the program and get reimbursement for health care costs wherever you live now. People who aren't from New York but spent time in lower Manhattan are likewise eligible. Also, the spouses of people who died from 9/11-related illnesses can receive compensation for their loved one's cancer or death, as well as for unreimbursed medical expenses, funerals, and survivor benefits for the spouse and each child.
Mr. Barasch advises anyone who was in the vicinity of Ground Zero at 9/11 or the eight months that followed to enroll in the programs now, while they can still get signed affidavits from two witnesses attesting that they were in the vicinity at that time. Barasch urges people to act soon. "As time goes by, it may be harder to find those witnesses," he warns.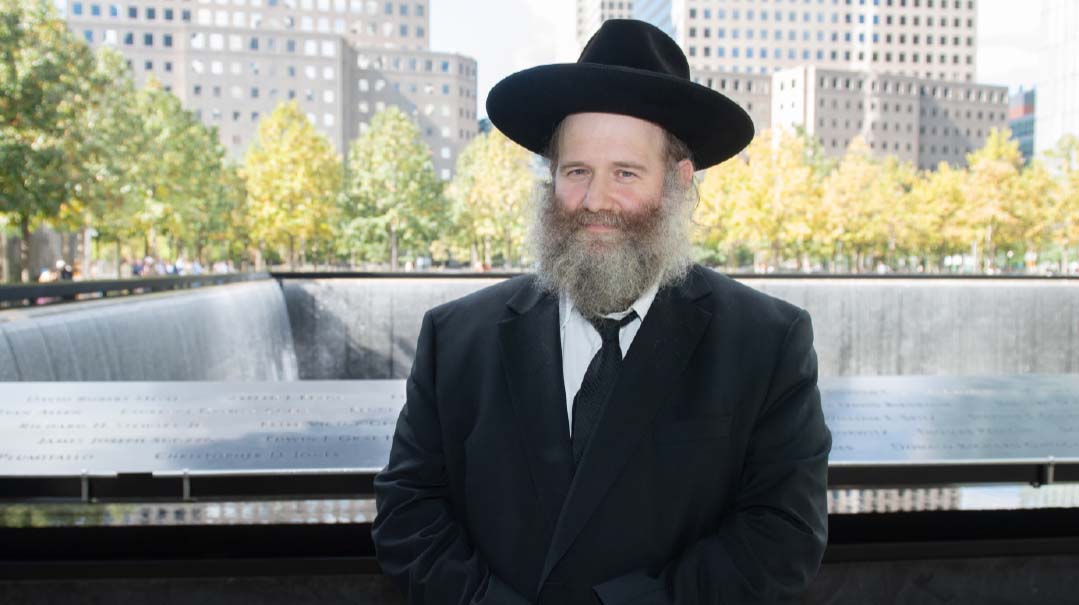 Nothing Like That Could Happen
As we walk toward the 9/11 Museum, a chunky mirrored building filled with art, artifacts, and historical exhibits, we're joined by Rabbi Shmuel Spiegel, the rav of the Romanische Shul on the Lower East Side (aka the First Roumanian-American Congregation, or Congregation Shaarey Shomayim). Rabbi Spiegel took over the shul from his father, Rabbi Yaakov Spiegel a"h, who was niftar just two months before 9/11. Known as "the people's rabbi," Rabbi Yaakov Spiegel's life is described in The Rabbi of the Lower East Side (Feldheim). His son Rav Shmuel, who also serves as an eleventh-grade rebbi at Mesivta Tifereth Jerusalem on the Lower East Side, has a modest, thoughtful presence, doing his best to follow his father's example of always helping others.
"You never know how long things in this world will last," Rabbi Spiegel points out. "The original Romanische Shul on Rivington Street was built in 1885 and collapsed in 2006, after 121 years. The Twin Towers were built in the 1970s and didn't last even 30 years."
Rabbi Spiegel remembers that two months prior to 9/11, his father had done a bris for the fatherless child of an Israeli woman. The second intifada was going on, and at the ceremony, his father cried.
"If we cannot feel the pain of our brothers in Eretz Yisrael, Hashem will send problems to us, too — problems even worse!" he sobbed. Less than an hour after uttering these prophetic words, his father collapsed from a heart attack and was niftar.
Rabbi Shmuel Spiegel himself had just moved back to the Lower East Side the Friday before 9/11 (which happened the following Tuesday). His wife, who hadn't forgotten about the 1993 bombing of the World Trade Center garage, asked in a sudden moment of nervousness, "If they bombed the Twin Towers, would it fall on us?"
"I laughed," Rabbi Spiegel says. "I told her, 'Don't worry. Nothing like that could ever happen.'"
That fateful morning, Rabbi Spiegel was still in shul, because of Selichos. "When people came in saying a plane had crashed into the World Trade Center, I thought it must be like that time a helicopter crashed into the Empire State Building," he remembers.
But by the time davening was over, it was pretty clear the crash wasn't just a helicopter. There were cops in the streets and he felt the ground start to shake. People began streaming into the Lower East Side, since the cloud of soot had blown in the other direction.
"The stores were bought out of food as people panicked — there was such a collective feeling of terror," he says. "We kept the shul open the whole day, giving out drinks and food to ash-covered people fleeing the city."
None of Rabbi Spiegel's congregants were killed on 9/11, but he speculates that some may have contracted diseases later as a result of the toxic air. "It's hard to tell," says Rabbi Spiegel, whose shul relocated to East Broadway 15 years ago. "Sometimes you can be talking with people, and they mention that somebody who lived around here got cancer and died, and you don't know if maybe that was the cause."
(Originally featured in Mishpacha, Issue 884)
Oops! We could not locate your form.
>