| This Way That Way |
Spinach
| April 26, 2022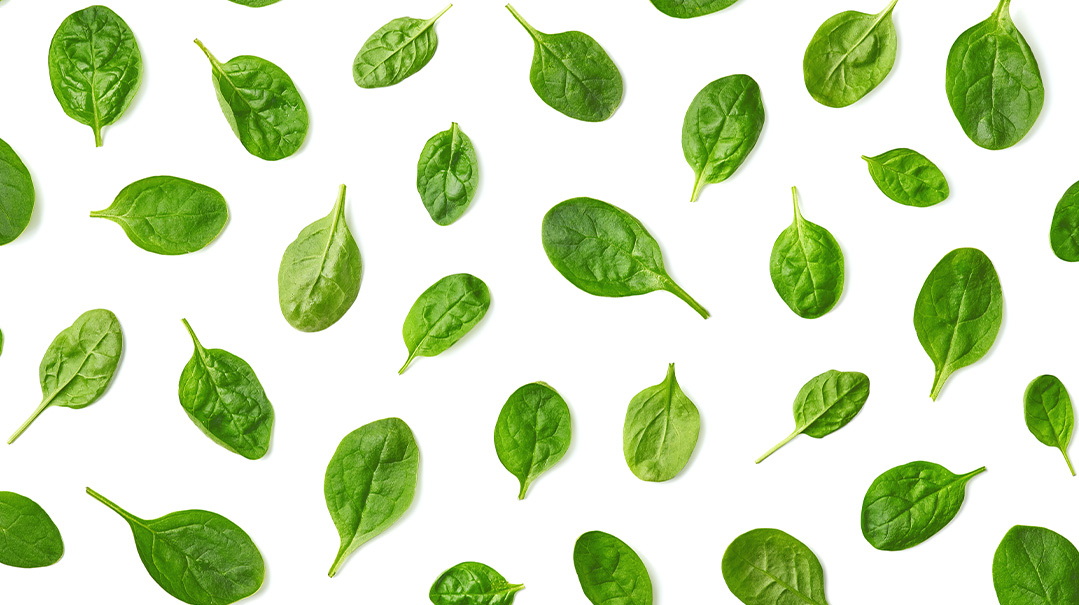 Spinach is a classic vegetable that is delicious sautéed or fresh. And yes, we've all steamed a massive bag only to find it shrink down to a quarter-cup portion! Here are some of the ways we love to prepare it.
Eat Your Greens
Origin
Spinach is native to Persia and was introduced to China in the seventh century. It was brought to the United States around 1806.
Cream of the Crop
California is the top producer of spinach in the US. It comes in three different varieties: savoy, semi savoy, and flat-leaf.
Art History
During medieval times, the green pigment extracted from spinach was used as ink for artwork.
Spinach-Stuffed Shells
Recipe by Danielle Renov
For all the spinach and cheese combo lovers out there (you know who you are), this one's for you!
SERVES 6
1 12-oz (340-g) box jumbo shells, parboiled (see note)
2 cups shredded mozzarella cheese
1 Tbsp butter, cut into tiny pieces
Sauce
2 Tbsp butter
2 Tbsp flour
½ tsp kosher salt
¼ tsp coarse black pepper
¼–½ tsp ground nutmeg
2½ cups milk
½ cup heavy cream
½ cup grated Parmesan cheese (optional)
Shell Filling
1 32-oz (900-g) bag frozen spinach
1 cup ricotta cheese
¼ tsp crushed red pepper flakes (optional)
1 cup shredded mozzarella cheese
¼ cup tomato sauce
To make the sauce: Set a medium pot over medium heat and add butter and flour. Stir constantly for 4–5 minutes until mixture is a light golden brown. Add salt, pepper, and nutmeg. Continue stirring and slowly add in milk and heavy cream, 1/4 cup at a time. Use a whisk to break up any lumps. Keep stirring until tiny bubbles form around the edge of the pot. Add Parmesan cheese, if desired, and stir for an additional minute. Remove from heat.
Preheat oven to 350°F (175°C). Grease a 9x13-inch (23x33-cm) baking dish.
Pour a third of the sauce on the bottom of the dish. Place all the filling ingredients in a large bowl and mix well to combine. Put mixture into a piping bag or ziplock bag. Snip off the corner of the bag and pipe filling into the shells. Place shells in a single layer onto the sauce in the dish. Cover all the filled shells with the remaining sauce. Sprinkle the top with mozzarella cheese and place tiny pieces of butter over the cheese.
Bake uncovered for about 35 minutes, until the top is golden and bubbly. Allow to cool for 8 minutes before serving.
Note: For an alternative to the shells, you can use cannelloni or lasagna noodles. To save yourself the step of parboiling, use oven-ready pasta.
Turkey-Spinach Salad
Recipe by Chaia Frishman
I love how this salad eats like a full meal.
SERVES 4
4 cups spinach leaves
1 cup roasted sweet potatoes (see note)
¾ cup cubed roasted turkey breast
¼ cup candied pecans
Dressing
¼ cup olive oil
¼ cup raspberry balsamic vinegar (or regular balsamic vinegar)
1 Tbsp silan
1 Tbsp raspberry jam
½ tsp salt
2 cubes frozen garlic
Divide salad components among four plates. Mix dressing ingredients and drizzle over salad to taste.
Note: To roast sweet potato, scrub well, cut into cubes, and toss with olive oil. Roast at 400°F (200°C) for half an hour.
Spinach Shiitake Feta Casserole
Recipe by Rorie Weisberg
An easy, delicious, and better-for-you spinach and mushroom feta casserole.
SERVES 6
2 Tbsp butter (or oil)
3 shallots, sliced, or 1 medium onion, diced
6 oz (170 g) shiitake mushrooms, sliced
6 oz (170 g) portobello or white mushrooms, sliced
1 32-oz (900-g) bag frozen spinach
4 eggs
3 Tbsp Rorie's Creamy Dressing (or store-bought Caesar dressing)
1 tsp sea salt
6 oz (170 g) feta cheese (optional)
3 Tbsp Rorie's Coating Crumbs (or seasoned almond flour)
Defrost the spinach overnight in the fridge. Place in a cheesecloth or thin towel and squeeze out all excess liquid. (Do not skip this step!)
Preheat oven to 375°F (190°C).
Sauté shallots or onion in butter until beginning to soften. Add mushrooms and continue to sauté. Remove from pan and add spinach. In a separate bowl, whisk together eggs, dressing, salt, and cheese if using. Pour the mixture over the veggies and mix to combine. Transfer the spinach-egg mixture to an 8-inch (20-cm) square casserole dish and sprinkle the top with coating crumbs. Bake for one hour.
Variation: For a dairy-free option, sauté veggies in oil and omit feta cheese. Feta cheese is salty, so you may want to add 0.5 tsp salt to compensate.
(Originally featured in Family Table, Issue 790)
Oops! We could not locate your form.
>