| Teen Feature |
Soul Sisters      
| October 26, 2021
A sister to hold your hand is exactly what Bnos One on One had in mind for every girl in junior high school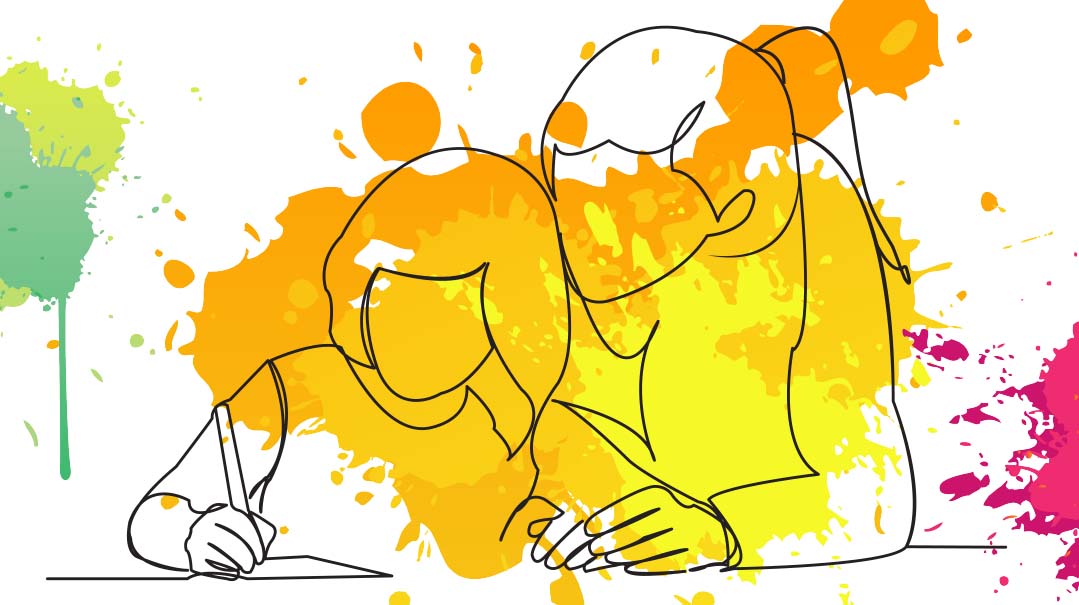 Sisters aren't only annoying, wonderful people who share your last name. They are the people you choose to let into your world as you try to figure out things like high school and lip gloss and who you are.
Yeah, all very simple and straightforward. Not.
It helps to have someone who's been there, done that, to warn you not to repeat her own silly mistakes.
People who are related to you by blood are disqualified in this case for obvious reasons. No matter how many biological sisters you have (or don't), you can always use another one who you actually decide to own.
A friend. A mentor.
A sister to hold your hand while you navigate the early thrills of teenage-hood is exactly what Bnos One on One had in mind for every girl in junior high school
It started like this...
Bnos Shabbos groups are a project of Agudas Yisrael of America. It's a venue where girls get together on Shabbos afternoon to be inspired and just chill at the end of a long week. But what about during the week?
Everyone can use someone. Every girl deserves to know that she can be someone.
And so Bnos One on One was born. It's been going strong for eight years, partnering with schools in the Tristate area to reach as many teens as possible. To date, there are over 200 big sister-little sister pairs, some of whom were happy to tell me about this awesome organization.
It's for…
If you're in junior high school, grades six, seven, or eight, you qualify to be a little sister. You will be paired with a big sister in 11th grade or above. It's not just random allocation. Bnos One on One wants to ensure that you are set up together with someone who will really get you. Hence, the application process. It's not complicated or anything; you just fill out an application including references and a little bit about yourself. Many times, the pairs will be based on location, for more proximity and easier access. Bnos One on One may pair girls with similar interests together to help foster that connection. Background is also a big consideration when matching sisters together.
It's all about…
This is going to be a tricky one because every big or little sister I spoke to couldn't stop going on about the program! There's the actual program, and the amount of times you get together, but it seems like the bond that sisters form is so much deeper than that.
Big sisters take their little sisters on outings once a week. They can go anywhere: think the park, pizza, or just a walk. It was interesting to hear all the awesome ideas that big sisters have! Miriam*, one big sister, shared that her little sister loves art, so they do a paint night pretty often. Another sister pair shares a combined love for nature, so they love exploring the parks in their area. "It's really about finding common ground with your little sister and bonding over something you both enjoy," Ayala*, another big sis shares. "Like, when we have a conversation about something random, I'll just listen out if my little sister mentions any of her interests and I take it from there." I wonder about the pressure of coming up with something new and exciting every week. Big sisters admit that it's a stress in the beginning, but once they find something their sister enjoys, they're fine with doing it all the time.
"It takes time for the relationship to develop and that's perfectly okay," Devorah*, a big sister tells me.
I wonder where the catch is, this is all sounding like too much fun! Like, where's the whole mentor psychobabble type of stuff. But there's none of it. There's nothing sisters need to talk about, there's no curriculum they need to cover. It's just forming a relationship with someone older and (hopefully) wiser than you, who will love you just the way you are.
That's not all, though. While sisters get together once a week, the entire extended "family" gathers, too! Bnos One on One parties are one of a kind, with entertainment, food, and dancing. It's an awesome opportunity to meet sisters from different backgrounds and schools and just enjoy the fun experience. "I come home on a high," one sister shares.
Sisters look forward to these parties all year long!
This really happened…
I was privileged to speak with Mrs. Hass, the director of the organization. She shared some true accounts with me, many of which were hard to believe because they sounded too good to be true!
She shares that there was a particular girl in need of an older sister. Her application was rejected because the organization felt that she required far more intervention than a big sister could provide. After much deliberation, they decided to give it a go. A few months later, the girl's school reached out to request the number of the older sister assigned. The director of Bnos One on One didn't want to involve the big sister in issues that were beyond her scope and responsibility so she asked why they wanted to contact her. Their answer nearly blew her away. "This girl has had a complete turnaround," the principal shared. "What her big sister has given her in unconditional love and pizza and whatnot is something her therapists and evaluators had not been able to provide. I just want to thank her."
There was also a girl who contacted the director in tenth grade, insisting that she needed to be a big sister already, she simply couldn't wait until eleventh grade! "I just need to give back. I've gotten so much and I want to give back because I wouldn't be who I am now if not for my big sister," she insisted.
Hadas (Big Sister) Shares:
It's the era of emails and text messages that consist of k and smiley faces . So when I got a letter in my old fashioned mailbox, don't blame me for being a little surprised. The envelope was cute, small, and blue. When I was done reading it, I had tears in my eyes. My little sis, Evie, had written me a letter, thanking me for everything I am to her. It was on a scrap of loose-leaf paper, it had her doodles all over, like she'd written it in the middle of class or something. But it's the most precious piece of paper I own. I'd never thought our relationship was much of a big deal. Like, yeah, we went out, we had fun, over. But it obviously meant so much more to her and that made me smile. I'm so lucky to have her in my life.
Dina (Little Sister) Shares:
I'm so not the type. Like, for all this mentor stuff and all that. I'm fine, thank you. I don't need this cool high school girl savior hero in my life. Most of my friends were little sisters and I never got tired of teasing them. Because I wouldn't stop, they made me come to one of the parties so I could see for myself.
I'm still so not the type. And yet, I can't imagine life without my big sister Chaya.
So to all the big sisters out there…
It only gets better…
Bnos One on One is always thinking ahead. There's been talk of a group model, in addition to the sister pairs that are already a huge success. It would be fun for teens to get together just because, in a group setting, to share what they all have in common: being a teenager and having fun! Because sometimes, the best form of support is having people around us just being themselves.
Contact info:
Bnos One on One can be contacted through Teen Pages.
*All names have been changed
Giving Is Getting
Everyone has a need to be needed, to be more than just a voice in the crowd. Being a big sister is a real game changer for girls in high school.
Mentoring builds a sense of empowerment, and instills confidence in every big sister. Who doesn't love being the figure who's looked up to, the awesome one, the cool one? It's fun to be able to tell your stories to a little sister who won't roll her eyes at you!
It also encourages personal growth as girls guide their little sisters to be better versions of themselves. Practice what you preach and all that…
Bnos One on One appears to be for the sole benefit of little sisters, but with all they have gained in the process, the big sisters claim otherwise.
Everlasting Bond
It doesn't have to stop when you graduate high school or enter high school or leave to seminary. So many sisters keep their relationships going long after they have left the program. One sister pair keeps their connection going with occasional phone calls, Shabbos visits, and birthday cards.
And even if they do not stay in touch, sisters will always remain part of each other's lives because of their formative shared experiences.
Are you ready to make that difference?
(Originally featured in Teen Pages, Issue 883)
Oops! We could not locate your form.
>