| Job Search |
So, You Want to Be a… Travel Agent    
| September 28, 2022
A good travel agent is organized, detail-oriented, a good multitasker, and eager to learn, research and discover new information about destinations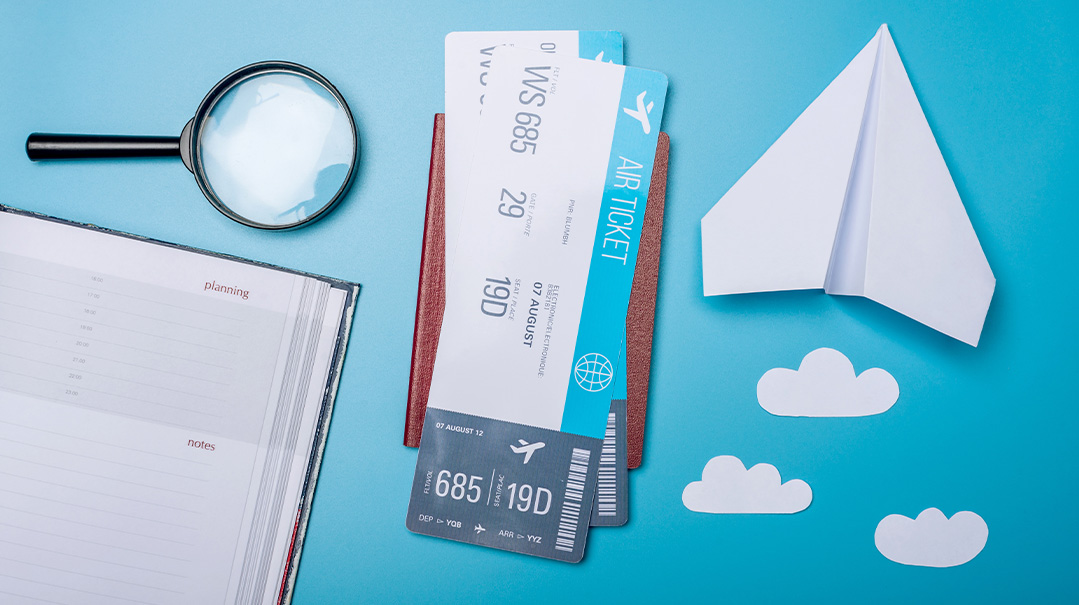 What will I be doing all day?
A travel agent helps plan itineraries and make travel arrangements for clients, including transportation, lodging, and activities. They research the vast number of options for travel, accommodations, etc., to find the best deals for their clients. Responsibilities include:
Speaking to the customer to determine preferences, budget, schedule, and other factors, and making travel arrangements accordingly.
Putting together tour packages and day trips.
Researching fares and schedules for all flights and activities and calculating total costs.
Booking reservations for airlines, hotels, rental cars, etc.
Providing clients with the most updated travel regulations and document requirements.
Making alternative arrangements for clients in the event of changes either before or during the trip.
What kind of training do I need?
While there's no specific educational requirement for the field, many travel agents will take certification courses in professional travel planning, and some colleges offer degrees in travel and tourism. However, most of the training in this field is on the job. Suppliers in the field provide online training to educate agents about their travel products.
What can I expect to make?
Since vacation travel tends to be a commission-based job, salaries vary widely, but on average fall between $30,000 and $75,000. Agents who have many corporate clients can make upwards of $100,000.
Earning potential for owners of travel agencies is significantly higher.
Do I have the personality for it?
A good travel agent is organized, detail-oriented, a good multitasker, and eager to learn, research and discover new information about destinations. As this is a service industry, a travel agent must also have excellent interpersonal skills, be positive, calm, and patient, and be able to work under time pressure and stick to deadlines.
What kind of career options do I have?
As a travel agent, you can work in a variety of specialties. Some examples:
Leisure travel agents plan vacations for the general tourist public.
Corporate travel agents arrange travel packages for businesses, booking flights and accommodations for employees traveling for business or attending conferences.
Travel agency managers oversee the operations and manage the staff of a travel agency.
TALES FROM THE TRENCHES
JAY BERNTEN
Boca Raton, FL
OWNER, Vista Travel (a Direct Travel Company)
Graduated from: Business degree from Northeastern University
Years in Field: 40
My Typical Workday
My company, Vista Travel, is a corporate travel agency that specializes in travel for businesspeople and their companies. Many of our clients are consultants and salespeople who travel often to visit customers both in North America and worldwide.
Typically, an ongoing business client will reach out by email to give us his needs for  his next trip, as in the following example:
Monday: New York to Chicago, morning flight, car rental and hotel.
Wednesday: Chicago to Seattle, 2 p.m. flight, car rental, hotel near downtown.
Thursday night: Seattle to New York, red-eye flight.
A business travel advisor's job is to find the best options and prices for the client's specific travel needs and present those options. That's when the back and forth begins. Then, later that day, the traveler decides to change the outbound flight from 9 a.m. to an afternoon flight, and new options need to be researched and sent to the client. There can be multiple revisions until the trip is finalized. Once that happens, tickets are issued in the airline computer system and an e-ticket is sent to the client.
A typical business trip can require many schedule changes during the actual trip, and each change means a new ticket needs to be issued.
We also work with private travelers planning luxury vacations. The process for a typical vacation client is somewhat different. We start with a conversation about what kind of vacation they're looking for — for example, a ten-day tour of Italy within a $15,000 budget. We then research and present various options, asking for their preferences — e.g., do they prefer to stay at a resort or a hotel in the city. Our agency belongs to Virtuoso, which is a luxury network that gives member agencies access to very special offers for hotels and properties around the world. Being part of this network allows us to sell what isn't typically available on the Internet and offer clients perks like early check-in or room upgrades, or a fourth night free at certain properties.
Vacation planning takes more time and usually involves a planning fee. Arranging luxury vacations can be very time consuming but personally rewarding, especially when the clients send you notes thanking you for the memorable experience you've created for them.
How I Chose the Profession
I entered the travel business when I finished college. Growing up, I traveled a lot with my family, both in the US and internationally, and I enjoyed visiting new places and experiencing what they had to offer. When I founded my company, I hired travel agents to do the booking work while I went out and sold our services to local businesses. Today, our sales process has changed, and most of our leads come from our website and social media posts. The business has allowed me to continue indulging my passion to travel the world — both before I was married and since then, with my wife and children.
What I Love Most about the Field
While you don't travel for free, you do have opportunities to see and experience the world as you learn about suppliers and what they can offer your clients. One of the most exciting experiences I had was flying on the Air France Concorde from New York to Paris in three and a half hours instead of the usual six-hour flight!
What I Find Most Challenging about the Field
People think they can do everything that we do on their own, via the Internet. Then when they run into problems, like flight cancellations, they call us asking for help. Covid has definitely demonstrated the value of using travel advisors in our constantly changing world.
I'll Never Forget When
We've had the pleasure to work with many interesting people over the years. The industry has allowed me to meet and arrange travel plans for many famous personalities.
How I've Seen the Field Change Over the Years
Ever since Covid, we've seen a large uptick in people reaching out about personal vacations. The instability of the Covid years has made many people determined to finally take that dream trip that they'd planned for "someday in the future," realizing that they never know what the future will bring. Interestingly, another post-Covid phenomenon we're seeing is that many people who left successful careers due to Covid are now becoming luxury travel advisors. They're interested in doing something different and inspiring, while working independently.
My Advice for People Starting Out
As a travel agent, you're essentially a salesperson. The best advisors are the ones who have traveled to the destinations they sell. It's very helpful to be able to talk about what you've personally experienced on a trip and what you feel makes a place special. You can't compare general information about Rome to being able to tell a client that they must go to the Piazza Navona to see the fountains and view the artists selling their artwork.
SHLOMO SCHOLNICK
Ramat Beit Shemesh, Israel
Owner, Travel Deal Israel, Ramat Beit Shemesh, Israel
Years in Field: 22
My Typical Workday
My company, Travel Deal Israel, deals mainly with incoming tourism to Israel. Most of our clients are from the US and Europe, as well as the Anglo community in Israel. Our specialty is getting our clients the best prices on hotels, tailored family tours, and all other land arrangements in Israel, such as VIP arrival and departure services and car rentals. (We leave the airline bookings to other travel agents.) After booking the travel arrangements for our clients, we stay in touch to make sure their accommodations are exactly what they wanted.
As the company owner, my responsibilities include expanding my clientele base, negotiating contracts with hotels in order to get better pricing for our clients (we have relationships with all the major hotels in the country, which means we can get better deals and service), and mediating between clients and hotels when an issue arises to ensure that our clients are completely satisfied. Internally, I work to make sure our team is providing the highest level of service, efficiency, and courtesy to our clients. I also review our billing and accounts.
While many in the industry go to travel school, I believe that experience is the best teacher. My employees have all been working with me since the beginning (my most recent recruit was 18 years ago) and I've personally trained all of them. The training process is hands-on and it takes about six months. Our agents are responsible for speaking to clients and booking reservations. They know all of the hotels inside out, so they're able understand what the client is looking for and find them the perfect hotel to match their specifications.
I spend much of my day reaching out to new clients, which includes answering emails and phone calls, meeting with potential clients and leaders of tour groups, and also meeting with travel agents both in Israel and abroad. It's common in the industry for travel agents to work together. Many travel agents, for example, only deal with airline bookings, and have no connections in the hotel industry. Like any company, we did massive advertising when we started out 22 years ago, and kept it going for years. By now, our client base has grown to the point that most of our business is from returning clients, travel agents both in Israel and abroad, and word of mouth.
How I Chose the Profession
I worked as an administrator for an American yeshivah after I got married, and was in constant contact with the parents. The parents would come in for the winter break and sometimes asked for help with hotel arrangements and car rentals. So soon afterward, when I felt it was time to move on to something else, I used that experience to start Travel Deal Israel.
How I Chose My Specialty
As I mentioned above, we deal with incoming tourism to Israel, but if I had to identify my specialty within the industry, it's service. When people go on vacation, they expect to be treated politely and respectfully. Yet in Israel, too often the language barrier and lack of understanding of the major differences in mentality can leave clients feeling frustrated. This comes up in so many ways on a daily basis.
Realizing that service is the one thing that every client wants, we've made it our business to provide that, acting as the buffer, when necessary, between our clients and the local tourism industry.
What I Love Most about the Field
Succeeding in what I worked so hard to achieve and, at the same time, continuously pushing myself to work harder in order to keep up with the constantly growing expectations people have when it comes to servicing them. Today, with the evolution of technology, people expect immediate responses. And since everything is available online, the clients have higher expectations of what you should be providing them. You need to respond to emails and phone messages in a timely manner, even after work hours, because if you don't, they'll have already booked elsewhere.
What I Find Most Challenging about the Field
So many things can go wrong when traveling. We make it our priority to pay attention to the small details, making sure we've arranged every aspect of every booking, so that when the client arrives in Israel, things should work out as planned. We'll even daven for a sunny weather during the winter! Nevertheless, it's a daily challenge making sure everything aligns perfectly.
Of course, the biggest challenge of my career was Covid, when the entire tourism industry came to an instant stop that lasted close to two years. But that's a discussion for another time…
I'll Never Forget When
I once had a client who wanted to stay at the Leonardo Plaza in Jerusalem and requested a room with a sea view. I told her there's no sea in Jerusalem, and suggested she get a room with a view of the Old City instead.
But the client insisted. "I spoke to the hotel and they told me they'd give me a room with sea view! Can you please at least request it?"
Another time we received a call from a client, who'd arrived in Israel in the wee hours of the previous night. Now it was 1 p.m. and she'd just woken up… and demanded that we credit her for the hotel breakfast that she'd missed. She claimed it was the hotel's fault that she'd overslept, because the hallway had recently been painted and the fumes from the paint had knocked her out. (Clearly, her oversleeping had nothing to do with arriving in the middle of the night and jetlag!)
Something I Wish People Knew About Travel Agents
We can't control everything. Yes, we work hard to fulfill all your requests, but ultimately we rely on the providers to give you the best possible service. And sometimes rainy days happen.
How I've Seen the Field Change Over the Years
Technology has made our lives a lot easier. It used to be that when a client wanted us to look into hotels, we'd have to call each hotel to check prices and availability. Can you imagine several clients requesting pricing for several hotels? But today, we have this information within seconds.
The fluctuations of the security situation in Israel have also had a big impact on the industry over the years — but, unfortunately, that hasn't gotten any better.
My Advice for People Starting Out
Figure out what it is you want to achieve, aside from making a buck. (If that's all that motivates you — move on.)
Realize that as long as you do your best to employ honest service, efficiency, and integrity — all the rest is siyata d'Shmaya.
SURI WEINBAUM
Brooklyn, NY
Travel Agent, Do All Travel, Brooklyn, NY
Years in Field: 8
My Typical Workday
Our company specializes in corporate and leisure airfare and accommodations. There are a lot of different departments within the company, each with its own specialty: domestic travel, international travel, group travel, agency bookings,and corporate travel. My particular specialty is flights to Europe, the Middle East, and the Far East, though I'll also help clients with accommodations, car rentals, and general trip advice.
My typical clients fall into two categories: those looking for leisure travel, and business travelers. I work hard on building relationships with my clients, and usually they return for the attention and service I provide.
My responsibilities include speaking to clients and making their bookings according to their specific needs. It's my job to make sure all of their special requests are taken care of, such as seating, special meals, a bassinet, or wheelchair assistance. I also make arrangements for travel accommodations. When it comes to accommodations, every client has different needs, tastes, and budget, and I work to find the best match for all of their specifications. I also arrange transport to and from the airport or car rentals.
I'm responsible for keeping track of any scheduling changes in flights and notifying clients.
The best part of working with a team is that there's always someone to give you help when you need it. If you're unsure of a rule or policy, someone else on the team can advise you. In a time-sensitive job like this one, having such help is crucial to getting through a busy day.
How I Chose the Profession
I started working as a travel agent after completing high school and seminary, and the more I learned about the field, the more I enjoyed it. I was always fascinated with geography and helping people, so this seemed like the perfect fit. I went through both technical training — learning how to use the booking systems, which are called Sabre and Amadeus — and, more importantly, the hands-on training: learning how to speak with clients and help them navigate different itinerary options, knowing which options to present to clients and how to do so. Becoming familiar with all the different airports and popular cities is also a big part of training that's mostly learned on the job
The Difference Between an Individual Travel Agent and a Travel Agency
Individual travel agents usually start their career by booking for friends and family. They have a knack for organizing itineraries, and their strong point is their relationship with the client. However, they don't necessarily have the technical skills or accreditation to create, finalize, and issue reservations with the airlines. For that, they need a host agency that supports them with their reservations. It's relatively easy to become a private travel agent; since you're relying on the expertise of your host agency, your job is to find new clients and service them.
Working for a host agency such as ours (Do All is an IATA-accredited host agency) requires more technical know-how. We have direct system access, which gives us flexibility in our booking process and makes it more streamlined. Aside from our individual and corporate clients, we also facilitate the flight and hotel bookings of smaller travel agencies.
My Personal Travel Wish List
I still haven't visited Johannesburg, Kruger National Park, or Morocco. Those are definitely on my bucket list!
What I Love Most about the Field
When you work hard on a reservation and the client shows appreciation for the time and energy you invested in making their trip as smooth as possible, it's the best feeling in the world!
What I Find Most Challenging about the Field
When airlines have last-minute cancellations and I need to scramble to quickly book clients on other flights.
I'll Never Forget When
I once had a client who insisted she needed a window seat on the plane with a window that opens!  She wouldn't take no for an answer.
And then there was the client who was so intent on having a quiet flight that he offered to buy out every passenger in business class so that he could have the section to himself.
Something I Wish People Knew About Travel Agents
An aircraft is not like a classroom where you can just pull in an extra chair. We aren't magicians; if your preferred seat is no longer available on the flight you want, we really can't create one — but we'll do our best to figure out your next best option.
Also, it's important to realize that there are many fares that aren't available for the general public but are made available to specific travel agents — such as student fares, group fares, holiday travel, minimum stay exceptions, etc.
How I've Seen the Field Change Over the Years
Clients are much more knowledgeable about options and pricing than they used to be. Your job is to help them sort through the many options out there; every client has different criteria, and you need to figure who they are and what works for them. Even the best Google search can't always match you with the perfect flight that will fit your specific requests, such as a bassinet for your baby. And even the best hotel booking site cannot give you the nuances of each hotel vibe. That type of knowledge can only be acquired through firsthand experience or many years of feedback.
My Advice for People Starting Out
You need to have patience; it can take a few months to really get the hang of things. Also, be prepared to keep learning. The industry keeps changing, and you need to constantly stay updated to know what still works and what doesn't. For example, the concept of basic economy class with luggage and seat restrictions is fairly new, reward travel today has become much more restrictive, and changing the name on a ticket to a different passenger's — which used to be a common practice — is now a big no-no. And of course, people rely on their agents to help them navigate all of the different rules and Covid restrictions. If an agent isn't aware of all of the changing regulations, it can wreak havoc.
(Originally featured in Mishpacha, Issue 930)
Oops! We could not locate your form.
>