| Family First Feature |
Sisters on the Road | August 5, 2020
For these sisters, vacation isn't about the destination but the journey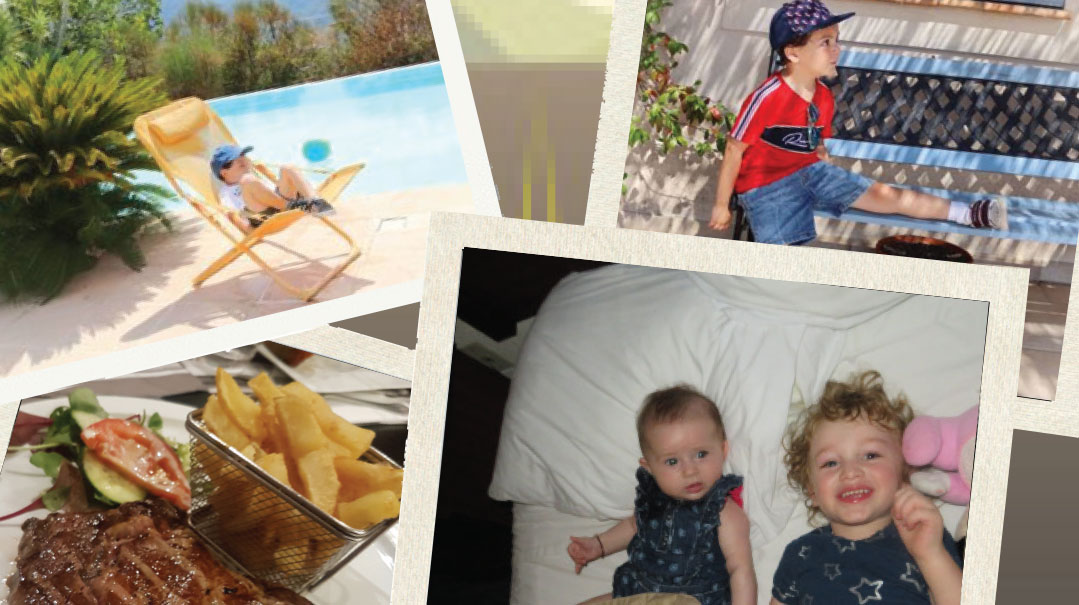 Photos: Frimi Mandel and Dobby Baum
What's in a road trip?
Frimi Mandel is a friend and classmate, and last summer, as we were each vacationing with our families and sharing pictures with each other, hers was the most fun trip to follow. On our class chat, the city names popped up, pictures of her two little ones framed against breathtaking scenery, vastly different climates, and topography.
Paris. Check. The Alps. Check. What next?
The fun part was that even she wasn't entirely sure. They had a plan, a vague itinerary, and when they left on Motzaei Shabbos, they didn't even know how long they were going for. Talk about flying by the seat of your pants!
When she got back I wanted to hear about all it.

Turns out it wasn't only her. Her sister, Dobby Baum, had done it too — 4,000 miles west. Dobby lives in the States and had picked a state to explore with her little crew: West Virginia. Incidentally, she had a three-month-old newborn too.
How? Why? I want to know. Why hit the road each day? If you're going away with the kids, just go someplace and stay there, no?
But these gals, bursting with creativity and life, say Nu-uh.
Frimi is a vocal coach; she directs shows and creates Jewish audiobooks. Dobby founded and leads the Brooklyn Girls Choir (a Brit bringing something new to Brooklyn…). They sing, dance, dramatize. And, they're intrepid road trippers.

Paris — Full of pay-as-you-go scooters. So cool to see how many people travel the city by scooting around. Best way to experience a new place.
Dijon — Split-second decision: We are not leaving this place without going to the Alps.
Nice — Packed with vacationers. Book restaurant in advance.
Sandstone Falls — Immense waterfalls, mountain with 360° views, gorgeous!
Berkeley Springs — State park with natural springs, famous for George Washington's bathtub.
Pennsylvania — Hersheypark. Chocolate fun. We could be teenagers again. Sort of.
Why Travel?
Frimi: Our parents put traveling in our bones. Your siblings are your normal. For us, normal is adventure, and because we're off-the-grid kind of people, that includes road tripping. We're always going places. One of my brothers did a UK road trip, from tip to tip. "John o'Groats to Land's End" as they say.
Dobby likes to say that she inspired my trip last year. But we'd been planning it for years. When I was young, I dreamed of having a caravan and ending up in a different place each day. For my 5-year-old son the trip was really like that. Things changed drastically and dramatically overnight. One day we drove from 16-36° C (61-97° F) degrees! Snow to sun.
Dobby: I did inspire your trip, but whatever you say... Adventure is in our bones. I remember being really small and being stuck in a storm in a forest, and we made the best of it — we started dancing and romping in the mud. We don't necessarily need an attraction; I have the best memories of stopping at a lake on the roadside and having a picnic.
Fun fact, my husband's a real city boy — he never traveled before he married me. But he's on board now! Good thing, because in the last year or so, I've been combining my love for traveling with my singing career. I'm getting booked for gigs all over, one in Denver soon, even as far as Vegas. So I stack them up, and we'll do a trip to all these places as a family.
Man Plans…
Frimi: We had a plan, starting in Paris and getting all the way down to Nice. We did book some things, a hotel in Paris, a villa in Nice. But we left a lot of blanks too. We did a lot of things on the spur of the moment.
We checked into a hotel in Paris, went to bed at 9 p.m. We'd been talking about leaving in the wee hours if we wanted to spend a full day in a new location. We conked out. At 2 a.m. I woke up and woke up hubby. Was sure he wouldn't want to go. But he did. The kids were baffled. But we made them comfy in the backseat, with loads of blankets, and they slept for five hours straight.
We had no idea where we were going though, only that we wanted to spend some time in the South of France later on in the week. Hub just started driving whilst I was Googling. The streets of Paris were so pretty in the dark, all quaint lights on stone.
After three hours of driving south, we stopped and took a nap in a service station, and I decided I'd love to see the Alps. All it took was a left turn, eastward toward the French Alps. As we drove, the sun was starting to rise, and the mountains came into view, growing larger, coming to life, out of the mist. We stopped in a random beautiful spot for Shacharis, and made it to Grenoble, a city in the Auvergne-Rhône-Alpes region of southeastern France.
Dobby: I had a crazy performing season from after Tisha B'Av through Shabbos Nachamu. I had a morning gig just before we left. At midday I was done, and we got in the car. We decided on whim to stop at a scenic spot to take some pictures because I was all dressed up. We took gorgeous family shots (important, because I live far from family). I changed back to comfy clothing at the first service station. It's great to look glamourous, but not on the road.
Our trip was carefully planned out. We knew exactly where we were going, booked everything in advance. After all, we spent each night in a different place. To avoid lugging all our stuff into each hotel, we packed one bag for each night.
As for meals, we made meticulous menu plans and started shopping and packing a week in advance. There are always the last-minutes though, especially the laundry, which is a biggie.
Stop and Go (and Stop and Go)
Dobby: The trip begins once you get in the car. That's the mindset. Of course, we're going places. But once we're on the road, we're already enjoying the trip. It's not about the destination, because the destination keeps changing. We try to make the car fun. We put together a great playlist for us and for the kids and had a lot of fun snacks.
Frimi: There was nowhere we needed to be and no pressure. Wherever we were, this was where we needed to be!
We tried to make every stop worthwhile: a trip, a meal, a rest (put the car seats all the way back…). Whenever we stopped we'd do some exercise. Run around do jumping jacks. My son had a merry-go-round obsession, so we also stopped whenever we saw a merry-go-round (thankfully, not too often).
"Ma, I'm Hungry!"
Frimi: We brought along loads of snacks and some things we could use as fallback options for meals, but we had a ground rule: Whatever happens, we're eating supper in a restaurant. We were on the go a lot, and it was important to sit down and eat something warm at the end of each day. In Nice, a major holiday go-to, we'd heard that you had to book a restaurant in advance. We picked a place advertised on Kosher Nice. We finally drove up at about 8 p.m., ravenous. Outside the restaurant was a menu board with a menu that was distinctly un-kosher. We're Israeli style, but we're not actually kosher, they told us! You gotta be careful. Of course, we then had the issue of finding a kosher place without having booked in advance. I had to plead and use dramatics just to get us a pie of pizza that night!
Dobby: We were on a tight budget. We wanted to go far out, but weren't going to pay a fortune for food. No restaurants for us. I cooked some dinners and bought some meals, and we'd get them warmed up in the hotel microwave each night.
We bought this great cabin-bag-sized easy-case — the whole thing is a cool bag, and it keeps stuff solid cold. The minute we arrived in a hotel or Airbnb, the first thing we did was put the food in the freezer. We also had BBQs.
In America you can get an OU Slurpee or coffee practically anywhere. There's a range of OU food wherever you go.
"Are We There Yet?"
Dobbie: My three-year-old son thought it was the coolest thing that we spent each night in a "new house!" We bought along some small toys for him — his drawing boards, gel markers.
Night driving is great for kids. But not for my husband — he needs his sleep. We had a bad experience once. And then we made a new rule: Nights are for sleeping.
As for the baby, looking back, it really was quite complicated. Every hour or two we had to stop so I could nurse the baby, change her diaper. Now at one, she's a breeze in the car. She eats finger foods and is happy to be moving.
Frimi: A road trip is the best kind of vacation with a newborn — no lugging strollers anywhere. The car was a cocoon. The baby was often lulled to sleep in the car, and he was too young for the music to disturb him. Of course there are the not-such-fun bits, like changing diapers on the go. But I do think a newborn in the car is a lot easier than a toddler.
My 5-year-old son did his summer workbook from school; when we stopped the car (for davening etc.), he would do coloring. Lots of stickers. I'd find stickers everywhere. If I was lucky he would give me one, which I had to wear all day…
At night, looking at the kids in the backseat, I thought, what I would give to be that kid snuggled in a blankie, fast asleep, trusting the parents up-front. Reality: I was the parent, and I had to make sure my husband didn't fall asleep on the road.
Highlights
Dobby: Singing in the car. Both of us are musical, my husband composed some of the songs on my album. We just cranked up the music and sang our heart out on the empty roads.
Also we chose West Virginia for the Appalachian Mountains and the national historical parks. In Berkeley Springs there was national park of hot springs. It's not a summer destination though, so the place was practically deserted… That made a huge change from Brooklyn, and with the hotels and trips being off-season, they were very well-priced. We got beautiful, clean hotel suites at not more than $70 a night!
When I think of the trip, I remember the quiet and space, nature, quality family time.
Frimi: Checking things off my bucket list. The Eiffel Tower for one. The Alps. We got the most amazing photos. We challenged ourselves to get each landmark.
As we soared up the mountain in a cable car, I looked out at the vast view, and it hit me: 24 hours ago we were home. We'd come so far, so fast. High up there, it was like, yes, we'd done it. But it wasn't a frenetic sort of trip at all. We were chilled about the details. When I think about it, there's this quality of calmness and a fondness for our car.
Craziest Parts
Frimi: Traveling everywhere on the road, I got pushed out of my comfort zone. On the long highways, the trucks are the worst. You know the drivers are coming a long way, they're tired, and there's just no trust. I screamed each time we got close to a truck. On the way down from the French Alps, the road was carved into the mountain with a huge overhang. I thought we'd get buried under rock. I said Tefillas Haderech way too many times. I'm the biggest rebbetzin in the car…
We booked a beautiful Airbnb villa in Nice, at the top of a mountain overlooking the beach. Something about it was too good to be true. We drove up at night, and the roads became narrower, steeper. I'm a dreadful backseat driver, but this was worse than ever. I was sure we were going over the edge. I carried on all the way up the mountain. I thought there'd be nothing there. Could there really be a villa at the top of this dark, desolate mountain?
But there was. And it was every bit as beautiful as in the pictures. After the harrowing trip up, I fully intended to stay at the top of the mountain forever. Or until we could get a helicopter.
But when day dawned with breathtaking vistas everywhere, I closed my eyes and got in car. The beach was calling my name.
Dobby: Keeping awake is the biggie on the road. We bought jumbo sized drinks, half a gallon per person. That's normal in America. We sipped the cold liquid to keep us up.
Also, I remember as a kid being freezing in the car, because my father would open the windows so the wind would keep him awake. We also kept the windows open, but in July it wasn't quite as cold.
Another crazy thing, the drive-thru safari park, the Natural Bridge Zoo, was practically empty when we went. There was this huge cat, a cougar, that was giving us far too much attention. It must have been bored. The way it was eyeing me, I thought it wanted to have me for lunch.
Next Time…
Frimi: I'd be a little bit more planned out. We weren't sure until the last minute if we were going to stay for Shabbos. When we decided that we're leaving, it was rush, rush, rush. We were running on adrenaline, anxious to make the shuttle — the train that crosses the English Channel.
When we left the train and finally crossed into England, I let go, fell asleep. Suddenly there was honking all about us. There at the first traffic light in England, my husband had fallen asleep too. The stress of making it in time had us both exhausted. No peace for the wicked. I forced myself awake to keep us both up, and we made it home in one piece.
Overall there was a lot of sleeping, driving, driving, sleeping. If we were to do it again I'd limit the driving time and choose destinations closer to each other. But I wouldn't dare attempt a road trip with a one year old.
Dobby: I loved how it played out. I even enjoyed the side aspects: planning the trip, keeping within budget, and the various organizational bits.
We have a road trip planned shortly. I got several bookings around the country for outdoor summer concerts — and I can't wait to be off.

Travel During COVID-19
We're travelling to States that weren't badly affected by the virus — Colorado, Utah, and Nevada — so most of the attractions are open. Still, masks are required everywhere.
Obviously there's also social distancing from other families and fewer people allowed in each attraction, which suits me just fine, because most places are usually mobbed in the summer.
Another thing — any paid attraction has to be paid in advance. You get a time-slot and must arrive within the hour. That way they can keep control of the number of people.
We've had to be even more planned out than usual (and we're quite big on planning), calling each place to check if they're open, not just relying on Google, finding out how things are different now etc.

Do NOT Forget
Mosquito-repellent spray
Suntan lotion
Toys
Water
Playlist
Loads of snacks
Sweaters and jackets, even if it's 90 degrees when you leave. With all the different destinations, we packed a bag for each day as opposed to a suitcase. Instead of labeling them "Monday" "Tuesday," we labeled them for the weather.
Note: Download Maps in advance. This is very important. In the mountain, in far-flung locations, you don't want to be stuck because you can't get a network. If you get lost, it's going to be even longer until you hit a bed. When you download Maps, even if you can't get a signal, you can get navigation offline.
(Originally featured in Family First, Issue 704)
Oops! We could not locate your form.
>