| On Site |
Silver Linings | April 10, 2019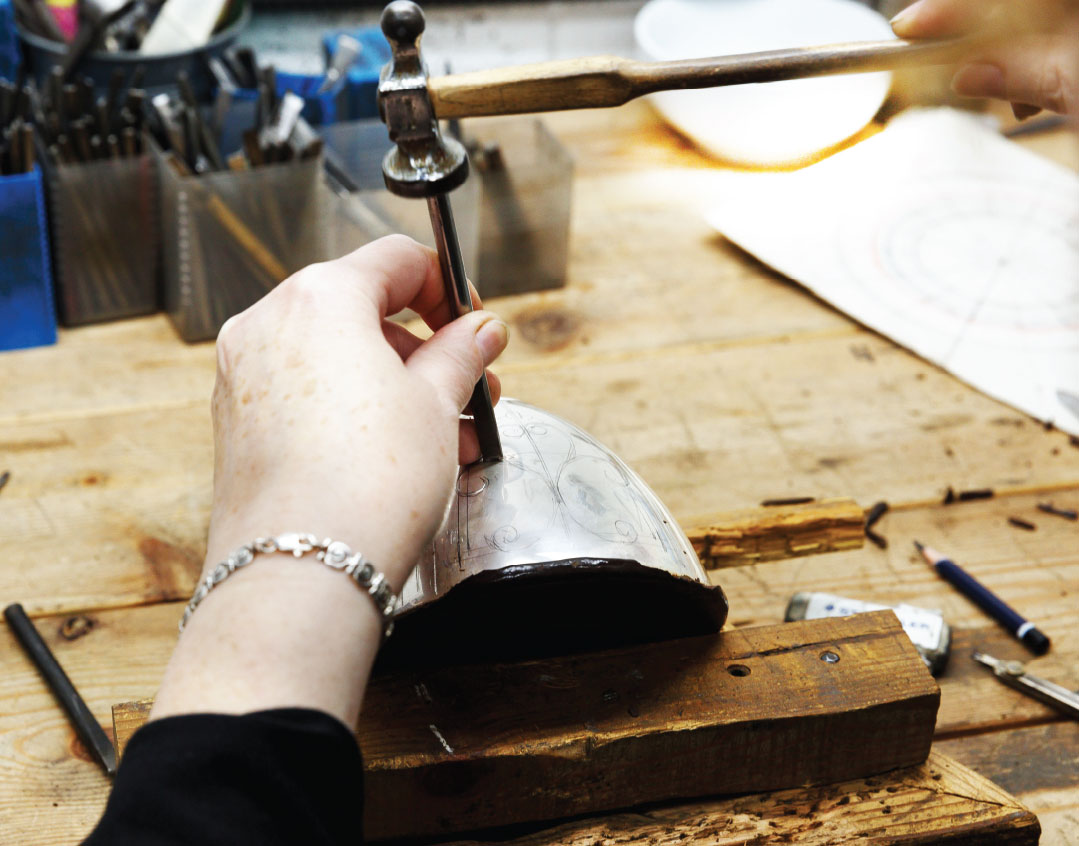 W
e spied the giant Hazorfim sign already from the highway, looking very intimidating and industrial. But once the taxi pulled onto the silent streets of Kfar Daniel, and we swung into the Hazorfim factory driveway, a different feeling took hold. The moshav-like atmosphere, the grass, flowers, and quiet pulled us in, like we were being let in on a giant, hushed secret.
The old guard at the factory desk looked surprised to see us and kept trying to point us in the direction of the luxurious factory store one door over. But we assured him we wanted to enter the rickety elevator and ride up to the factory floor above.
A gracious secretary led the way into a conference room complete with giant table and office chairs. An older man wearing a purple polo shirt was the room's sole occupant. We settled into seats and Elchanan, the photographer, took out his camera. Hesitantly, I leaned my elbows on the table but then quickly removed them. Was the man in the purple shirt our liaison? The secretary brought us tea and juice but still no introductions.

Diving right in, I ask the man his name.
He cracks a half smile. "Hazorfim," he says gruffly. "And you couldn't have come at a worse time."
Oh. His name isn't really Hazorfim, is it?
"What's your occupation here?" I say, trying again.
"Owner, producer, creator, silversmith."
Jackpot, this is our guy.
Odds Stacked Against Him
He starts talking, showing us an app on his phone that measures the number of steps he takes every day. "I average 11,000," he says. "Every day. Around the factory."
"Do you need to be so involved?" I ask delicately. I mean, I saw workers, secretaries — people, I'm sure, who can do some of the work for him.
He shrugs. "I have ADHD. I must move." And then he starts to talk about his childhood, growing up as the restless kid, the son of the talented silversmith, and slowly, the Rolex-sporting, purple-shirt wearing, gruff businessman fades, and an earnest and vulnerable young boy begins to peek through, a boy with a million creative dreams in his head.
"Every morning," he tells me, "the teacher would walk into the room and say 'Good morning, class. Yaakov, out.' They understood nothing about ADHD back then. I wasn't even given a chance."
I learn two things. One, that this man is Yaakov Merdinger, owner of Hazorfim. And two, that he's had the odds stacked against him since he was a little boy.
"I started working with silver when I was eight. I didn't have to, but I wanted to — it kept me busy and I enjoyed it. I would spend vacation days with my father, chiseling and chasing, and created my first original design when I was 13 — the flower-shaped besamim holder that I'm sure you're familiar with," Yaakov says, the pride evident in his voice.
"Chasing is used to define or refine surface designs. The silver is worked from the front by hammering it with various tools that raise, depress, or push aside the silver without removing any from the surface. It requires complete consistency. If you hit the chisel harder in one spot than you did on the rest, your creation will be shaky and off-balance. My father taught me it all."
(Excerpted from Mishpacha, Issue 756)
>