| True Account |
Shut Out | September 23, 2020
Years passed, and each Yom Kippur anew I was tormented at the forgiveness I wanted to give, but couldn't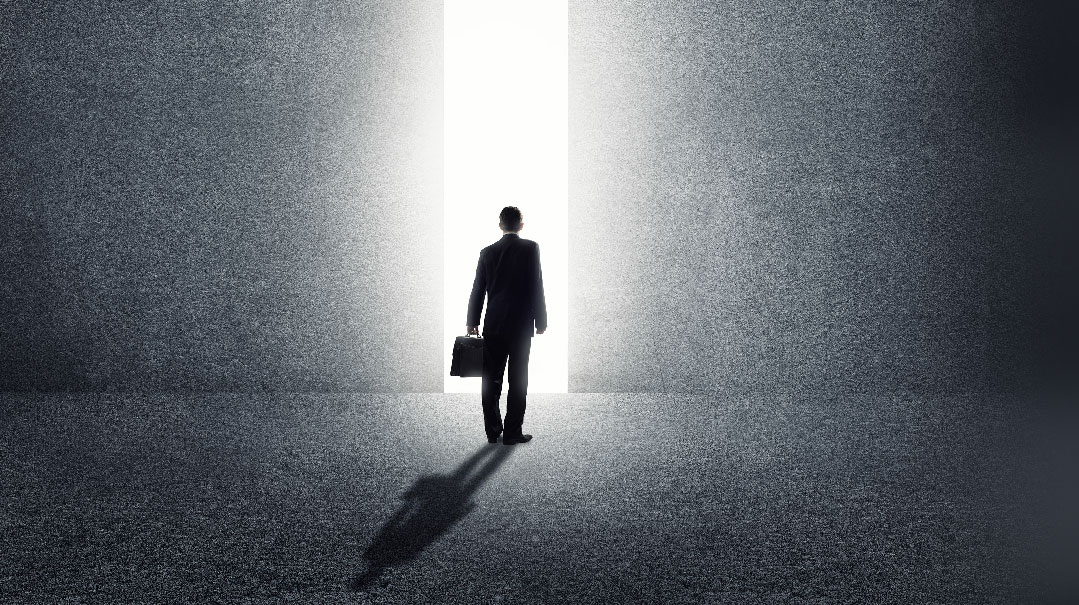 "Mr. Goldberger, it's Chaim Sander calling from Yeshivas Ohel Yaakov with an offer." Ohel Yaakov was a local elementary school for boys, a small school gradually growing in popularity, and Rabbi Sander, a master mechanech with great ideas, was the menahel. "Our secretary and bookkeeper have been handling the technical end of things here, but we're growing baruch Hashem, and we're ready to hire an administrator to get a handle on things and put our finances in order. Would you have time later tonight to meet?"
An activist used to holding two phones at a time with a third one vibrating impatiently on my desk, I thrive on challenge. And with summer in Camp B'Yachad behind me, Hatzalah's dinner months away, and the last few boys who needed to be placed in schools accepted, things were pretty calm. The idea of helping a cheder struggling financially was appealing.
I jumped right into things, hiring additional staff members, implementing systems, organizing the computer files, and figuring out what was happening financially. The office, which looked like a paper factory hit by a hurricane, was methodically organized. File cabinets were ordered for the important documents, and a giant dumpster was put to good use. After a matter of days, the place was completely revamped.
At the end of September, the first month of the school year, when I strolled down the corridors a few minutes before dismissal to deliver paychecks to the rebbeim and staff members, the surprise and shock was visible on every face. Shaya Eckstein, the 5th grade rebbi, couldn't contain his disbelief. "You know we haven't gotten paid in months here, Shloimy. Thank you so much!"
If I ever felt overwhelmed by the responsibility I'd taken on, I'd draw on the positive feedback I got practically every day. The staff was on a high, the vendors were being paid, and Rabbi Sander was free to do what he did best. The cheder was thriving.
While the majority of school funding originates from the government, if there's nobody to manage the logistics, the funds don't magically appear in your account. I leveraged my connections to iron out myriad legal aspects necessary for obtaining government funding. Then it was time to work on tuition and getting the necessary funds to fill all the remaining monetary holes. The lack of financial management until now meant there was a large pile of unpaid tuition invoices for me to tackle. Of course, I needed to do my due diligence and figure out if the money wasn't coming in simply because there was nobody on top of the situation to remind occupied fathers of their dues, or was it because in some families money was so scarce that tuition couldn't be covered? It was time to set up a new tuition program, and I lost no time putting it into action.
"Hello, Mr. Friedman. How are you? It's Shloimy Goldberger calling from Yeshivas Ohel Yaakov. I have a tuition plan that I'd like to hash out with you."
"Avadah, Mr. Goldberger. Let's hear what you have in mind. And I owe you a thank you. My Mendy says that since you joined the staff, the school lunches are mamash gourmet."
The chances of my plan's success just upped significantly; I proposed my scheme with renewed confidence. I explained my idea to raise tuition a bit for the Friedmans and other families in their financial bracket and then lower the tuition of struggling families to something they could afford. This way, I intoned, we would cover the yeshivah budget without straining families beyond their limits. I was pleasantly surprised when Mr. Friedman, and a number of other comfortable families, willingly obliged.
The yeshivah being as informal as it was, there was really nobody supervising me. Come the end of the month — or even year — I did not have to give any din v'cheshbon for how the bills were covered and salaries paid. This was exactly what Rabbi Sander had hired me for. The board was thrilled that the flow of complaints and criticism from the parent body had stopped, and they left things confidently in my hands. Not they expressed their appreciation often, but as long as things were running on autopilot, they let things be.
Apparently, though, someone was having a hard time swallowing my success. I can't pinpoint exactly when it happened, but one day I got the feeling that I was being snooped on.
That anonymous do-gooder was suddenly overcome with concern. "Don't be naive," he told the board members one day. "Right now things are working, but only a blind man can miss the signs. Right now expenses are being covered, but one day things will come crashing down."
One of the board members tried to stand up for me and argued that I indeed had managed to get funding the institution never had before. "Shloimy knows what he's doing, leave it up to him."
"Mr. Goodhearted" would not relent. "Know what? Approach him directly. Sit down with him, and see for yourself. Where is he getting the funding from? Is it sustainable, or are we going to be left holding the bag?"
The board members must have been convinced, because Rabbi Sander, who in the past seven years never asked a single question about the yeshivah's finances, was suddenly on my case. He was there every morning, afternoon, and evening, raising questions, insisting on perusing documents, and hovering over my computer screen.
I wasn't exactly thrilled with the recent changeover, but I worked hard not to show it. He was, after all, my boss. Feigning nonchalance, I casually made room for him in the office. And when I realized his presence was virtually permanent, I brought another chair — a leather swivel — into the office. I had nothing to hide and was confident in the way I was running the mosdos. The world of government funding for schools is complicated, but I was at home there, and I knew what I was doing had completely transformed the cheder's finances. I didn't expect Rabbi Sander to understand it, but I expected him to trust me. After all, that's what he hired me for.
"When can we sit down and go through all cheshbonos?" he asked one day out of the blue.
I was filing away paid invoices into the appropriate file. "Cheshbonos? What happened now?"
Rabbi Sander's face turned red. "What do you mean what happened now? Since when are you your own boss?" His nostrils were flaring, and I instinctively inched away from him. It was obvious he was being fueled by the anonymous advisor's indignation. This was not the Rabbi Chaim Sander I knew. I totally didn't recognize him.
"I'm very happy you're being matzliach on the job, but I'm entitled to know exactly what's going on." His words were fast and furious, and even if I would've wanted to say something, there was no way I was going to start up with the livid man in front of me.
"Okay… okay." I said, my voice shaking.
Rabbi Sander glowered suspiciously at me. "Aha, so you are keeping some things in the dark. We're going to get to the bottom of this real soon, and you're going to explain everything."
Looking back, it may have been my fault. A private person by nature, after seven years of doing things my way, I wasn't ready to just open up like that. I'd been a lone administrator, running an entire institution single-handedly for close to a decade, and running the finances for a large institution is as much an art as it is a science. What I should have done was sit down patiently with Rabbi Sander and the board and explained things until they were comfortable. Instead, I shut down and shut out both my boss and his board. But I was hurt. After all the time and effort I'd invested in turning around the finances of this mosad, didn't I at least deserve the benefit of the doubt, if not their complete trust and eternal thanks? The way Rabbi Sander turned on me made me feel I was a suspect being interrogated. If I had to pinpoint it, I think I was hurt more than anything, and that led me to shut them out and brush aside their concerns.
But in the face of my reticence and Rabbi Sander's suspicion, the communication breakdown only got worse. It didn't take an Einstein to detect that others were working on my computer. And then one day, it all came to a head. I was on the phone with my wife as I made my way to my office. "Hello, Shifra. Give me just a minute. I'm letting myself into my office." I turned the lock, but it didn't open. "Hold on," I said as I bent my ear to my shoulder, cradling the phone. "Why isn't the door opening?"
I tried again. And again. And again. And then it hit me — I'd been locked out of my own office.
"Shifra, I'm going to have to call you back," I said, hanging up on her rather abruptly.
Years before, I'd read an article about bullying. The narrator, who was ruthlessly bullied as a child, described the pain in great detail. "It was as if my heart was accidently caught in a metal door and was purposely being shut by someone else, time and time again." That was exactly what I felt like now. Crushed. Broken. Destroyed. A metal door being slammed on my heart. Shoulders sagging, I walked away from my office, exiting the building for the last time.
It didn't take long for slander-filled rumors to damage my reputation and awkward whispering followed my back wherever I turned. Sometimes, the stares were so out of control that I would conjure images of Rabbi Sander standing on a podium, megaphone in hand, ensuring my "sins" get the publicity they deserve.
A few months later, when the invitation for the annual camp convention arrived in the mail, I relegated it to the pile of junk mail. Shimshy Spitzer, the camp director of Machne Kayitz, sent me a text that night. Getting ready? I can't believe it's here again. Can't wait!
There was something about the atmosphere created by camp professionals brainstorming innovative ideas together, sharing good business practices, and collaborating on trip ideas that just made me want to be there. I was practically already a furniture piece at the conventions; it was one event I never missed. But this time, nothing in the world was going to convince me to go. And although there were many who believed in my innocence and told me so outright, Rabbi Sander, who ran a camp in the summer, was going to be there, too. Why put myself in an immensely uncomfortable position?
"You're not going?" my wife asked, waving the glossy pamphlet in my direction when she found it under a pile of mail. "I haven't heard a boo from you."
I shifted nervously. "It's busy, you know."
"Don't sell me the Brooklyn Bridge, Shloimy. Don't you think it's time to get past it? You can't go on like this forever."
"Shifra," I said, my voice breaking, "Do you know what it feels like when your name is dragged in the mud? Rabbi Sander will be at that convention. How can I look him in the face?"
I wouldn't budge. Willingly being under one roof with the man who'd inflicted so much pain on me was out of the question.
It did not make me feel better that as soon as I left, the structure and stability I'd worked so hard to establish went completely downhill. The cheder's finances were in tatters. I didn't smile when one of rebbeim mentioned to me that their paychecks were late for the first time in nearly a decade. Neither did I revel in all the parents' comments: "We need you back. The place is not the same." And when the yeshivah came close to closing its doors at one point, it didn't alleviate the hurt either.
Life has a way of going on. Hashem sent me another job soon after, and as much as I tried to forgive and forget the chapter of my life called Yeshivas Ohel Yaakov, the bitterness lingered. I thought I'd left everything behind when I walked out for the last time, but whenever my kids would bring up the job or mention anything about "those years," the anguish of showing up for work one morning only to find my office door locked resurfaced.
One night as I readied myself for bed and recited hareini mochel, I chastised myself. Hypocrite, Shloimy! How can you say these words without meaning them? People who really forgive bear no grudges, they foster no resentment. Look at you! The mere mention of the job brings everything back as if it happened today. You even drive an extra four minutes every morning to avoid passing Ohel Yaakov.
Hareini moichel… kol mi sheichis vhiknit osi… I wished I could forgive, for real, but the pain was still searing, stabbing my heart.
Years passed, and each Yom Kippur anew I was tormented at the forgiveness I wanted to give, but couldn't.
One day, I was eating supper with my wife when my Hatzolah radio crackled to life. I heard the beep but ignored it; the address was nowhere near me. I was sure another member — one more local — would respond very soon, but strangely nobody did. The dispatcher was going strong, his voice now clearer and louder than before. "Any units available on a code 1 for a person possibly not breathing at 1794 96th Street?"
I dropped my fork as my ears perked up at the mention of the address. The address was eerily familiar, 1794 96th Street, 1794…96th. Who lives there? And suddenly I remembered. Eleven years before I'd walked up those stairs to sign on my administration job. Chaim Sander. It was a one-family house, I remembered. Overcome by dizziness, I pushed my plate aside. I stood up as if in a trance, mouthing, "Sander."
The dispatcher was desperate. "Code 1, patient possibly not breathing, any units available?"
…As if my heart accidently caught in a metal door… The memories came rushing back as if I were experiencing it right now. How could I face him now after all he'd done?
"Shloimy," my wife urged, realizing what was going on. "Do it. Do it for yourself. Take the call."
Still in a stupor, I picked up my radio. "Unit 99 available."
The dispatcher continued now. "Unit 99 proceed to 1794 96th Street. Any medics available?"
Lights flashing and sirens blaring, I sped through the streets, working hard to stay focused on the task on hand. "Shloimy," I told myself, "Is there any better way to come full circle?"
Two at a time, I made my way up the stairs, lugging along my rescue kit. Working hard to push away the deluge of memories that flooded me at the sight of the twisted banister and the oversized Ohel Yaakov certificate prominently displayed on the entrance wall, I moved closer to Chaim who lay flat on the floor. His wife, who'd been administering CPR all the while, moved aside. Her pallor was ghostly, and if she was shocked to see me, she didn't show it. I immediately assessed that backup was necessary. I coughed into my radio. "CPR in progress. We have a cardiac arrest."
I'd been carrying the image of Chaim's livid face for so long, but in real life now, he was creepily calm. My hands shivering the slightest bit, I fit the defibrillator on him. There were no shockable rhythms, so I applied pads onto his chest, and because I was still alone, I began CPR. Compression. Rescue breath. Rescue breath. Thirty compressions. Two rescue breaths.
And as I was bringing Chaim's heart back to life, in that blurred place between life and death where old hurts take on a different perspective, hot tears were streaming down my face. "Mochel lach, mochel lach, mochel lach," I whispered. My forgiveness was finally complete.
(Originally featured in Mishpacha, Issue 829)
Oops! We could not locate your form.
>