| Gourmet Vs. Everyday |
Sheet-Pan Sesame Chicken
| August 29, 2023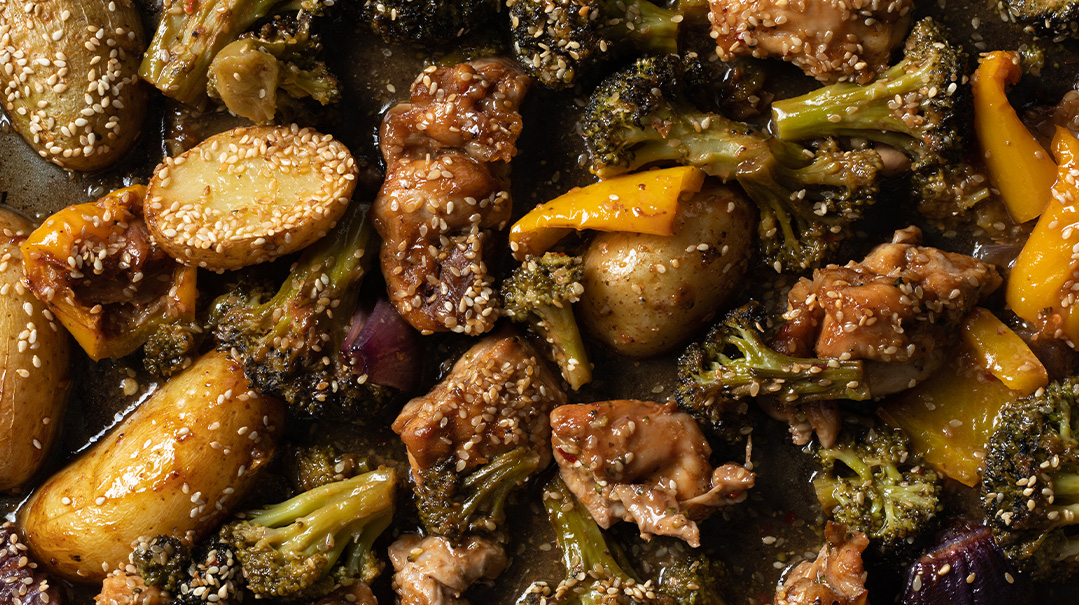 Styling and Photography by Devorah Applegrad
Chaya Suri Leitner
Sheet-pan dinners are always a win with my family. Especially now with so much going on — back to school, Yom Tov, etc. — this is a perfect easy dinner.
Sara Gold
Who doesn't love a one-pan meal where you can basically dump everything onto the baking sheet and walk away once it's in the oven? I definitely do, and that's why I was really excited about this recipe.
SERVES 4–6
2 lb (910 g) boneless chicken thighs, cubed
8 oz (225 g) apricot jam (I like to use the sugar-free brand Fiordifrutta)

I used Simply Smuckers.

¼ cup coconut aminos

I used soy sauce instead.

1 Tbsp tomato paste
1 Tbsp mustard
1 Tbsp honey
1 Tbsp toasted sesame oil
1 tsp ground ginger
2 tsp salt
pinch red pepper flakes
fingerling potatoes

I also made rice separately and served it 
with the chicken for my non-potato eater.

16 oz (450 g) frozen broccoli florets

I accidentally bought chopped broccoli 
but it worked just as well.

1 red onion, cubed  I skipped this time, and it tasted just fine.
1 bell pepper, cubed
 ¼ cup sesame seeds
Preheat oven to 400°F (200°C).
In a large mixing bowl, combine apricot jam, coconut aminos, tomato paste, mustard, honey, sesame oil, ginger, salt, and red pepper flakes. Mix well to create the glaze.
Add the chicken cubes to the bowl and toss until fully coated in the glaze. Let chicken marinate in the glaze for about 15–20 minutes while you prepare the vegetables.
Wash and cut the fingerling potatoes in half. Add potatoes, frozen broccoli, red onion, and bell pepper cubes to the same mixing bowl. Toss the vegetables in the glaze to coat them evenly.
Line a large baking sheet with parchment paper. Spread the marinated chicken and glazed vegetables, including the potatoes, in a single layer on the baking sheet, then sprinkle sesame seeds on top.
Bake for 35–45 minutes or until the chicken is cooked through and the potatoes are tender when pierced with a fork. Make sure to stir the ingredients halfway through the baking time for even cooking and browning.
Sara Gold
This dinner was really easy to put together — the most complicated part was cutting up the chicken! My kids all ate it, except for my picky eater, which was expected. I would definitely give it a solid four out of five and don't forget to put in the tomato paste! Even though it's just a tablespoon, it's really important.
(Originally featured in Family Table, Issue 858)
Oops! We could not locate your form.
>