| This Way That Way |
Shawarma
| August 8, 2023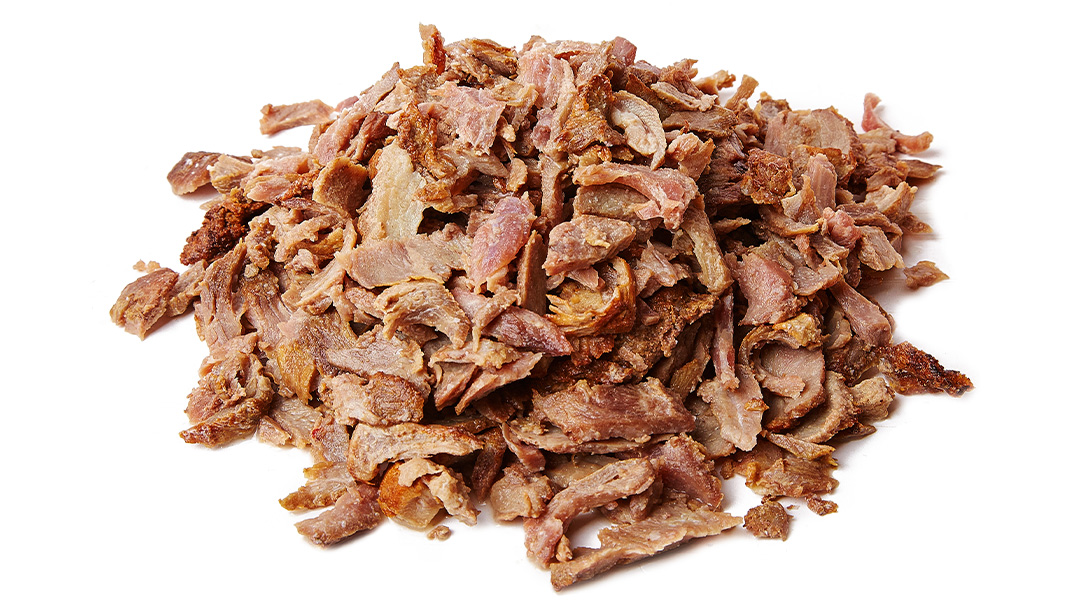 Shawarma spice was invented in the Ottoman Empire but has since been adapted by the Greeks, Arabs, Indians, and of course, the Israelis. The blend typically includes cumin, coriander, garlic, cinnamon, paprika, cloves, cardamon, turmeric, ginger, and black pepper, with some variation depending on the culture. The spices are a trademark deep yellow, curry-like color that makes for an earthy, warm, and savory dish.
It's easy to create a delicious supper with just a shaker of shawarma spice and some raw chicken cutlets. But if you're new to this blend, try using it as a replacement in any savory dish that calls for cumin, cinnamon, or black pepper. You'll be pleasantly surprised by the results.
Spice It Up
What's in a Name?
Shawarma is Arabic for "turning," as traditional shawarma is made rotisserie style, rotating vertically on a spit.
Let's Taco Bout It
In the 20th century, Lebanese immigrants brought the idea of cooking meat on a stick to Mexico, leading to the development of the trademark tacos al pastor.
Shawarma vs. Burger
They're both served between bread with condiments and vegetables, but shawarma spices add antioxidants and minerals that help our bodies and digestion. And, of course, there's no comparing chummus and techinah with ketchup and mustard!
Meat and Eggplant
Recipe by Michal Frischman
In my book, adding meat to a side dish is always a good way to make sure you're covered in case the family is extra hungry. This recipe uses raw tahini, not prepared techinah, which really highlights the richness and nuttiness of the sesame.
SERVES 8
2 eggplants
1 tsp oil
1 small onion
1 lb (450 g) ground beef
2 tsp salt, divided
1 Tbsp shawarma seasoning (I use Pereg)
3 Tbsp raw tahini
2 Tbsp silan (I use Heaven & Earth)
1 Tbsp chopped cilantro
1 Tbsp chopped parsley
1 Tbsp chopped chives
1 Tbsp pine nuts
1 Tbsp pomegranate arils
Preheat oven to 350°F (175°C).
Pierce eggplants with a knife and roast (whole) until very soft to the touch, about 45 minutes to one hour. (This works fine with your oven at a higher temperature as well; I usually throw them in with whatever I'm cooking.)
Meanwhile, heat oil and sauté the onion until translucent. Add the meat and brown. Season with 1 tsp salt and shawarma seasoning.
To serve: Cut the eggplant open and scoop the flesh out onto a large platter. Mash it down with a fork so it's spread evenly over the platter. Season with 1⁄2 tsp salt. Spoon the raw tahini over the eggplant and lightly season with remaining 1⁄2 tsp salt. Drizzle silan over the tahini. Place meat in the middle, and garnish with herbs, pine nuts, and pomegranate arils.
Forkless Shawarma Lettuce Wraps
Recipe by Rorie Weisberg
Looking for a delicious light lunch or dinner that is super filling? Look no further! These are a great easy grab-'n-go macro meal for busy summer days when you want to have a salad but don't have time to sit down with a bowl and a fork.
SERVES 6
8 deboned chicken thighs or breasts
2 Tbsp olive oil
shawarma spice blend, to taste (use store-bought or make your own; see note)
lettuce boats
cucumbers, chopped
tomatoes, chopped
fresh parsley
fresh dill
prepared chickpeas
Techinah
2 cloves fresh or 2 cubes frozen garlic (optional)
⅓ cup lemon juice
2 Tbsp fresh parsley
¾ tsp salt
½ cup raw tahini
¼ cup water
pinch of black pepper
Place chicken thighs or breasts in a bowl. Cover with olive oil and toss to coat. Season well with desired amount of shawarma spice. The more you add, the stronger it will be. Let marinate for about an hour, then grill chicken on a grill pan or outdoor grill.
Place all techinah ingredients in a medium bowl or container. Use an immersion blender to blend until smooth. Add more water if necessary until desired consistency is achieved. Mix chopped vegetables with parsley and dill.
To assemble: Place 5–6 thinly sliced chicken strips in each lettuce boat. Top with chopped Israeli salad and chickpeas. Drizzle with techinah and enjoy!
Note: To make your own shawarma spice blend, combine the following: 1⁄2 tsp allspice, pinch of cardamom, pinch of cinnamon, 11⁄2 tsp coriander, 2 tsp cumin, 1 tsp garlic powder, 1 Tbsp paprika, 2 tsp salt, and 1 tsp turmeric. Double or triple as needed.
Turkey Shawarma
Recipe by Tami Phillip
Here's a super Middle-Eastern supper option when you're looking for a change of pace.
SERVES 8
1½–2 lbs (680–910 g) pre-seasoned boneless, skinless turkey pieces
¼ cup olive oil
salt and pepper, to taste
1 Tbsp chicken soup mix
1 Tbsp shawarma seasoning
¼ cup water
oil, for sautéing
3 large onions, sliced
In a bowl, mix together oil, salt, black pepper, soup mix, shawarma seasoning, and water.
Pour the mixture over the turkey pieces and marinate in the fridge overnight. (In a pinch, 30 minutes of marinating will do.)
Preheat oven to 350°F (175°C).
Place the turkey pieces in a baking pan. Cover the pan with aluminum foil and bake for 2½ hours or until the turkey is soft. Flip it over a few times while baking. Allow to cool and then slice it into thin strips.
Heat oil in a frying pan and sauté the sliced onions for about 15 minutes until soft and golden.
Add the thinly sliced turkey to the frying pan along with ½ cup of the gravy from the pan. Taste and adjust the seasoning. Stir the mixture and continue sautéing for about 5 minutes.
Serve in a pita with salad and pickles.
(Originally featured in Family Table, Issue 855)
Oops! We could not locate your form.
>