| This Way That Way |
Sesame Oil
| December 13, 2022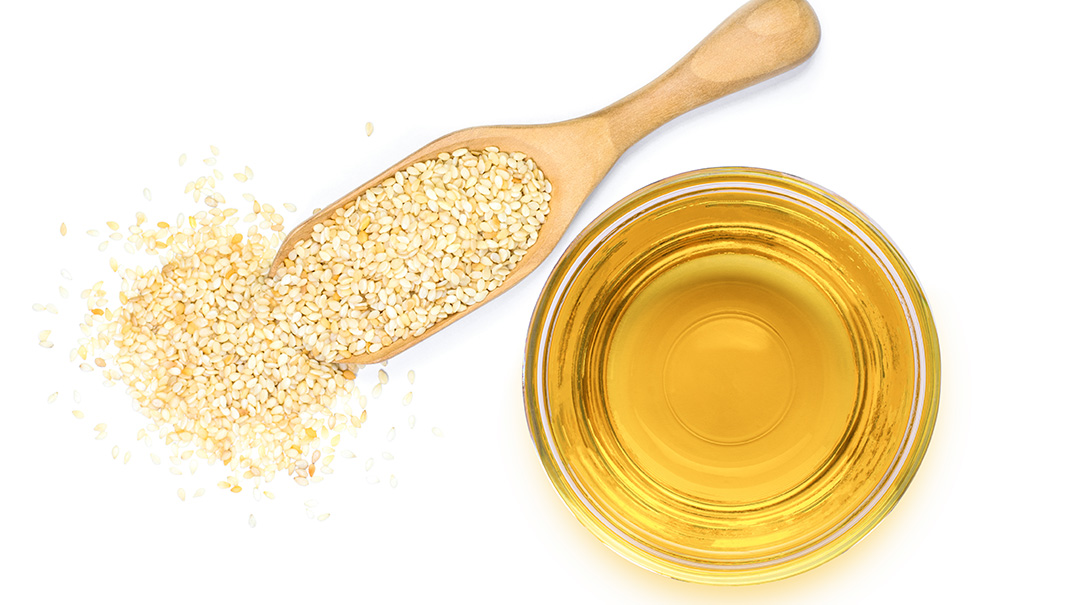 Generally, vegetable oils don't add much in the way of flavoring. Sesame oil, on the other hand, knows how to pack a punch. This popular ingredient in Asian and Middle Eastern cuisine has a richer and nuttier taste, adding its own distinct twist to any dish. Whether you toss it in a stir-fry or mix it with vinegar to dress your salads, the unique flavor will leave you brainstorming for ways to incorporate it into more of your cooking.
Sesame, If You Please
Beyond the Wok
According to traditional medicine, sesame oil has unique anti-inflammatory properties and can be used to treat toothaches, joint pains, and the like.
Nice and Toasty
Recipe calls for toasted sesame oil and you only have regular? Heat up a pan, pour the oil in, and keep swirling to avoid burning. It's ready when the oil darkens and gives off a nutty aroma.
Proceed with Caution
In 2023, sesame will officially be treated like one of the eight major food allergens by the FDA, getting its own warning on food labels along with milk, peanuts, gluten, and soy.
Sesame-Lime Farro Salad
Recipe by Chavi Feldman
Don't be afraid to try quinoa's cousin, farro. Here it's presented as an Asian salad that I'm sure you'll enjoy.
SERVES 12
2 cups or 14 oz (400 g) pearled farro
1 tsp salt
water to cover, about 4 cups
1 cup shredded carrots
2 cups shredded red cabbage
30 snap peas, sliced into quarters
6 scallions, sliced
2 cups sliced small button mushrooms
¼ cup toasted sesame seeds
¾ cup honey-roasted peanuts, for garnish
Dressing
⅔ cup oil
juice of 2 large limes, or ⅓ cup lime juice
zest of 1 lime
1 Tbsp toasted sesame oil
1½ Tbsp soy sauce
1½ Tbsp honey
1 Tbsp brown sugar
¾ tsp salt
¼ tsp garlic powder
⅛ tsp black pepper
⅛ tsp ground ginger
Rinse farro in cold water and drain. Place in a medium-sized pot and add salt and enough water to cover.
Bring to a boil, then reduce heat to medium-low and simmer for 20–30 minutes until soft but still chewy. Drain off any excess water and fluff gently with a fork. Set aside to cool.
In a large bowl, combine all salad ingredients aside from the peanuts. Whisk dressing ingredients together in a medium bowl and pour on top, mixing well. Refrigerate for at least 1–2 hours before serving to allow flavors to blend.
Add peanuts right before serving and toss to combine.
Pulled Sesame Chicken
Recipe by Michal Frischman
While sesame chicken is always a crowd-pleaser, if I'm cooking for a crowd, you can be sure I'm not battering and frying all that chicken! This alternative is much quicker yet still has that familiar Chinese takeout flavor. Serve it over rice to make sure you get every last drop of that sauce!
SERVES 8
3 lb (1.36 kg) boneless, skinless chicken breast
½ tsp salt
about 3 cups water, to cover chicken
½ cup sugar
¼ cup soy sauce
4 cloves garlic, crushed, or 4 cubes frozen garlic
1 tsp grated ginger or 1 cube frozen ginger (optional)
2 Tbsp mirin (or white wine or apple juice)
1 Tbsp sesame oil
¼ cup cornstarch
¼ cup cold water
½ cup crispy fried onions, for garnish
sesame seeds, for garnish
Place the chicken breast and salt in a medium saucepan and cover with water. Cover and simmer over medium-low heat until fully cooked, about 25 minutes.
Remove the chicken from the pot, reserving the liquid. When the chicken is cool enough to be handled, shred it.
Keep 2 cups of liquid from the poached chicken and discard the rest. Add sugar, soy sauce, garlic, ginger, mirin, and sesame oil to the liquid in the pot and bring to a boil. Mix the cornstarch with cold water and add to the sauce. Cook until thickened, about 3 more minutes.
Return the shredded chicken to the sauce. Serve with crispy fried onions and sesame seeds sprinkled on top.
My Favorite Asian Cabbage Salad
Recipe by Chanie Nayman
This dressing is so versatile that I keep a container of it in my fridge at all times. I use it on red cabbage salad with candied nuts and a fruit of some sort, and sometimes on this more savory version.
SERVES 6–8
1 bag coleslaw mix
sliced scallions, for garnish
Dressing
½ cup sugar
¼ cup oil
¼ cup rice vinegar
1 Tbsp soy sauce
2 tsp toasted sesame oil
Crunch Topping
sesame seeds
slivered almonds
½ pkg ramen noodles
Toast the sesame seeds, almonds, and ramen noodles on a baking sheet until light brown. Mix the dressing ingredients well. Combine cabbage with crunch topping and dressing. Top with sliced scallions.
(Originally featured in Family Table, Issue 822)
Oops! We could not locate your form.
>