| Recipes |
Sesame Chicken
| November 2, 2021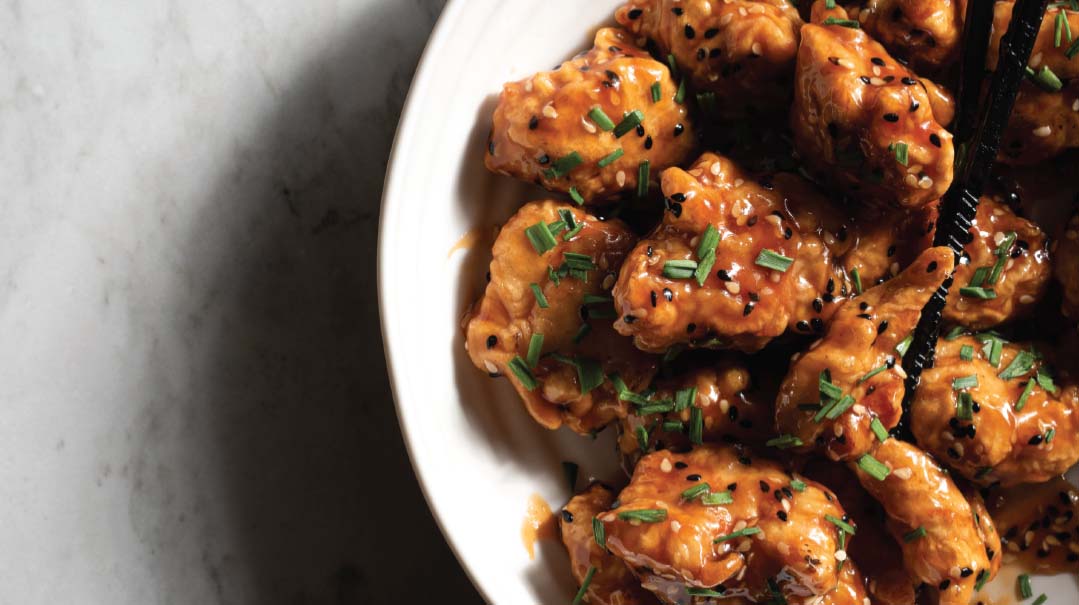 This sesame chicken is seriously so delectable, you'll be tempted to toss those take-out menus. These crispy chicken pieces coated in a sweet and savory honey sesame sauce are perfectly delicious. I think this homemade version is even better than what I've had at many restaurants. My kids most definitely agree.
SERVES 6
1½ lb dark chicken cutlets
¼ cup nondairy milk
3 cloves garlic, crushed
⅛ tsp crushed red pepper flakes
canola oil, for frying
2 tsp sesame oil
chopped chives, for garnish
Batter
½ cup cornstarch
½ cup flour
½ cup cold seltzer
2 egg whites
Sesame Sauce
¼ cup low sodium soy sauce
¼ cup rice vinegar
¼ cup dark brown sugar
¼ cup honey
¼ cup ketchup
1 Tbsp cornstarch
⅓ cup water
1 tsp garlic powder
1 Tbsp black and white sesame seeds + more for garnish
In a large resealable bag, combine nondairy milk, garlic, and red pepper flakes. Add chicken tenders. Coat chicken tenders; marinate and soften for 15–20 minutes.
In a large bowl, combine and whisk together batter ingredients. Add marinated chicken tenders. Discard remaining marinade. Mix to completely coat with batter.
Heat 3 inches oil in a 2–3-quart saucepan over medium heat. Add a few pieces of chicken at a time, taking care not to crowd the pan. Fry for 2 minutes, until lightly golden. Turn chicken; fry until lightly golden. Transfer fried chicken to a paper towel-lined cooling rack or pan. Repeat until all chicken is fried.
Prepare the sesame sauce: In a small bowl, whisk together sauce ingredients until smooth. Set aside.
Heat sesame oil in a large skillet or wok over medium heat. Add sesame sauce. Bring to a boil; cook until thickened, whisking occasionally. Reduce heat to medium-low. Add fried chicken; toss to coat with sauce.
Before serving, sprinkle with additional sesame seeds and chopped chives.
Note: White chicken cutlets also work here, but dark cutlets are a bit juicier.
(Originally featured in Family Table, Issue 766)
Oops! We could not locate your form.
>