| On Site |
Screen Savers
| July 29, 2020
A practical guide to sharing your simchah on screens near and far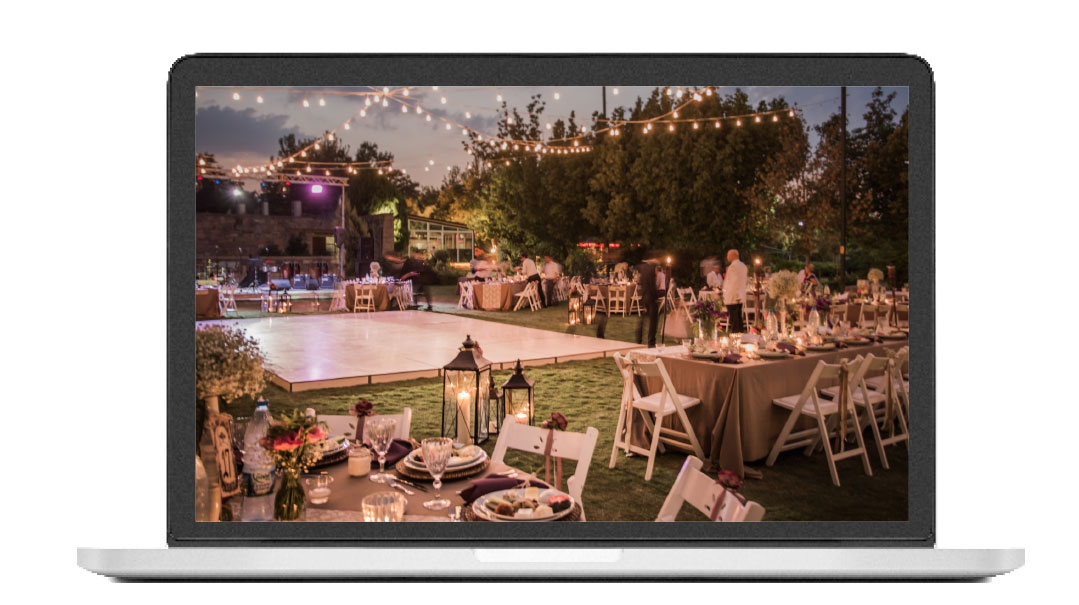 It's one of the only good things to have come out of the coronavirus pandemic.
Living out of town with several small children, I end up missing too many family simchahs, and I so appreciated being able to participate remotely, with the aid of technology, during lockdown. From the comfort of my own dining room table, I attended a cousin's bar mitzvah in Lakewood, and even two simchahs that took place in Eretz Yisrael. Mazel tov!
As virtual participation is becoming more common, here's to hoping that even with the end of COVID-19, bimheirah v'yameinu amein, these long-distance options for those who cannot attend in person become mainstream.
But which platform should you use? There's Zoom, GoToMeeting, and RingMe for collaborative sharing. There's livestream.com, YouTube, Vimeo, and others for streaming. If you are making a simchah and have thought about virtual guests, here are some pros and cons of three commonly used platforms.



Zoom
When Shulamis Frank and her chassan got married in Chicago during lockdown, they offered a Zoom option to overflow guests. They chose Zoom because it was the platform most people are familiar with, and say that while there were some disappointments, they and their guests are happy with their selection.
Because the free Zoom option only allows for 100 meeting participants,Shulamis upgraded her account for a nominal cost. At the wedding,Shulamis signed in and then handed the account to her videographer, who took over from there. Guests who joined the wedding over Zoom appreciated the front-row seat to the chuppah, courtesy of the videographer. But one of the best parts, say both Shulamis and her guests, was that during the wedding, the chassan and kallah came over to the monitor and said a personal hello to each virtual participant. That was possible, because in Zoom meeting mode, all participants are able to see the host and one another.
That was one of the perks of the Zoom bar mitzvah I attended, which took place in the family's dining room right after Pesach. We heard the bar mitzvah boy's speech, and were privileged to hear from both grandfathers as well. And we got to see all our cousins! (Not telling which was my kids' favorite part.) Each family was alone in their respective houses, but turning the cameras around made it seem like we all participated in one choreographed dance.
Zoom downsides
Zoom is a favorite for smaller, family-oriented simchahs like a bris or bar mitzvah, but the limit of 100 participants in a meeting can make it less practical for a wedding. Another downside can be the video quality; unless you're using a professional, as Shulamis did, the quality of virtual participation will depend on the camera that comes with your computer. If your camera isn't great, or your connection is spotty, that will affect your guests' enjoyment.
Shulamis shared one other frustration — although they recorded the event, it was difficult to see who actually attended the Zoom meeting, because if people hadn't turned on their video or microphone, they didn't show up until much further down the line. And finally, the chatting between participants, especially when they haven't seen each other in a while — whether because of coronavirus or geographic issues — can be distracting for some, so consider that before you invite guests using this platform.



YouTube Live
Mrs. S. Schwartz of Brooklyn married off her son in Los Angeles, and says that up until a week before the wedding, they didn't know what it would look like or how many people would be able to attend in person — an unfortunately common situation in our new world. She invited guests to the wedding with a note indicating that she would be update them closer to the event on how they could participate in her simchah.
In the end, Mrs. Schwartz chose to outsource the virtual participation to a videographer who uses YouTube Live. He set up the event and sent her a link to forward to her guests, who said the videoing was done so well and up-close, they were able to see even better than had they been there.
Mrs. Schwartz's streaming videographer filmed just three hours of the wedding, including the chuppah and part of the dancing. She instructed him not to film the women's dancing, so that no one would feel uncomfortable.
The benefits of YouTube include the fact that it's free — all you need is a Google account, and Mrs. Schwartz used the videographer's, who took care of the whole thing. With YouTube, if you come in after the simchah has already started — maybe you missed the chuppah, or the funny uncle's speech — you can go back to view old(er) footage.
If you're worried about having the entire world YouTube-bombing (is that a thing?) your simchah, don't be. Mrs. Schwartz's vendor, Vigan Kachikean of VSP Studio in L.A., explains that YouTube provides options for a public stream, which anyone can view; a private stream, only visible to the Google account holder; and an unlisted stream, viewable only by link. At the prescribed time (about an hour after it was originally filmed), Vigan took down the link — and if you missed it, you missed it. He did forward the footage to the Schwartzes, though, so fear not if you go this route: You will have a record of your wedding's livestream.
Mrs. Schwartz and her guests were satisfied with YouTube Live, although it came with additional cost: Vigan was hired in addition to the photographer and videographer, and he brought a dedicated technician (something all livestreamers agree is crucial, to make sure there are no tech mishaps). Still, Mrs. Schwartz says it was worth it.



YouTube Cons
Not all Internet filters allow users to access YouTube, though some will open a specific link for a specific time if your guests request it. So while Zoom has become a mostly kosher option for virtual meetings and participation, not everyone on your guest list may be able to participate if you stream via YouTube.
Also, in contrast to Zoom, participants can't see each other. While this is a plus for some (see the Zoom downsides), it meant that when Mrs. Schwartz went to say mazel tov and thank you to her guests, she had no idea who or how many people she was talking to. The account holder — in this case Vigan — does receive a record of IP addresses that accessed the link, but once it's down, it's down.



Livestream.com
Chaim Rosen of L'Chaim Studios Lakewood touts livestream.com as the way to go if you're livestreaming a wedding. It's a solid platform with many features, and it's been in use for many years pre-corona to allow elderly grandparents — and in one memorable case, a hospitalized mother — to participate in their children's wedding. Rosen absolutely recommends livestreaming over options like Zoom, which he says, became popular because of our unfortunate familiarity with distance learning. But Zoom was not set up for livestreaming of this type; its fundamental feature is remote meeting collaboration.
When Rosen livestreams a wedding, he sends out an exclusive link to the baalei simchah, and they forward it to their guest list. As he walks around videoing the wedding, he has a designated technician making sure everything is working properly. And each stage of the wedding (badeken, chuppah, etc.) is posted as a separate video, so those who joined late can go back and view them afterward.
Rosen says he will soon be able to send messages that will let virtual participants know when to come back to their computers between the chuppah and dancing (e.g., "The chuppah has ended. Dancing will start at 9 p.m."). Of course, it's during this downtime that the camera is typically set up on a tripod for the hosts to thank their virtual guests for participating. You don't want to miss when the kallah's mother wishing you a personal mazel tov, but if you're watching from Israel and it's 2 a.m.… and you can watch a replay of the dancing during breakfast… I'll let you make the call.
Rosen chooses livestream.com over YouTube for a number of reasons: there's the filtering issue, but also the fact that livestream.com allows you to pause and resume streaming on the same link — an option common at weddings where there is downtime between segments, and not possible on YouTube Live. He also points out that YouTube has historically been aggressive at removing streams containing copyrighted music.
Once the wedding is over, the livestream link can be removed, though Rosen often forwards a dedicated "family" link to the baalei simchah for later viewing. (This is in addition to the regular video they've ordered.)
Rosen's clients have increasingly been using this option; at one recent wedding, the kallah's grandparents said the livestreaming was done so well, it was better than being there — they felt like they were there, and could participate safely in these uncertain times. Win-win.



Are there Livestream Downsides?
There is one very big downside: Livestream is not allowing new subscriptions. During corona, when usage shot up as more and more people needed the service, the company made an internal decision (which I do not understand, but reminds me of good Detroit joke) to close subscriptions. So if you're new on the scene, livestream.com is not an option.
If your videographer has been using it as long as L'Chaim Studios — you've struck gold. Grab it. There is a monthly cost to the platform (see chart), but it is generally absorbed by the videographer. (Who charges you for the service, of course. Free lunch? No such thing.) And while you can't know who attended, this hasn't stopped any of Rosen's clients. What they mostly want to know is how many people attended and how long they watched, and that is data that Livestream does offer.
Another thing to think about is whether you want to hire a separate videographer to do the livestreaming, as Mrs. Schwartz did. Rosen offers livestreaming along with his regular videography; but say you hired a woman videographer to film the women's dancing separately, and then you realized your female virtual guests want to see the women's dancing…. These are issues that need to be worked out beforehand. Anything can be done, but requires some advance planning.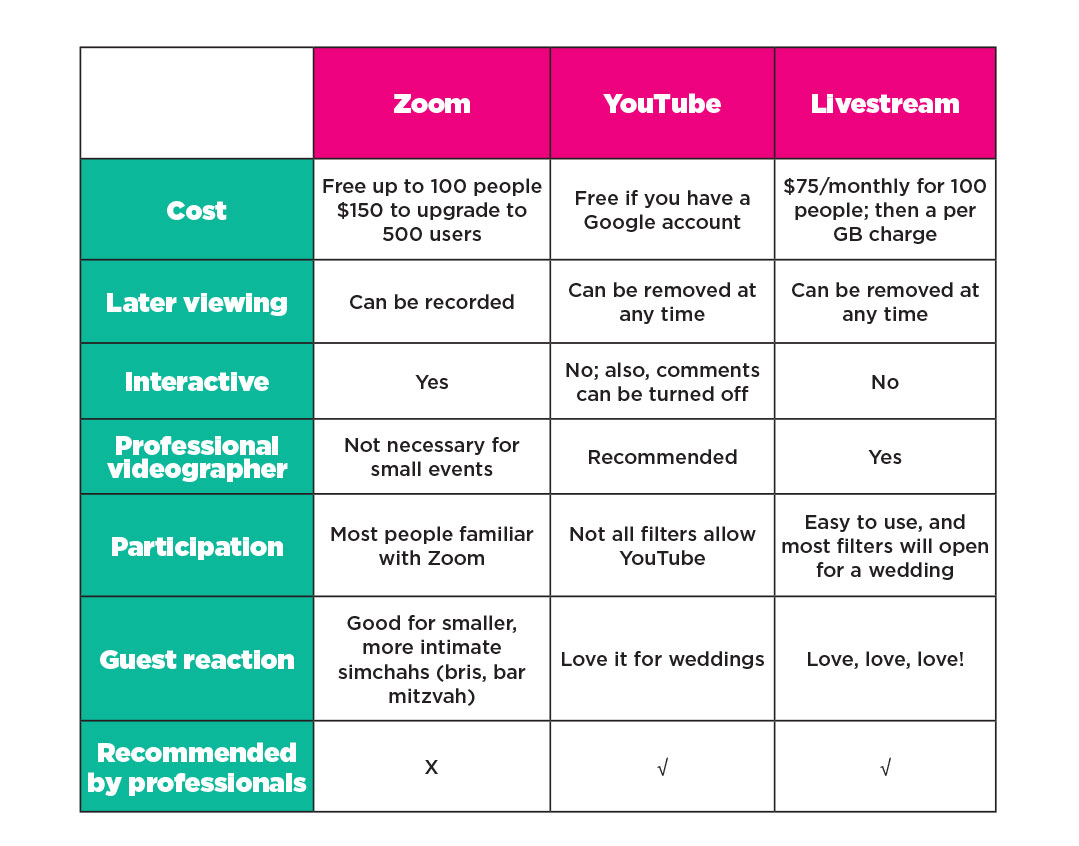 From the Guest
Avigail Berger* has been a guest at many simchahs during lockdown. Her take? If you're making a wedding and inviting virtual participation, you should absolutely pay a professional to do the filming. The quality and reduced risk of error are unmatched when you have a real camera and a dedicated technician taking care of things. Leave the heimishe Zoom for the smaller, more intimate events, says Berger, and the professionals concur.
This won't work for everyone, and especially not if you're participating in a simchah from across the sea, or even just another time zone, but all baalei simchah shared how meaningful it was for them when participants got dressed in Shabbos clothes (at least from the waist up) to join the simchah.
If you are a guest at a Zoom simchah, please make sure to mute yourself as you come in (especially if all your kids are fighting for a space in front of the webcam). It is very frustrating for other guests when they can't hear the program because of your background noise.
If you are the host, make sure your guests can hear you! If you can, try to set up the meeting so that you (the host) automatically mute participants upon entry.
If you have a Zoom Pro account (paid), you can host a webinar instead of a meeting (additional cost: $40 per month, billed monthly so you can cancel at any time). A Zoom webinar works similarly to YouTube Live and Livestream in that the participants' audio and video is turned off and they can only see what you show them. But before you decide to go this relatively inexpensive route, beware — this rate limits you to 100 participants in the webinar.
Check your Wi-Fi connection!
If you've hired a tech to take care of your virtual guests, you can ignore this one, but if you're livestreaming your own simchah (whether through Zoom or another platform), make sure to check that your connection is strong and your camera is positioned well. There's nothing like listening to a crackly recording (on slow motion) or staring at the ceiling to get your guests to find something else to do while you are enjoying a catered meal.
YouTube Live sound interesting? It's free and easy, and allows you to control more of what your guest see than a Zoom meeting. If you decide to go this route and want to stream over a mobile device, note that you will need a subscriber base of at least 1,000 people. Don't have that? Don't worry — you can use a computer and webcam for nothing.
While officially you can stream 12 hours of content on YouTube Live, if you want to be able to go back and edit that content using YouTube Live's tools, keep your stream under three hours. That's the threshold for editing within the platform.
You've taken all this to heart and have decided to livestream your child's wedding. Great! Now, consider this: You don't want your videographer streaming the more intimate moments to the whole world (those last few moments before the chuppah, or the chassan-kallah pictures, for example), so if you do want those included, it might be worth it to hire a dedicated livestream photographer. You can also just insert photos into the final video, if you're looking to save costs.
Chana Geela Horner contributed to this report.
(Originally featured in Mishpacha, Issue 821)
Oops! We could not locate your form.
>