| Recipes |
Scalloped Potatoes with Parsley Sauce
| October 6, 2022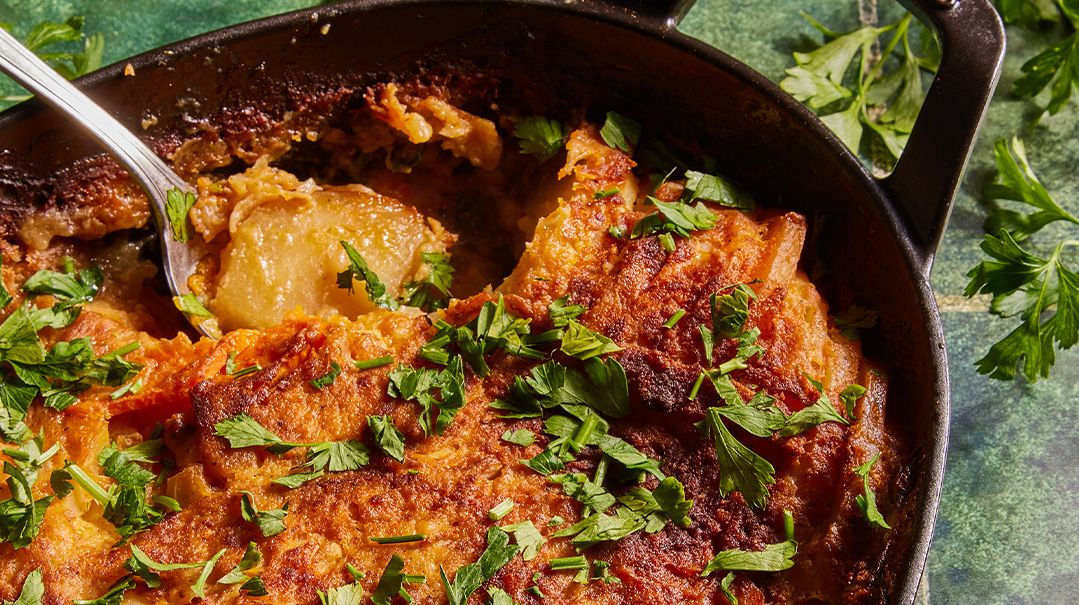 Food and Prop Styling by Goldie Stern
Photography by Felicia Perretti
Food Prep and Consulting by Chaya Surie Goldberger
Using healthier ingredients takes these scalloped potatoes up a notch, and the parsley sauce takes it to a whole new level. Colorful, unique, and delicious.
SERVES 8–10
4 medium or 6 small potatoes (a little more than 1 lb/500 g)
4 small or 2 large sweet potatoes (1½ lbs/680 g)
2 onions
¼ cup olive oil, plus more for drizzling
¼ cup flour
1 cup unsweetened soy milk
1 Tbsp chicken soup mix
1¼ cups boiling water, divided
salt, pepper, and paprika, to taste
1 small celery root, peeled, cubed, and cooked in a little water until soft
Parsley Sauce
2 Tbsp olive oil
2 Tbsp flour
1 tsp mustard
1 cup unsweetened soy milk
3 Tbsp fresh parsley, chopped
1 tsp fresh lemon juice (optional)
salt and pepper, to taste
Preheat oven to 350°F (175°C).
Thinkly slice potatoes, sweet potatoes, and onions in a food processor. Mix together in a large bowl. Drizzle some olive oil on the bottom of a round casserole or Pyrex dish. Pour potato mixture in.
In a medium-sized pot, heat 1⁄4 cup olive oil. Add flour and stir until blended. Whisk in soy milk and chicken soup mix dissolved in 1 cup boiling water. Cook, stirring constantly, until mixture boils and thickens. Add salt and pepper.
Blend or puree cooked celery root in a food processor with remaining 1⁄4 cup water until smooth. Add this to the sauce and stir to combine. Remove from heat. Pour sauce over potato mixture in the pan. Sprinkle paprika on top. Line a baking sheet with parchment paper to catch drippings that might bubble over. Place dish on the sheet and bake for 45 minutes, or until potatoes are tender and golden brown.
To make the sauce: Heat oil in a small pot over low heat. Add flour and mustard, and stir to form a paste. Cook for 2–3 minutes. Whisk in soy milk. Bring to a boil and simmer for 5 minutes, whisking often to ensure a smooth, lump-free sauce. Remove from heat.
Add fresh parsley and lemon juice, if using. Add salt and pepper. Mix together well. Cover with plastic wrap to prevent a skin from forming. Serve warm, spooning over the scalloped potatoes immediately before serving. (If the sauce thickens in the fridge, dilute with a little soy milk or water before rewarming.)
Note: I highly recommend using the celery root, as it adds a hint of sweetness and original flavor. If you prefer the standard flavor, it can be omitted.
(Originally featured in Family Table, Issue 813)
Oops! We could not locate your form.
>