| Gourmet Vs. Everyday |
Sausage Bolognese
| February 28, 2023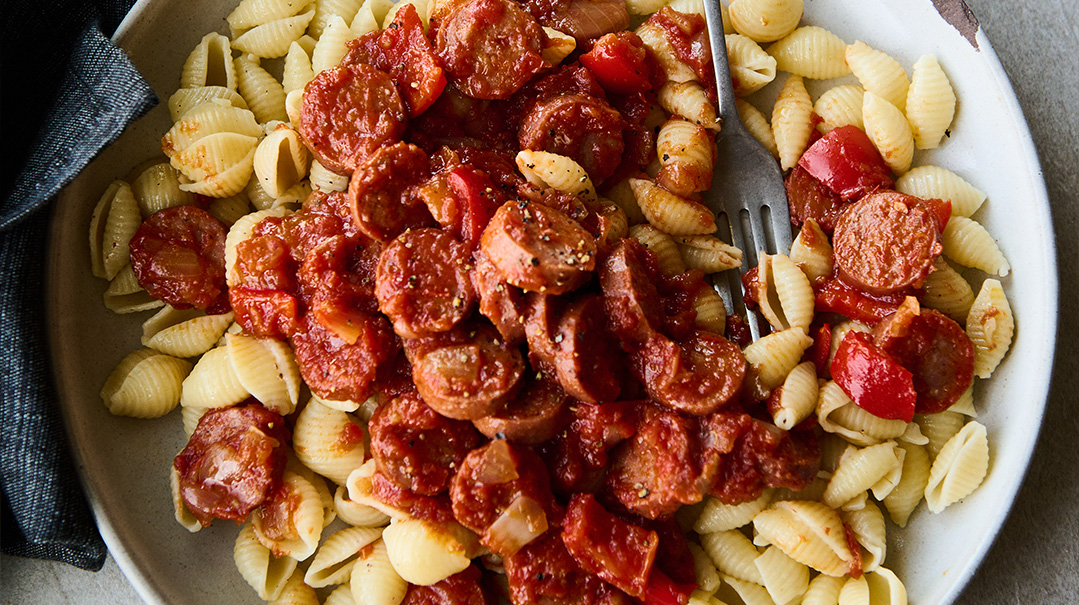 Styling and Photography by Sina Mizrahi
Chaya Suri Leitner
My kids don't love the texture of meat sauce made with ground beef, but they love the flavor and love to slather all the delicious tomato-based sauce over their pasta. I had this idea to try traditional bolognese sauce with sausages, and it was an instant winner! I like the A&H brand nitrate-free sausage, but feel free to use whatever hot dog or sausage your family likes.
Sara Gold
This is definitely a recipe I've never tried before. My kids love hot dogs, 
but we usually save them for the barbecue season in the summer. 
I had no idea how the recipe would go over, but I was willing to give it a shot!
Sausage Bolognese
SERVES 6–8
1 Tbsp oil
1 onion, diced
1 pepper, diced
2 pkgs Abeles and Heymann sweet Italian sausages, thinly sliced

I used Meal Mart Hot Italian, since that's what my store had.

24 oz (680 g) crushed tomatoes

I added ¼ cup water because my mixture was very thick.

2 Tbsp salt

Because I used hot sausages rather than sweet ones, I found 1½ Tbsp to be enough.

1 Tbsp smoked paprika
1 tsp onion powder
1 tsp garlic powder
¼ tsp cumin

I added 2 Tbsp sugar for a little added sweetness.
Heat oil in a medium-sized pot and add the onion and pepper. Sauté for 5 minutes, until translucent. Add the sausages and cook for 5–8 minutes, stirring once or twice.
Add the rest of the ingredients and cook for 15 minutes.
Serve over pasta. I served over white rice.
Sara Gold
We loved this dish! It came together really quickly and was a change
from our usual chicken dinners. Next time I make it, though,
I'll check a second store and stick to Chaya Suri's recommendation for sausage,
and NOT buy the hot Italian variety! You figure out why!
(Originally featured in Family Table, Issue 833)
Oops! We could not locate your form.
>