| Jr. Feature |
Royal Makeover | October 18, 2022
The UK is gearing up for all sorts of changes now that there's a new monarch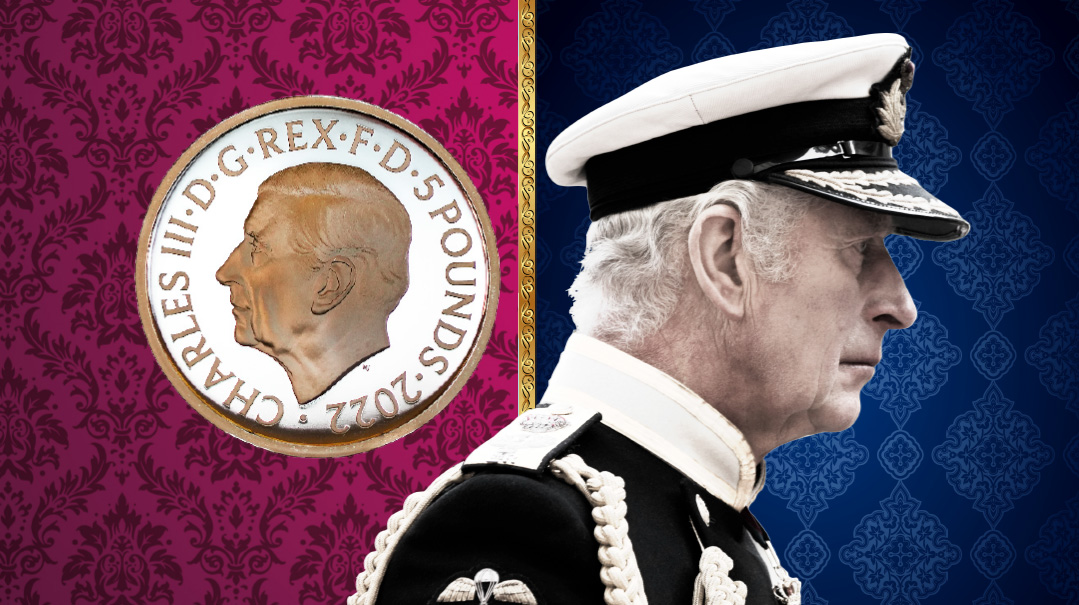 Photos: AP Images
"The Queen is dead. 

G-d save the King."
This was the proclamation on September 10, when Prince Charles was officially proclaimed king, two days after Her Majesty The Queen of the United Kingdom passed away. Aside from having to get used to saying "His Majesty," the UK is gearing up for all sorts of changes now that there's a new monarch. And it's not just the UK that will be seeing change. There are fourteen Commonwealth nations (including Jamaica and the Bahamas) that also have the new king as their head of state.
What sort of changes can these countries look forward to?
Coin Toss
American dollar notes may each feature a different president, but English banknotes all feature the Queen. So do the coins. But new king, new coin! King Charles III will have to sit for a portrait (or photograph) so that his profile can feature on the new currency.
Here's a fun fact: Queen Elizabeth's image on coins always faced towards the right. King Charles' profile will face towards the left, as the new monarch faces in the opposite direction from his predecessor. Alternating directions is a tradition that goes back hundreds of years.
Commonwealth nations, like Canada and Australia, also feature the British monarch on some of their currency. These countries will probably also need to mint new coins and print new notes.
Can you think of another thing that is stamped with the monarch's face? You got it! Postal stamps will also need to be changed.
Obviously, making new money and stamps is a big deal. It's also expensive. So, don't worry — your money and stamps are still valid and will be for a while yet. These changes will take many months, if not years, to come into effect.
Deciphering
The royal cipher is a monogram of the monarch's initials. The cipher of Queen Elizabeth II was EIIR — Elizabeth II Regina (Regina is Latin for queen.) King Charles III will have his own cipher — CIIIR — Charles III Rex. (He hasn't turned into a dinosaur! Rex is Latin for king.) You'd be surprised by how many things carry the royal cipher. The famous red post boxes are one, but these won't be changed. In fact, whereas most post boxes in the UK say EIIR, there are quite a few from King George VI (the Queen's father), and even some from Queen Victoria, who reigned until 1901. Now that snail mail is a relic of bygone days, new post boxes aren't produced very often, so there won't be many with King Charles' cipher.
Police uniforms will also undergo a change. Currently, bobby hats (the tall, hard police hats) sport the EIIR cipher. So do many other uniforms, like those of the royal military regiments, which have the royal cipher on swords, caps and every single button! The throne, which has the cipher embroidered into the upholstery, will also be upgraded.
King Charles debuted his new cipher on a custom pin that he wore to the ceremony in which he was proclaimed king.
Royal Approval
If you take a look at some English products, you may notice a royal coat of arms on the packaging. Products like Kellogg's cereals, Cadbury cocoa and Tiptree jams are just some of the 800 companies that are favored by the royal household. It's not just food products that have the royal stamp of approval; car companies, dry cleaners, and silver polish makers are also included. If these companies were chosen by the Queen, they could display the royal coat of arms on their packaging, along with the words: "By Appointment to Her Majesty The Queen."  (The Prince of Wales, and the Queen's husband the Duke of Edinburgh, also gave their royal approval. Companies could be approved by one or two, of the three.) This is known as a royal warrant.
Now that the Queen is dead, about 600 of these companies will lose their royal hechsher. They will need to reapply in order to receive the approval of the new king. And then they'll have to change their packaging!
Kings, Princes, and Dukes
When the Queen died, three of her great-grandchildren got a new last name! One of the stranger facts about the royal family is that their last name can change based on their new titles. Talk about an identity crisis!
The heir to the throne is always given the title "Prince of Wales." Before he became king, Prince Charles was the longest reigning Prince of Wales in British history. In school, his two sons were called William and Harry Wales.
When Prince William got married, the Queen gave him a title as a wedding gift — the Duke of Cambridge. His children used to be called George, Charlotte, and Louis Cambridge in school. But now that their father is the new Prince of Wales, they got a new last name — Wales.
Prince William also inherited his father's other titles — the Duke of Cornwall and the Duke of Rothesay. So now he is the Prince of Wales, and also the Duke of Cambridge, Cornwall, and Rothesay. (He's got two more titles as well!) Officially, he is now called HRH The Prince of Wales. (HRH stands for "His Royal Highness.") His wife, Catherine, is the new Princess of Wales.
So, is King Charles' wife Camilla the new Queen? Actually, Camilla is the Queen Consort. "Queen Consort" is the title given to the spouse of the monarch.  She is called Queen Camilla, or Her Majesty The Queen Consort.
Did you know that King Charles III could have been called King Philip, King Arthur, or King George? His full name is Charles Philip Arthur George. When he became king, he could have chosen any of his names as his sovereign name. He decided to stay with the name he has always been called. But his grandfather, King George VI, was actually called Bertie before he became king in 1936. His full name was Albert Frederick Arthur George. When his elder brother abdicated the throne, he decided to become King George VI rather than King Albert I.
Slimming Down
King Charles thinks the royal family needs to lose weight. Ha! Obviously, I'm kidding. But there has been a lot of talk recently about the "slimming down" of the royal family. What does that mean?
Every year, at the Trooping the Colour ceremony in honor of the monarch's birthday, the royal family appears on the balcony of Buckingham Palace. (They also make balcony appearances on other special occasions, like royal weddings and jubilee celebrations.) Royal fans wait all year to catch a glimpse of them. As recently as five years ago, there were more than forty people up there, including all the Queen's children, grandchildren and great-grandchildren, some dukes and duchesses, and several cousins. But during the Platinum Jubilee celebrations this past June, only eight members of the royal family appeared. These were the Queen, Prince Charles and his wife, Camilla, and Prince William with his wife and three children.
Is the royal family shrinking? Well, no — it actually keeps growing as the younger generation have children of their own. But King Charles wants to limit the number of people who live off the "public purse." Being royal comes along with a price tag, which is all paid for by the British subjects. British taxpayers foot the bills for royal security, royal travel arrangements, and royal ceremonies and celebrations. By slimming down the monarchy, King Charles hopes to keep costs down for the British public.
Order of Succession
Who is next in line to the British throne?
William, Prince of Wales
Prince George of Wales (age 9)
Princess Charlotte of Wales (age 7)
Prince Louis of Wales (age 4)
Prince Harry, Duke of Sussex (William's younger brother)
Archie Mountbatten-Windsor (Prince Harry's eldest child, age 3)
According to British law, the first six people in the order of succession need to get the monarch's permission before they marry.
To Stay or Not to Stay? What is the Commonwealth?
Remember how Britain used to be a massive empire? At its peak in 1919, the British Empire was the largest empire in history. And the monarch of Britain was also the monarch of all the British colonies.
But all good things must come to an end. Slowly but surely, more and more of Britain's former colonies, protectorates, and mandates took America's example and fought for their independence. Not all of them fought bloody wars against Britain, though. Quite a few signed very peaceful and polite treaties with Britain.
Most of these countries were developing countries (or "third world countries," as they were called in the olden days.) They were actually quite happy when Britain offered to be their big brother and watch their back in the big bad world. And so, the Commonwealth of Nations was born in 1931. The Commonwealth countries are completely independent from Britain, but are still really good friends. Such good friends, in fact, that they display the British monarch on their walls and currency. The British royal family make a point of visiting these countries very often. Queen Elizabeth II was super proud of her excellent relationships with Commonwealth nations.
Did someone say that all good things come to an end? In the last few years, several Commonwealth countries have considered leaving the Commonwealth. Now that the Queen has passed away, many of them will probably ask themselves: "To stay or not to stay?"
Queen Elizabeth's death has been called "the end of an era." Having reigned for 70 years, she was the only monarch that 85 percent of Britons ever had! The changes mentioned in the article won't happen straightaway. First, the royal family will observe a period of mourning. Then, King Charles will be coronated (probably some time next year). And then, the UK can look forward to a makeover
(Originally featured in Mishpacha Jr., Issue 932)
Oops! We could not locate your form.
>